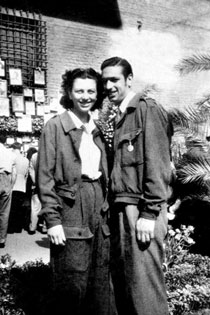 Gina Negrini and Nuri Aliyev
You're late, young man. She died last week. Exactly one week ago.
What?
It was all I could do to stop myself screaming, but the lady continued calmly: She waited for him for 65 years. She tried everything, poor woman – the Soviet embassy, the TV stations… Finally, a month ago, she had news of him. It seems it was all over, and there was no reason to wait anymore. She was dead within three weeks.
She waited 65 years?
Yes, she waited all that time, and heard nothing of him, dead or alive…
Back in time…
1945 – thousands of Soviet soldiers were captured by Nazi forces and detained in prisoner of war camps in central Europe. Those who managed to escape, including hundreds of Azerbaijanis, often headed to northern Italy. Many Azerbaijanis went to the Bologna area, where some were already active in the Bolero Garibaldi partisans. Newcomers were always welcome. One was Nuri Aliyev, a young man from the settlement of Balakhani, just outside Baku. Once they had got to know the local area, Nuri and his comrades carried out their first operation with the partisans: on a road through the forest they ambushed and destroyed a fascist vehicle convoy which was carrying food supplies. The operation was conducted without any loss of life. Following several more, successful, operations, Azerbaijani soldiers earned considerable respect in Bolero.
The war might have been in its final year, but there was no let up in the fighting. Italy's fascist republicans and German SS forces made extensive plans to attack the partisans. One day, Nuri and a small group were ambushed at a place called Navile. It was an unequal battle, and Nuri was wounded. The fascists imprisoned him and others nearby. This is when Nuri's days of torture began.
Imprisonment
During one interrogation by the SS, a 17- year-old Italian girl was brought into the room. She was a partisan too and was also being tortured in prison. They were moved to the same cell. Tall, blue-eyed Gina was a committed communist, like the majority of Bolero partisans, and was drawn to the USSR.
After a week, Nuri and Gina were transported to another site for questioning. At the same time, the partisans launched a sudden attack on the prison, forcing the fascists to form a blockade. Here was their chance to escape! Nuri and Gina fled.
The wounded couple pushed through forests and walked narrow paths for days, before finally nearing a settlement. Weak and exhausted, they collapsed unconscious. They were discovered by one of the local villagers, who hid them in his house until they were strong enough to return to the partisans.
It was May 1945. Italy had been completely cleared of Mussolini's republicans but Berlin had not yet been captured. Partisans, including Nuri, listened impatiently to the radio, for news of Germany's surrender.
Marriage in Milan
Gina was eager to go to the USSR, Nuri's homeland. She wrote later: The USSR was the country of my dreams. I was ready to leave my family to live there. I thought that my friends and relatives would be proud of me if I lived in the USSR.
But it was not so straightforward for Catholic Gina to marry Muslim Nuri. The couple travelled to Milan to the Russian Orthodox Church of San Nicola, and there found an Orthodox priest who agreed to marry them. Later, Gina wrote: He was even happier about it than us! We spoke the truth to the Holy Father. He knew that my Catholic father didn't want me to marry a Muslim man.
The priest offered to baptise Nuri first. Nuri declined, but I managed to convince him that it was a necessary formality: the priest wanted to help us.
With the marriage certificate and Nuri baptised as Alexander, Gina again asked for her family's blessing. They went further than that, providing a room in their house for the newly married couple to live in. Gina's family never found out that, despite officially adopting the Christian faith, Nuri continued to perform the Islamic prayers, namaz.
Linz camp, Austria


The young couple didn't want to stay in Bologna for long. Gina asked Nuri about Baku and the USSR every day. She wanted to reach the country of her dreams as soon as she could.
The Soviet consulate in Milan gave them disappointing news: it was impossible to register them and send their documents, with a church marriage, to the USSR. So, Gina applied through the local Communist Party. She collected documents confirming their struggle in the Bolero partisan brigade, their participation in operations against the fascists and even their imprisonment. Finally, they were registered at the consulate, and sent to Linz camp in Austria. According to the consul, they would be sent to the USSR from that camp like all other Soviet soldiers who had fought in Italy against fascism.
Linz housed Europe's largest camp and the couple was divided. Gina was sent to the women's barracks, with their documents, and Nuri to the men's. Surely, Gina thought, after a little time and when the documents are verified, we will be sent to the USSR. After all, they were communists.
But their time in the camp dragged on. Often they didn't see each other for days. Gina grew more frustrated and addressed a camp commissioner, Bayerov, who answered her curtly: First, we must find out who you are.
Gina told him that they were communists who had fought with the partisans, and gave the commissioner their documents.
In another barracks, Nuri was violently tortured. He had been forced to sign papers that denounced him as a fascist collaborator. Nuri cried: I am a communist. All my documents are in my wife's barracks. I fought against the fascists in a partisan brigade.
But no one listened, and Gina couldn't hear his voice…
On the eighth day, Gina was summoned to the camp's political department. Commissioner Bayerov told her that Nuri would be sent to Siberia as an enemy of the people. Therefore, she should return to Italy. Gina asked him to look at the documents she had given him. But the commissioner was indifferent: Those documents had no importance. I tore them up.
His words sent Gina into a rage.
Those documents were decisive to their fate. No, you can't have done that, she begged the commissioner and tried to persuade him to send them to the USSR, but Bayerov threw her out of his room. As soon as she reached the barracks, Gina was told that she would be sent to Italy, to Bolzano, the next morning. But why? Because, she was told, her husband was a traitor and was being sent to Siberia. Therefore, Gina had nothing in common with the USSR and must return to Italy. Gina was horrified. Nuri was not a traitor!
Farewell
One of the guards woke Gina at 3.00 that morning. You can see partisan Alexander, he said, just give me all the gold you have. Without hesitation Gina gave the soldier a gold ring and a chain. Ten minutes later, she was escorted towards a small shed, where she saw Nuri surrounded by several soldiers. Nuri tried to walk towards her but was stopped.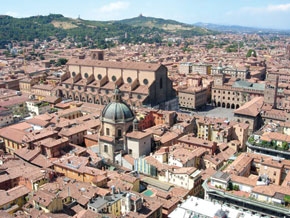 View of old Bologna. Photo: DaniDF1995
Let me touch her hand, please.
It is prohibited.
Gina gave the soldier her earrings. He put them in his pocket, but didn't allow her to approach Nuri. Gina couldn't speak and just looked into Nuri's eyes. Silently, they both began to cry.
The guard commanded: It's over!
Gina was sent over the Austrian border back to Bolzano the very next day. In Linz camp they did not manage to prove Nuri guilty of any crime after all. Finally he was sent to the USSR, screened in a military camp in Ukraine and demobilised. He returned to Azerbaijan.
Balakhani settlement, Baku, June, 1945
Ali was holding a party at his house. His 22-year-old son Nuri had returned from the war. Friends and relatives came to congratulate him, but Nuri didn't feel like celebrating. Despite recently returning to his home after five years away, he was eager to leave again. After a week of family celebrations he managed to get into Baku and sent a telegram to Gina. A single sentence: Wait for me in Tarvisio.
Gina went to the small town near the Austrian border and waited excitedly. Nuri, saying nothing to anyone, took the photographs that you can see here and slipped away under cover of night. But at 23, he did not really believe that he would never return home.
Gina had arrived in Tarvisio a day early. She waited for Nuri for a week, but no news came. How could she have known that Nuri had been arrested by Soviet border guards and sent to a military camp? Gina didn't know that the telegram in her hand would be her last message from Nuri. She was not to hear of this Azerbaijani man for 70 years, not until a 60 year-old woman would knock on her door and say, Hello, I am Nuri's daughter.
Nuri had been arrested at the Romania border. Agents from the NKVD (forerunner of the KGB) questioned him, and Nuri declared that he was travelling to Italy. The interrogation lasted only 30 minutes, after which he was sentenced… to death.
Arctic Circle
Nuri was sent to a military camp. There he persuaded camp authorities that he was innocent. He was a communist. He had fought against the fascists as a partisan.
Nuri's sentence was commuted to 25 years' imprisonment in Vorkuta, within the Arctic Circle, in the worst of the military camps at the time. He was incarcerated there for eight years, and for those eight years he would look at his treasured photographs. He must have wanted to know what had happened to Gina, but for a long time all he had was the photographs.
Back in Bologna, Gina received lengthy treatment for lung and nervous diseases. She sent hundreds of telegrams to the Soviet embassy in Rome and to Moscow, looking for Nuri. Each time she received the same answer: How can we find one individual in such a huge country as the USSR?
17 May 1997, Editorial Office of RAI TV, Rome
The security guard tried to explain to the 70-year-old woman that everyone from the programme she wanted had gone home and she should come back in the morning. The woman explained she had come all the way from Bologna, having been told that someone would meet her. Gina dug her heels in and eventually she was allowed to appear on the national TV news.
Gina was given little time, so all she could say was: I am Gina Negrini. I have been looking for an Azerbaijani partisan for 50 years. His name is Nuri Aliyev and he fought with the Bolero partisans. Nuri was born in Baku on 6 January 1923. He has dark blue eyes, brown hair and an aquiline nose. He is six-and-a-half feet tall. I want to know what has happened to him. I have been waiting for him for years. I ask the Soviet people who are watching this to provide information about his whereabouts. I beg those who know him to let me know about his life or death. My life is coming to an end. I must know what has become of him.
After her speech, Gina broke down. Thousands of Italians watching RAI TV that night got to hear the story of Gina and Nuri. Thousands of letters arrived at RAI TV.
RAI TV sent two of its journalists to Azerbaijan. They stayed in Baku for a week, but discovered nothing about Nuri Aliyev.
Gina wrote in her book The Black Sun, devoted to Nuri: If the USSR has killed him in Siberia, then it has committed an awful crime, because Nuri was not a criminal. I still hope he is alive. I know that God preserves good people.
Kostroma, Russia
Nuri's daughter Tatyana Danilchenko:
My father stayed in Baku for a little while. When he left for Italy to meet Gina, he was arrested at the border, and sentenced to death for an illegal crossing. But later, his punishment was commuted to 25 years' imprisonment. He was exiled to Vorkuta.
We had managed to find Nuri's daughter Tatyana Nuriyevna Danilchenko in the Russian city of Kostroma. After a 10-minute telephone conversation with this 60-year-old woman, we knew we had to meet her. Tanya told us that her mother, Nuri's wife Klavdiya Yakovlevna, was alive. She was 91-years-old. No one could talk better about Nuri.
According to Tanya, her father had been released under nationwide amnesty in 1956. But he hadn't returned to Baku. He began working as a turner at the Tekhmash plant in Kostroma and in the same year met Klavdiya Nikolayevna. Later, he worked as a bus driver, up until his retirement.
My father was a sincere, honest and serious man. Our relatives and neighbours loved him. When I was a child I would ask my father about the tattoos on his arm. It always made him sad. When I grew up, I asked my mother about the tattoos. She told me the story of Gina.
Tanya said that Nuri died in 2005. In the last days of his life he talked a lot about Italy, the partisans and Gina, as if he knew that he was dying.
My father believed her to be alive. He believed that she had been waiting for him for all these 70 years. It was a fantastic love.
Meeting in Bologna
Gina was glad to meet Tatyana Nuriyevna Danilchenko. When Tatyana told her about Nuri's tattoos, Gina walked to the bookshelf and pulled out a copy of The Colour of Skin, Gina's second book, which was written after The Black Sun. The entire book was devoted to the two tattoos on Nuri's upper arms.
They met on 19 April this year. Just one month later, Gina died. It made front-page news in the Italian papers, while the public mourned the greatest love story of the 20th century.
Tanya couldn't go to the funeral, where the chief mourner was Gina's daughter Flavia Valentini. Flavia is not Gina's biological daughter. In the same way, Tanya is not Nuri's biological daughter. She, like Flavia, was adopted from an orphanage. Destiny perhaps?
This is the end, the end of a story of war, death, exile, arrest, of a love that knows no distances.
About the author: Sabuhi Mammadli is a journalist with Lent.az website, part of APA Holding. He specialises in investigative reporting and reporting from conflict zones.