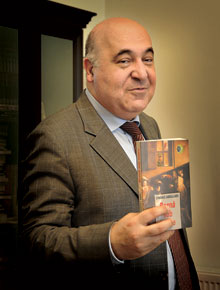 With a phenomenal 190 novels to his name, he is published in 29 languages around the world. As of today, 27.5 million copies of his books have been printed – a record for an Azerbaijani writer. Many of those books are thrillers, which draw on the author's experience in special operations for the USSR Defence Ministry. Let me introduce him: People's Writer of Azerbaijan, secretary of the Union of Writers, the winner of every literary prize and award going, a favourite with the ladies, the charismatic Chingiz Abdullayev.

Our interview took place on a sad day, the 22nd anniversary of the Khojaly tragedy, when 637 Azerbaijani civilians, fleeing their homes in Nagorno-Karabakh, were slaughtered by Armenian forces. The anniversary was the natural starting point for our conversation:


Q: Has anything changed in Azerbaijani consciousness over these 22 years? Has patriotism increased, or maybe the opposite is true and it's been declining year by year?
A: I don't think it has increased. Young people have lived a long way from the occupied territories for more than 20 years and cannot see this land. Sooner or later they will voice their objections to us, the older generation; they'll ask, why should we go and fight for these places, if you didn't want to win them back when you were young? Of course, I'm not calling for war, but just think, how much longer are we going to keep holding talks? Another 25 years? Thirty, 40 or 50 years will pass, and people will have lost their links with these places and won't want to go back any more.
Yes, it was a terrible tragedy, and unlike our neighbours we don't dream up figures but show the real victims and give their full names. It is a matter of great regret that such misfortune occurred in the history of our people.
That the world has begun to understand in the past five years what really happened at Khojaly is to the credit of the Heydar Aliyev Foundation in particular. I am glad that many books and other publications about Karabakh are appearing in foreign languages, which is something I have always advocated.
Q: How is it possible to influence young people, to affect their sense of patriotism?
A: Do you know how many national heroes died fighting to defend Khojaly? I often ask young people this question, but, unfortunately, I haven't once had an answer; four national heroes – Hajiyev, Ismayilov, Salimov and Hasanov. And you know, it's not young people's fault that they don't know our heroes. It is the fault of all of us – writers, teachers, politicians. How can we foster a sense of patriotism in the young if on the day of the tragedy we always show the same footage of the dead, the mutilated bodies of women and children, and hardly talk about the heroes who fought in Karabakh? What are we asking young people to do when we show them only the bloody photographs? I think that we are making a real mess of young people's education and we need to do something about it.
A writer's life
Q: It is said that a true artist should live in his studio, a true director should live on his film set. Where should a true writer live?
A: In his own world. A writer creates his own world and, believe me, it sometimes seems to me that my real life is in my books, not here. That's where I am happy and live according to laws that I thought up myself. That's where I can invite you to fly with me through the city, but here I have to sit in an 'uncomfortable suit' and answer your questions.
Q: Is it difficult to come back to earth?
A: It is. At least, it's very difficult for me.
Q: A writer's life isn't considered easy. Maybe it's because they are always searching for something, always struggling. What are your search and struggle about?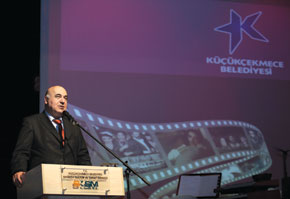 A: There isn't really a struggle. The problem is probably vanity that is like a drug, a powerful poison. It's not the chase for royalties, which are enough to last me a lifetime even if I didn't write anything else. And it's certainly not the orders, medals, titles, prizes that I receive. It is simply vanity that one is read. Believe me, I have found no greater pleasure than visiting other countries and finding my books there and meeting people who read these books. In France, Germany, the USA, Sweden… People have even told me they've seen my books in Mongolia and Vietnam. This is stronger than any drug for a writer. The greatest prize for an author is for their books to be read.
Ceausescu's downfall
Q: You once wrote a novel about the life and rule of Romanian dictator Nicolae Ceausescu, Mrak pod solntsem (The Shadow under the Sun). Were you afraid of being historically biased when you wrote the novel?
A: Any author is always subjective and biased. Though I did live and work in Romania for many years, so I know the history and culture of the country very well.
Q: How did the novel go down in Romania? Were there any consequences? It's quite a disturbing subject.
A: Actually, I had a lot of trouble after this novel. I was even deported. I was really angry and remember that I stopped publication of the novel in Romanian. Then, a whole succession of events made me change my mind and the book was eventually published in Romanian too. As luck would have it, Romanian President Traian Basescu made an official visit to Baku at that time. It turned out that he reads my books and wanted to meet me. We met and talked.
Later, when the book was published, the Romanian defence minister under Ceausescu, Gen. Stanculescu, wrote a special review of it. The review said the following exactly: Everything that Chingiz Abdullayev has written is absolutely true. It's hard to believe, but after that the 84-year-old general was put in prison. True, he was later released, but it was very unpleasant of course.
Now I have been awarded the highest literary prize, the Tudor Arghezi Prize, and am an honorary citizen of various Romanian cities. I am practically a classical writer there now, though I was blacklisted back then. I wrote that book 20 years ago, but people are still talking about it.
National disaster
Q: What do you think of the reading public in Azerbaijan? Have its reading tastes and preferences changed?
A: They have changed a lot. People hardly read books in our country, which is really disappointing. I would call it a national disaster. People in Georgia and Armenia read ten times more than we do. Officially, 48 per cent read in Georgia, 39 per cent in Armenia, while here 11 per cent do. And even that 11 per cent is quite far off the mark. No more than 3 per cent of our population read, and do you know why? There are only a handful of bookshops for the whole of Azerbaijan. Once Baku had 114 bookshops. Now there are just four. Another comparison – there are 78 bookshops in Tbilisi, capital of our neighbours, Georgia, which looks a poor country compared to Azerbaijan. I remember how in the old days people wouldn't sleep at night but queue up to buy Dickens, Balzac, which were like gold dust; now these books are thrown out onto the street.
Hard work
Q: Quite a few young Azerbaijani authors have emerged recently. If you were making a wish for them, what would it be?
A: I am glad that many young authors have appeared in the world of Azerbaijani books in the past eight to nine years. I try to help them in any way I can, including pushing their books. What would I wish them on this journey? Probably, strength and a love of hard work first of all. Believe me, it's hard work being a writer.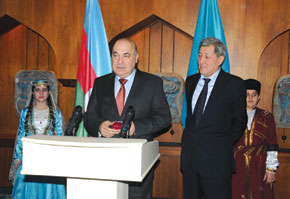 Good against evil
Q: Paolo Coelho, Khaled Hosseini, Haruki Murakami are best-selling authors around the world today. What is the secret of their popularity?
A: Every author has their reader. Herta Muller received the Nobel Prize, but I don't like her books all that much. They talk a lot about lesbian love and homosexuals. I've also written a novel, The Cuckold (Rogonosets), about homosexuals, which will be published any day now. So what?
I think that a book should nurture its reader, instil in them the certainty that one should and could fight for good, for god.
Q: Are you a believer yourself – in someone or something, God or science?
A: I consider myself an agnostic. For some reason it makes me anxious to think about God or faith. It's dreadful that there's a lot I don't know and will never be able to comprehend, since I think that time and space as such don't exist. So I try not to think about it.
Q: Do you agree that at some genetic level everyone, if only once in their life, asks themselves – who are we, where are we from and why are we here?
A: Borges once said that if someone believes in God, if only a little, then they have to believe in everything that God created. Then he asks the question: if God created everything, then he also created the devil. Why? If God had not created the devil, there would not be any wars, people wouldn't steal, murder or commit other crimes. Mankind would live in peace and harmony. So why?
Q: Maybe to test people?
A: No, he created the devil specially so that people could choose whose side they were on, good or evil. In my life, for example, whenever there is a denial of God, God makes himself known. But on the other hand, I find it hard to believe that flowering gardens and dancing girls are waiting for me when I die.
Detective fiction in Muslim world
Q: You said in an interview once that the weak development of Azerbaijani prose, which is young in comparison with a thousand years of poetry, is connected with our religion. Could you explain the connection in more detail?
A: When I said that, I was talking about the detective genre, not prose as a whole. The thing is that crime belongs to the category of rational literature, but Islam as religion is irrational. It's not me who says this but John Locke. The concept of the detective novel arose in the West. Edgar Allan Poe, Conan Doyle, G.K. Chesterton, Rex Stout, Agatha Christie and others – they are all representatives of Western culture and thinking. When we enter a Christian church, we see images of the crucified Christ, Satan, the snake giving Eve the apple, in a word everything from the category – good and evil. It is not surprising that Christian jurisprudence is built on logic and facts.
The irrationality of Islam is that we want to go to the mosque but God is already in our soul. A Shariah court is built not on fingerprints, but on the conviction of essential guilt. This, by the way, is much stronger than those fingerprints, which, unlike convictions, can be easily falsified. This is probably why the detective novel as a literary genre is not developed in Muslim literature. There is Turkish author Orhan Pamuk and his Black Book and Chingiz Abdullayev, and that's it.