Father and son spread the sound of the tar throughout the world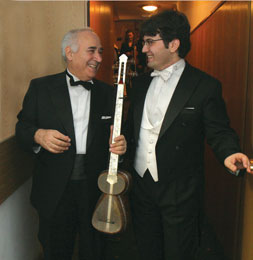 Mstislav Rostropovich: "Ramiz Quliyev´s performance is a miracle"
Liberation (France): "He is the Paganini of the East"
Pages 76-81
by Rovshan Didavari
The ancient Azerbaijani region of Karabakh is the cradle of Azerbaijani music. Love for the arts is in the blood of the Karabakh people and Karabakh has given Azerbaijani culture many of its most prominent performers. One such is tar player Ramiz Quliyev, an outstanding musician, who is the pride not only of Karabakh but of the whole of Azerbaijan. He has made an exceptional contribution to the development of Azerbaijani folk music.

For over 50 years now, Ramiz Quliyev has been playing the tar in his unique style, performing the work of world famous composers and classical mughams. It is hard to imagine the sound of another tar in proximity to Ramiz, but the years have passed and now he plays tar duets with his son, Ayyub. Father and son spread the sound of the tar throughout the world. Although Ramiz has at times abandoned his tar, his performance is as magnificent as ever because sometimes he is accompanied by his son and sometimes conducted by him. In Ayyub Quliyev´s words, there is no father and son concept on stage. This relationship remains at home. On stage there is artistic competition.
Paganini of the east
Paganini of the east Ramiz Ayyub oghlu Quliyev was born in the town of Aghdam in Moutainous Karabakh on 30 April 1947. He studied in music schools in Aghdam in parallel with his high school studies and in 1964 entered the Uzeyir Hajibayov Azerbaijani State Conservatory. He graduated from the conservatory in 1969, having specialised in the tar and conducting.
While in music school in Aghdam, Ramiz Quliyev was a member of the Shur folk ensemble and performed in concerts and festivals throughout Azerbaijan. He performed at the 1961 Moscow Exhibition of Economic Achievements and at government events, receiving medals and honorary certificates.
Ramiz Quliyev began work at a young age. He taught in school No 1 in Aghdam (1963-64), and schools No 1 and 20 in Baku (1965-74). He taught the tar in the folk instruments department at the Conservatory (1974), becoming senior teacher (1977), lecturer (1983), professor (1990), and in 1990 head of department, a post he held for 12 years.
The year 1974 was a remarkable one for Ramiz Quliyev. In July he won first prize at the Trans-Caucasus festival of musicians, and in October was awarded the title of laureate at the fifth pan-USSR contest of entertainers in Moscow.
You won´t find a music lover in Azerbaijan who does not know the work of this tar and mugham virtuoso. Ramiz Quliyev performs at the Philharmonia and Conservatory and on radio and TV.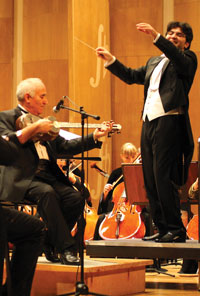 The Quliyevs perform in Poland
Ramiz Quliyev has been a marvellous ambassador for Azerbaijan, performing to packed concert halls throughout the world, from Afghanistan to the USA, Germany to Guinea Bissau. In 1987, he directed the Sadiqjan mugham trio to great acclaim and also performed as a soloist at the 3rd International Musicology Symposium in Samarkand, Uzbekistan. He has performed at festivals organised by UNESCO in the USA, at the Great Silk Road Festival in Japan and at international music festivals in Switzerland and Norway.
Ramiz established the Orchestra of Eastern Instruments which performed in 1997 in Jerusalem. He has given concerts for tar and piano with orchestras from Russia, Iran, Switzerland, Poland, Belarus, Uzbekistan and, of course, Azerbaijan. He has recorded Azerbaijani and international classics, accompanied by orchestras and world famous conductors including Niyazi and Daniel Kleiner. His CDs, DVDs and other recordings have been released in over 30 countries, including Azerbaijan.
Ramiz Quliyev has been awarded the honorary titles of laureate of the Republican Lenin Komsomol (1978), Honoured Artist (1982) and People´s Artist (1988). In 2002 and 2003 Ramiz Quliyev was awarded the prize of the president of the Azerbaijan Republic and in 2007 the Order of Glory for his contribution to music in Azerbaijan.
Ramiz Quliyev has continued to teach and in over 40 years he has trained a huge army of young tar players and teachers at what is now Baku´s Music Academy.
He is the author of a number of textbooks, programmes and academic articles.
In the 1970s, Ramiz Quliyev brought a new performing style to mugham. He is one of those rare musicians whose performances inspire composers to push their creative boundaries. Fifteen concerts have been written by Azerbaijani composers for tar and orchestra specifically for Ramiz Quliyev and his style of performance. Composer Arif Malikov comments that Ramiz Quliyev has introduced completely new features in performance and ´works with composers like a composer´. Ramiz Quliyev thrills his audiences with his tar playing and conveys to them the beauty of the human soul.
Ramiz Quliyev´s innovation in music has been to transform the tar into a versatile instrument capable of playing ancient mughams and the latest, avant-garde works. His versatility as a performer of both mugham and works by classical composers marks him out from other musicians.
On stage there is no father and son - there is artistic competition



Ayyub Ramiz oghlu Quliyev was born on 26 July 1984 in Baku. When he was 15, Ayyub enrolled in the conducting department at the Uzeyir Hajibayov Music Academy in Baku and graduated with honours in 2005. In 2001, the academy awarded him the Uzeyir Hajibayov stipend, and in 2002 he received the Best Student of the Year award, established by the Friends of Azerbaijani Culture Foundation.
While at the Baku Music Academy, Ayyub Quliyev conducted the Baku Youth Symphony Orchestra in various concert programmes.

In 2005-07, Ayyub Quliyev took a post-graduate course at the Rimsky-Korsakov State Conservatory in St Petersburg, specialising in conducting operas and symphonies, and in 2008 took a class at the State University of Music and Performing Arts in Vienna. In October 2006, Ayyub Quliyev won first place at the Lutoslawski International Conducting Competition in Poland and was also awarded the Orchestra´s Special Prize – Best Conductor of the Competition.

Ayyub Quliyev has conducted symphony orchestras in Spain, Norway, the Czech Republic, Poland, Croatia, Russia, Belarus and Azerbaijan. Ayyub made his debut as an opera conductor in May, conducting the St Petersburg State Academic Opera and Ballet Theatre in a performance of Mozart´s Marriage of Figaro.

In 1998, President Heydar Aliyev had Ayyub included in Azerbaijan´s Golden Book of Young Talents and awarded him a presidential stipend.

On 16 January this year the Quliyevs enchanted their audience in Poland, receiving many requests for encores for their performance with the Lublin symphony orchestra. Ayyub conducted the orchestra in a performance of classical works by Western and Russian composers - von Weber´s Oberon overture and Tchaikovsky´s Symphony No 5. In the second half of the concert, Ramiz Quliyev performed Azerbaijani composer Haji Khanmammadov´s music written for tar and symphony orchestra. He rounded off his appearance with a rendition of the famous Polish Polonaise, for which he received a standing ovation.