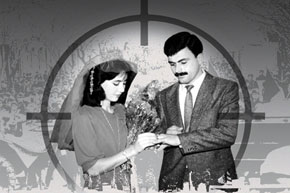 Azerbaijan has dozens of stories of true love as good as Shakespeare's Romeo and Juliet. For example, the great stories of Leyli and Majnun, Farhad and Shirin, Koroghlu and Nigar, all tell of faithful love that never dies. Modern-day Azerbaijan has its own true love story too – Ilham and Fariza. Married shortly before the carnage of 20 January 1990, they were to become a model of self-sacrifice. For several years now their wedding day, 30 June, has been celebrated unofficially as Azerbaijan's own St Valentine's Day. Ilham and Fariza gave their lives for the independence of the motherland, but left their love in millions of hearts.
Ilham and Fariza were an ordinary young couple in 1980s Soviet Azerbaijan, living according to a mix of Soviet and Azerbaijani traditions. Ilham was 27 and Fariza 19. He worked at the dockyard; she studied at medical college. They got married on 30 June 1989, but barely six months later were buried side by side.
It started off so well. Ilham was born in Aghdam region which is now under Armenian occupation because of the Nagorno-Karabakh conflict. After his father got a new job in Baku, he moved with his family to the capital. After school, Ilham did his compulsory military service in the Baltic states. Following demobilization he began work at the Baku dockyard, which is now named after him. As he took the steps of a young man starting out in life, Ilham was accompanied by his beloved Fariza.
At the end of the 1980s an atmosphere of forthcoming collapse reigned in the USSR. The Soviet empire was living out its last days; protests were being held in Baku and other parts of the USSR. Ilham, his family recalls, was one of the active participants in the protests, calling for the country's independence. During the night of 19-20 January 1990, over one hundred people were crushed by Soviet tanks that rolled onto the streets of Baku. Among those heroes were Ilham and Fariza.
Short-lived happiness
Ilham's older brother Elkhan invited Visions of Azerbaijan to his home to share his memories of what happened. His 76-year-old mother, Ophelia khanim, sat at the table too, casting angry glances at us. Every time the names Ilham and Fariza were uttered, tears welled up in her eyes. It is more than two decades since they passed away, but she is still in mourning. A mother's sorrow is deep and the loss of a child irreparable. Holding back tears, she said:
They got married in summer. It was a beautiful wedding, according to all our national traditions. Fariza was a nice girl. I loved her very much. Actually she was in the same class at school as my daughter and was often at our house. She lived in a neighbouring building and I loved her as my daughter. Perhaps that was when my Ilham fell in love with her. And Fariza loved him very much as well. They got married. I remember Ilham often took her to resorts in summer. We lived as a whole family at that time. I remember her now, standing by the window and waiting for him after work. Her eyes shone when he came home. But their happiness was short-lived.
An incident occurred shortly before their marriage. When Ilham wanted to propose to Fariza, members of his family went to Fariza's home, as is the Azerbaijani tradition, to make the engagement. They decided to go in Ophelia khanim's nephew's new car. When they reached their destination, the car's windscreen suddenly cracked. This was a bad sign, Ophelia khanim thought, but didn't pay much attention. But who knows, maybe it was a bad omen.
Ilham's brother Elkhan interjected that, omens or not, Ilham and Fariza got married and were very happy. They understood each other easily, even on major political issues. Fariza was very active too.
Like Ilham she also participated in the protests of the independence movement across the city. At that time all Baku seethed with the desire for change. Ilham didn't pass any protests by, he was always at the centre of events. He hoped to see Azerbaijan an independent state very soon. And this is what Fariza wished for too. They wanted their child to be born in a free country. They understood each other perfectly and never quarrelled. Whenever they were out, all eyes were on this couple.
Ilham was five years younger than Elkhan. They lost their father very early, so the boys had to work and help their mother and three sisters. So, after serving in the army Ilham went to work at once, as Elkhan had done before him. It was quite difficult at that time to make a living, but the family kept together despite the obstacles. There wasn't time to think about a university degree or professional career.
It is very hard to lose your father when you're young. Because, you start being responsible for your mother and sisters. Ilham did it the best way. Besides, he was very patriotic. His patriotism started from him loving his family, home, work and then his country.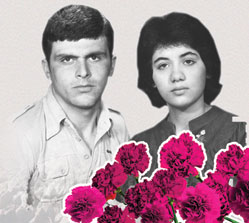 Man in black
Elkhan remembers the night of 19-20 January very clearly. Ilham took Fariza to her mother's, then came back. He changed into his black coat, kissed Elkhan's first son Ajdar, said goodbye as usual and left home, promising not to be back late. This was his last goodbye.
Later we were told by his friends that Ilham had known that Soviet tanks were coming to Baku and that he and his friends had decided to wear dark clothes and prevent the tanks entering the city. The few witnesses who survived and who were with him that night said later that, right up to the end, Ilham could not believe that the soldiers would shoot innocent people. He thought the soldiers were just trying to frighten people. He was running near the tanks and shouting to the soldiers not to shoot – 'What are you doing? They are people just like you. They are unarmed. What are you doing, you scum?' But the soldiers opened fire and one of the first victims was Ilham.
He didn't return that night. Morning came and Mum and I went to find Ilham. We were shocked as we walked through the streets. Blood stains were everywhere. Mum stood next to every trail of blood, as though she felt it was Ilham's.
'She doused herself in petrol'
Initially Ilham was buried in Khirdalan cemetery. With tears in her eyes Ophelia khanim didn't let Elkhan continue this sad story. She took up the tale:
When she heard that Ilham had died, Fariza couldn't believe it. But when he was buried she suddenly tried to commit suicide – she doused herself in petrol and wanted to set light to it. We managed to stop her in time. After this, we kept a close eye on where she was and what she was doing. I asked my daughters and her mother to look after her carefully because we were all busy with the funeral process. However, it happened. The day after the funeral, when everyone was busy with funeral concerns, she went into an empty room. She began to write a letter on a small piece of paper but couldn't finish it. My mother-in-law noticed Fariza's absence and went to find her. When she entered the room she saw her in her death throes. On the bed was the scrap of paper with only these sentences – 'Don't cry. I couldn't stay without Ilham. Mum, don't cry. All the same this…' It seemed that while writing she heard steps and drank acid faster. Poor girl, she loved Ilham so much… And even the fact that she was three-months pregnant didn't stop her from committing suicide.
Besides the paper on the bed were laid out Ilham's clothes and some photographs of Fariza and Ilham looking so happy together. There was another photo of their wedding reception – she is in white and he is holding her arm. Both faces look diffidently at the camera, but are radiant with happiness. The same photograph would be used for the image on their graves when they were buried side by side in Martyrs' Avenue. A decision was taken to bury all the victims of 20 January at Martyrs' Avenue, a cemetery on a hill overlooking Baku. Fariza and Ilham lie side by side near the entry to the avenue.
Always together
This tragic tale of two lovers touched the hearts of millions of Azerbaijanis. People still come from all over the country to pay tribute to them, a couple whose heroism helped to make Azerbaijan independent. For several years now their wedding day – 30 June – has been celebrated unofficially in Azerbaijan as a day for lovers. Elkhan hopes that one day the president will officially declare it 'Azerbaijani Lovers' Day'. He said that Azerbaijani young people should take from the story the message that true love never dies.
And if in the West people celebrate 14 February as lovers' day, then why shouldn't we have our own lovers' day? Every year we have a small party on 30 June to pay tribute to Ilham and Fariza's love. Some writers, singers, parliamentarians join us on this day to share our pain, and the pain of the whole nation. I'm very pleased when I see young people giving each other gifts and flowers on this day. It means that Ilham and Fariza's love has not only survived but moved into the hearts of our young generation.
This day is a symbol of love, loyalty and courage, the day that Ilham and Fariza promised to be together forever and kept their word.