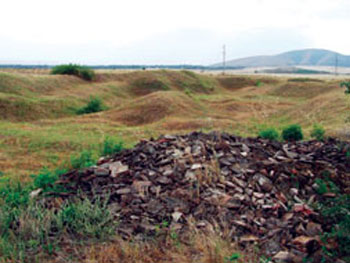 Pages 56-64
by Fiona Maclachlan
Can you imagine being an archaeologist for 50 years and spending two months every single summer out on site at Chukhur Qabala, the ancient capital city of Caucasian Albania? This has been the life of Ilyas Babayev since he was 23 years old. A professor of the Institute of Archaeology and Ethnography at the National Academy of Sciences in Baku, Azerbaijan, he is head of the archaeological expedition in Chukhur Qabala.
I was lucky enough to be able to visit the sprightly 73-year-old professor on location, on his 50th dig in June 2009. My friend Judy Gage took the photos while I looked and listened.
A flurry of mobile phone calls led to us waiting in our 4x4 outside a school in the present day village of Chukhur Qabala. This wasn´t by any means my first visit to the site – I now take many of my guests to Azerbaijan to visit this unique city - but
Behind closed doors and in a typical Azerbaijani small holding, the expedition was being organised by the professor and his team. A large tent identified the ´camp´ and we were ushered onto the veranda of the adjacent house, shown seats at a long table, and given the warm welcome which I have come to appreciate in Azerbaijan - tea and conversation.
Work started on the site in 1959 and here we are 50 years later, still making discoveries. The current team of 12 specialises in one of two time periods, classical or medieval history. The team changes as the two-month camp progresses, with members swapping in or out every couple of weeks or so. Some of the team members are advanced students, studying for their master´s degree. Each year the excavations continue where last year´s left off. The deeper they dig, the older the remains. The city existed until the 18th century and the oldest remains currently being found are from the 8th century.
Of particular interest at the moment is the medieval water supply system, and pipelines from the 15th and 16th century have been found. Professor Babayev explains that, according to historical records and books, there were fountains here in the 16th century. The archaeologists have calculated that four pipelines brought some 360 cubic metres of water to the city every day. Chukhur Qabala attracts international interest with archaeologists visiting from countries such as Germany and America, while Seoul University in Korea is actively involved. (http://www.seba.az/en/elmtehsil.shtml)
As the chat over tea continues, the archaeologists proudly show us their latest finds. Some are familiar from previous discoveries, some less so.
One exciting new find is a charming ceramic medallion with an Arabic inscription. It´s about the size of a large coaster and Professor Babayev believes it may be from the 15th or 16th
Then we get to look at some coins, perhaps from the 2nd century BC.
We see a variety of ceramics from the 12th and 16th centuries and a 13th century Aladdin´s lamp. All these are laid out and we admire the glaze and colours on the plates, so new and shiny and bright.
Archaeologist Elmira holds up today´s find - a beautifully shaped clay pot, perhaps 13th-14th century, as attractive now as the day it was made. We all agree on its timeless elegance and, silently, imagine its maker and how it might have been used.
Each piece is numbered as it is found.
Some pieces are of local origin, and some are believed to have come from China. Chukhur Qabala was on a major trading route, as part of the silk road, and this means the finds can be truly international in origin. Sitting on the peaceful veranda, surrounded by garden upon garden filled with fruits and hazelnuts, it is exciting to imagine foreign traders traversing this very location long ago.
By now we are entranced and when Professor Babayev offers to show us the nearby excavation sites we are enthusiastic to see what he has uncovered.
On the way in the 4x4 to the first site, we pass the
Further on Professor Babayev points to a mound on our right, an early Bronze Age grave. Then we are shown ´walls´, 1 km long, on our left. These are 3rd century BC, he tells us, but there has been no archaeology done there yet.
We take a left and - ´Welcome to our ancient city,´ Professor Babayev says proudly.
A site is being excavated and I ask what made the professor decide to dig here. He shrugs, ´It´s our job,´ and launches into showing us around. He´s animated and excited, and it´s infectious. Here we have perhaps a theatre, it´s an oval shape and it has columns in the middle. There are two interconnecting doors, as if for tickets and/or security. The stones used in the construction, Professor Babayev explains, are similar to those in Shamkir (a town in Azerbaijan some distance
I ask if there have been observations made from the air, but no, nothing like this has been done. Nearby there is a room with an array of bakery ovens dating from the 4th-3rd century BC. They are conical; each one is two to three feet across and one to two feet deep, and lined with terracotta clay.
We see another area which was excavated between 1983 and 1987 and they are starting work on it again now; it´s currently covered in polythene.
And then we are shown a new area where work started just last year. It´s believed to be a public building, maybe a temple which might have been destroyed by fire (there are remnants of burnt earth). It dates from the first century, about 2,000 years ago.
Over the years the city may have moved to stronger locations, better situated to repel invaders. Walls are of different ages, sometimes in the same locations.
They find higher walls, over two metres high, and roof tiles weighing in excess of 50 kg each, from the Roman period. ´Watch out for snakes. And here we have a gap of about 250 years where we have no evidence of activity.´
Another grassy mound is dismissed, ´These are old excavations - finished.´ But Professor Babayev´s eyes light up as he asks ´Where is the grave of the king? It will be full of expensive gold. It will be an exciting day when we find it!´
This was a famous city, described in old literature in places as far afield as Moscow and Greece, and its importance is undisputed. Maybe some 30,000 people lived here, Albanians, tall and blond.
But by now we are on our way to the next excavation area. ´Welcome to our medieval city,´ and we are introduced to the archaeological work of Professor Babayev´s colleague, Dr Qafar Jebiyev. A group of German tourists are looking eagerly about them as they see what is being revealed. The animated chatter is simultaneously in Azerbaijani, Russian, German and English, and I wonder again about the international nature of previous guests.
´Much of this dates from the 16th and 17th centuries, and as the archaeologists dig down they reach remains from the 14th and 15th centuries. Newer walls sit atop older walls.´ They get an idea of the changing fortunes of the city as business levels go up and down. ´It was not so good in the 13th and 14th centuries.´
´Here´s a room with a cooking place, a wood burning fire in the centre. They used river stone for building, and also some cement type stone. Holes in the ground could have been coolers for storing food.´
Overall this is a 25 hectare area but the archaeologists are working in 5x5 m (25 square metre) areas. Excavation work began in 1926 and continued spasmodically until 1959 after which work has been carried out every year.
The archaeologists believe that around the 11th century half the city either died or left for another place (maybe on the trading routes). The remaining half survived
Electricity pylons just outside the city are highly visible. Built in 1975, the pylons carry electricity to the Qabala radar station. The lines were constructed outside the city and Chukhur Qabala has been a protected area since full of expensive gold. It will be an exciting day when we find t!´
this time.
As we reach the gates we learn that there was a cemetery here, just inside the gates, some 2000 years ago. Burial urns have been found, and the various finds reflect the changing ways of burial over the years: there are Christian graves from the 4th century but with evidence of Zoroastrian, and Pagan ideas of burial too.
Outside the walls, dating from about the 9th century, there was an Islamic mosque, but with Christian burial sites.
Daylight is fading and we are all hungry - it´s now the middle of the evening. We retrace our steps but on the way back Professor Babayev returns to his current hot topic – the water system. He shows us exposed water pipes, their robust method of double layer ceramic construction covered in stone - the real lifelines to his exciting city.
What a fabulous trip and what an amazing place,