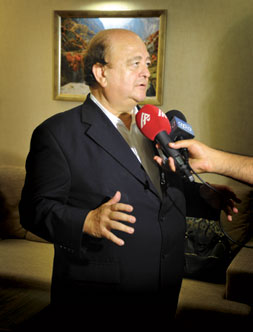 When a group of French senators and travel industry professionals visited Azerbaijan this summer, they discovered new potential for cooperation. The French delegation went to Qabala in the foothills of the Caucasus, where they focused on mountain tourism.
The delegation consisted of Jean Besson, socialist senator from the Drôme department (Rhône-Alpes) and president of Rhône-Alpes Tourisme, Philippe Lebrasseur, president of Orex Loisirs and a member of Cluster Montagne, an organization that promotes French know-how on sustainable mountain tourism, Marc Bechet, executive director of Rhône-Alpes Tourisme, Pierre-Jean Baillot, vice executive director of ERAI (Entreprise Rhône-Alpes International), which supports the export initiatives of Rhône-Alpes companies, and Lucyna Gravière, ERAI's head of institutional relations.
This wasn't the first trip to Azerbaijan for the president of Rhône-Alpes Tourisme, Senator Jean Besson, who initiated collaboration in tourism during previous visits to the country. While he was in Baku, he talked to the press about his ideas.
We are from Rhône-Alpes which is considered one of the best developed tourist regions of France. Rhône-Alpes is a leading region in France for winter holidays and skiing. We knew that new winter resorts were to open soon in Azerbaijan, so we were very interested in building this cooperation.
How would you assess the current level of relations between France and Azerbaijan in general?
I paid a visit to Azerbaijan together with a French delegation in October last year. We held discussions on cooperation mainly in the energy sphere and had meetings with the president of Azerbaijan, Ilham Aliyev. I should say there are prospects for cooperation in many spheres. For example, I have already noted tourism as one of them. We were informed that Azerbaijan has programmes for the development of tourism. Mountain tourism is an important and promising sphere. And not only winter but also summer tourism has huge potential for development here in Azerbaijan. For example, the population of the Rhône-Alpes region is about six million, but every year we receive millions of tourists from all over the world. More than 130,000 local people are involved in tourism work. The development of mountain tourism means new job opportunities for Azerbaijan. So we can cooperate and share our experience in this field. There are also opportunities for the development of cooperation in culture.
Recently there has been some criticism of the OSCE Minsk Group, the international body mediating a solution to the Armenian-Azerbaijani conflict over Nagorno-Karabakh, of which France is a co-chair. Do you share this criticism?
I can just say that France as an OSCE Minsk Group co-chair country is trying to resolve the conflict between Azerbaijan and Armenia. We believe that a solution that satisfies Azerbaijan will be achieved in the Nagorno-Karabakh conflict. Azerbaijan will achieve the resolution of the issue according to its interests and rights. I'm convinced that France will take the most neutral position for Azerbaijan.
You mentioned cultural cooperation. What kind of cultural development could bring the two states closer to each other?
Personally, I would mention cuisine as able to bring about rapprochement. Both in France and Azerbaijan people respect good food and have very traditional, rich cuisine. I have got to know Azerbaijani food very well and should say I like it very much. Our links in music and art should be taken to a higher level as well.