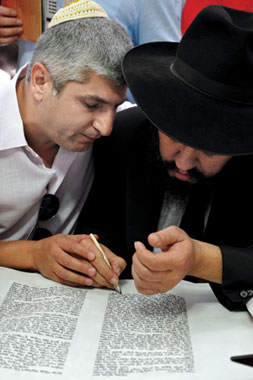 A major event occurred in the life of the Mountain Jews Community on 13 June – a new Sefer Torah scroll was introduced into the synagogue in Baku. The scroll was presented by the Mountain Jews of Moscow.
A Sefer Torah scroll contains the five books of Moses, the Pentateuch. The books are handwritten in Hebrew on parchment according to strict prescriptions. Described by Rabbi Mendy Hecht as 'a mind-boggling masterpiece of manual labor', an authentic Torah scroll comprises 62 to 84 sheets of parchment and contains exactly 304,805 letters, .
The Mountain Jews of Azerbaijan gathered in the synagogue in Baku in order to finish the new Sefer Torah Scroll in a special ceremony. It is considered a great honour to be invited to complete one of the final letters of the scroll. .
The scroll was then carried into the synagogue, accompanied by traditional music and dancing. .
Addressing the ceremony, Milikh Yevdayev, chairman of the Mountain Jews Community, described the introduction of the Sefer Torah scroll as a significant event not only for the Jewish community, but for all the people of Baku, as it brings a blessing to the entire city. He thanked the government and people of Azerbaijan for providing conditions under which every religious confession may freely exercise their religious rites. .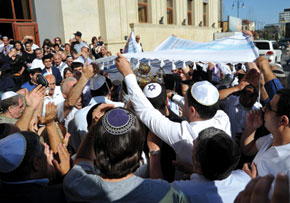 Ceremony to mark the introduction of the Sefer Torah Scroll into the Mountain Jews' Synagogue in Baku
The ambassador of Israel to Azerbaijan, Rafael Harpaz, expressed his gratitude to all present and said that Azerbaijan could be an example of tolerance to the world. .
The leaders of different faith groups in Baku also attended the ceremony. The first deputy chairman of the Office of Caucasian Muslims, Mufti Haji Salman Musayev, Archbishop Alexander of the Baku and Azerbaijan Diocese of the Russian Orthodox Church, Father Vladimir Fekete, head of the Roman Catholic Church in Azerbaijan, and the chairman of the Albanian-Udi Christian Community of Azerbaijan, Robert Mobili, all offered their congratulations too. .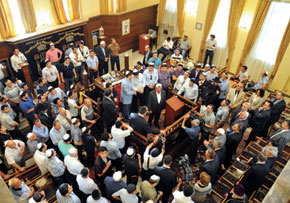 The Russian ambassador to Azerbaijan, Vladimir Dorokhin, said he was especially pleased that the Sefer Torah Scroll had been presented by the Moscow Mountain Jews Community. Belarusian Ambassador Nikolai Patskevich noted the similarity between Azerbaijan and Belarus in terms of tolerance. He said the event confirmed that the Azerbaijani people were very tolerant towards other religions. .