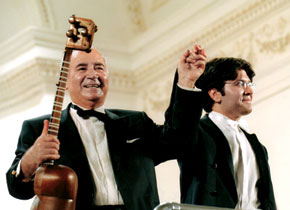 Ramiz Quliyev and conductor son Ayyub
From the USA to Japan, Norway to Iran, Ramiz Quliyev has performed around the world. Fuller information about his career can be found on the website of the Vienna Chamber Orchestra, one of the many orchestras with which he has performed. An impressive list maybe, but missing the vital link between soul, brain and fingers – and the twinkle in the eye – which make him probably Azerbaijan's greatest living tar player. As we described in a previous edition (July-August 2012), our paths crossed in unusual circumstances for such an eminent classical musician. First he was on TV rocking along on the Bizimkiler version of Michael Jackson's They Don't Care About Us, (catch it on YouTube) and then he was at the Qabala Music Festival, in the audience this time to watch his son Ayyub conduct, among others, the UK's Royal Philharmonic Orchestra.
In Qabala he was for once not under the pressure of imminent performance and we had the luxury of a lengthy interlude for tea and talk in that verdant, sun-filled valley. It was a real pleasure to be with a man who has worked and worked to be the very best at the thing he enjoys most – playing good music. Of course we harked back to the Bizimkiler project and Ramiz muellim's obvious enjoyment of the project – playing with a huge smile:
You must express the music, on your face, in your eyes, in your heart.
Far from feeling like a fish out of water, it was a chance to broaden experience:
It was an opportunity for us to perform the pop songs of the world on Azerbaijani national instruments. I love to listen to all kinds of music: variety, jazz, pop, rock, opera, ballet, cantatas, all kinds... [though] we had never played those songs.
But Ramiz Quliyev is known to all Azerbaijanis for his playing of mugham, the country's 'national music', and we had to find out more about his relationship with his home ground. Mugham is a complex form, based on seven main musical modes, each conveying a different overall mood, with plenty of scope for improvisation; the words sung are often derived from classical poetry. It is most commonly heard in Azerbaijan played by a trio of khanende (singer) tar and kamancha, often supplemented by nagara (a double-headed drum) and balaban (a double-reed pipe), but Ramiz muellim is most often to be found these days in the middle of a western-style classical orchestra.
I did play [in a trio] before... after success in international competition I became a soloist at the Philharmonia in 1974. At that time there was one soloist, and I came next. I made it my goal not to follow a path that somebody had already walked. I chose my own path, a different path, with an orchestra.
And how did you progress, starting with mugham?
There must be absolute diligence and hard work, on a foundation of talent. The path to becoming a great performer begins with the musical alphabet. It is a very difficult path, because we feel mugham, which is now amazing audiences around the world, in our blood. Our national music is felt in our blood.
How would you describe the essence of mugham?
It has its own world. Each mugham can express a nation's traditions, social conditions and philosophies. In its philosophy, I think you can see a dream, or imagine your own life. There are people who listen to Shur, and they enjoy it. But there are people who listen to Chahargah. There are people who listen to all of them, but they prefer one. The way, for example, you love one woman – you love mugham that way.
And which one do you prefer?
I love all the mughams, but sometimes I want to play them all like Segah. It doesn't depend on me. It's a mystery. Nobody has explained this yet.
So, what is Segah? What does it mean for you?
For me Segah is a transition from the world of grief to the world of joy. When I listen, or play it, I feel everything – love, sadness. I feel my crying when I was born, I feel my loneliness. Even if I am crying, Segah helps me. When you are motherless, it becomes your mother and sings a lullaby to you like your mother. If you are fatherless it becomes your father and always helps and supports you. It makes you love everything. It is full of love for people, for nature, for everything. Segah calms you down when you're angry. You can find all kinds of love in it.
At this point, our conversation on the warm terrace was interrupted by the arrival of tea and the traditional armudu (pear-shaped) glasses. Ramiz broke into his Segah philosophy to fill our glasses, declaring with (partial) modesty:
I'm the best teaman among tar players, but not the best tar player among teamen.
Eventually, we drew him back to his main musical love:
Have you always loved Segah that way, or has it changed over time?
Segah is such a devil; Segah is Segah, it always helps. Whether you play it well or not, it is always different from other mughams. Even if you don't know its name, which mugham it is, you still love it.
Did you initiate your son's interest in music or was it his wish to follow his father?
You know how it happened? It was very interesting, Ayyub was five. How I was looking for a tar at the age of five! No one played the tar in our family but my uncle, who was in the military. He went to the war (1941-45) and was wounded. He was an amateur tar player. Because whoever lives in Karabakh has musical talent, you know. We were born in Karabakh, too.
Which town?
Aghdam. Yes, I opened my eyes to the world in Aghdam. When I was five, I saw something hanging on the wall. I didn't know what it was. What was it called? I asked my father. He answered that it was a tar. I asked why it was hanging on the wall. I saw that he was deeply touched, with tears in his eyes. I didn't ask more because we respected our elders then and were shy of them. But later I asked my mother. She told me that Uncle Habib had been wounded in the war. His arm had been badly injured. He always wore long sleeved shirts and wrapped up his arm when it was cold. When my uncle visited, I ran to him. I took his hand and I asked. 'Uncle, what is that?' he said 'A tar!' 'And whose is it?' He answered: 'It's yours.' And I asked. 'Then, why is it hanging on the wall?' He took it and gave to me. And I have played the tar ever since. Now let me tell you Ayyub's story. Ayyub was born in 1984. You know, my story was repeated 36 years later.
I got the tar openly, but my son, he got the tar secretly. I was working at the Conservatoire and going home during breaks. Sometimes I would practise after dinner. One day I saw that somebody had opened the case and hadn't closed it carefully. I was worried. I asked my wife: 'Hokume, who touched my tar?' I was worried and I didn't like it.
The tar is very delicate and fragile. It can easily be broken if you are not careful. And once it's broken, you can't repair it. Later, my wife told me that while she was cleaning she noticed Ayyub going into the room; he closed the door and put a chair against it. She opened it quietly and saw that the tar was on the table and Ayyub, with his tongue out in concentration, was trying to play it. History repeated after 36 years.
Did you send him to lessons?
I bought him a small tar. He even slept with it as I had done. We took it away when he fell asleep. Ayyub's first school was our house and his first teacher was his father. I understood that he was keen on it. The first condition is that there must be an interest or love for something. You can't achieve anything by force. If you want to achieve something there must be love, first of all.
The first thing I taught him was Asgar's aria from Arshin Mal Alan (The Cloth Peddler) by Uzeyir Hajibeyov. At the same time I sent him to piano classes. Without knowing the piano you can't be a great musician. It doesn't matter: variety, pop, classical.
One day I had guests from Germany, friends who like my art. We had dinner, then they asked: 'Can Ayyub play?' I said, 'Yes, of course.' And he was ready to play the tar as a soldier is ready to obey his commander. He had the tar ready at the door. So he took it immediately and began playing. Then they asked him: 'Ayyub, what do you think? Do you play better or does your father?' This was when I was already a professor and Ayyub was not yet a student. He thought a little and answered: 'Of course, I play better, but my father has more experience than I have.' When I heard that, I said to my wife: 'You see what he says. Don't worry. He will be a great musician.'
Ramiz muellim's love of the tar and his country's musical culture takes him beyond playing into teaching. He is a professor at Azerbaijan's Music Academy.
And when did you begin teaching?
I have been teaching since I was 15 at music school in Aghdam; since 1962. So I've been teaching for 50 years. I didn't even have an identity card then. The director sent me to the administrative committee to get official permission. They needed me to teach. When we went to the regional committee to get permission I asked the director if I could take my tar, it gave me strength. But he said: 'No, you can't. That wouldn't be allowed.' But secretly I took it and put it in the cloakroom. The director spoke very flatteringly about me, saying that although I was very young, everybody knew me. The regional secretary asked me: 'Have you brought your tar?' The director answered, 'No, he hasn't.' But I answered quickly, 'Yes, I have. I have brought it.' I began playing and they listened. They liked it very much and I began teaching at music school in Aghdam. They gave me a suit, it was not my size, much too large. I turned up the trouser legs and the jacket reached my knees. Everybody laughed at me, but I didn't care. I only wanted to play the tar and teach it.
It must have been very difficult for you.
Yes, but I enjoyed it. That's why I thought that my son, Ayyub, should also learn our national music, mugham, and after that he should learn classical music. I wanted him to become a composer or a conductor.
If you knew how difficult it is, perhaps you wouldn't start. You can amaze the world with a piece of wood, but if you try to do it without preparation and you want to make an impression, it is very difficult. I took Ayyub on the stage in 1994 when he was 10. I was a soloist at the Philharmonia then. That was the first tar duet on stage. Everybody liked his performance, not mine; he was a child and was so cute. I think he is the one in the family who showed me the greatest respect, because he didn't follow me and didn't become a tar player. I thank God that he became a conductor. If he had played for ten years more I would be in his shadow by now! I couldn't do what he did when I was his age. Behind me there had been an accountant – my father. And my uncle couldn't teach me; he was an amateur. I taught Ayyub, but there was no one to teach me.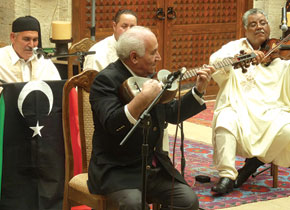 Ramiz muellim improvises with the Turasu Libya Makam group
But father and son still perform together:
Every month we are in different countries. I am very happy that the tar which was once only played in a mugham trio is valued and has been raised to such a high level. Today it is played with the other, more familiar, instruments – violin, piano, cello – in the orchestra. And the Azerbaijani tar can speak the languages of the world. This is the result of dedicating your life to the art.
Now my main mission, my sacred mission, is to promote Azerbaijan, the culture of Azerbaijan, the art of Azerbaijan in the world. And my goal is to realize this mission with the help of my tar and my performance. I have no business. I have nothing but my tar.
What about the future? Will there be good tar players in the future, too?
I think nowadays there is enlightenment in our traditional and classical music. Do you know why there is this rebirth? The young people are eager to return to our roots and listen and learn our national music. Before there were only four to five compositions but now there are lots. Before we played only mugham, tesnifs on tar, but now we can play orchestral, symphonic and classical music by world famous composers. Once in Aghdam I was playing a piece by Uzeyir Hajibeyov and the last page was missing – we played to the end of the score we had and stopped! We're developing a lot now. There is an army of 'tarzans' (tar players). I have never regretted that I have helped many young people to be professional tar players. But I have one desire – that these young people also give solo concerts with an orchestra.
For international concerts do you play only the well-known classics, or Azerbaijani ones too?
There are all kinds in my repertoire. First we show our visiting card – Koroghlu's Overture by Uzeyir bey, on the tar. The orchestra knows Uzeyir bey. Then the overture from Marriage of Figaro. Then a tar concerto. Then classical compositions: Brahms, Chopin, Mozart, Rossini, Tchaikovsky etc. We show the world that we can play all kinds of music. And in between we play mugham, for example the Chahargah Rhapsody. This is something extraordinary, unusual for the audience. I play Chahargah and show them that it was born here. I show them that we have this, we have that and we have the other, too.
When I began playing the tar professionally there were four tar concertos by Azerbaijani composers but now there are more than 30 tar concertos. I played at the premieres of 16 of them; in fact 13 were written specially for me.
The last question: have you composed music?
You know it is a great thing to be a composer, but to arrange a composition is something else. They are different things. Yes, I am keen on composing, but I do it in the music I play. I never touch Brahms or Tchaikovsky, but I add something to music by our composers. I make theirs into mine, because they couldn't adapt the tar as I can. I can't compose as well as they could, but they didn't know the tar as well as I do!