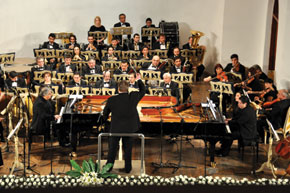 Late last year Neil Watson interviewed Farhad Badalbeyli for the TEAS magazine (www.teas.eu). Farhad muellim is Rector of the Uzeyir Hajibeyli Baku Music Academy and a highly engaging and energetic promoter of his country's music. We reprint the interview below to spread the word even further about the man and his mission.
Farhad Badalbeyli ranks amongst the foremost Azerbaijani musicians, being acknowledged as a pianist, conductor, composer, educator and musical ambassador for his country. Coming from an illustrious line of musicians, actors and directors, he has performed across the world. Together with cellist and conductor Dmitry Yablonsky, he directs the annual Qabala International Music Festival in Azerbaijan, the fourth edition of which was held in July/August this year. To see a Euronews video on this year's festival, go to http://bit.ly/Gabala.
The two musicians were recently in London for two concerts at Cadogan Hall, Central London, both of which focused on Azerbaijani music. The first of these featured the Royal Philharmonic Orchestra, under the baton of Dmitry Yablonsky, which was the resident orchestra for the second time at this year's festival. The concert celebrated the 90th anniversary of the birth of the late composer Fikret Amirov, and featured a performance of his Azerbaijan Capriccio (1961) and Piano Concerto after Arabian Themes (1957), for which the soloist was Farhad Badalbeyli, the programme being completed by Stravinsky's 1947 revision of the Petrushka ballet suite. The second concert was more intimate, comprising duets between Dmitry and Farhad, and showcasing Dmitry's own cello transcription of Azer Rzayev's Violin Sonata, in addition to works by Bach, Schumann, Brahms and Shostakovich. TEAS interrupted rehearsals for the latter concert to speak to Farhad about these and other projects:
You are currently in London, alongside Dmitry, to celebrate the 90th anniversary of the birth of Fikret Amirov. Both pieces performed feature the 'symphonic mugham' musical genre that he developed. What was the reaction from the London audience?
Wherever Amirov's music is performed, there is a very emotional public reaction. This is nothing new – Leopold Stokowski performed and recorded the Azerbaijan Capriccio with the Houston Orchestra in the 1950s. Amirov had great mastery of composition and orchestration, and his writing encompasses many national traits. In the Azerbaijan Capriccio, the writing for the brass section was particularly strident. Many audience members in London and at other concerts will be coming to Amirov's music for the first time, and I hope they will be impressed. It should be pointed out that he co-composed the Piano Concerto after Arabian Themes with the virtuoso Azerbaijani pianist Elmira Nasirova, who is now 84 years old.
How important was the development of 'symphonic mugham' in the history of Azerbaijani music? Did other composers adopt the style after Amirov?
The Azerbaijani people have mugham in their genes, and for their classical composers not to use mugham themes would be unthinkable. Mugham contains some truly exquisite elements. Some young Azerbaijani composers have tried to avoid mugham and follow such avant-garde European composers as György Ligeti, but they didn't say anything new. Contemporary composers are returning to mugham because it provides so much fantastic material with which to work. However, they cannot seek to emulate Amirov, who achieved perfection in the synthesis of classical forms with Azerbaijani national music.
Despite his popularity in the former Soviet Union, Amirov's work remains relatively unknown in the west, unlike that of Shostakovich, for example. Why do you think this is?
He had a similar personality to his compatriot Gara Garayev, as he was not good at courting popularity and lacked personal ambition, and preferred to focus on composing. Both Garayev and Amirov were Shostakovich's pupils, but they were not promoted by the Soviets in the same way as the composers from Moscow. It is now time for their work to be performed more widely – it is never too late to introduce truly great works. Audiences can also be slightly little narrow-minded and prefer to hear concerts of music that they know well. Many music-lovers don't want any surprises.
At the time, Moscow was also home to many great soloists that also helped with the promotion of Shostakovich's music, such as the Bakuvian Mstislav Rostropovich. The Soviet composer Alfred Schnittke, for example, remained comparatively unknown until Gidon Kremer started to promote his work, and now the whole world is aware of his music. It is frequently the musicians who decide that a piece of music is in need of greater recognition, and it is then picked up when people attend their concerts.
It may be down to Dmitry and myself to champion much of this Azerbaijani music and take this out to the public. For example, Azer Rzayev's Violin Sonata is fantastic, and I am pleased to be able to perform this in a cello transcription. I am also delighted that the Royal Philharmonic Orchestra will record a new CD for the Naxos label at Cadogan Hall during the time we are in London – they are recording Amirov's Azerbaijan Capriccio alongside Garayev's Seven Beauties and Path of Thunder ballet suites.
We want to promote Azerbaijani music by giving concerts in all the major concert halls across the world. Since the Soviet Union collapsed 20 years ago, the arts scene in many former Soviet republics was left without funding. One of the ongoing problems in Azerbaijan has always been about the availability of sheet music in overseas libraries so that Western orchestras may perform the works. A project is currently underway, in collaboration with the Azerbaijani Ministry of Culture and Tourism, to produce definitive editions of works by the great Azerbaijani composers. [more news on this in the next issue of Visions – ed.] We then aim to have these published by the ten or so main music publishing houses, including Schott and Boosey & Hawkes, so that the music is made available everywhere. The lack of scores currently presents an obstacle to programming Azerbaijani pieces.
Has Naxos recorded other CDs of Azerbaijani music?
To date, three CDs have been issued – Dmitry conducted the Russian Philharmonic Orchestra for a recording of Garayev's Symphony No.3, Leyli and Majnun tone poem and incidental music for the film Don Quixote. They also recorded a CD of Amirov's works, including Shur and Azerbaijan Capriccio. On another CD, I was also the soloist for Amirov's Piano Concerto after Arabian Themes with the Royal Philharmonic Orchestra, again under Dmitry's baton, alongside a programme of other Azerbaijani piano works. This will be the fourth CD of Azerbaijani music that we have produced on Naxos. I believe that the sales of the Naxos CDs of Azerbaijani music have been excellent and that the CD containing Garayev's works ranked amongst the most popular on the label.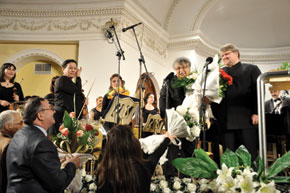 Farhad Badalbeyli`s 65th birthday concert, Philharmonia, Baku
Will the CD of Amirov and Garayev's works that you are recording in London be issued this year?
Naxos issues CDs at least six months after they are recorded, so hopefully it will be out next season. The CDs are mid-price and this gives purchasers a chance to experiment with previously unfamiliar works. They also work on a different basis to other classical labels, like Deutsche Grammophon, which tends to promote artists, rather than necessarily the composers. Naxos focuses on issuing a range of different music, and the CDs are widely available.
The second concert of cello and piano duets will include Dmitry's transcription of the Violin Sonata by Azer Rzayev. Who influenced Rzayev? Describe the importance of this work.
I first performed the piano part of this Sonata in around 1968 at the Azerbaijan State Conservatoire, where Rzayev taught. He was an expert on chamber music, and I studied the sonatas of Brahms, Shostakovich and many others under him. He was a wonderful teacher for chamber music and a violinist himself. He knew the secrets of all the instruments. His Violin Concerto was performed this year at the Qabala International Music Festival, and the soloist was Shlomo Mintz. His Concerto for Violin, Viola and Orchestra is like a sinfonia concertante. It's a wonderful piece and we are currently transcribing it for viola, cello and orchestra.
He is now 81 years old, and it's unfortunate that he no longer composes. The Violin Sonata that Dmitry transcribed for cello is one of his main works. Rzayev's mother was a renowned mugham singer who specialised in performing the operettas of Uzeyir Hajibeyli. It is undeniable that some Azerbaijani folk tunes were incorporated in Rzayev's Violin Sonata. This is a wonderfully dramatic sonata in classical form, yet exemplifies the national language. Two years ago, the Royal Philharmonic Orchestra performed this piece in London, with Shlomo Minz as the soloist, during the closing concert of the Buta Arts Festival.
Prior to the concert with the Royal Philharmonic Orchestra, a film entitled In the Mountains of Qabala, about the Qabala International Music Festival, was screened. How successful was the festival this year?
This was the fourth edition of the festival, which seems to become more successful every year, now attracting 20,000 people throughout its duration. Locals attend, but people also fly in from London, Berlin and Baku. Flights to the new airport in Qabala have now started at the weekend. Highlights included Tchaikovsky's Sixth Symphony (Pathétique), conducted by Charles Dutoit, the mugham night and the world premiere of the tone poem Khojaly, written by Aleksandr Tchaikovsky. Jazz was represented by a performance by the 23-year-old Isfar Sarabsky, winner of the Montreux Jazz Festival Solo Piano Prize in 2009.
Can you describe the tone poem Khojaly and its impact on the audience?
It was very important that Aleksandr Tchaikovsky, a Russian composer, wrote this piece for tar, piano, viola and cello, following its commissioning by the Azerbaijani Ministry of Culture and Tourism. It evoked a very emotional response from the audience. Yuri Bashmet led the Ensemble on viola, with Dmitry on cello and myself on piano. I provided some guidance to the composer regarding the writing for tar improvisation. Many Azerbaijanis lost family members in the Khojaly Massacre and I lost some of my own relatives, as my ancestral home is Shusha, located nearby in the Nagorno-Karabakh region. We are thinking of recording this alongside other compositions commemorating tragedies around the world and will be taking the programme on tour during early 2014.
What are the plans for the Qabala International Music Festival 2013?
For the first time, we will feature two overseas orchestras alongside the Azerbaijani State Symphony Orchestra. The overseas orchestras will be the Jerusalem Symphony Orchestra and the Symphony Orchestra of New Russia, under Yuri Bashmet. The biennial piano competition will take place – last time 15 countries and at least 10 nationalities were represented, including Belarus, China, Georgia, Germany, Russia and South Korea. There will also be one or two chamber music concerts during each day of the festival.
Are you involved in any other projects at the present time?
Another exciting development is that the Azerbaijani Ministry of Culture and Tourism has launched an initiative to issue up to four new CD recordings of Azerbaijani classical music each year.