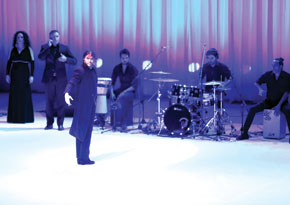 The most famous Spanish gypsy of our time, the dream of female hearts, choreographer and actor Joaquin Cortes delighted an Azerbaijani audience in March. He was one of the guest performers at the World of Mugham Festival, held for the third time in Baku. His short performance on the stage of the Heydar Aliyev Palace was a drop of life-giving water and brought an added dimension to the festival.
A boy from Andalusia
Joaquin Cortes didn't become a king of flamenco overnight. Years of hard work and training brought the chance to perform with the Spanish National Ballet under the guidance of great ballerina Maya Plisetskaya. Joaquin was born in Cordoba, in Spain's Andalusia region, in 1969. At the age of 12 he began to study dance in Madrid where his family had moved from Cordoba. Just three years later he joined the Spanish National Ballet and soon rose to become a soloist. Cortes danced with the company on some of the world's most famous stages, from the Kremlin Palace of Congress to the Metropolitan Opera.
In 1992, the dancer took the brave step of creating his own company, the Joaquin Cortes Ballet Flamenco. Joaquin revolutionized flamenco with his sensual movements and passion. His show Pasion Gitana turned him into an international star. He took it to over 30 countries and attracted an audience of more than one million. Cortes´ style, a blend of flamenco, ballet and jazz, soon became a kind of trademark, which attracted some famous names: Giorgio Armani, Valentino and Dolce & Gabbana offered to create costumes for the shows.
Joaquin says of himself: Nobody dances like me in Spain. I put a lot of passion into what I do and I think I have something to say on stage.
On a Baku stage
At first sight, it might seem strange that Joaquin was invited to Baku to take part in the Mugham Festival. What do mugham and flamenco have in common? More than you might think. Flamenco as a musical style originated in Muslim Andalusia and its roots come directly from Moorish music. Mugham also has origins in the Muslim world. The improvisational nature of flamenco is another similarity to mugham. Both art forms are part of the oral tradition, that is, they are passed from masters to apprentices who create their own unique performing style.
Joaquin in this respect tries to bring into his work every single element that he has captured from other cultures and music. Talking to a press conference before his performance in Baku, he said that one day he will use elements from mugham in his flamenco.
First time in Baku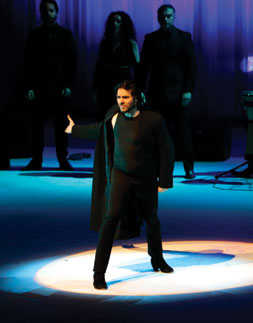 I am so happy to be here in Azerbaijan. This is my first time in Baku. And I'm proud that I have brought my culture with me. I've brought diverse, rich flamenco. Dance elements, music, improvisation, costumes – we try to ensure that all these things complement each other. Our costumes were designed by Giorgio Armani.
Flamenco is in your blood, but you combine classical and contemporary dance. How do you do it?
I have no special genre of flamenco. What I do is try to bring in points of interest from different cultures and music, to improvise. It is like a synthesis of dance and performance.
Are you familiar with mugham? If so, do you think it possible to make a synthesis of flamenco and mugham?
We put no boundaries between flamenco and other musical genres. I think it is possible, why not? But it will need some deep research and time.
Each dance form has its own symbols. What symbols does flamenco have?
In order to answer your question I have to make the origin of flamenco clear. It comes from the southern part of Spain, Andalusia, and was created by Andalusia's gypsies six centuries ago, during the reign of Isabella and Ferdinand. I have always been interested in the reasons for its creation. At that time gypsies expressed their feelings about what was happening in Spain through their music and dance. So the symbols are very close to the inner feelings of every gypsy. I was born into a gypsy family and I've got flamenco in my blood. So my duty toward gypsies is to spread flamenco all over the world. And I'm so proud that I can share my culture and music with you here. We can understand each other through our culture.
Some critics have called you a toreador, others a flamenco mastermind. What do you call yourself?
I don't consider myself a toreador at all. I consider myself a revolutionary, because I have brought so many changes and so much innovation to flamenco.
Have you thought of teaching flamenco one day?
I don't know yet. Maybe someday I will become a teacher, but not now. Now I'm completely involved in the art of flamenco. But I don't rule out the possibility that one day I'll come to Baku to give master classes.
What does flamenco mean to you personally?
What does flamenco mean to me? Way too much! I have been dancing flamenco since my childhood. It is like love for a woman. And over the years that love only grows. If I was born again, I would again devote myself to dance, music and culture.