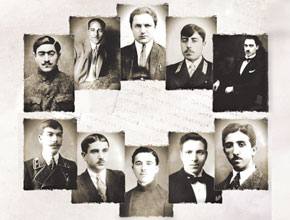 Public education in Azerbaijan under Russian colonial rule (19th and early 20th centuries) was dreadful; secondary education was poor not only in the mother tongue, but also in Russian. There were virtually no higher education here and it was a huge challenge for local youth to get to Russian or European universities.
The situation changed once independence was declared on 28 May 1918 and the Azerbaijan Democratic Republic was established. Fundamental change was initiated in public secondary and higher education.
The 70th meeting of the Azerbaijani Parliament held on 1 September 1919 discussed not only building Baku State University, but also sponsoring one hundred Azerbaijani youths to attend prestigious foreign universities from the academic year 1919-1920. Ahmad Bey Pepinov delivered a lecture on the topic. Rahim Vekilov, Abdulla Bey Efendizadeh, Rza Bey Aghalarov, Mammadrza Aghavekilov, Gasim Bey Jamalbeyov, Gara Bey Garabeyli, Mukhtar Efendizadeh, Agha Shurov, Minister of Public Education Rashid Khan Gaplanov and others contributed to the discussions, underlining the initiative's importance for the development of the country's economy, science, education and culture.
Parliament allocated state budget funds of seven million manats to the Ministry of Public Education to finance the initiative. Each student was to be allocated a monthly scholarship of 400 francs and 1,000 francs to cover travel expenses. Students going to Russian universities were to be allocated a monthly scholarship of 3,000 roubles and 1,000 manats for travel.
Selection and send-off
An influential board, including Mammad Emin Rasulzade (chairman), Ahmad Bey Pepinov, Gara Bey Garabeyli, Mehdi Bey Hajinsky and Abdulla Bey Efendizade, was established under the Ministry of Public Education to select the students to be sponsored. 10 students were to be sent to England, 23 to Italy, 45 to France and 9 to Turkey. However, the Ministry of Public Education finally issued documentation to 49 students to go to German universities, 27 to French, 4 to Italian, 1 to English and 6 to various Turkish universities. The remaining 13 students were due to go to Russia; they were frustrated, however, by the outbreak of civil war there.
The students were formally seen off on 14 January 1920 by members of parliament and government, philanthropists, businessmen, religious figures and public representatives, as well as their parents, and a special carriage took them to Batumi. The students arrived in Paris on 11 February 1920 to a very warm welcome from the Azerbaijani delegation representing the nation at the Paris Peace Conference (1919-20). The head of delegation, Alimardan Bey Topchubashov, delivered a speech to the students before they travelled on through Europe to their respective universities.
However, the high hopes of these students who had been so carefully selected and sent abroad by the government of the Azerbaijan Democratic Republic crashed when their Republic fell, invaded by Soviet Russia in April 1920.
Hopes rise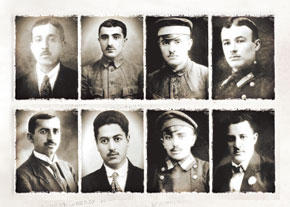 The situation changed abruptly under Bolshevik rule; the students were not sent any money. They appealed to Nariman Narimanov, leader of the newly established Azerbaijani SSR. He personally initiated and chaired a meeting of the Azerbaijani Revolutionary Committee on 9 August 1920 to discuss allocating funds and assisting the students to finish their education. The Committee responded positively and the Commissariat for Public Education and Public Foreign Affairs was instructed to define ways of rendering the necessary financial support. As chairman of the Azerbaijani SSR's Soviet of People's Commissars, Nariman Narimanov signed a special decree continuing the support. On 18 June 1921 he appointed Bahram Akhundov as special commissar to deal with issues concerning the students. Akhundov had actually been responsible for such matters since 1919. In early July he was sent to the capital cities of the countries hosting the students to assess their financial situation and assist them. Facing numerous obstacles, he managed to reach Paris only in October of that year. He visited Paris, Berlin and other cities until January 1922 and established that 28 students were studying in different higher education institutions in France, 49 in Germany and 3 in Italy. Upon his return to Baku he prepared a detailed report on 2 March 1922 for Narimanov, who then issued instructions that the students should be provided with the necessary facilities to successfully continue their education abroad.
Prop removed
Then Narimanov was transferred to Moscow near the end of 1922 and attitudes towards the students changed again. They were divided into two groups, classified as 'loyal' or 'disloyal' and treated accordingly. Thus some of the students could not cover their education fees, struggled to earn bread and worked under the most difficult circumstances; some ended up in jail and some even committed suicide, failing to find any other way out of the crisis they were in. Most of those students who did manage to finish their education despite the difficulties and return home with high qualifications later fell victim to the 'red terror'.
Bibliography
History of Azerbaijan, Volume 5. Baku, 2001/>
Azerbaijan Democratic Republic (1918-1920). Parliament (stenographic reports). Baku, 1998 Pashayev A. Tracking Unopened Pages. Baku, 2001/>
Democratic Republic of Azerbaijan (1918-1920). Legislative Acts (collected documents). Baku, 1998/>
Abutalibov R. Azerbaijani Students in Western Europe// Panorama newspaper, 15 March 1996 />
About the author:
Atakhan Avaz oghlu Pashayev PhD History is head of the Archive Department of the Republic of Azerbaijan. He has written books and monographs on 19th and 20th century Azerbaijani history, including the history of the Azerbaijan Democratic Republic. A multivolume collection of documents and materials from the period of the Azerbaijan Democratic Republic (1918-1920) was published under his leadership.