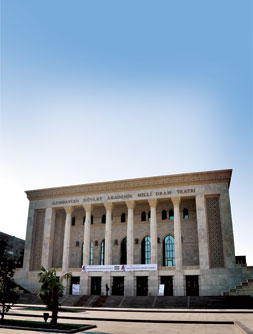 Azerbaijan's National Theatre is located in a fine building slap bang in the middle of Baku, in Fuzuli Square. The Azerbaijan Academic National Drama Theatre, to give it its full name, or AzDrama as it is popularly known, is also right at the heart of Azerbaijani's theatrical life. AzDrama has a track record of choosing plays that tackle the problems and realities of concern to people, challenging performers and audience to find answers to those problems together. Many of Azerbaijan's best-known actors, directors, designers and composers have close links with the theatre and it has put on some legendary productions.
Forging ahead
AzDrama was recently fully renovated, as were many other theatres in Azerbaijan, and equipped with state-of-the-art stage, lighting and sound systems. The innovations at the theatre go way beyond the technical aspects, however.
Fundamental reform of theatre began with the state programme 'On Azerbaijan Theatre from 2009-2019'. The switch to a fee system for creative talent allows AzDrama to invite some of the best actors and directors from a variety of backgrounds to work on productions. The state programme also opens the doors to greater cooperation with foreign theatres, helping to integrate national theatre into world theatre. For the first time, an International Theatre Conference was held in Azerbaijan in 2010 and again in 2012, which was attended by some 70 theatre experts from 32 countries. In November 2011 Azerbaijan also hosted an International Puppet Theatre festival.
After the full renovation of the building, AzDrama reopened its doors to audiences on National Theatre Day, 10 March 2011. The theatre made a topical choice for its first production, putting on Karabakhnameh (or The Book of Karabakh), based on the historical drama The Ruler and His Daughter by Ilyas Efendiyev. The play is set in one of the most challenging periods in the history of Azerbaijan when it fought against two great empires for independence.
Repertoire
AzDrama has a wide range of plays in its modern repertoire. Like other theatres in Azerbaijan and former Soviet countries, it has several productions on the go at once and shows them a few times every season, rather than in a fixed run of weeks or months at a time.
Last season's packed repertoire included an original interpretation of Akhundzade's Adventures of the Lenkeran Khan's Vizier by director Vagif Ibrahimoghlu. With keen humour, Akhundzade attacks tyranny and injustice through his tale of the 18th century feudal ruler of Lenkeran. From the very first scenes it is obvious that the khan lives in fear of assassination and his every public appearance is accompanied by strict security.
Another revival was by director Azerpasha Nematov of You Are Always With Me, or Edelweiss, written by Ilyas Efendiyev in 1965. The touching tale of a platonic friendship between an older man and young woman stresses the importance of compassion, kindness and morality. While the play went down well in Soviet theatre, Azerpasha Nematov's production shows it has lost none of its relevance today. The play's subtitle, Edelweiss, is also symbolic. The edelweiss flower is unusual in that it does not lose its scent even when dried.
New plays
AzDrama does not ignore more recent plays, though. Last season it premiered productions of Telescope and Shakespeare by Elchin and The Woman Who Threw Herself under a Train, by Afag Masud.
Young Azerbaijani director Kamran Shahmardan, who lives in Finland, was invited to direct Telescope, while the international flavour is continued by the work of award-winning Russian set designer Eduard Kochergin. The telescope of the title of this tragicomedy allows the spirits of the dead to watch what the living get up to. Through this tale of joy and disappointment the author is trying to say that everything in this world is temporary, except love and honesty.
Another play by Elchin, Shakespeare, has become an audience favourite both at home and abroad. Although it premiered in Azerbaijan only in 2007, it has been performed to acclaim in Moscow, Simferopol and London. AzDrama's Shakespeare is directed by Petru Vutcarau of the Eugene Ionesco Theatre in Moldova. Vutcarau chose mostly young actors to appear in this piece, set in a psychiatric hospital. The play, in which the patients are happy in their imaginary worlds while the chief doctor is fed up of the monotony of life and envies his patients, both entertains and challenges audiences.
Continuing its policy of inviting directors who work in different styles, AzDrama brought in Mehriban Alakbarzadeh to direct The Woman Who Threw Herself under a Train, by contemporary dramatist Afag Masud. The play portrays the bitterness of an old actress, who has dedicated
Classic drama
AzDrama by no means features only Azerbaijani plays. Classics and lesser known works from around the world are an important part of the repertoire, including more recently Brecht's Mother Courage, Shakespeare's Twelfth Night and Max Frisch's Don Juan or the Love of Geometry.
Young director Nijat Kazimov's production of Eduardo de Filippo's These Ghosts sparked great audience interest. The protagonist is naïve, romantic Pasquale who is madly in love with his young wife. However, he is very poor and in desperation accepts an offer to live in a huge castle. The owner of the castle cannot sell it because it is reputed to be haunted. To dispel the rumours, Pasquale has to appear on all 68 balconies of the castle every morning and evening, beating carpets and singing songs. However, the castle watchman is out to scare Pasquale and the young husband ends up believing that every stranger in the house, even his wife's lover, is a ghost. In De Filippo's understanding, those who lose their humanity become ghosts and are much scarier than their supernatural counterparts.
One of the theatre's most recent productions is an adaptation of Huseynbala Miralamov's play The Gates of Ganja, directed by Bahram Osmanov. The play is set 200 years ago during Javad Khan of Ganja's struggle against Russian occupying troops. The parallels with Azerbaijan's more recent struggle for independence are not lost on audiences.
Azdrama abroad
In recent years AzDrama has focused on expanding relations with foreign counterparts in order to integrate Azerbaijani theatre into the international theatrical scene. The National Theatre is in near constant negotiations with national theatres from neighbouring countries and further afield. Some projects have already been successfully completed. Azdrama took Shame to Simferopol, Ukraine, in May 2011 and to the Georgian capital Tbilisi. It also took The Adventures of the Lenkeran Khan's Vizier to Georgia's Marjanishvili Academic National Drama Theatre. Both plays went down well with audiences.
Shame has been AzDrama's most successful play abroad. This is probably down to both its strong cast and its subject matter, refugees, which is an urgent topic all over the world. The main characters, Murad and Vatan, grew up together and also went to fight in the Karabakh war together. This is where their paths diverge. When the two friends meet 10 years after the ceasefire, Vatan is struggling in poverty and cannot find money to pay for the medicine his sick daughter needs, while Murad has become wealthy through investments made during the war. Shame poses the questions of who is right, Vatan who is prepared to sacrifice his life in the Karabakh war but cannot afford to care for his daughter, or Murad who has grown rich on the back of the war and looks to secure his country's independence through the help of foreign states.
AzDrama has taken Shame, Twelfth Night, The Human Voice and Shakespeare to international theatre festivals, winning prizes for Shame at festivals in Yalta, Belgrade and Chisinau in the past two years.
International theatre in Baku
Foreign theatres have brought their productions to Baku too. Poland's Lublin Dance Theatre staged Nano in 2011, while Georgia's national theatre performed Raspberry by Koki Mitani and an adaptation of George Bernard Shaw's Pygmalion. The Crimea-Tartar Academic Musical Drama Theatre put on Sick Heart based on Elchin's Shakespeare, while last year the Engagement Youth Theatre from Tyumen, Russia, performed their version of Nikolay Kolyada's Nosferatu.
Raspberry, directed by Georgian director Levan Tsuladze, is based on the University of Laughs by Japanese dramatist Koki Mitani. The play centres on the exchange between a playwright and a censor as the dramatist seeks to get his play put on. The staff and actors of the theatre consider the playwright a traitor for trying to accommodate all the censor's demands, but the playwright has chosen a different method to fight against the rules – he will make as many changes to his comedies, as necessary until he is allowed to stage them. The play's message is that regardless of country or regime, a person always has to make choices and to fight to reach his goals.
Exciting collaborations
Azerbaijani audiences can look forward to similar projects with Milan's Piccolo Theatre, the Eugene Ionesco Theatre in Chishinau, capital of Moldova, the Akimov Comedy Theatre of St Petersburg and the Seyfulin Karaganda National Drama Theatre of Kazakhstan. Eminent directors Krzysztof Zanussi from Poland and Theodoros Terzopoulos from Greece are to direct new plays at AzDrama.
The theatre is working on major, diverse plans. Director Firudin Maharramov's production of Jalil Mammadguluzadeh's My Mother's Book premiered late last year, while Irana Taghizadeh is directing Elchin's Life of an Artiste and Marahim Farzalibayov is directing Hasan Hasanov's Letters from Brussels.
About the author:
Rajab Mammadov is head of the production department at the Azerbaijan National Academic Drama Theatre and holds a Ph.D. in art criticism.