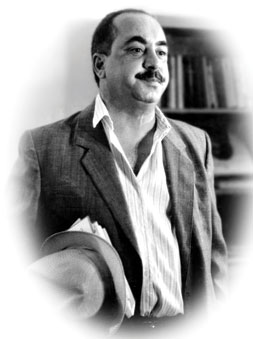 Some 20 years ago I had to interview Yashar Nuri, one of Azerbaijan's best loved actors, for a national newspaper. I called his flat early in the morning but was told that he had already gone to a radio station to record a show. Then he was to go to the Azerbaijanfilm studio, as he was in the middle of shooting the feature film Dog. After that, he would go to the theatre.
Looking for Yashar
I headed straight for the JaffarJabbarli Azerbaijanfilm studio. There had been a hold-up in filming Dog, but I was told that Yashar was 'here somewhere'.
I thought he might be in the offices of the satirical cine-reel Mozalan, as I knew that Mozalan was close to his heart. I was not wrong, but I had just missed him. When the editor-in-chief, Ziyafat Abbasov, found out that I wanted to write about Yashar Nuri, he commented:
It's impossible to imagine Yashar's career without our cine-reel… Some of the phrases his characters said in Mozalan have become catch phrases. "Come in, beautiful person, come in" is one of them. He has created many bad guys in Mozalan too. Even if he turned his characters into figures of fun for his audience, he suffered with the characters inside. The audience loved him for his honest performances and wanted to see him act again and again.
I had just left the editor-in-chief's office, when I ran into film directors Gulbaniz Azimzadeh and Hafiz Fatullayev, who had both worked with Yashar. Indeed, Hafiz and Yashar had been friends since their student days.
When we started working on I Burn with Holy Fire, we both agreed on who should play Ogtay – Yashar would be perfect for the role. And he did play it, and as we expected he did it brilliantly as usual, Hafiz recalled.
That's right, Gulbaniz khanim chipped in. I think all the directors are pleased with Yashar Nuri's work. People say that he can join a conversation on any topic and is very observant. I noticed these qualities in him when we worked on I Burn with Holy Fire and Execution Day. He is truly a very creative person.
Audiences remember Yashar Nuri's Doctor Mahmud from Execution Day. He combined comedy and tragedy so naturally and convincingly in this role, as he did throughout his career.
Unfinished story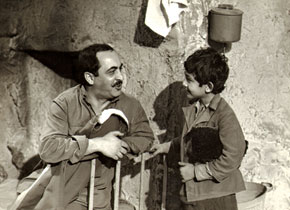 As Qubad in The Tale of the Lonely Pomegranate
I continued my search for Yashar by calling into the office of director Anvar Abluj, who was working on a script with Isa Melikzadeh. They too were keen to talk about him.
Yashar Nuri is very close and dear to me as an actor and a friend,' Isa Melikzadeh said. 'He has a strong feel for a script and knows how it should look on stage. It is no surprise that I trusted him to stage my first play May You Also See Your Children's Weddings, which I wrote for the Musical Comedy Theatre. Yashar did a very good job directing the play. The theatre, the audience and I, as the author, were all really pleased with his directorial debut.
Everybody gets bored from time to time, Isa continued. When it happens during the day, you can go outside for some fresh air or meet up with someone. When it's late at night, I call Yashar and I always get the same answer: "Muellim (we call each other that on the phone), what should I send you?" And I always laugh out loud, because I have no idea what he can send me in the middle of the night. But then I realize that I am wrong, because he has sent me a good mood and I start feeling much better. Yashar is as natural and honest in real life as you see him on stage.
I returned to the film set, where shooting was in progress. Everybody's attention was focused on Yashar Nuri. He was playing his new role in his signature style in front of the camera.
Though I never got my interview with him, I enjoyed finding out about Yashar Nuri from his colleagues. Those chats reminded me of a popular saying in Azerbaijan: 'If you have the courage, you will always have somewhere to go."
Act 1, Age 11
In one of his interviews, the actor was asked:
Yashar bey, probably all your fans, including me, see you as someone on top of his game, who has reached the peak of his art. Do you ever feel lonely up on that peak?
The actor replied:
I have never considered myself on any peak. People, audiences, can raise an artiste on a pinnacle. Me? I might be on the way there. Anyone who thinks he has conquered all before him will easily fall off that peak.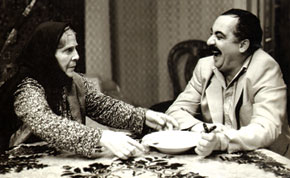 As Ismayil in Kidnapping the Groom
Yashar Nuri was born on 3 September 1951 into the family of a famous actor, Mammadsadiq Nuriyev. He made his first stage appearance at the age of 11, playing Tapdiq in the play Whose Wedding is This? by M. Alizadeh. Though his part was very small, he acted alongside some of the greats of Azerbaijani theatre, Nasiba Zeynalova and Bashir Safaroghlu.
By the time Yashar finished secondary school, he knew what he wanted to do with his life. He went to the Mirzagha Aliyev Azerbaijan State Theatre Institute, now the Azerbaijan State Art University, to study theatre and film acting. After graduating from the institute he worked for the Tadris theatre and in 1974 joined the Azerbaijan Academic National Drama Theatre. This is where he made his name as an audience favourite, playing many memorable characters.
Yashar Nuri was a very versatile actor. He was a star of the theatre and the big and small screens.
When he was still a student, Yashar played comic roles on TV, which got him an invitation from the Azerbaijanfilm studio. His first film role was in 1975 as guerrilla fighter Seyran in Four Sundays, directed by Shamil Mahmudbeyov. He went on to play a wide range of roles in more than 50 films, from an oil worker to a Shrek-like ogre, from a leading Soviet government official to a petty trader, dubbed a 'parasite' in Soviet-speak. In all these roles, Yashar brought out the nuances of character.
On top of his game
The writer Sergei Mikhalkov once said: 'Humour is a serious business.' This sums up Yashar Nuri's approach to acting. He conveyed humour subtly, often with a deadpan face.
Asked which genre he preferred as an actor, he answered:
I have no divisions. That is why I click so well with director Vagif Mustafayev… He is also an artiste who recognizes no borders. There is laughter inside every tragedy and tragedy within every laugh.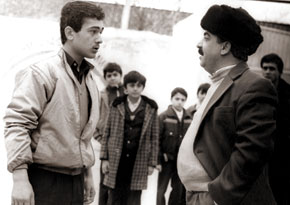 As Nasib in The Window
He acted in around a dozen films directed by Vagif Mustafayev. One of his best loved roles is Israfil in Mustafayev's tragicomedy Kidnapping the Groom. Actor Jafar Namig Kamal said of the role:
He has created the character of a real Azerbaijani man through his movements and the way he talks and the audience loves him. Yashar played this part just as the writer intended it.
Yashar is an actor who knows how to reveal the essence of tragedy through his comic characters, said Vagif Mustafayev, and that is the secret of his uniqueness and greatness… He puts his all into every character. As a colleague and friend, I feel as though I have taken an oath: "Yashar, I swear that I will not make a single film without you."
Cinema, the Musical Comedy Theatre, the Academic National Drama Theatre, the Opera and Ballet Theatre, even the Puppet Theatre… Yashar Nuri was invited to so many different places.
The late President Heydar Aliyev was a fan. He said backstage after watching the operetta Arshin Mal Alan (The Cloth Peddler) at the Opera and Ballet Theatre that one had to be able to appreciate the depths of art to be able to speak of Yashar Nuri.
On 2 August 2012, National Cinema Day, the Azerbaijan Republic National Union of Cinematographers gave the first ever National Film Award to Yashar Nuri. He had long since received one of the highest honours for an actor in Azerbaijan, the title People's Artist.
Though Yashar Nuri passed away very recently, on 22 November 2012, after a struggle with illness, he remains for audiences at the top of his game.
About the author:
Aydin Kazimzadeh is a cinema historian, film critic and author of many monographs and articles about Azerbaijani film. He has been awarded the title Honoured Art Worker of the Republic of Azerbaijan.