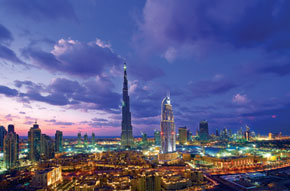 A few hours from the December cold of Baku and we were in the warmth of Dubai. Winter in the pearl of the United Arab Emirates is like late summer in Baku. There is no snow, no coats or umbrellas, only the play of light has changed. While the weather is a constant, the city is always changing. Every year glamorous buildings rise up which maintain the ethnic elements of Arabs' love of luxury and gold and Bedouin nostalgia for the desert.
Christmas trees at every step came as a surprise. Beautifully decorated trees light up the public spaces while sunbathers lie on the beaches. The Christmas trees may have meant little to the local Arab people, but were a tribute to the Christians among their foreign visitors. Respect for foreign guests is an integral part of Dubai culture. Tolerance is another association with Dubai, connected with the inrush of tourists and migrant workers from different countries with different cultures and religions.
White Blood
We were in the UAE to attend the Dubai International Film Festival (DIFF), a leading festival in the Middle East, Asia and Africa. The festival has been running since 2004, providing a platform for Arab and international film-makers. Azerbaijani films too are shown at DIFF.
White Blood (Ağ Qan in Azerbaijani) was screened in the Muhr AsiaAfrica Shorts category. Visions of Azerbaijan was invited to support the presentation of the film.
The two young Azerbaijani directors of White Blood, Elmaddin Aliyev and Khayyam Abdullayev, first talked to Visions in December 2011 when they were in the middle of shooting. They shot the film and completed production almost entirely at their own expense and now they were representing Azerbaijan in Dubai.
We are pleased that our film is being shown at DIFF. This festival is prestigious in the Arab-Asian region and a number of good movies shown here have already received awards at top film festivals. We are happy to represent Azerbaijan here, the young directors said. White Blood centres on a nomadic family whose way of life has been destroyed and a wife's resourcefulness in seeking to realise her husband's dying wish. The film's message is that there is always hope. The jury described White Blood as a beautifully shot drama with a philosophical approach.
Silent
White Blood was beaten to the best film award in the AsiaAfrica shorts category by the Turkish film Silent (Sessiz - Be Deng). Directed by L. Rezan Yeşilbaş, Silent is another film that tells the story of a wife struggling against the odds. Zeynep wants to visit her husband in prison in Diyarbakir. She speaks only her mother tongue, Kurdish, while only the Turkish language is allowed in prison, so she's unable to utter a word there. And Zeynep has to find a way to give her husband a pair of shoes. Silent has had an excellent showing at film festivals, winning a Palme d'Or at Cannes.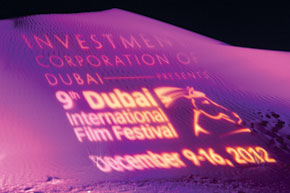 Kyrgystan's Nargiza Mamatkulova picked up the AsiaAfrica Shorts best director award for her film Silence (Zhymzhyrt). It tells the story of a family that loses its prized possession, their TV set, when they are unable to repay a bank loan. Their link to the world is broken and their lives start anew.
Inside
It was a successful festival for Turkish film-makers, as the Muhr award for best feature film in the AsiaAfrica category went to Inside (Yeraltı), directed by Zeki Demirkubuz. Adapted from Fyodor Dostoyevsky's Notes from Underground, Inside transposes the action to contemporary Ankara. The hero Muharrem pressgangs his old friends into inviting him to dinner, no matter that their relationship is governed by mutual hatred and resentment. The dinner starts off with trivial shows of bravado but morphs into an ugly showdown. Inside's Engin Günaydın won the best actor award in the AsiaAfrica category, although best director went to South Korea's Kim Ki-duk.
Pieta
The DIFF award rounded off a good year for experienced director Kim Ki-duk whose Pieta won the Golden Lion at the Venice Film Festival, the first Korean film to win the best film title at one of the top three international film festivals (Venice, Berlin and Cannes). Pieta tells the story of a solitary loan shark who brutally threatens people for payback, showing graphic scenes of him maiming people when they fail to cough up. When a woman appears in his life claiming to be his mother, he rejects her at first, but is ultimately drawn to her and decides to give up his cruel ways for a better life. It's not as simple as that though, as the woman is kidnapped, setting him off to track down all those he harmed. When he finally finds the abductor, he discovers dark secrets better left unrevealed.
Wadjda
The Muhr award for best Arab feature film went to Wadjda (Saudi Arabia, UAE, Germany), the first film ever made by a female Saudi director and the first film to be shot entirely inside the kingdom. Thirteen-year-old Waad Muhammad in the title role won the best actress award for her portrayal of a young girl's efforts to acquire a bicycle in a country where cycling for girls is frowned upon.
Asked by DIFF where the film's appeal lies, director Haifaa Al Mansour said:
I think it's the universal theme of a person trying to achieve, regardless of their circumstances and the fight for life, the desire to go out and succeed in something you really want despite what is happening around you. Saudi Arabia is a very conservative place and sometimes it's hard for a woman to seek something that is out of her reach. Sometimes people will try to achieve things that they are not supposed to, not just in Saudi Arabia but anywhere in the world and people want to see someone like that succeed.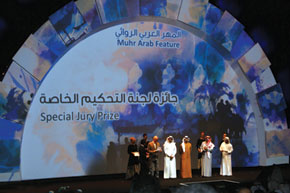 Magnet for migration
Trying to achieve things is a watchword for Dubai, where many of the jobs, such as taxi-driving, waitressing and building, are done by migrant workers. Workers from one country or region often dominate a profession – for example, almost all the taxi drivers are originally from Pakistan while Indians and Filipinos dominate the hotel business. Azerbaijanis in Dubai are involved in trade, not surprising when you consider that Dubai has over 20 different free trade zones.
For 32-year-old Natig who moved here from Baku three years ago, Dubai has become part of his success story. He has a small computer shop in Dubai and also supplies IT products to Baku and other post-Soviet markets. Now he considers himself more Emirati than Bakuvian.
I'm quite happy here. I have a successful business, my family is here and I'm not lonely. I can afford to travel, to have a holiday and help my relatives in Baku. What else do I need?
Some of the few places that you see the local Arab population at work are border and customs posts and government offices. There they proudly wear their national dress.
Arab pride
Traditional dress is something that Gulf Arabs cannot imagine themselves without. Every self-respecting Arab wears his national attire. Even if he is descended from a sheikh and speaks perfect Arabic, he is not a real Arab without his white dishdash. The tunic, which has long sleeves without pleats or fasteners, is not only a tribute to religion and traditions, but is ideal clothing for the local climate. The dishdash protects the body from the sun, sand and wind, leaving open only the face, hands and feet.
The tunic is usually white, but can be brown, black or gold. With a nod to European fashion, some Dubai residents opt for a dishdash with cuffs, breast pocket and collar. No matter the style, it is bright white, clean and ironed. Hence the impression that the Arabs do not do heavy work, as their clothes are always pristine.
Gala closing ceremony
His Highness Sheikh Muhammad Bin Rashid Al Maktoum, UAE vice president and prime minister and ruler of Dubai, stood out in his golden dishdash at the DIFF Gala Closing Ceremony. The ceremony, with paparazzi snapping celebrities on the red carpet, was held at the luxurious Madinat Jumeirah Hotel. The organizers pulled out all the stops. I have been to various film festivals, and would say that DIFF is certainly the best organized.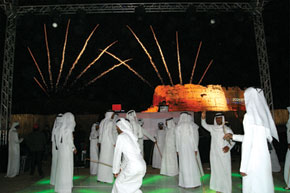 DIFF Chairman Abdulhamid Juma summed up the festival at the closing ceremony:
In the past eight days we have not only screened 158 films but offered networking platforms to over 1,700 industry professionals, showcased 330 films in our Filmmart (60 per cent more than last year's 200), hosted 24 forums and workshops for the film-makers of the future, awarded thousands of dollars to worthy film-makers and welcomed a host of international and regional talent to Dubai.
Desert salute
After the closing ceremony, the Sheikh invited all the guests to a party out in the desert, 100 km from the city. Despite the warm climate, the desert is always cold at night so we were told to bring warm clothes. Tents were spread out across the desert around an improvised stage. Arab dancers in national costume sang old songs as they danced. They carried sticks, waving them in time to the music. The sticks were a reminder of the old times when Arabs used them to drive camels across the desert.
Some guests watched the dancing while others strolled around the tents sampling traditional Arabian food cooked right there over an open fire. The atmosphere was of the olden days when Bedouins ruled the desert. Even the coffee was made the Arab way. The dunes, the breeze and the near silence made you feel a real Bedouin. Only the stunning firework display brought me back to reality.