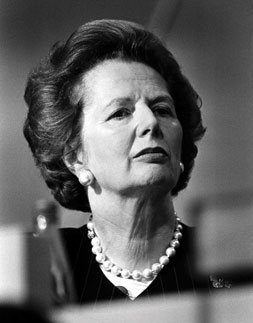 Former British Prime Minister Baroness Thatcher, who has died at the age of 87, was an instantly recognizable figure in late 20th century politics both at home and abroad. While her battles with Brussels and trips to Moscow and Washington have often been recalled in the weeks since her death, her trip to Baku and meetings with two Azerbaijani presidents have received less attention.
Iron Lady
To appreciate the significance of the Iron Lady's visit to Baku in 1992, it is worth looking for a moment at her reputation in the former Soviet Union. Margaret Thatcher loved her nickname, though the moniker Iron Lady was originally coined as an insult by Soviet army newspaper Red Star.
The name and her reputation were sealed in the USSR in 1987, after a remarkable interview given in Moscow which was broadcast uncensored by state TV. In those early years of glasnost and perestroika, it was still a novelty for Soviet orthodoxies to be publicly challenged. The Iron Lady 'won that fierce political battle hands down', the programme Vremya notes in its archive. Outnumbered three to one, Margaret Thatcher outmanoeuvred the eminent, grey-suited Soviet journalists. She answered with ease all their questions about nuclear arms reduction, 'Star Wars' and deterrence and then took control of the interview to make her own points and directly address the Soviet people in an appeal for peace and improved understanding.
British business
As prime minister and later as a member of the House of Lords, Baroness Thatcher sought to promote British business interests worldwide. More information has emerged recently about her role in British oil major BP's work in the USSR.
Writing in The Atlantic on 8 April, US journalist Steve LeVine said that it was Margaret Thatcher that had encouraged BP to seek an oil deal in the Soviet Union. BP, it should be said, was already investigating opportunities in the region.
As the Soviet Union was falling apart, Thatcher, by then invested in Gorbachev´s success, summoned BP exploration chief John Browne, as I discovered while writing a book about the period. She asked Browne to go do a big oil deal in the Soviet Union – it would help Gorbachev, she said, by getting him an accelerated flow of foreign currency.
Baku visit
It was the BP connection that brought Baroness Thatcher to Baku, capital of the newly independent Azerbaijan, on 7 and 8 September 1992. She flew in on an unofficial visit as a guest of President Abulfaz Elchibey.
During her trip to Baku, Baroness Thatcher attended the signing ceremony of a preliminary agreement between the government of the Azerbaijan Republic, BP and Norwegian company Statoil on exploratory work at the Chiraq oil field and Shah Deniz prospect. It was exploration chief John Browne who signed the agreement on BP's behalf.
For Azerbaijan, one of the main reasons for inviting Margaret Thatcher was to raise international awareness of the changes under way in the country and to attract foreign entrepreneurs to do business in Azerbaijan, the head of the presidential press service, Niyazi Ibrahimov, told journalists at the end of her trip.
'Materialization of independence'
Azerbaijani journalist Jemin, who covered Baroness Thatcher's visit, recalled for Contact.az website its psychological effect.
Just 18 months had passed since the collapse of the USSR and independent Azerbaijan was accepting a state figure who was considered one of the fiercest enemies of the Soviet Union.
This all gave an inxeplicable sensation – it was the materialization of this very feeling of independence that we had not known until then.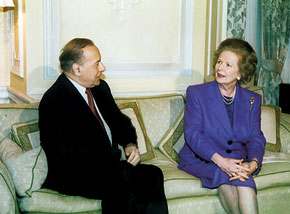 President Heydar Aliyev and Margaret Thatcher in discussion
British-Azerbaijani relations
In a tete-a-tete meeting, Baroness Thatcher and President Elchibey are reported to have discussed freedom, the fight against communism and the development of relations between the United Kingdom and Azerbaijan.
The two politicians addressed a reception held in Baroness Thatcher's honour at the Gulustan Palace in Baku. Describing Margaret Thatcher as one of the great politicians of the latter half of the 20th century, the president said that she played an indispensable role in Azerbaijan achieving independence and in the victory of democracy, correspondent Shahvalad Chobanoghlu wrote in Hayat newspaper.
On this visit she can see the fruits of the tree she planted, Elchibey said.
It was difficult for the president and me to talk before lunch, because politicians are always hungry, Baroness Thatcher began her speech with a joke. She went on to say that she was very glad that her first visit to the country should be to a free, independent Azerbaijan.
Our country had broad ties with you in 1918 when you had gained your freedom. Now we meet again 70 years later.
Addressing the opening of an exhibition organized by BP and Statoil in Baku, Baroness Thatcher expressed her hopes for the development of comprehensive relations between the UK and Azerbaijan.
As she left Baku, she is reported to have said that she expected Azerbaijan to turn an economic corner very soon. She hoped that cooperation with the UK would play a great role in that development.
Karabakh
Interviewed by Azerbaijani TV during her visit, Margaret Thatcher condemned Armenian actions in capturing the Azerbaijani towns of Shusha and Lachin, journalist Jemin recalled. Just four months earlier, in May 1992, Armenian forces had taken the town and district of Lachin, which lie between the Republic of Armenia and the Nagorno-Karabakh region, and the key town of Shusha in Nagorno-Karabakh itself. Elsewhere in the interview, Baroness Thatcher spoke of the need to develop democracy and conduct economic reforms. She said that independence came at a high price but was worth it, said Jemin.
The 'Russian' linesman
At the Gulustan reception, Margaret Thatcher was introduced to members of the government and opposition, academics and public figures. Someone whom she took a 'childlike delight' in meeting, according to Azerbaijani newspaper Hayat, was Tofiq Bahramov, the linesman who gave the disputed third goal in England's 1966 World Cup Final against West Germany. England went on to win the trophy with a 4-2 victory. Bahramov was feted in the English press as the 'Russian linesman', though he was, of course, representing the Soviet Union at the time. The ex-prime minister and ex-referee are said to have enjoyed a lengthy chat.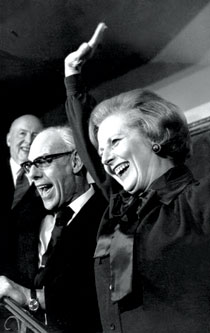 Margaret Thatcher with husband Denis
London meeting
Elchibey stepped down as president nine months after Baroness Thatcher's visit, amid an armed uprising in Azerbaijan's second city Ganja. President Heydar Aliyev, who took over, started negotiations on a major agreement with foreign oil companies to develop the Azeri, Chiraq and Guneshli fields. BP retained a strong position in the negotiations. The company emerged as the operating company of the consortium to develop the fields, which was set up in September 1994 under the agreement dubbed the Contract of the Century.
A few months earlier, in February 1994, President Heydar Aliyev met Baroness Thatcher during the first official visit by a president of Azerbaijan to London. In an hour-long meeting, the president told her that Azerbaijan had chosen the path of political pluralism, a free-market economy and respect for human rights and outlined the reasons for the war with Armenia. At the end of the meeting President Aliyev presented Baroness Thatcher with a hand-woven Azerbaijani carpet.
The following day President Aliyev and British Prime Minister John Major signed a declaration on friendship and cooperation between the Azerbaijan Republic and the United Kingdom, an important step in the development of those comprehensive relations called for by Baroness Thatcher.
Nizami award
Nineteen years later BP is the major foreign employer in Azerbaijan and British companies are active in several sectors of the Azerbaijani economy. Baroness Thatcher has not been forgotten either. Shortly before her death, the Nizami Ganjavi International Centre in Azerbaijan's second city, Ganja, announced that it had chosen Margaret Thatcher as a recipient of the Nizami Ganjavi International Award. The award, created by Azerbaijan's State Commission for Work with the Diaspora and the executive authorities of the city of Ganja, is conferred for services to the world community. Previous recipients include former US President Bill Clinton and Burmese opposition leader Aung San Suu Kyi. Baroness Thatcher was 'proud and deeply grateful' for her nomination, her office told the Nizami Centre.
Condolence
President Ilham Aliyev acknowledged Baroness Thatcher's role in his message of condolence to British Prime Minister David Cameron:
Margaret Thatcher made a great contribution to the establishment and extension of relations between the United Kingdom and Azerbaijan, developing friendship and cooperation.