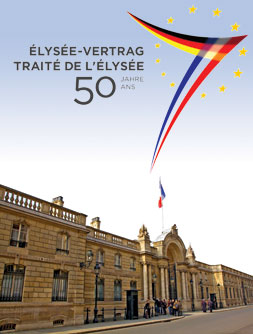 This year sees the 50th anniversary of the Élysée Treaty between Germany and France, a landmark agreement of two former enemies. The treaty was signed by French President Charles de Gaulle and German Chancellor Konrad Adenauer in 1963. Over the subsequent 50 years the two countries have drawn closer and enjoyed a high degree of mutually beneficial cooperation.
The very close political, economic and cultural relations between France and Germany ultimately resulted in the creation of the European Union; the partnership is now the main engine of the EU. The two countries account for 33 per cent of the EU population, 36 per cent of the European budget, 37 per cent of EU GDP and 31 per cent of its voting rights. Even 50 years ago, few people were confident of the success of reconciliation between these two countries with their centuries of history of war, enmity and hate.
Historic kiss
It was a bitterly cold, dark winter´s day as French President Charles de Gaulle and German Chancellor Konrad Adenauer met in the Élysée Palace in Paris on 22 January 1963. The leaders and their delegations sat opposite each other in a brightly-lit salon with mirrored doors and gold-ornamented walls. In a few minutes the leaders turned from enemies to friends. They agreed on German-French cooperation and signed the Élysée Treaty. It was a highly emotional moment in history. The two leaders embraced, and De Gaulle kissed Adenauer on both cheeks. They knew that they had shaped the future of German-French relations. Adenauer would later say that 'without this treaty, there would be no European unity', and add 'Methods might change, but the most important thing is never to lose the trust of friends.'
Élysée Treaty celebration in Baku
Many events are taking place, not only in France and Germany, but around the world to celebrate this anniversary. Baku is no exception. Three days of celebrations were organized by the embassies of France and Germany in Azerbaijan. The first day was dedicated to a conference on Franco-German Reconciliation. A specially invited guest from France, Philippe Moreau Defarges, spoke about the treaty in detail, sharing his views on the political and economic reasons for reconciliation. The conference was held at the Azerbaijan Diplomatic Academy and attended by the two ambassadors, parliamentarians, officials and public figures. The second day of celebrations saw a concert of German and French classical and jazz music performed by Azerbaijani musicians. The packed hall was evidence of the interest of the Azerbaijani public. On the last day a film was shown about German dancer and choreographer Pina Bausch.
Gesture of reconciliation
The ambassadors had a surprise for the guests at the Élysée Treaty celebrations in Baku – it wasn't what they said, but the way that they said it. The French ambassador made his speech in German and the German ambassador in French. This was a true gesture of reconciliation. Both spoke fluently, focusing on how the German and French communities wanted to move away from hatred.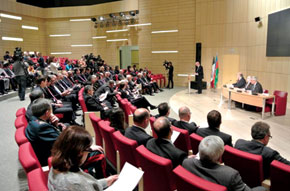 Conference on Franco-German Reconciliation, Baku
The two ambassadors highlighted the contribution of Robert Schuman, French foreign minister in 1950, whose Schuman Declaration was the basis of the treaty. At that time the nations of Europe were struggling to overcome the devastation wrought by World War II, which had ended five years earlier. In order to survive, the nations had to build economic relations at the very least. And the Schuman Declaration was the bridge that allowed it to happen. It proposed the creation of a European Coal and Steel Community, whose members would pool coal and steel production. Determined to prevent another terrible war, European governments thought that pooling coal and steel production would make war between historic rivals France and Germany 'not merely unthinkable, but materially impossible'. So that merger of economic interests helped raise standards of living and became the first step towards a more united Europe.
'Nazis manipulated Franco-German history'
In his address, Herbert Quelle, German ambassador to Azerbaijan, took a personal approach to the subject:
As an eight-year-old at the time, I did not really feel the emotional dimension accompanying the signing of the Élysée Treaty, but my parents, the war generation, certainly did. Germans born in the 1920s were educated and socialized in an increasingly less tolerant environment. With the rise of the Nazis to power in 1933, the Weimar Democracy was replaced by nationalistic totalitarianism, which systematically violated human rights in Germany and led to World War II. Anti-French propaganda was an element of Hitler's mobilization efforts already in early 1920. The Nazis manipulated Franco-German history to support their ideology of the superior Germanic race.
My father was drafted to fight as a soldier, but in the East, not against France, and he was wounded several times. His younger brother – whose first name I carry in his memory – also had to serve in the East, where he died as a prisoner of war. In the rare moments that my father spoke about the war, it was more obligingly than willingly and he never told stories of bravery and heroism, but of suffering, misery and tragedy. This family background and my luck to grow up in a true democracy with guaranteed human rights in a unifying Europe determined my education and socialization in contrast to that of my parents.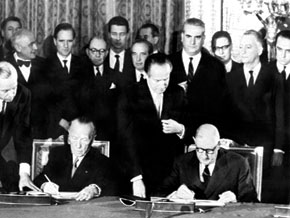 Adenauer and De Gaulle sign the Élysée Treaty
Robert Schuman is rightly hailed for his concept and vision of Europe. His declaration can be seen as laying its groundwork. The Élysée Treaty then set the scene not only for unprecedented bilateral cooperation between Germany and France, but for the European Communities becoming the European Union. I believe furthermore that the spirit of reconciliation so brilliantly reflected in the Élysée Treaty helped Germany to reset its relationship with other countries too.
'Reconciliation needs strong political signals'
In his speech Pascal Meunier, the French ambassador to Azerbaijan, focused on how Franco-German enmity began. The territorial conflict over Alsace-Moselle in 1871 marked the beginning of a chapter of caricature, hatred, and arms build-up that seemed to go on forever and took two world wars to end. He said that intellectuals on both sides had played a huge role in the reconciliation process:
After World War I, intellectuals believed that reconciliation was unnecessary because links already existed. In the name of the European humanist ideal of old, they highlighted the close relationship between France and Germany. I think of Paul Valéry, Romain Rolland and his magazine Europe in 1923 who continued their correspondence with Heinrich Mann, Stefan Zweig and Herman Hesse above the fray. These men, for whom the border between France and Germany didn't exist, were the creative precursors of a reinvented Europe.
At the same time reconciliation needs strong political signals. The Élysée Treaty was the first in a long series of steps to boost the politics of reconciliation between people. It makes all the more sense to me as I am from a generation whose fathers served at the front and whose children choose to go on vacation, study and marry in Germany, without thinking about the wars of yesterday.
Model friendship
One of the most interesting papers at the conference was given by Philippe Moreau Defarges. He said the Élysée Treaty presented a model of friendship for other countries and outlined the reasons behind it. First of all, it marked the end of World War II and the creation of a new geopolitical situation with new challenges. Europe was left between two big powers – the USSR and USA, which led to the second reason for the treaty – a common enemy.
The best way to become friends is to have a common enemy. That enemy was the USSR and USA. After World War II France was preparing a new war against Germany, but the plans didn't come to fruition because there were enemies that were much bigger and stronger. There was the threat of Stalin with the risk of Soviet occupation.
The geopolitical situation was significant, as the world had been divided anew, Mr Defarges said. On the one side was the USA and on the other the USSR. The USA wanted to be the world's main master, which was a threat to Europe as it too wanted to be a master. For Europe to have any economic clout, it had to be united.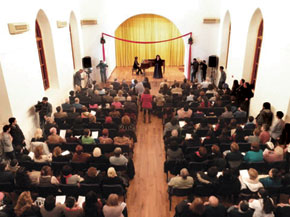 Azerbaijani musicians perform French and Germany music to celebrate the Élysée Treaty anniversary
Both countries, France and Germany, understood that for Europe to become strong against the USA and USSR they would have to change their policies. They understood that it was time to start the transformation. And they understood that they would have to pay the price of sovereignty. And finally, a no less important role in reconciliation was played by the generation of intelligentsia who put forward the need for peace. In peace and friendship it is very important to have equal obligations. In this respect France and Germany looked equal. At that time Germany, which before had seemed a strong state, had lost territory, whereas France as a weak one wasn't big either. That made them feel equal and helped in reconciliation as well.
Mr Defarges said there was a lesson to be learnt from this political decision made by countries that had until recently been at war. It was a model of friendship, but this did not mean that it could be applied to other countries. Each conflict has its own reasons and differences, but in some cases elements of this model could be used successfully, he said.
For instance, reconciliation could start through economic cooperation. I think that could be a good example for Azerbaijan and Armenia, and economic cooperation in the South Caucasus region would speed up a resolution. But don't accept it as a recipe, because your conflict is different, with different causes.
'If you want reconciliation you must give up justice'
Mr Defarges's presentation went down well with the audience and prompted heated debate. Azerbaijani MP Fuad Muradov was interested in Defarges' point about strong and weak states. He asked what should be done by strong and weak states in the case of the Armenian-Azerbaijani conflict over Nagorno-Karabakh. Perhaps he had in mind Azerbaijan as the strong state and Armenia the weak. Mr Defarges said that it was a question of making a strong gesture.
If you think you are a strong state, then you should be ready to make a big gesture. In the case of Germany, as I said, it lost territories and accepted this fact. But don't think I am making a recommendation. It is just one answer to the question.
German Ambassador Herbert Quelle said that a solution required both countries to have the political will and to publicize this as France and Germany did. French Ambassador Pascal Meunier said that the main precondition for reconciliation could be economic cooperation and a political declaration. He added that an exchange of opinion at grass-roots level and youth dialogue could help reconciliation.
A member of the audience asked how the conflict could be resolved if the international community kept silent and did not ensure justice. Mr Defarges responded:
If you want justice then you will lose reconciliation. If you want reconciliation you must give up justice.