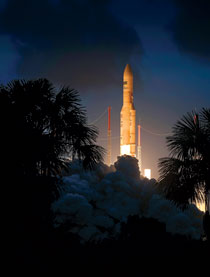 Azerbaijan has joined the ranks of the space nations with the launch of its first ever satellite.
The Azerspace/Africasat-1a blasted into orbit from the European Space Port in French Guiana on 7 February. An Ariane 5 launcher put the commercial communications satellite into its initial geostationary orbit at 42 degrees east. On 19 February, the satellite took up its permanent orbiting position at 46 degrees east. If viewed from the Earth's service, Azerspace-1 is 36,000 km above Somalia's Indian Ocean coast.
Azerspace-1 was designed and built by the USA's Orbital Services Corporation based on their Star platform. Weighing three tonnes at launch, the satellite was part of a record payload of 10.317 tonnes injected into geostationary orbit, according to Arianespace.
Azerspace-1 has 36 active C- and Ku- band transponders, enabling it to provide top-class communications services to Azerbaijan, Central Asia, Europe, the Middle East and Africa. The satellite's solar panels will generate five kilowatts of payload power.
Space odyssey
Azerbaijan's Ministry of Communication and Information Technologies realized back in 2008 that having its own satellite would allow better connectivity and information security. The ministry began talks with the International Telecommunication Union that year for an orbital slot. President Ilham Aliyev backed the plans with orders on the development of an Azerbaijani space industry and a decree setting up a national space programme.
The ministry reached agreement with Malaysia's leading satellite operator MEASAT to lease their 46 degrees east orbital slot and jointly operate the Azerspace/Africasat-1A. Work on the satellite began in earnest in 2009. US company Orbital Services Corporation was chosen to produce the satellite while Arianespace of France won the tender to launch Azerspace.
In 2010, the ministry set up Azercosmos open-type joint stock company to handle the launch, operation and exploitation of Azerspace and future satellites.
'Historic day'
President Ilham Aliyev and Communications Minister Ali Abbasov watched the satellite launch from Azerbaijan's primary ground control centre, just outside Baku. The centre and a back-up facility in Nakhchivan were designed and built by Azercosmos.
This is a remarkable and historic day in the life of our country, as the first Azerbaijani telecommunications satellite has been put into orbit. I congratulate the people of Azerbaijan on this historic occasion, President Aliyev said after the launch.
This is a truly historic day, a great achievement, a big victory for our state. This event shows that the independent state of Azerbaijan is developing rapidly and comprehensively, and we are already a member of the space club.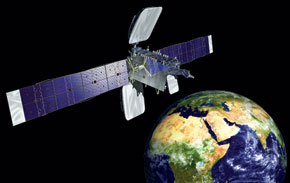 Orbiting Earth: ESA / CNES / Arianespace / Optique
Commercial venture
The Azerspace satellite will start to provide voice, data, Internet, TV and radio broadcasting services from the end of March.
Azerbaijan will use some 20 per cent of the satellite's capacity for its own communications needs while MEASAT are to lease just over 40 per cent. 'There is great interest,' from potential customers in leasing the remaining capacity, Azercosmos Chairman Rashad Nabiyev said. He expects the satellite to meet its production and launch costs over the next seven years. With operational life set at 15 years, that leaves eight years in which Azerspace can turn a profit. And Rashad Nabiyev is expecting the satellite to bring in $650 million over its operational life span.
The satellite has cost some $230 million in construction and launch fees, Minister of Communication and Information Technologies Ali Abbasov told journalists. The Azerbaijani embassy puts the value of the contract with the Orbital Services Corporation to produce and carry out the initial operation of the satellite at $205 million. Azerbaijan's insurance premium to cover the full value of the satellite is $17m.
Azercosmos received a loan of over $116 million from France's BNP Paribas, guaranteed by the US Export-Import Bank, for construction of the satellite. A second loan of $98 million from France's export credit agency COFACE went to cover the costs of the launch. The Azerbaijani government met 15 per cent of the satellite's cost, Minister Abbasov said in his interview with Visions, published overleaf.
Year of Communications and Information Technology
President Ilham Aliyev has declared 2013 the Year of Communications and Information Technology. While the satellite launch is a milestone, plans for the year don't stop there.
Azerbaijan is to complete the switch to digital radio and TV broadcasting this year.
Broadband nationwide
Under the Fibre-Optics for Every Home programme, broadband Internet is being made available throughout Azerbaijan. By 2015 Baku residents are to have broadband access at speeds of 100 Mbit/s, while the speed in other cities and district centres will be 30 Mbit/s and in rural areas 10 Mbit/s, the Communications Ministry reports. The State Oil Fund is to allocate AZN 103.6 million (101.5 euros) to finance the first phase of the project this year.
Some 70 per cent of the population of Azerbaijan are already Internet users, Communications Minister Ali Abbasov told journalists on 1 March. The Fibre-Optics for Every Home project should increase this figure, helping to bridge the digital divide between urban and rural areas and to expand the use of e-government services.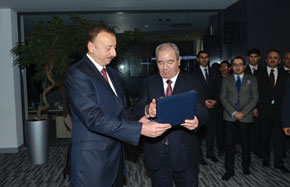 President Ilham Aliyev and the Minister of Communications and Information Technology, Ali Abbasov, at Azercosmos
University of Information Technology
President Ilham Aliyev has signed a decree on the creation of a University of Information Technology. The university will open in September in temporary premises, Minister Ali Abbasov has said, with entrance exams to be held in summer.
The university will help meet Azerbaijan's need for skilled personnel in information and telecommunications.
'Amazing' Launch Represents Long-Term Investment
Prof. Dr Ali Abbasov, Azerbaijan's minister of communications and information technology, talks to Visions about the launch of Azerspace-1.
What does Azerspace-1 mean for Azerbaijan?
Azerspace-1 is not only an important accomplishment for our Ministry and Azercosmos as a nascent company in the satellite industry, but also represents a significant advance for our nation which emerged from the ruins of the Soviet Union 22 years ago with a collapsed economy. Azerbaijan actively participates in a wide array of important regional projects and international cooperation programmes. Now, the 21st century sees Azerbaijan asserting itself on the world space stage, collaborating with other advanced nations in concerted actions to produce space solutions to meet local and global challenges.
How did you feel when you saw lift-off?
It was amazing to watch the lift-off of our first ever satellite, but it is even more amazing to know what it means for our country. There is no doubt that Azerspace-1 represents a long-term investment in our future and will be a source of pride for the whole nation for many years to come. By integrating the advantages of space capabilities into the national development programme, our government aims to bring the country to new heights in terms of its economic power, intellectual capacity and information security.
Are any more satellites planned?
Alongside the first telecommunications satellite, Azerspace-1, plans are already in place to launch a low Earth orbiting satellite in 2015, and a second telecommunications satellite in 2016, and other satellites in subsequent years.
What benefits will Azerspace-1 bring?
Azerspace-1 will not only eliminate the dependence of Azerbaijan on other satellite networks, but will radically change the way in which the country can obtain information and define new ways of processing, protection, distribution and use of information. But, perhaps what is more remarkable is the fact that with its advanced technological design and switching capabilities, Azerspace-1 will deliver high-quality, reliable information and communications services to millions of users across the region and beyond, helping bridge the existing digital divide. Our satellite plays a role as an important gateway in a joint space that connects over 50 countries in Central Asia, Europe and Africa.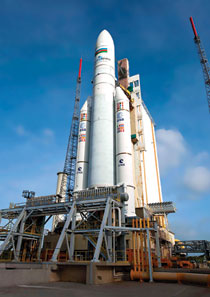 Azerspace / Africasat 1a on the launchpad. Photo: ESA / CNES / Arianespace / Optique
It isn't only a question of connectivity though. It's a question of economic wealth. The development of communications infrastructure brings with it new economic prospects and opportunities for the local population. It opens the doors of the global marketplace, stimulates scientific education and research, and promotes the development of an innovation-based economy.
When do you think the satellite will start to pay for itself?
Azerspace-1 is on track to be ready for commercial operations by early March. It is remarkable that we have already sold 40 per cent of the satellite's pre-launch capacity for the 15 years to come. Azerbaijan is a nation of only nine million and, were it not commercialized, the benefits of the space project would remain underused as the estimated amount of capacity we need for local demand is only around 20 per cent. We expect that our capacity-leasing targets will be reached in full for the year 2013 after our satellite has become operational.
How has Azerspace-1 been funded?
It is notable that only 15 per cent of our project has been financed by the government, the rest has been obtained through credit deals with reputable banks. Despite the widespread impact of the financial crisis and restricted prospects for investment credit resources, we have been able to attain competitive advantage in the industry by capturing the opportunities offered by the emerging markets, which have been neglected by industry giants as they are considered niche markets. Our presence in the region and closeness to the customers adds to our comparative advantage, as we will able to provide time-effective as well as cost-effective solutions, based on not only traditional methods, but Internet-based communication systems too.
It can be confidently stated that our space project and satellite launches are not only a national imperative or political aspiration, but a commercial activity aimed at productivity and efficiency gains in the profitable satellite market. Given the current growth rate of ICTs and their increasing share in the national economy, as well as the huge economic and intellectual potential for a sustainably viable space industry in Azerbaijan, we also expect to attain economic growth and avoid costs as the enduring impact of this project.
When will Azercosmos take over management of the satellite?
On 19 February, the satellite reached its final orbital position, 46 degrees East Longitude. Following this, the satellite entered the stage of in-orbit testing and it is being verified on a continued basis that all subsystems of the spacecraft are operating as planned. Once this in-orbit testing is complete, day-to-day operations of Azerspace-1 will be handed over fully to Azercosmos, which will continue to operate the spacecraft from its control centres.
What is the function of the space centres in Baku and Nakhchivan?
All satellite command and control operations will be carried out at the control centres in Baku and Nakhchivan by local specialists. These facilities were designed and built by Azercosmos to support the installation of the ground control systems provided by Orbital. The Baku Centre will be the primary Satellite Control Facility for operating and managing Azerspace-1 and other satellites to be launched in the coming years. The Nakhchivan Centre will be the back-up ground station. There is also a third, alternate back-up operations centre in Cyberjaya, Malaysia, provided by MEASAT Satellite Systems as a partner to Azercosmos.