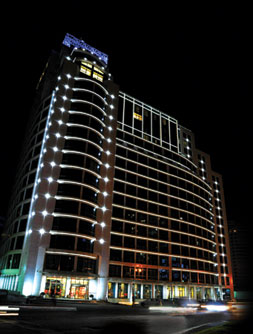 Pages 116-118
by Fiona Maclachlan
Aiming for success in Baku? Then stay at the Qafqaz City hotel - the top choice for the best business people!
Occupying a prominent position overlooking the central exhibition centre and, beyond, to the Caspian Sea and Nargin Island, the Qafqaz City Hotel is Baku´s newest and biggest short term residence with 18 floors, 317 Hotel rooms and 9 Apartments.
Unashamedly a business hotel for the discerning, the restful interior is welcoming and at once exudes a calm efficiency. Light and bright throughout, the optimistic and uplifting atmosphere creates the perfect ambience for a successful meeting.
At check-in you will be greeted warmly and made to feel welcome. All staff aim to make guests feel valued and so the service feels personal. Hospitality is embedded in Azerbaijani culture and, with a multilingual staff, delivery of your personal and business requirements is assured.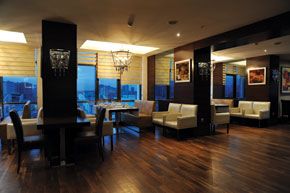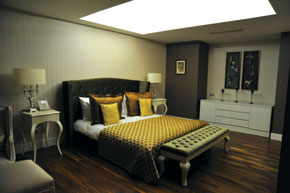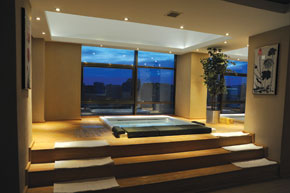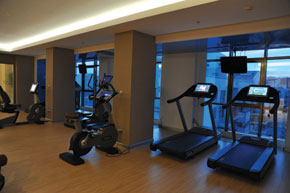 Bedrooms, all situated off broad, light-filled corridors, are opulent and restful, themed with smart white furniture and floor to ceiling windows, slumber inducing beds with generous pillows, plenty of cushions and a fabulously deeply-quilted, oversized headboard. The smart en-suite features a spacious walk-in shower. Larger rooms incorporate charming seating areas and the suites, with their two rooms, are even more spacious. The extra large ´Royal´ suite provides everything the senior visiting dignitary might require with an office and facilities for entertaining as well as an extra bedroom suite for family or private security. The personal jacuzzi, sauna and steam room facilities provide the perfect retreat.
Hook up for a beer with colleagues in the welcoming Boulevard bar just through from reception, or...
....chill in the fitness and spa club on the 16th floor with its jacuzzi views and excellent gym machines. Pale iridescent, ceramic, mosaic tiles gleam in the light which pours into the restful spa through vast windows, creating a vision of unadulterated purity. Inviting treatment rooms cater for a special massage.
Delectable dining throughout lunch and dinner can be enjoyed in the Samdan (pronounced Shamdan, meaning 'by candlelight´) restaurant on the 17th floor, with its spacious open-air terrace offering spectacularly expansive views over the city to the Caspian Sea. By day or night the panorama is fabulously breathtaking. Both Azerbaijani and International cuisine are on offer, and the restaurant has a variety of intimate dining areas depending on the size of your party. Old photos reflecting Azerbaijani hospitality add a traditional touch.
After dinner, invite your friends and colleagues to join you up on the top floor of the hotel, the Starlight Music Bar and pub, where disco music plays, a dance floor beckons, and the window-side seats invite you to sit and socialise.
Breakfast, served for early risers and late sleepers alike, is served in the Metropol Restaurant. Breakaway areas can be set aside for your own company use, perhaps appropriate for a breakfast conference with colleagues.
Back to business, there´s a choice of meeting rooms, with the rare bonus of natural light should you wish. Full conference facilities are on offer and can be tailored to your requirements, to best optimise your chance of business success.
The Qafqaz City Hotel understands their clients´ business needs which is why they offer competitive rates and will offer discounts for longer stays. It´s their business to help your business succeed. As they say, "We are here to help you."
Come, and feel the welcome.