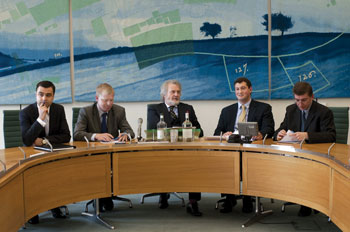 The panel (from left) Shahin Namati-Nasab, Director, TEAS, with Dr Svante Cornell, MP Mike Hancock, Dr Rick Fawn and Dr Tim Potier
Pages 12-14
On behalf of The European Azerbaijan Society, Mike Hancock MP organised a discussion on 18 May at Portcullis House on the forthcoming TEAS publication International Visions: Armenia-Azerbaijan Conflict over Karabakh. Attracting 45 delegates, the discussion featured presentations from three of the contributing authors, all of whom are academics specializing in the area. Dr Svante Cornell, co-founder of the Institute for Security and Development Policy, Stockholm, explained that the phrase "frozen conflict" is a "dangerous misnomer". He expounded the view that the Mountainous Karabakh conflict cannot be allowed to fester. He described the situation as untenable in a region that has been ethnically cleansed, with 11 per cent of the Azerbaijani population displaced.
The next speaker was Dr Rick Fawn of the School of International Relations at the University of St Andrews. Recalling that it is 15 years since the cease-fire stalemate was reached, Dr Fawn said that Mountainous Karabakh should be considered in the light of the Kosovo solution. Dr Fawn highlighted the importance of changing perceptions and said that the UK has an important role to play because of the preponderance of NGOs. He explained that there is a stronger case for intervention if the current impasse continues. He also expressed some frustration with the stalled negotiations. Dr Fawn referred to the importance of encouraging the cultural separation of the Mountainous Karabakh region.
The final presentation was delivered by Dr Tim Potier from the University of Nicosia, Cyprus. He raised the fact that the OSCE´s Minsk Group has not ratified the Madrid Principles, which include the facilitation of the return of Azerbaijanis to Mountainous Karabakh; the demilitarisation of the area; and the definition of an interim structure for the region. He supported the Azerbaijani policy of offering an element of autonomy, giving Mountainous Karabakh a horizontal structure in relation to the remainder of Azerbaijan.
Summing up the discussions, Svante Cornell expressed his view that: "The EU must become involved because of the large funds needed to rebuild that part of the country, together with the necessity to police the territory on a grand scale. Mountainous Karabakh has been destroyed by the war, and billions of dollars are now required."