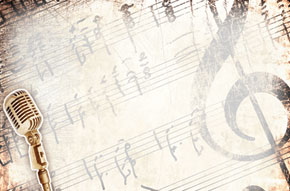 Land of Fire? It may be that Azerbaijan is having an identity crisis, as it currently appears more like the Land of Music. In international terms, of course the big musical news has been Eurovision but big as that iceberg was, there is a lot more below the surface. An enterprising project devised for the run up to that extravaganza gently acquainted visitors with the fact that there is more than one way to get sound from string, skin or reed.
Bizimkiler translates as 'Ours' and, in a spirit of musical internationalism, it featured top local musicians playing ten globally-known western tunes: pop, rock, jazz and blues, plus three melodies adding a little eastern flavour. One song was played at intervals throughout each day leading up to the Eurovision final.
Azerbaijanis have long enjoyed the virtuoso tar playing of Ramiz Guliyev and the sensitivity of Shafiga Eyvazova's kamancha; they are true masters of their instruments and you feel they could play anything, but to see them soloing on Michael Jackson's They Don't Care About Us was, to say the least, unexpected. And if we mention the improvised solo on Deep Purple's Smoke on the Water by Enver Sadiqov on…. qarmon (accordion) then you're probably smiling already, which is just as it should be – search for ans bizimkiler on Youtube to fully capture the good humour.
Smoke on the balcony
The project was Seyfulla Mustafayev's imaginative response to the arrival of Eurovision in Azerbaijan. Vice-President for Media at the ANS group which runs the ANS television channel, Seyfulla muellim explained his reasoning:
It would not have been appropriate before. Everyone knows our ethnic music but Eurovision created a new resonance. I wanted to show our guests from different parts of Europe that our victory in Eurovision [in 2011] was no accident; music has deep roots here. I also wanted to give international music to Azerbaijanis in the language of their own instruments.
The moment of inspiration occurred during the few minutes it took for a smoke on the balcony at home,
The idea came in a second, everything came: the musicians, the set and I went to my iphone to choose the music.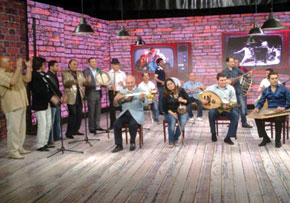 Of course there were tricky moments – not every serious musician is comfortable with being asked to play such relatively simple music and let go of the conventions associated with their genre. The different traditions also imply different approaches; some, like Professor Ramiz Guliyev who is head of department at the Baku Music Academy, learn a piece from a score, others have always picked up by ear. Seyfulla confesses that some of those he approached could not take on the project and others agreed to the informality of the presentation only with persuasion, but how else is an ashiq saz musician to play the intro to a hallowed hard rock anthem?
On the other hand, the project seems to have provided an outlet for some previously unfulfilled musical ambitions. Shafiga Eyvazova was very keen to play both Michael Jackson's song and Sting's Englishman in New York and daughter Mehri Asadullayeva captured perfectly the mood of Eric Clapton's Wonderful Tonight. The two kamancha players, however, did not have an easy time in adapting. The instrument has a relatively limited range of pitch and, as well as the musicians, Seyfulla is keen to credit arranger Yashar Bakhish for making it possible.
Professorial rock
The tar, despite its obvious familial connection to the guitar, does not immediately leap to mind in connection with rock music, but Ramiz Guliyev was one of the first to say yes to the project. When we caught up with him at the Qabala music festival, he told us why:
It was an unusual but very good project to have Azerbaijani instruments make western music their own. All good music - whether light or serious, opera, jazz, pop or rock - has its own beauty. We should look for the beauty in everything…. I had never played this music before, but as we continued it seemed familiar. Some of the musicians were worried but I said they should add something of their own to their playing and the song would happen.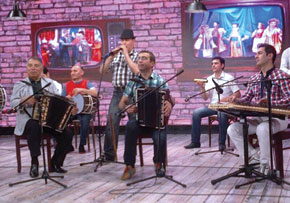 Even in a household as open as Ramiz Guliyev's, his involvement in Bizimkiler caused a stir:
I had been practising the Michael Jackson song for a few hours one day and my wife had been in and out a couple of times to bring me tea. She came in a third time with the children as I was playing that strong rhythm and she exclaimed, 'Have you gone crazy, what are you playing!' This reminded me of a story about an old tar player called Pasha who was once asked to play music by Uzeyir Hajibeyov with an orchestra from Russia. He was intrigued by how the orchestra tuned up by running up and down the scales. He was doing the same at home when his wife came in asked him about this strange music; he had replied, 'You won't understand, but the Russians love it.'
See the smile on his face as the music professor launches into his solo at 2:30 on the video of They Don't Care About Us for the joy of musical adventure. As he mentioned, another discovery along the way was how familiar the harmonies and melodies of songs as apparently disparate as Smooth Operator and The Doors' Roadhouse Blues were to those familiar with Bayati-Shiraz, one of the seven main modes of Azerbaijani mugham, and one of the more melancholic. However, with blues at the root of much western popular music, it is perhaps not so surprising.
Also unsurprising was the fact of a certain resistance at the outset of a groundbreaking project. As we mentioned, some musicians just could not do it and some of the local audience were disturbed to see serious musicians smiling, not to mention appearing in 'civvies' – casual clothes. Since the videos were uploaded to the internet viewing figures have, nevertheless, proved that music conquers all; 20,000 viewers were clocked up before the first 'dislike' was registered…. is this a record on a medium where people are never shy of registering disapproval?
Chart toppers
So far, the Bizimkiler version of Sade's 'Smooth Operator' has received most plays, but not so far behind are Солнце взойдетare (The Sun Will Rise), made popular by the country's own Muslim Magomayev, and Wonderful Tonight, by contrast Queen's anthem We Will Rock You stands in fourth place. To give a complete idea of the range covered by Bizimkiler, the three songs we haven't mentioned are the jaunty Ukrainian folk song Iхали Козаки (Cossacks Rode), Dave Brubeck's jazz classic Take Five and Кукушка (Cuckoo) by Russian rock pioneer Viktor Tsoi.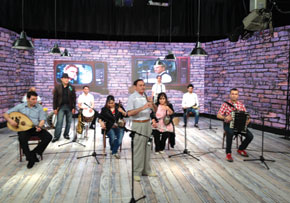 Seyfulla muellim says that he had intended to include more songs, but time was against him, and:
I was a little naïve…Now I can't believe it, I didn't think about the implications of what I was doing. I said 'Don't be serious, we're just playing'.…
….We started just two weeks before Eurovision. If God had sent the idea in January, it would have been fine, we could have shown the videos in bars and other places. But it's not good to argue with heaven!
But given the enthusiastic response there are, of course, further ideas rising with the smoke on the balcony: a winter seasonal album, classical…. and more; we'll just have to wait and listen. For now, browse the internet and listen to expert musicians having fun while applying new airs and graces to their traditional skills and instruments.