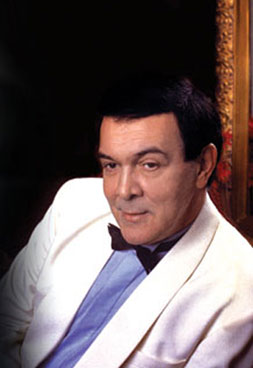 Don't forget the past; it will be your teacher in the future
There is a strong modern drive for innovation, perhaps driven by the remarkable advances in electronics and communications that affect all our lives. All to the good, of course, although it can sometimes lead to the disparagement of what has gone before; but even Steve Jobs' iPhone would not have been possible without Alexander Graham Bell's telephone.
Popular culture, especially among youth, is increasingly geared towards the here and now; the aims being instant fame and fortune, with quality sitting somewhere in the back row. But the long view is invariably more satisfying and longer lasting, and it is very heartening when the achievements of the past are recognised and built upon by younger generations.
We have written before about both Muslim Magomayev, July/August 2011 http://www.visions.az/famous_people,304/ and Javid Samadov, September/October 2010 http://www.visions.az/art,220/, but we make no apology for returning to these two award-winning Azerbaijani singers.
Muslim Magomayev died in October four years ago, but this year Azerbaijanis are celebrating the gift of his voice and music 70 years from his birth. Javid Samadov, just 25, has advanced his own musical progress this year with a new appointment. He also enhanced his international reputation in the summer with performances in Israel. Javid admires Muslim Magomayev's work greatly and we print here an interview he gave about his inspiration while in Israel. We were also interested to hear how he was continuing to carry the flame. Visions of Azerbaijan is very grateful to Sabina Wiseman for her initiative on this article and for conducting the interview with Javid Samadov.
17 August 2012 – Muslim Magomayev´s 70th anniversary
His music speaks for itself…
SW - People call Muslim Magomayev a legend, an idol for three generations. You are a musician, a singer. You happened to know him personally. What does he mean to you?
JS - The first thing that a person receives after his birth is a name. Sometimes parents do not realise the significance of the name they choose for their child.
I don´t believe that our names are simply given to us, and only by our parents. I am convinced that the name that we receive, live and create with – is given to us from above…
For example, if we weigh the name of Muslim Magomayev against all his numerous titles, the name itself will outweigh all those titles. Thus the name given at birth is much more significant than all the titles and honours gained over the years.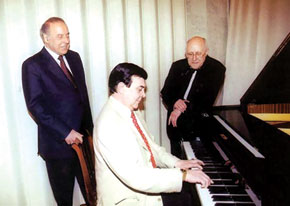 President Heydar Aliyev and Mstislav Rostropovich appreciate Muslim Magomayev´s playing
For me, I can just say or even think MUSLIM MAGOMAYEV and everything is clear. We don´t need anything more.
SW - When he began singing there were many other talented singers…
JS - Absolutely. And yet, there is Muslim Magomayev and there are all the others. The audience knows it, everybody is aware of it. He has been compared with international stars like Elvis Presley and Frank Sinatra. However, none of them had the limitations and censorship that was common in the Soviet Union, not only in choice of repertoire, but also in very basic things like dress, hairstyle and stage presentation. They all had absolute freedom, but despite this, Magomayev is different. In spite of all the limitations he was free, he had his inner freedom.
Although he won the public over with performances of popular music (sung in Russian, Azerbaijani and other languages), none of those with whom he was compared had a repertoire of the operatic roles (both bass and baritone) that he performed in Opera Houses: romances by Rachmaninov, Tchaikovsky, Beethoven, Schubert, Gounod and other classical composers.
SW – "I´ve always considered myself a singer. All I can do besides is just a hobby" - Muslim Magomayev said in an interview…
JS - I´d like to mention one of his 'hobbies' – composing music. This is a unique gift from God which is not given to everyone, especially to such a brilliant singer. He was blessed to hear, create and perform music, that is, to pass it on to us, as he himself heard it.
No other composer in the world had a voice like Muslim Magomayev´s or a fraction of his singing talent, and this fact is extremely important. He wrote vocal music to suit his own abilities and talent.
Although his songs appear simple in form, as a singer who has performed just a few of them, I can say that a complex operatic aria is technically easier for me…
While composers spare a singer's power and voice, the singer Muslim Magomayev never spared himself. Extraordinary energy is expressed in his voice, reflecting his immense heart…
That is why it is so hard to sing the songs he composed after him. [some examples here – ed.]
http://www.youtube.com/watch?v=N5r9NALLfVU
http://www.youtube.com/watch?v=3kQwe96tHFk
http://www.youtube.com/watch?v=z5ByOX5Mn7Y
Having discovered him as a personality, I realized something that many people cannot understand – why God gave him so much. But to understand this you had to know him personally…
SW - How were you influenced by this great musician?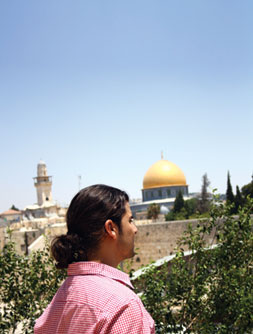 Enjoying the sights in Israel
JS - With support from my own country of Azerbaijan, I had the chance to study at the most prestigious opera academies in Azerbaijan, Russia and in Italy. As well as teaching proper musical techniques, some teachers and the 'stage' itself teach singers to be 'flexible', but in our conversations Muslim Magomayev proved that it IS possible to always preserve your dignity and at the same time reach the peak of your aspirations.
He did not bend to anyone, he was himself even in the most difficult conditions, and did not betray himself or his music - as in My Way, one of his favourite songs -
… I faced it all and I stood tall and did it my way…
or … For what is a man, what has he got?
If not himself, then he has naught
To say the things he truly feels
And not the words of one who kneels…
SW - The world does not forget their idols. Recordings and video clips of The Beatles, Elvis Presley, Frank Sinatra and others are still heard and seen in radio and TV programs all over the world. Generation after generation get to know and enjoy them. Unfortunately, Muslim Magomayev´s recordings are aired less often, depriving many young people of the opportunity to discover the wonderful world of his music…
JS - I do not usually like to talk about my plans and prefer to talk about what has been done. But to answer your question I´ll have to make an exception.
If I am a singer, it doesn´t mean that my main goal is to perform one of the major baritone roles at La Scala or Metropolitan Opera. I am a musician from Azerbaijan. I represent the country of the musical dynasties Hajibeyov, Magomayev, Garayev and Amirov. My ultimate goal is to see works by great Azerbaijani musicians included in the curricula of the conservatoires and music schools in many countries. I want students to study and perform their music. I want the recordings of Rashid Behbutov, Shovkat Alekberova and, of course, Muslim Magomayev to be placed in music libraries all round the world. This would be for us and the world, not for them.
Finally, I have to say that talking about Muslim Magomayev´s music is extremely difficult because whatever I say, I won't be able to express in words my sincere admiration. I can only suggest that everyone listens to the music he wrote for films, his songs, ballads, improvisations and, of course, his classical performances. His music speaks for itself…
We shouldn´t talk about a musician, we should listen to him and everyone will make their own discoveries. The music lives on.
Listen to Muslim Magomayev!
http://www.youtube.com/watch?v=r3Fg5oxYLfI
http://www.youtube.com/watch?v=ogRkYS-9CnY
http://www.youtube.com/watch?v=wzHrJH02MvY
Now we turn to Javid Samadov's own music….
SW - Can you tell us about your summer engagement in Israel? How did that come about?
JS - Last year at the International Belvedere Singing Competition in Vienna I met an agent from Switzerland who arranged auditions and performances in Europe. Through the agent I received an invitation from the Buchmann-Mehta School of Music in Tel Aviv to sing Leporello in Mozart's opera Don Giovanni.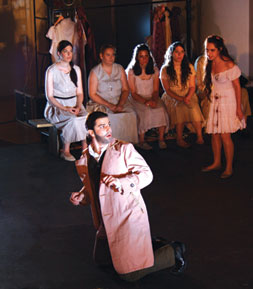 As Leporello in Don Giovanni, Tel Aviv
SW - Where was the opera performed and how many performances did you give?
JS - It was performed by the Buchmann-Mehta School of Music staff and musicians who, like me, were invited from abroad (Italy, Russia, Albania, Kenya, Germany, Moldova etc.) There was an open rehearsal and three performances (12, 14, 15 and 21 June). As I came to Tel Aviv from Italy, immediately after singing Papageno in The Magic Flute, I had to study the part of Leporello on a plane or on a train, while travelling from place to place. I didn´t have much time for rehearsals when I arrived in Tel Aviv, either – less than two weeks.
I stayed in Israel for a month – mostly busy with rehearsals and performances. After the last performance, I stayed for some time with friends to relax and see the country.
SW - How was it received?
JS - It was a great success. All the performances were sold-out and warmly received by the audience. Afterwards, I received a letter from the Head of School:
Dear Mr.Samadov,
On behalf of the faculty and students at the Buchmann-Metha School of Music at Tel Aviv University, I would like to express appreciation for your brilliant performance as Leporello in our production of Mozart´s opera Don Giovanni.
Your virtuoso singing, impressive musicianship and charismatic stage presence enriched and enhanced every performance. Your professional manner and commitment set an example for our students, contributing significantly to the preparation and rehearsals. It was a privilege and a pleasure to collaborate with you on this project!
I thank you for this opportunity to get to know you and to benefit from your talent, professionalism and warm personality.
Best wishes for continued success in your artistic career!
With appreciation,
Prof. Zeev Dorman
SW - You met Azerbaijani musicians, too…
JS – The Israel-Azerbaijan International Association (AZIZ) arranged a meeting with Azerbaijani musicians who live in Israel now. We had an interesting conversation about today´s Azerbaijani music and had a great time together. It was a pleasure to take part.
SW – We hear that you have a new appointment. Have you completed your studies now?
JS – Yes, it´s true. I finished my studies in Italy and now I am a soloist with the International Opera studio at the Nuremberg State Opera House.
Following his summer work, Javid continued his association with Muslim Magomayev, singing at concerts paying tribute to the great singer in Astana, Moscow and Baku.