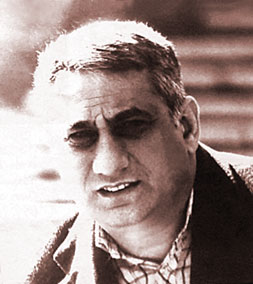 Pages 82-86
by Dilara Vahabova
A naturally riotous gift
The name of Fazil Aliyev is very familiar to artists in Ganja, but almost unknown in Baku.
The artist's creative life was quite a short one: having studied for five years at the I.E.Repin Institute of Painting, Sculpture and Architecture in Leningrad (now Saint-Petersburg) before being expelled for "professional ineligibility", he withdrew completely into his inner world, remaining outside the artistic life of both Baku and Ganja. The latest of his works are dated 1983. He ruthlessly destroyed everything that he did after that date.
Even that which is public property today has survived thanks to the tremendous efforts of the people around him – his wife, Fatima khanim, and his friend Ismayil Mammadov, a witness to all his "academic" ordeals. As Fazil believed, the time to properly evaluate his creativity "had not yet come". Nevertheless, there was a circle of artists in Ganja with whom he kept up friendly relations. Many of them consider Fazil to be their teacher. Within this circle he was called "Centaur". Nobody can say exactly when and why this nickname was assigned, but one thing is certain: like the centaur, the mythological creature known for its unruly character, Fazil often seemed to his friends to bear this wild character and to possess its brute strength.
Any coin has a reverse side. The artist – creative by nature – cannot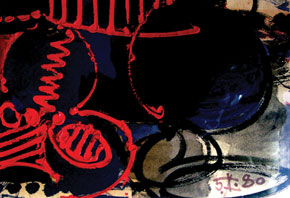 consist of a purely destructive force. It is a fact that the positive lies at the basis of creativity. Like a haunted beast of prey, Fazil was torn between his artistic gift, the creative energy which literally destroyed him from the inside, and the scepticism which was conceived in him during the years spent in Leningrad. Driven by their inviolable academic principles, his teachers, with unwavering rigidity, "scrapped" his works one after the other. Standing on its iron-clad canons of reason and discipline, the academic system of art education could not tolerate such a naturally riotous gift within its "bosom".
But can we blame a person for the colour of his eyes? Character, essentially determined by the artist's inner conviction of his right to freedom of creativity and way of thinking cannot be changed any more than it is possible to change the fate promised us by the heavens.
The explosive energy of Fazil Aliyev's work scorches. It is shocking, it is "in your face", although these works were created in the "happy and safe" 1970-80s; that the artist's legacy survived only by a miracle needs to be appreciated. Fazil was an important figure, intense, a comet; destined to be "burned out".
Tragically tortured, the artist was conscious of how truly estranged he was from the time he lived in. "Fazil is the Sun of the East", - he wrote (almost cried) in one of his letters to Ismayil.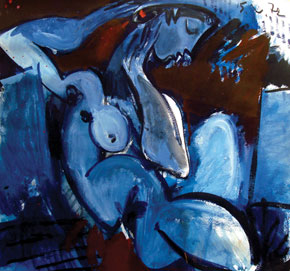 Behind this "cry from the heart" one recognises a deep understanding of the true situation: everything has its time. Let us believe that Fazil's time has come.
Fazil Aliyev – a bright star in the talented art world of Azerbaijan
Whenever one loses a friend, one feels orphaned, especially if that friend was a fellow traveller along the thorny path to art – it is twice as painful. Fazil and I met in 1967. Thanks to him, I decided to apply to "Repinka" (as we used to call the Art Academy in Saint-Petersburg in those days). He won admission there after his fourth year at the Baku Academy. Several years of life together at the institute are etched into my memory.
Fazil Aliyev was a very difficult person and sometimes absolutely unbearable to those close to him. His energy could spark life into all around him, but he could also suppress; being so far outside the box. Common interests and our boundless desire to sound the artistic depths brought us together.
There were days when we wouldn't talk at all, both being in our own worlds, way off limits to anybody else. Then in the morning, I would find a letter addressed to me on the night table, with his innermost thoughts. There were so many sad thoughts about his destiny in life, about his place in art…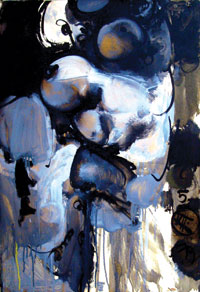 Years passed by. In his fifth year he had to take an academic break due to illness. A year away from the institute worked a miracle. He returned as a fully-formed artist. A wonderful professor of ours, Yevsey Yevseyevich Moiseyenko, once called him a potential abstractionist during a conversation with my fellow students. From the maestro himself it sounded like praise, even if such a thing was forbidden within the walls of the Academy.
Despite Moiseyenko's eff orts to defend his talented student, Fazil was not allowed to finish his diploma project and was expelled for "professional inefficiency". Nobody had been expelled from the Academy since the times of the Itinerants (the Russian Peredvizhniki art movement)… Then he managed to get a transfer to the Art Institute in Baku, serve in the army for two years and finish his educations.
His life in Ganja was no easier… Wicked fate was very hard on the life of this wonderful artist, who was ahead of his time. He died at a tragically young age, although according to letters that we have, he planned to live 120-150 years and was seriously preparing to do so.
He thought that society was not ready to evaluate his art, so he retired into his own shell and did not show his works.
After his tragic death, television director Oktay, cameraman Aydin and I went to Ganja and produced a documentary film, "Unfinished Painting". We showed over 500 of the artist's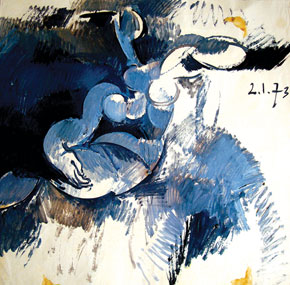 works; a great many of them being seen for the first time (they constitute the artist's complete legacy, apart from a dozen or so works retained by family and friends), recollections by his wife, friends and family and live responses from his fellow artists after watching the videos.
To be completely honest, I confess that very few artists in Azerbaijan could feel and convey the forms that Fazil did. The terrific sensations, the tension on the surface of the canvas or paper (he painted the majority of his works in oils on paper) cannot leave the viewer indifferent. It is truly unfortunate that this talented artist, who "walked on the razor's edge", was given such a tragic fate.
Thanks to the Baku Art Centre, which recently held an art festival in the artist's homeland, Fazil's works were exhibited for the first time. Some of them were shown later in Baku, at the "Yeni Gallery" (New Gallery). More than 10 of his works are now in the current exposition of the new Museum of Contemporary Art in Azerbaijan.
It is time now to reconsider the significance of Fazil Aliyev's legacy.
Ganja can proudly include his name in the list of its famous compatriots.
I now present several letters from our correspondence. Please note his handwriting and the double outline of the letters – further proof of his sharpness of character, let alone the content of the letters…