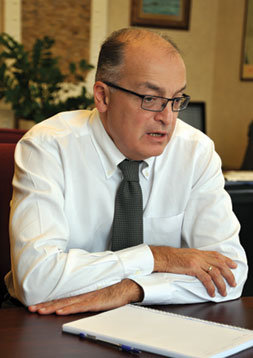 Pages 24-26
SOCAR (State Oil Company of the Republic of Azerbaijan) has been increasingly active lately. So much so that the company is already established as a brand in Azerbaijan. By its 20th anniversary, SOCAR has managed to become popular not only inside, but also outside of Azerbaijan. It is a 100per cent state-owned company, one of only a handful of such structures in the world. However, SOCAR is unique because it is an organization taking on tasks and functions that might be considered unusual for an oil and gas production company. To cut a long introduction short, we asked Elshad Nasirov, SOCAR Vice-President for Investments and Marketing, to expand.
The acronym SOCAR
As a matter of fact, the acronym SOCAR was originally formed wrongly. Ideally, in full, it should be the State Oil Company of the Republic of Azerbaijan rather than the State Oil Company of the Azerbaijani Republic. However, in the early 90s, when SOCAR was being formed, many people used the Russian language structure and translated the country's name for English-speaking expatriates as the Azerbaijani Republic. That is where SOCAR comes from. Be that as it may, the most important thing is not what a structure is called, but what SOCAR really stands for. We produce oil and gas but, at the same time, we do not omit to build schools, hospitals, carry out numerous social projects and we also promote our particular favourite, currently a headache for the nation, it's true – our football.
How it all started…
SOCAR represents a country which was the first to produce oil and the first to extract it. By 1900, Baku was responsible for 50per cent of the world's oil production. The 1920s saw oil prices reach a peak in the 1920s, when Baku was occupied by the Bolsheviks. So SOCAR represents a country which has been and will be the 'capital of hydrocarbon civilization'. The company is very young, still only 20 years old. Our main goal is to maximize income for the company and the country as a whole, as oil and gas products comprise 90per cent of the nation's export potential. We do not have to reinvent the wheel here and as a company earning its income from the production, refining and export of hydrocarbons, we should expand our work abroad in order to earn money on international as well as domestic markets. This is where we are very active just now.
Investments one of SOCAR's main priorities
We are working very hard to maximize income, not only at the expense of our own resources, but with the resources of other countries. We began our expansion abroad from Georgia, where SOCAR is now one of the main contributors of tax. It is no surprise that at Christmas every year the Prime Minister of Georgia presents the General Manager of SOCAR Georgia with an award for making the largest contribution to the Georgian economy. SOCAR is also widely represented in Turkey, where we own the Petkim petrochemical company. We are planning to build an oil refinery there, as well as a separate transit pipeline, TANAP, connecting Georgia to Bulgaria or Greece. We are also expanding in Romania and Ukraine. Very recently, SOCAR purchased a chain of petrol service stations in Switzerland from Exxon Mobil, a total of 173 refuelling complexes, including 20-25per cent of aircraft fuelling at Geneva and Zurich airports. Thus, if you are ever in Switzerland, you will be pleasantly surprised to see SOCAR signs at airports and in city streets. At this point I should note that our winning the tender to buy the Exxon Mobil chain was not a matter of offering a higher price. In fact, our offer price was lower than those from our competitors. We won because SOCAR is seen as a very comfortable partner in Europe.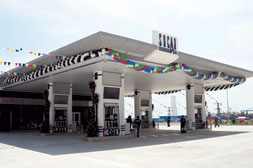 Commerce not politics
Our company belongs to no economic, energy or political blocs whatsoever. It is absolutely neutral. SOCAR is not bound by any political obligation and the company's priority, as I have already mentioned, is the commercial maximisation of income for the country and the company itself; this suits our associates and makes us comfortable and advantageous partners. This fully commercial approach also renders us politically invulnerable. For example, if we export oil and oil products to Iran, this does not in any way hinder us from also delivering those products to Israel, with whom Iran, to put it mildly, has strained relations. We are free and can fill the entire Odessa-Brody oil pipeline not because the Ukrainian government asked us to do so, but because Ukrainians offer to pay a good price for Azerbaijani oil.
Cooperation in the gas sector
The gas sector is where our collaborations confirm our complete political neutrality. We sell gas to Russia, Georgia and Turkey; we may deliver it to Iran… This list grows year by year. We are supplying Greece, but not directly, via transit. Whatever the prevailing political assessment, we do not conceal our plans to deliver gas to the European Union. This market is certainly a priority for us at the moment. And the reason is not that we like the European Union more or less than, for example, Russia, which is also interested in buying more gas from us. The reason is quite simple. The European Union has a free, open market, where prices, unlike on the Russian, Turkish and Georgian markets, are not determined by negotiation, but depend on the laws of competition and the balance between supply and demand. The truth is that in practice on the European market we know approximately the prices of energy resources. Thus the supply of gas to Turkey, Russia and other countries with limited market conditions will depend on prices in the European Union. At the same time, unlike other suppliers and buyers, we have never concealed, and do not conceal, our capacity to supply gas to both Europe and Russia simultaneously. It is only 250 km from Baku to the Russian border, so cost of transporting gas is minimal. There is demand for Azerbaijani gas in the southern regions of the Russian Federation – Dagestan, Chechnya and Ingushetia. To supply these regions, the Russian Gazprom would have to bring its own gas from the north-east of the country or from Turkmenistan, which would cost the Russian government much more. For us, delivering gas to Russia is a purely commercial decision, as Moscow is paying good money. Those who like to add a political dimension to this cooperation may continue to do so if they wish. Just 5 years ago, Azerbaijan was a principal importer of Russian gas, whereas today we are a supplier to Russia. In 2006, Azerbaijan consumed 22 billion cubic metres of gas, 5 billion of which we bought from Russia. Gas imports continued until 2007, when Russia almost doubled the price, making it unattractive to us. Very soon after the launch of Shahdeniz, Azerbaijan became one of the region's biggest exporters of the 'blue fuel'. We currently export about 8 billion cubic metres of gas to Turkey, Georgia, Russia and Greece. We also have a swap arrangement with Iran to supply gas to Nakhchivan, which is separated from the rest of the country.
TANAP and Nabucco - no conflict
TANAP and Nabucco are not mutually exclusive projects. Decisions on projects to be implemented are made by the Shahdeniz consortium of 7 companies: BP, STATOIL, TOTAL, LUKOIL, NICO, TPAO and SOCAR. As a matter of fact, the government does not interfere in this process. Azerbaijan has created ideal investment conditions for foreign companies, as investors' rights cannot be changed or subject to violation in favour of the host country once an agreement is signed. SOCAR has the right to participate in project decision-making processes alongside the other companies, however, the final decision is a joint one. As a result, by mutual agreement we ruled out the ITGI (Interconnection Turkey-Greece-Italy) project. Now we have to choose between several projects. One of the most common questions asked is: "Why don't you announce a tender, in which the best project would win?" But the truth is that the choice is not an easy one and a tender process alone is not sufficient. You will agree that exporting gas is very different from exporting, say, tomatoes or carnations, because we are talking about huge investments of 40-45 billion dollars: 20-25 billion dollars going directly to Shahdeniz, the rest on transit to European consumers. The problem is that none of the pipeline projects is ideal. Each has its disadvantages. For example, while Nabucco West looks like a good project, with delivery to the centre of Europe, it still has certain problems concerning finance and project management. Meanwhile TAP (Trans Adriatic Pipeline) is attractive, because it has flawless management.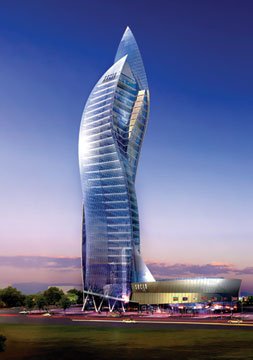 It has some of the strongest companies on board, but it does not have the complete support of the Greek and Italian governments, which is quite problematic. Having options for transporting gas across Turkey, either by expanding the Turkish company Botash's pipeline system or via a separate pipeline, Tanap (Trans-Anatolian pipeline), the governments of Turkey and Azerbaijan selected the project which was right for both parties – the second option.There were a variety of reasons for this. First of all, we will not depend on the Nabucco consortium or the Turkish monopoly Botash, and we will build and manage our own pipeline as the producer, not depending on the consumer or the transit country. We are reviewing two options at the moment for transit beyond the Turkish borders. The first is Nabucco West, which would deliver our gas to Austria. The second is the trans-Adriatic project TAP, which would take the gas to Italy. In addition we are considering several alternative projects, including White Stream, which would deliver from the Georgian coast to Bulgaria, the LNG (Liquefied Natural Gas) project from Georgia to Romania, Bulgaria and Ukraine and finally the CNG (Compressed Natural Gas) project, which would deliver compressed gas from Georgia to Bulgaria in special-purpose vessels. As you will understand, we have many different options and we are working on our selection. However, the most reliable method of transporting gas for long-term 30-year-long projects is by pipeline. Nabucco West has not been ruled out. Several days ago the Shahdeniz consortium received delivery of documents from both Nabucco West and TAP. The consortium's decision will depend on which project has the most favourable and advantageous conditions.
Future plans
As with any oil and gas company determined to achieve its aims and maximize incomes, SOCAR should close the circle of its activities. What I mean is that we have to deliver hydrocarbons to good markets, where we can process and then sell the products ourselves. That is why we are now looking for oil and gas processing plants at the heart of Europe, preferably in seaports. We currently have proposals from Ukraine, France, Spain and Italy and we are considering all of them, looking for the profitable choice right for us. We have already decided not to purchase two oil refineries proposed in Switzerland, because they are not sufficiently modern and, above all, they do not have free access to the sea.
Reserves for 100 years
Azerbaijan is in a geological zone which has the country living above oil and gas resources. As you probably know, there are the terms mineable resources and unrecoverable resources. I am not a geologist, so I cannot give you exact numbers. But I can say that the world is changing and so is technology; this may allow us to mine those resources which were once labelled unrecoverable. The generally accepted rate of mineable resources is approximately 50per cent. The estimate is that if 50per cent has been extracted, there remains another 50per cent, which will be extractable after 10, 20 or 100 years. So as Azerbaijan is the country in which hydrocarbons were extracted first, then it will probably be the place where the hydrocarbon civilization expires. When it comes to gas, there is enough to export for another 100 years and to meet domestic demand for several centuries…
Football, another SOCAR interest
I have to admit that we get no income from football, but it inflames us all. Football is the number one sport in almost every country. It is a sport that has caused war in Latin America and which has been linked to a country's army. If you compare the German army to the German national football team, they are practically identical in their strengths. As you see, football is much more than just a sport. As Azerbaijan's army develops, so does its football. By investing in Azerbaijani football, SOCAR is promoting its development. It is quite remarkable that Azerbaijan is this year hosting the U-17 Women's World Cup and SOCAR is a sponsor.