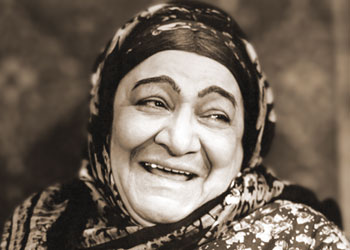 Pages 76-81
by Aydin Kazimzada
A shining star
There are still, among our theatre and movie actors, stars whose light burns eternal, and also those who blaze and fade. There are actors whose names on theatre and cinema posters are enough to draw an audience. There are many actors. Some achieve great success very quickly. But there are not many truly popular actors, whose fame spans the decades, from one historical period to another.
People's Artist of Azerbaijan and holder of the republican state award, Nasiba Zeynalova, was one such exception. Let's take a look at how these outstanding artists are made. The first requirement is certainly talent, the ability to play a variety of characters on the stage or in a movie; most important is that the actor and their personality should be distinctive. Finally, the roles played and the characters that have made their name are most significant. Nasiba khanim was an artist who stood up to scrutiny in every respect and who had great innate talent.
I once asked her how she had begun. The answer was both unexpected and interesting: "I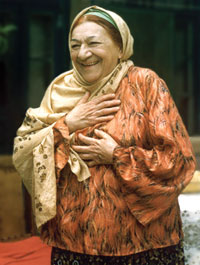 Scene from `Dream` (2001)
began my work in 1936. From that year, I was a dancer in the song and dance ensemble of the Baku Philharmonic. At the time, I was told that I did not have a talent for dancing. So in 1937, I transferred to the Kolkhoz-Sovkhoz travelling theatre in Baku and was an actor in the theatre troupe. We staged performances from Baku's villages to the remote regions. There, too, they told me that I did not have any acting ability. I had to leave the theatre. I decided to test my skills for a third time, at the Azerbaijani Musical Comedy Theatre. I played a gypsy girl in the play 'Married but Single'. I have been working at the theatre ever since, i.e. over half a century. I appeared in a film for the first time in 1958, in the film 'Stepmother' as Fatmanisa - that caused a stir."
It transpired from her answer that Nasiba khanim's career path was not so smooth or easy, just like her life. When reading the book titled "The Unseen Side of the Moon", which is dedicated to the actress's life and work, you wonder how many difficulties someone can encounter in their lifetime. Where did she get that inexhaustible strength to overcome these obstacles? Sometimes the hardships and problems that people shoulder are so heavy that even physical and mental strength are not enough, and life loses its meaning.
Decades ago, the famous director Shamsi Badalbeyli literally discovered Nasiba khanim for the comedy theatre. She had approached him with tears in her eyes: "I am tired, Shamsi, I am sick and tired of everything, of mistreatment, of injustice and of lies…"
In father`s footsteps
Jahangir Zeynalov, one of the founders of the Azerbaijani theatre, one of its first actors and a master of comedy, was asked, before he had children: "Who will be your heir?" He replied: "For the time being, I do have an heir; our stage is the most likely child to be my heir." A theatre figure, he believed in a great future for the theatre. He had a daughter and he named her Nasiba. This little Nasiba grew up and continued her father's path with distinction.
When Zeynalov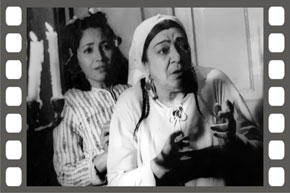 passed away, his daughter was three years old. The girl began working as a teenager, when she was 14, making envelopes to order for silkworms; she also worked as a laboratory assistant at the Baku Electricity Supplies Grid, an assistant accountant at the Azarsanat Association, a timekeeper in a tram depot, and as a labourer in a wholesale storehouse. When Nasiba khanim decided to be an actor, her mother Husniyya khanim did not approve. However, her daughter's decision was firm: I will be an actress! She entered the Baku Theatre College in 1938. After graduating, she continued her work at the Musical Comedy Theatre. However, unfortunately for her, the theatre was closed temporarily in 1949 and the actress went to work as a cashier in the summer hall of the Nizami cinema in Baku, as the leader of a drama group in a cultural centre, and as an actress in the entertainment sector of the Philharmonia. In 1956, the Musical Comedy Theatre re-opened its doors and Nasiba khanim returned to her native artistic home.
Her first teachers of the art were her father Jahangir Zeynalov, directors Aleksandr Tuganov and Shamsi Badalbeyli, and actor Agasadiq Garaybeyli. When the renowned Badalbeyli died, Nasiba said: "With his death, Shamsi Badalbeyli made me an orphan for the second time…" But life went on. With her innate talent, the actress instilled in people a love for the beautiful: she unmasked the ugly, brought joy to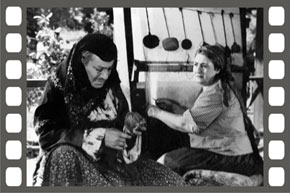 audiences through her work, making them laugh and think at the same time.
She had this to say about the Comedy Theatre where she worked for many years: "In our republic, the only 'creative laboratory' for pure comedy is the Azerbaijani Musical Comedy Theatre. It's here that I found myself."
Roles her own
On the theatre stage Nasiba khanim played the part of Jahan khala in the operetta "Arsin malalan", Sanam in "O olmasin bu olsun", Kalak khanim and Malak khanim in "Young at 50", Saraf in "Durna", Nargila in "Gozun aydin", Zuleyxa in "Ulduz", Sola khanim in "We know best", Asmat in "Our home, our secret", Jannat in "Mother-in-law", and others. Each of these roles brought the actress fame for the clarity of the characters, their national colouring and authenticity. By determination and hard work, the actress polished her inexhaustible talent year by year and managed to individualize the roles she played both on stage and on screen, creating different and unique characters. Nasiba khanim primarily played leading roles; however, even in smaller parts she portrayed women who were her contemporaries with a sparkle and with a variety of character. The parts she played in many stories in the "Mozalan" collection of short satirical films were distinguished by her special humour, national colour and open temperament. Her characters were entirely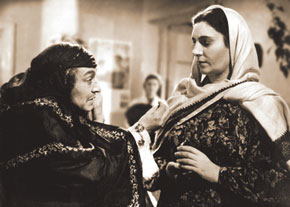 Scene from `Stepmother` (1958)
natural and believable.
Beyond her years
Although the gossip Fatmanisa, whom Nasiba khanim played in the drama "Stepmother" (1958) was a supporting role, it is still remembered now. Once the film was completed, the production director Habib Ismayilov wrote the following in a letter of reference for her: "With her characteristic simplicity and subtle humour, the actress Nasiba Zeynalova creates believable and individual characters in the theatre. It is a pleasant thing to see that she can easily play any character. This aspect is very valuable for cinema, too. From this point of view, her work in the role of Fatmanisa in the film 'Stepmother' may serve as an example.
"The young and life-loving Nasiba Zeynalova appears in this film as an old woman. On the outside, she is a very old, thin woman with lots of wrinkles on her face and shaggy hair, and on the inside she has an outdated way of thinking, she is a troublemaker and an uneducated village woman. The main thing is that you believe all of this. You believe it because the actress succeeded in creating an original and believable character with a local flavour..."
The well-known Georgian screenwriter Giorgi Mdivani, who was visiting the Baku movie studio at the time, inquired about the elderly actress who had played the gossip Fatmanisa. When Nasiba khanim was introduced to him, the Georgian screenwriter could not believe his eyes and said: "I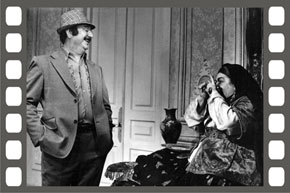 wasn't asking about this young woman, but about the old actress who played the old woman in the film…" Thus, as early as in this film, the actress had already showed that she was a master of character and type. This can also be said of the roles that she played in her other films. The theme of the film "Boyuk Dayaq" (Great Support) by director Habib Ismayilov was that only those leaders who rely on their people and their team can achieve their goals. Nasiba khanim plays kolkhoz woman Telli, who speaks up for the right cause, is afraid of no one and is a strong woman. For this woman, justice and truth are supreme.
Director Agarza Guliyev filmed the musical comedy "Ulduz" (Star) based on composer S. Alasgarov's operetta of the same name. In the comedy, Nasiba khanim plays Zuleykha, who is as successful a movie character as on stage. Unlike Nazila, who has a petty-bourgeois nature and is dictatorial, Zuleykha is remembered as a pure, honest and hardworking Azerbaijani woman. The Zuleykha-Mahammad duet that she and prominent actor Lutfali Abdullayev played for years at the Musical Comedy Theatre was as natural and believable in the film.
In the film "In the Name of the Law" by director Mukhtar Dadashov, Nasiba khanim appears in two roles – as the arrogant Shahla khanim and an old village woman. She plays Shahla khanim as a self-satisfied woman who loves jewellery and behaves as if she is an aristocrat, but she has poor morals. The other role – an old village woman - is typical of some people of the 1930s who lived in remote mountain villages; ignorant, they forgot about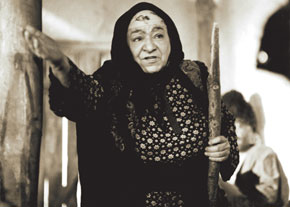 Scene from `Window of Sorrow` (1986)
their own business and gossiped about others.
Supporting star
The military movie-essay "Our Jabis Muellim", by director Hassan Seyidbayli, is about the difficult lives of people on the home front during the war of 1941-45; showing their everyday existence and problems. This film is an acutely accurate depiction of the atmosphere of the time. There are many successful acting performances. We meet people with different characters and from different walks of life in the film. Sugra khala, whom Nasiba khanim portrays as a woman of strong character, lives in a large courtyard in Baku.
The actress's role in this film was one of her best cinema roles of that time. One aspect should be noted here. Although Sugra khala's dramatic character is a supporting role, the scenes she appears in carry deep meaning. The actress's character conveys her own principles for life. In order to survive in a war-torn country, she resorts to all possible means and believes this to be normal. However, this woman will give a helping hand to those in need. When people are being resettled to the South Caucasus and Central Asia from the northern regions where fighting is going on, Sugra khala brings home a girl called Tanya and takes care of the Russian girl as though she is her own child.
Ms. Zeynalova presents Sugra khala to us in such a way that you cannot but think about her: yes, you cannot forget such women and you believe in their sincerity. Benevolence and other qualities of the humane are deep inside people like this. Extreme circumstances make them surface. Once such a circumstance arises in this film, the profiteer Sugra becomes a friendly mother and neighbour. Nasiba khanim performs this transformation quite naturally. This is why audiences love her character.
The director Hassan Seyidbayli wrote in an article entitled "The Screen, the Actor, the Viewer" about this role in the film: "Distant poles and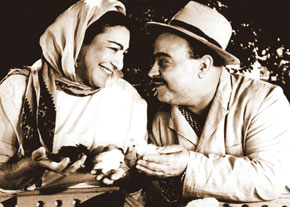 Scene from `Ulduz` (1964)
contrasting colours found a strange unity in the character created by N. Zeynalova. Now we see her as a rude and selfish profiteer and we hate her, and now we are moved when we see her suddenly change when others are going through tough times, and noble human emotions awaken inside her. The embodiment of these two contrasting situations on the screen is interesting because Zeynalova managed to find individual facial expressions to arouse hearty laughter. There are several actors in the world who read a script and understand the concept of the piece, perceive the theme of every scene and the conversations taking placing in that scene, and then act freely in all settings during filming; meaning that instead of the words written on the paper, they use their own words without digressing from the theme. They not only perform the characters they create, they also write them. Zeynalova is just one of these actresses."
The mother-in-law
Jannat brought the actress true fame both in the theatre and the cinema. It was not by chance that our cinematographers also showed an interest in Majid Shamkhalov's famous play "Mother-in-law" and created a musical comedy of the same name based on the play.
The theme of the film is everyday life and morality. It is set in the family of young composer Ayaz. The story line in the film concerns the relationships between Ayaz's mother Jannat and her two daughters-in-law, one real and one fake.
Although the actress – who had a broad creative range - found new expression, colour and interesting solutions for Jannat in the film, different from the theatre, director Huseyn Seyidzade failed to raise the character to the level of perfection. Despite this, Nasiba khanim, who produced a true mother-in-law in the movie, gave a colourful and likeable performance. The film was successfully screened at the 12th USSR Movie Festival in Ashgabat in 1979 and actress Nasiba Zeynalova was awarded a diploma.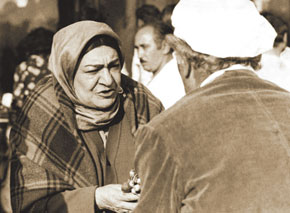 Scene from `Mother-in-law` (1978)
Sometimes viewers perceive Jannat as a negative character. This is actually not the case. She is first of all a mother. The narrow environment she grew up in made her imperious. Everything Jannat does she learnt from her mother-in-law. Even the atmosphere she lives in years later, a new climate and way of life, has not managed to influence her. Jannat's son Ayaz is a modern young man, an intellectual and a composer. His friends are like him - clever and educated young people. However, although his mother lives surrounded by such people, she cannot change her nature or outlook. She tells her daughter-in-law: "For how much longer will Sadagat (neighbour girl – A. K.) hang out the washing for you? A proper daughter-in-law should be both the khanim and servant in her home." Is this not correct? Or, Ayaz's friend Ilgar says: "Let me kiss you". Jannat replies: "No, I lived with Masadi Kazim for 30 years. He did not kiss me even once." That is what she has seen and what she demands of her daughter-in-law too. Jannat is a characteristic image.
This is how Nasiba Zeynalova described the daughter-in-law – mother-in-law relationship: "On the whole, it is the son who should establish a relationship between the daughter-in-law and the mother-in-law. The son should not forget what his mother has done for him and he should value her. And the mother- in-law too should love the daughter-in-law like her own child. After all, the daughter-in-law is also loved by her own parents and is dear to them. Parents should understand this well."
The image of Jannat in the film "Mother-in-law" has gone into homes via the TV screen for decades now, making thousands, millions of mothers-in-law and daughters-in-law laugh and think at the same time.
She made the character live

Later, Nasiba khanim played a mother who dreams of getting her mentally challenged son Mardan married in the television series "Don't be Scared, I am with You" by director Yuliy Gusman; the shop assistant Khanbaji in director Alakbar Muradov's psychological drama "Execution by Bullet is Postponed"; and grandmother Masma in the comedy film "Dream" by director Fikret Aliyev.

Although Nasiba khanim played walk-on parts in the first two films, her acting skill brought out the type and raised the role as a character. As for Masma nana, it has to be said that the actress embodied the national characteristics of Azerbaijani women in her inimitable acting. The theatre expert Valentina Ryzhova became acquainted with Zeynalova's work during the Musical Comedy Theatre's Moscow tour. She wrote in issue 8 of "Teatr" magazine in 1968 in her article "A meeting with Nasiba Zeynalova": "This prominent actress absolutely deserves to be considered among the world's most famous comedians."

Nasiba khanim was loved by all for her beautiful acting. She was a great artist with an innate talent. Talent, enthusiasm and work – these three factors were a constant unity throughout her life and work. Nasiba khanim did not play a part on the stage or screen, nor did she play a character. She made the character live within herself and she herself lived in the character. Time passes and interests, tastes and demands change. Cinema changes too. But the films that featured Nasiba khanim and the characters she played live and will live on.