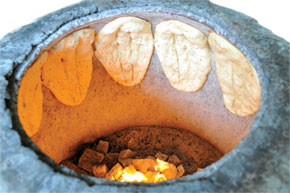 For baker Elnara Mikayilova every morning begins with the national Azerbaijani bread. As usual, she wakes up early to go to Tandir where her customers wait for her freshly baked tandir bread. It's no easy job. She must have time to knead the dough, light the fire and bake before the first visitor knocks at the door.
Tandir is a unique place in the old part of Baku - Icheri Sheher - where tourists, tired after a long walk around Baku's sights can find shelter and rest. Hot, straight from the oven, the smell of the bread is so tempting, it seems to beckon all passers-by. The name Tandir is from the clay oven used to bake bread and many other foodstuffs (English speakers know it as tandoor). Hence the name of the bread!
Bread has special status in Azerbaijan, it is always on the table and is eaten with almost any meal; there are many kinds on offer in local bakeries, but tandir is the favourite. Nothing can compare with the taste of tandir fresh from the clay oven. Usually eaten in the morning; it is served with white cheese and sour cream mixed with honey. A king's breakfast, people say.
In fact bread is considered to be a sacred food in Azerbaijan. It is a symbol of prosperity. No wonder it has pride of place on the table; it is so respected. If you are walking along a street anywhere in Azerbaijan and see a piece of bread lying on the ground, be sure that someone will pick it up and put it somewhere off the ground so others do not step on it. And don't be surprised if that someone kisses the bread and even touches the forehead with it. It's the sign of respect for the bread that feeds us our grandmas love to explain. Bread is also a sign of friendship. When people become friends they say,
We have cut bread and salt, nothing will ever come between us.
So, baking bread is considered a noble cause. It demands patience and mastery and Elnara has both. A good baker should have strong hands to knead the dough properly and a warm heart to achieve the right taste, she thinks. Although she is very tired by the end of the day, she is very happy. The tandir baked by her hands is always highly-appreciated and lives up to customers' expectations.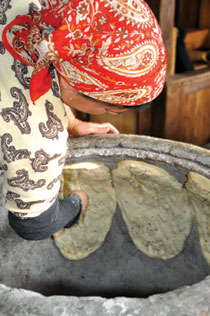 Elnara khanim fires up the tandir
Distinguished guests
So many people flock to Tandir for their warm bread. At the weekends the Polish Ambassador is usually in first. He loves tandir!
Although it has not been open so long, exactly two years, a number of high-level officials from different countries have already visited. Presidents are invited here to taste Azerbaijan's national bread. The first was Russian President Dmitriy Medvedev, with his wife and accompanied by Azerbaijan's presidential couple. Tandir assured us that the Russian President especially liked the bread, white cheese and qutab. Manager Basti Mammadova made a further interesting point:
Once we also welcomed the Greek President, who not only tasted the tandir but also took some with him to Greece. A few days later a telegram came from Greece thanking our team for baking such bread. The President of Montenegro also liked tandir.
In two years Tandir has become a hallmark for Baku baking. Besides the politicians, some well-known artists, actors and actresses and musicians have been invited here to sample the national cuisine. A meeting with Gérard Depardieu, the famous French actor, was one of the most memorable, Basti remembers.
We all were so surprised when we saw Gérard Depardieu here in Tandir. Imagine, I had watched his films on TV, and now he stood next to us. It was an indescribable feeling!
Basti is very confident of the Tandir crew's baking skills and she is keen to maintain high standards in presenting the tasty bread and food, with fine service and hospitality. She, herself, usually serves, greeting guests in her special national costume and with a broad smile on her face.
We are in a very comfortable part of old Baku. All tourists walking through the old streets inevitably pass by Tandir. Above all we offer a comfortable corner to take a seat, with hot tea in an armudu glass (we will have more to say about the Azerbaijani tea culture in a future issue) on the table and only then do we suggest something from our menu. They usually order bread, qutab and of course dushbara.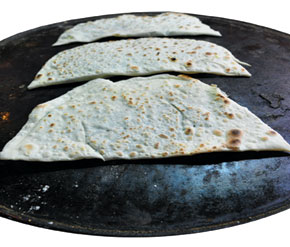 Greens qutabs sizzle on the griddle
Aunt Tutu's qutabs
Let's stay a little longer with qutab and dushbara. Tutu khala (Aunt Tutu), qutab maker, started working for Tandir just recently. She was recommended because of her skill in turning out delicious qutabs very quickly. Speed is very important for this fast food and Tutu khala normally manages around 200 qutabs a day. Tandir offers two kinds of qutab; greens and meat, but they can come with other filings, including offal and pumpkin, all are equally delicious. Tutu khala wouldn't share her recipe with us because, she said, it is her secret. However, we worked out that what makes her greens qutab special: the pieces of cheese she adds to the filling. The dough also certainly includes eggs and butter to make it tastier.
There should be 7 varieties of greens in the filling: a combination of parsley, coriander, rock coriander, dill, spinach, sorrel and leek give the unique taste of qutab. Yum! You will love it!
In some regions of Azerbaijan the greens qutab is called kata and is bigger. In Sumgayit city, which is just 30 kilometres north of Baku, there is a place called Jorad. Jorad qutabs are smaller than kata. There are recipes for this tasty dish in our July/August 2011 issue (http://www.visions.az/art,316/).
Now we would like to share with you a recipe for dushbara, another national dish which is a hit with all Tandir's regulars. Anash khala is the expert here:
My mama and grandma taught me how to cook proper dushbara and I have passed the recipe on to my daughters. You know, it's not as difficult as it looks. You mainly need good ingredients and patience. It takes at least half a day to prepare dushbara for a family and the work is like a jeweller's, you have to create tiny dumplings stuffed with meat.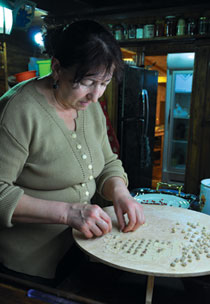 Forming the dumplings is the time-consuming part. The smaller the dumpling, the more skilful the cook!
The intricacies of dushbara
And what is dushbara? When anyone falls ill in the average Azerbaijani family then be sure he or she will be given dushbara as part of the treatment. It is a soup made of tiny dumplings filled with lamb and spiced with coriander and mint and can be enjoyed it in cold winter or hot summer. As for a guide to preparation, there's no one better than Anash khala. First she makes a conventional dough and leaves it to rest for an hour. While waiting for the dough she makes the filling by mincing lamb in a food processor together with onion and adds seasoning to taste. Then she rolls out the dough very thinly, cuts it into small squares, places a little filling into each square and seals the edges. Everything is almost done. It only remains to bring water or broth to boiling and to add the dumplings to the saucepan. After a few minutes, when the dumplings rise to the surface, the pan can be removed from the heat. Dushbara is served in a broth with (usually dried) chopped herbs. It can be served with a separate sauce. Anash khala combines vinegar and garlic for her sauce.
Forming the dumplings, she says, is the time-consuming part of the process. Hundreds of dumplings must be prepared for a large family. If they are too big, they won´t cook and will be raw in the middle. Azerbaijani women can make them small enough to fit 15 of them on a tablespoon. The smaller the dumpling, the more skilful the cook! Anash khala is something of a record holder – she has achieved a tablespoonful of 20 dumplings!
Hmm! Her demonstration of dushbara cookery certainly set our mouths watering. She did not let us suffer long and we were soon lapping up a delicious bowlful. Nush olsun, she said; this is the Azerbaijani bon appétit, invariably wished to everyone commencing a meal. And if you ever walk the streets of Icheri Sheher, please don't bypass Tandir. Enter it and taste Elnara's warm, oven-fresh tandir, Tutu khala's yummy qutabs and of course Anash khala's peerless dushbara. Have no doubt, as you prepare to savour you will be wished Nush olsun!