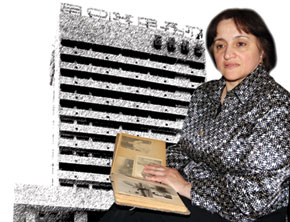 A life is like the flame from a lit match. Some burn unnoticed, sometimes in vain; others, in contrast, leave a long, bright trail behind them. The trail left by Shafiga Zeynalova is both bright and unique. How could it be otherwise? As a distinguished architect, and the first woman to follow the profession in Azerbaijan, she left us with memories of not only a creator of fascinating projects, but also of a woman firm, steadfast and honest.
She was first to break the stereotype of "poor women and housewives"…
The buildings housing the Ministry of Foreign Affairs, the Ministry of Labour and Social Protection and the railway station, as wells the Baku Soviet Metro Station (recently reconstructed), and a number of residential building in Baku, Sumgayit, Mingechevir, Lenkeran – were all co-designed by Shafiga Zeynalova. She also contributed design to statues of well-known figures Sevil Gaziyeva, Mikayil Mushvig, Hazi Aslanov and others. In reviewing her achievements the first thought is that she brought a fresh impetus to the art of building in Azerbaijan as well as has breaking all the stereotypes of "poor women and housewives" and paving the way for women to follow into architecture.
Shafiga's beloved niece, Irada Najafova loves to talk about her aunt over tea. She holds her aunt's life up as an example to her own daughters. There are different reminders of Shafiga everywhere in the Najafovs' flat – on the walls, book shelves and in the corners of the rooms. An interview with Irada gave us the chance to get closer to the illustrious but sometimes difficult life of her beloved aunt, the first woman in Azerbaijan to be declared an Honoured Architect.
Shafiga was born in 1922 into a family belonging to the intelligentsia. Her father Mikayil Zeynalov was an activist in the Musavat (Equality) party and staunch opponent of Soviet power. He fell victim to Stalin´s repression in 1937 because of his political views and principles. Thus, he spent his last years in prison. However, he always tried to support his family even from there. The family had a very hard time; all Mikayil's relatives emigrated to Turkey, unable to stay in Soviet Azerbaijan because of their Musavat connections, Shafiga's family lost their home as well as being stigmatised as "enemies"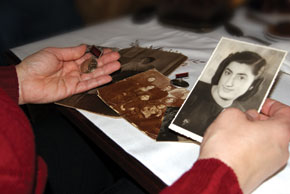 Memorabilia of Shafiga Zeynalova
(which was only removed many years later). However, they got through those difficult times with the support of her uncle, her mother's brother and it was he who later insisted on Shafiga's professional choice of architecture. She was always proud of him.
She never liked Soviet authority
Living and working in Soviet Azerbaijan, Shafiga never liked Soviet authority, especially its attempts to impose something alien and contrary to the Azerbaijani mentality. Her feelings had a history as her grandfather had been killed by Armenian Dashnaks during a massacre in Baku. Eventually, the need to assert her national identity was traced in her architectural projects.
Before a project was sent for approval, as I remember now, my aunt was in constant search for an interesting idea, trying to instil it with a national character. She didn't confine herself to just putting ornamental patterns on stones or a fresco; she could spend a whole night studying ancient buildings to understand the concept properly. She would say that the special thrill of the sight of Azerbaijani architecture came rather from its inner constitution than its outward appearance.
She who made a children's railway
Being older than her sisters, Shafiga had to take on difficult decisions and responsibilities for family problems. Her niece suggested that Shafiga's steadfast and principled character were perhaps the main features that helped her to learn the profession of architect and thus achieve career advancement.
My aunt always tried to be first in everything; that was clear even in her manner of speaking and dressing. Thus, she was one of the first women in Azerbaijan to wear trousers and a hat and, you know, they suited her very well. She was very confident and was strong and convincing in any discussion . That is why her staff called her the Iron Lady.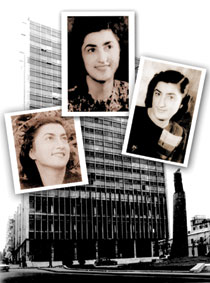 One of Baku`s first skyscrapers and its co-designer
At the same time, Irada added, pure feminine qualities weren't alien to Shafiga. She emphasized her femininity by dressing with taste and beauty. She simply adored children and it was no surprise that her first graduation project had a children's theme. The children's railway that used to be in the park near Baku Zoo (the park is currently being remodelled) was to her design. In later years, whenever she passed the railway and saw the joy that it brought to kids and their parents, her heart would overflow with pride.
More years would pass and the railway would be no more – it would be removed. If my aunt had known it, she would surely be upset…
Unfinished projects…
Shafiga Zeynalova died in 1979 at the age of 56. In her short span she 'nursed and brought up' a whole generation of her creation - the architectural buildings which are to this day a feast for the eyes of residents and visitors to the city. The building currently occupied by the Ministry of Foreign Affairs and the railway station were designed at the end of her career. And the former 28 April Street was to be the culmination of her professional journey. However, she was not fated to complete this project; her life cut short by serious illness.
I still remember the drafts of the Street project. We still have them. As I remember, the Street was to look like it began at the high-rise railway station leading on to new residential buildings. Unfortunately, she only managed to raise the station… On the subject of high-rises we should note that one of Azerbaijan's first 'skyscrapers', with 17 floors, was co-designed by Shafiga Zeynalova. This building is near the Nizami metro station and behind the monument to women's freedom. As Irada remembers, despite illness and the concerns of her relatives, her aunt was designing buildings and watching over their construction. She didn't want any detail to be overlooked during construction.
Towards the new and modern
Among her other distinguishing features Shafiga was also that kind of person who was always interested in urging people towards the new and modern. In truth, this streak in her character was not often well-received 'at the top'. Thus, although a project for a Caspian Biological Station, planned for Shikhovo beach, was approved, it was not actually built.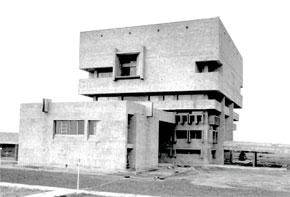 The Caspian Biological Station Project
The Station was expected to become the largest and most modern centre for the cultivation of fish and other marine animals, not only in the South Caucasus, but in the whole of the former USSR. As planned by the architect, the building complex would have included a laboratory, an industrial building, a huge aquarium and even a pool which for dolphins. It was also planned to open a museum of marine fauna and to build a hotel. But so far these ideas remain confined to already dusty project drafts.
I'm very proud of my aunt. She often used to say that when she took up a new project, it was the beginning of a long search. Drawing, rethinking, drawing again... and so on until she found what she was looking for. But even at the last moment she would check again in case she had forgotten something, or something had been overlooked.
Shafiga Zeynalova devoted herself to her beloved profession to the end of her days and remained faithful to it…