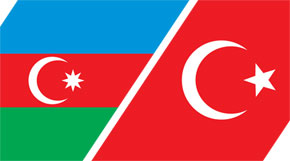 More than 250 Lords, MPs, diplomats, academics, and business people from Azerbaijan, Turkey and across Europe – including H.E. Ünal Çeviköz, Turkish Ambassador to the UK; H.E. Fakhraddin Gurbanov, Azerbaijani Ambassador to the UK, and H.E. Peter Bateman, UK Ambassador to Azerbaijan – attended the annual Business Forum organised by The European Azerbaijan Society (TEAS) on 2 May. Hosted in the historic London venue No. 4, Hamilton Place, off Park Lane, this provided a valuable opportunity to learn about the potential for western businesses in two of the world's fastest-developing nations.
Entitled Azerbaijan and Turkey – Diverse Investment Opportunities, this event focused on a wide range of sectors, including energy; project finance and investment banking; development of the ICT industry; agriculture and food-processing. Altogether, nearly 40 speakers were on hand to give their expert opinions.
Organisation of the conference came at a pivotal time. Statistics indicate that the UK remains the greatest contributor of foreign direct investment (FDI) payments to Azerbaijan, amounting to 52 per cent. Azerbaijan has always enjoyed an excellent relationship with Turkey, and in late 2011 an energy protocol was signed between the two countries that paves the way for the construction of the Southern Corridor pipeline network, which will convey Caspian gas to Europe, bypassing Russia and representing the future of EU energy security.
Tale Heydarov, Chairman and Founder, TEAS, explained:
This year's Business Forum is rather different to that in 2011, as it focuses on both Azerbaijan and Turkey. We believe that many of the economic projects in the region automatically combine these two countries. This is not solely because Azerbaijan and Turkey have cultural ties and are brother countries, but because of the geographical situation. Azerbaijan has one of the fastest-growing economies in the world, mainly due to its oil and gas resources, most of which will now pass through Turkey to the EU markets.
Already, this has led to great economic growth in both countries, whilst we face an economic downturn in Europe, due to such projects as the Baku-Tbilisi-Ceyhan pipeline, which conveys oil from Azerbaijan to the port of Ceyhan on the South-Eastern Mediterranean coast of Turkey, before it passes on to Europe. The Baku-Tbilisi-Erzurum pipeline similarly brings natural gas from the Shah Deniz field in the Azerbaijani section of the Caspian Sea to Turkey. In addition, the Kars-Tbilisi-Baku railway is currently under construction, connecting Turkey, Georgia and Azerbaijan, and creating stronger trade links between Europe and Asia.
H.E. Peter Bateman, recently appointed UK Ambassador to Azerbaijan, acknowledged:
Azerbaijan is secular, tolerant and liberal, and it has experienced the highest GDP growth in the world in 2005 at 35 per cent. It is now time for this wealth to benefit the rural areas of Azerbaijan but, as the country is destined for 30–40 years of considerable oil revenues, this will happen. Altogether, more than 150 UK companies are present in Azerbaijan, not just in hydrocarbons, but in the retail and financial services sectors, amongst others. The Azerbaijani middle-class is in its ascendance, and there is also a huge construction boom taking place across Baku.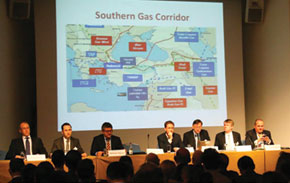 Mark Field, MP for the Cities of London and Westminster and Chairman of the Azerbaijan All-Party Parliamentary Group (APPG) commented:
There are considerable links between Azerbaijan and Turkey, and these are going from strength to strength. I have been to Baku and travelled across Azerbaijan, noting the considerable entrepreneurial flair of the Azerbaijani people. At a time when the UK economy is slipping back to recession, Azerbaijan is becoming an economic force to be reckoned with. In addition to the hydrocarbon industry, there are a great many opportunities for British companies in the financial services sector. The UK government has always supported Turkish accession to the EU, and as UK–Azerbaijani relations strengthen, this represents a triangle of prosperity.
Most of the major stakeholders in the proposed Southern Corridor were present during the energy session, highlighting the pivotal future role of Azerbaijan. Brendan Devlin, Advisor, Gas Policy, Directorate-General for Energy, European Commission, revealed:
The game has changed, and the EU wants the Southern Corridor to come to early fruition. The protocols signed between Azerbaijan and Turkey heralds this change, as Azerbaijan will become a transit hub for the Caspian region with a legal basis. The proposed Trans-Caspian Gas Pipeline will be a primary method of bringing gas from Turkmenistan and other countries to Azerbaijan, which will then be conveyed to the EU. The EU is always open to working with Turkey and Azerbaijan, and is fully supportive of the Energy Chapter.
Al Cook, Vice-President, Shah Deniz Development, BP, pursued a similar theme:
The development of the Shah Deniz 2 field will open up the Southern Corridor to Europe when it comes on-stream in around 2017, by which time 80 per cent of gas will be imported to Europe. This represents a great opportunity for Azerbaijan. Huge strategic agreements have been put in place, and the proposed Trans-Anatolian Pipeline (TAP) is currently the preferred route to Italy. However, other pipelines, including Nabucco West, are also being considered. The co-operation between countries is based on emotion, and it is hoped that the relationship between Azerbaijan, Turkey and the EU will continue for decades to come.
Each session attracted many questions from the floor, and the networking sessions proved to be both lively and stimulating, ending with a reception.