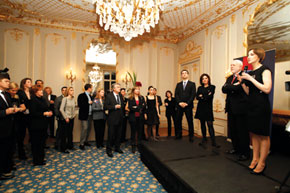 Eliza Pieter addresses guests at the Paris opening
The French office of The European Azerbaijan Society (TEAS) was formally opened on 7 March at the 18th Century Maison des Polytechniciens, located near the diplomatic district of Paris, during an event attended by nearly 300 delegates.
Attendees initially viewed a photographic exhibition entitled Azerbaijan – Land of Fire, depicting the culture, landscape and nature of the country. Following this, Eliza Pieter, Head of TEAS Paris, outlined TEAS' activities and the objectives of the Paris office to the audience, stressing that TEAS wished to bring Azerbaijan closer to the hearts of the French people. She also made a reference to the common principles of secularism, rule of law and democracy shared by France and Azerbaijan.
Tale Heydarov, Chairman and Founder, TEAS, continued by reminding the audience about the links uniting France and Azerbaijan, making a reference to the visit by the author Alexandre Dumas to Nagorno-Karabakh during his journey through the Caucasus in the mid-19th century. He highlighted the fact that, if he were travelling today, Dumas would be unable to visit and experience the heritage of that region as it remains under Armenian occupation.
Jean-Louis Dumont, French Deputy, Chairman, France–Azerbaijan Friendship Group, French National Assembly, outlined the importance of TEAS' activities in France. He commented that it would help to further strengthen social and political ties between the two countries. Mr Dumont recalled that France is a Co-Chair of the OSCE Minsk Group that has been tasked with negotiating peace in the Armenian-Azerbaijani conflict over Nagorno-Karabakh, and that it was important to attract understanding and support from all elements of French society.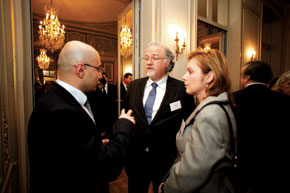 M. Pascal Meunier (centre) now French Ambassador in Azerbaijan with fellow guests
Coming from the Lorraine region, which has known occupation and the displacement of people, he indicated his empathy with the 875,000 internally-displaced persons (IDPs) in Azerbaijan, who are a casualty of the Armenian occupation. Senator Nathalie Goulet, Vice-President, France–Caucasus Friendship Group, French Senate, who had recently led a delegation of six French Senators on a familiarisation trip to Baku, then took the floor. She commented on the courage that Azerbaijan was showing in facing such an ambivalent situation, where there is a rapidly developing economy confronted with the harsh reality of one tenth of the Azerbaijani population being evicted from their home and land. She appealed to TEAS to support the youth of Azerbaijan, so as to move towards the future, whilst respecting the past.
Following this, Saida Zulfugarova, the leading Azerbaijani classical pianist, resident in Paris, together with percussionist Nicolas Vrancken, accompanied mezzo-soprano Djamila Babayeva in a programme of Azerbaijani and Western classical compositions.
The evening concluded with a lively networking session.