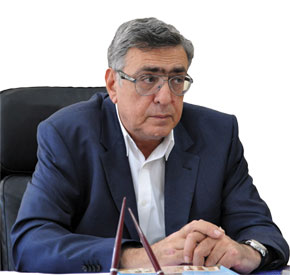 Chingiz Huseinzadeh, Vice-president of the National Olympic Committee gave an interview to Visions of Azerbaijan before the team set off for London.
Almost no time is left until the 2012 London Olympic Games. How are preparations going for the main sporting event of the year, and what is the mood of our athletes?
Preparations are going well. Our athletes are absolutely determined to win. Each of them is currently following an individual programme of preparation. The senior coaches are working intensively with them. But we, the Olympic Committee, are also making our own preparations. We are now working hard on the organization of the Azerbaijani delegation to provide all the conditions necessary for their stay in London. This includes uniforms for our athletes, accommodation, logistics, food, medical care and many other issues.
And how will our athletes look this time? Who made their uniforms?
They were tailored in a very famous Italian fashion house, Ermanno Scervino, which enjoys great popularity around the world. They have made parade uniforms, as well as sportswear. I think they all will like the uniforms as they are comfortable and 'breathe', as well as being fashionable. Overall, I believe that these Olympics will be more successful for our athletes than previous ones. The main part of our team is flying to London on 24 July, and, as you know, they will attend the opening of the Summer Olympics 2012 on 27 July. We are all expecting good results.
This is Azerbaijan's fifth Summer Olympic Games as an independent state. What memories will they leave us with this time?
Yes, you have noted well that this is the fifth time. Let's recall together and make a comparative analysis. The first time, in Atlanta, we won only one medal, the second time we brought three medals back from Sydney to Baku and then we took part in the Olympic Games in Athens, where we won 5 medals. But the last time, in Beijing we gained 7 medals. As you see, each time the result has been better than the previous. But this time we are going to win a minimum of 9 medals. So each Olympics brings further success to Azerbaijan.
This time 53 athletes are going from Azerbaijan. I remember that we had 23 participants at our first Olympics. Do you think the quality of the team has changed? Also, there are 15 women athletes in this team…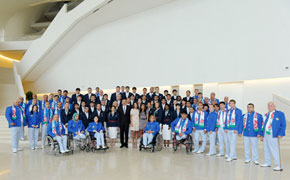 Olympic and Paralympic Teams receive the Presidential blessing
We should remember that there have been sportswomen in all five teams, including the London team. Although Azerbaijan is a Muslim country, women have always taken an active part in sports competitions. Actually, they haven't simply taken part, they have also won medals. I hope that this time as well our women will achieve good results. They will be Olympic victors. They will bring home a minimum of three medals.
What sports will see Azerbaijani representation for the first time in London?
We'll compete in rowing, cycling, gymnastics and women´s taekwondo for the first time. And after a long hiatus, we have re-established women´s weightlifting.
Interestingly, Azerbaijani sportsmen have traditionally done well in certain sports, for example Greco-Roman wrestling. Can we expect the same from our athletes in other sports that are not so popular in our country?
You're right, it has historically been the case that we considered fighting to be our classic sport. Over the past two decades, there has been a special focus on the development of judo and boxing. Good athletes have appeared in weightlifting from time to time. But I´m optimistic about other sports, too. Today we have great prospects in gymnastics. For example, Alia Qarayeva has become a regular medallist at European and World championships. This is a breath of fresh air for Azerbaijani sport. An elite sport – horse-riding - is becoming popular, too. We have Jamal Rahimov, a great rider who is carrying high hopes to London. We hope that he will be one of the strongest in the Olympics. So, non-traditional sports for Azerbaijan are gradually becoming popular. As I mentioned, cycling will be featured, too. While cycling may be seen as something new for us, in fact, it's not so novel. We may recall that in Soviet times we had world champion cyclists. Gymnastics are also new for us but back in 1992, Valery Belenky from the Azerbaijan SSR was an Olympic champion in the Soviet delegation. I mean that many sports developed in Azerbaijan during the Soviet period, it is just that some of them developed further, and some of them 'went into hibernation' for a while. In fact in the difficult period following the collapse of the USSR, Azerbaijan had to start again from scratch. When Ilham Aliyev was elected president of the National Olympic Committee in 1997, then the sports development became target-oriented. The infrastructure, as well as the sport itself, was improved. There was no normal sports facility in Azerbaijan 20 years ago, but today every region of the country has a sports complex that is having a positive impact on the promotion of love for sport among the people, especially young people. Great sport cannot exist without public involvement.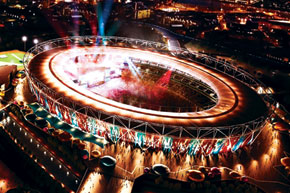 Destination London 2012
Can you tell us please about the Olympic village?
What is there to tell? The village is common to all the athletes who have the same conditions. If you want to know my personal opinion, then I'll answer that. There are two important items in Olympic villages: food and logistics. If both are provided to a good level then the athletes will feel good.
But how will weather conditions affect the athletes' performances? For example, comparing the experience of being an Azerbaijani athlete in China in the last Olympics with those expected in London?
Of course, it has an effect. The climate is milder in London than in Beijing, where, as you know, it was very hot and stuffy during the Olympics. Humidity was very high and it almost affected some athletes' health. I think London is better in this respect. The only thing that can upset that is London's rain, well-known all over the world.
Do we already know who will be the flag-bearer for the Azerbaijani delegation at the opening ceremony?
You know, athletes are inherently superstitious. There are plenty of stereotypes. Thus, some of them believe that an athlete who carries the flag is doomed to a bad result. Others, on the contrary, believe that the bearer is guaranteed excellent results. Bearing in mind that the opening ceremony can be tiring for athletes, it is important that the flag-bearer will not have to compete immediately the following day. It has still not been decided exactly who will carry the Azerbaijani flag. Personally, I'd like to see existing Olympic champions as standard-bearers. For example, in Beijing it was Farid Mansurov, Olympic champion in Greco-Roman wrestling. In London, it could be the Olympic judo champion Elnur Mammadli. But we´ll see.
How would you explain the rejection of Azerbaijan's bid to hold the Olympic Games 2020? We know that a lot of work has been done in this direction and a programme developed. Nevertheless, Baku and Doha are both out of the competition, Tokyo, Madrid and Ankara remain...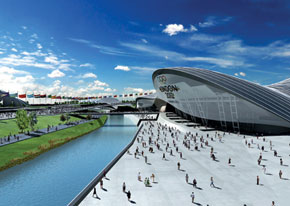 The dream of architect and athletes
As you know, the reason given was the fact that Baku has no experience in conducting such large-scale events. But honestly, I´m not impressed by this argument. It reminds me of the situation when a young person is denied an opportunity to work because of a lack of experience. But does experience appear spontaneously? I think that with Doha the weather was a factor (temperatures of 50-60 degrees) and the city's small population make it unrealistic to hold the Olympics there. In practice, the choice of candidates does not depend only on the country's submission, there had to be either five or three candidates, and so it happened that we were the victim of circumstances, being ousted from the competition to accompany Doha.
Which of the remaining candidates has the best chance? And where would Azerbaijan like the Olympic Games in 2020 to be held? Tokyo, Madrid, or Istanbul?
I think the real candidate is Tokyo. The fact is that Madrid is on the verge of economic crisis and we do not know what the situation will be in a few years. And Istanbul is a genuine candidate but, as you know, it has filed another application for Euro 2020 and has complicated the situation. But we'll see! As to the question about our preference, there is no doubt that it would certainly have been Istanbul. First, in distance and spirit the city is close to us. Second, in Istanbul our athletes would feel at home, the cuisine is very similar and that is very important for athletes.
And finally, what would you wish for our athletes at the Olympic Games in 2012?
I can wish only one thing for our athletes. And that is victory. Believe me, the current team of Azerbaijani athletes is very strong and I hope for good results.