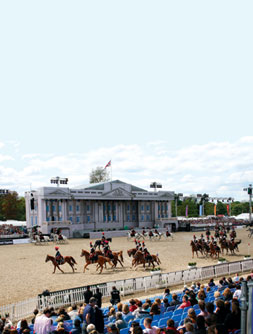 The Annual Royal Windsor Horse Show and the Diamond Jubilee Pageant, which ran from 9 - 13 May this year, celebrated Queen Elizabeth II's sixty years as monarch of the United Kingdom and the events were also special for Azerbaijan. A joint initiative by the country's Ministry of Culture and Tourism, Equestrian Federation and The European Azerbaijan Society saw three Karabakh horses, one of the world's oldest breeds, take part in both. There was also a marquee in the grounds of Windsor Castle offering hospitality and information about Azerbaijan.
Over 1,000 participants and 558 horses from more than 17 countries participated and it was a rare pleasure to hear the announcement 'From Azerbaijan the golden Karabakh Horses'. They certainly made their mark amongst some exalted company; Olga Kryukova leading a dressage performance before the Queen, riding Golden Boy II; with her were Jamal Taghiyev and Shahriyar Azayev riding Golden Boy I and Qafaghli.
Visions of Azerbaijan was invited and here we present a little research we did beforehand and some sights and impressions of the Windsor festivities.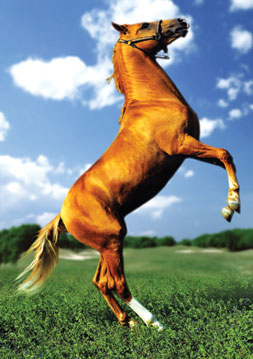 I looked at the horse and was struck numb. There stood the red-golden miracle of Karabakh… one of the twelve golden horses in the whole world…

Ali & Nino – Kurban Said
It had been an ambition to see a real live Karabakh horse ever since reading about the awe inspired by the 'red-golden miracle' in Kurban Said's classic historical romance. The ambition lay dormant for some years until news came in that three of these legendary creatures were going to appear at this year's Royal Windsor Horse Show and Diamond Jubilee Pageant. Duty combining with desire made a visit to Baku's Hippodrome and Gunay Equestrian Club a pleasurable necessity, so we headed out past Ganjlik to Najaf Narimanov Street to meet Khandan Rajabli, Director of the Ministry of Agriculture's Azerbreeding Association. The author and keeper of the stud records of the Karabakh and Dilbaz breeds, he was surely the man who could give us the story.
You will gather from the horse's name that its recent history has been a troubled one. Indeed Khandan muellim believes that while there are thousands of mixed breed in the world, there may only be 1,000 thoroughbred Karabakhs left, some 35 of them in the Hippodrome's stables. That there are so many is due to what sounds like a dramatic, cowboy-style, cross-country drive to take the horses to safety from their stables in Aghdam in the face of the advancing Armenian occupation forces, 20 years ago.
Paris Inspiration
Prior to independence the horse had thrived during the Soviet era. The establishment of State Horse Stables and studs of various sizes promoted breeding and the Baku State Hippodrome (1923), Aghstafa Horse Stud (1949), Aghdam Horse Stud and other facilities were opened. Before that the khans of Karabakh had ensured a golden age for the breed in the 18th and 19th centuries.
Khurshud Banu Natavan, 19th century daughter of Mehdigulu Khan, the last khan of Karabakh is renowned as a lyrical poet and philanthropist, but she also kept a stud of Karabakh horses, producing the best of the breed at that time. Alyetmez, from Natavan's stud, triumphed at the All Russian exhibition in 1867 and her Khan won a silver medal at the Paris exhibition of the same year. Such was the fascination with the Karabakh horses following the Paris exhibition that they incited a fashion craze, with French women dying their hair and wigs to match Khan's gleaming golden chestnut coat.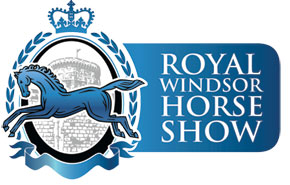 A new start
The regaining of independence, despite the war with Armenia, has now created further opportunities to recover the breed. Economic advances have improved both the quantity and quality of horse breeding, with special legislation being passed in 2007 to assist a state breeding programme and a two-year DNA research programme underway. New strains are being developed in lowland Karabakh, as well as in other regions of Azerbaijan: villages near Baku, regions at the foot of the Northern and Southern Caucasus and the central lowlands, all with different climates. Although they are exiled from their homeland, Karabakh horses adapt very well to a variety of natural conditions.
Khandan muellim described the horse's other characteristics – apart from their fabulous colour:
They are mountain horses, so they are not very tall, 1.48-1.52metres (up to 15 hands). They are slim, with attractive faces and are kind and gentle by nature.
Despite their delicate appearance they are known for their stamina and they have been very successful racers. Their suppleness also made them the ideal mount for traditional games like chovgan and sur-papa (precursors of polo, see http://www.visions.az/sport,30/) Of course, this information only increased the desire to meet the subject and Khandan muellim led the way onto the field. As the first horse was brought out into the spring sunshine, it was clear that Ali Khan Shirvanshah's reaction was no exaggeration. Even our pictures do not do justice to the living, breathing Karabakh horse, whose fine build and golden sheen make it a wonder to behold. A dozen or so were brought out for a little exercise, each one making its contribution to the joy of being alive…. There was more to come.
A Taghiyev tradition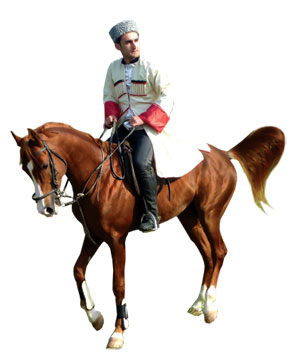 Jamal continues the family association with Karabakh horses
Khandan muellim had told us with some pride about one of the other landmarks in the breed's history came when Zaman, a Karabakh stallion reared at the Aghdam stud, was presented to HM Queen Elizabeth II in 1956. Then he mentioned that the grandson of the rider who had accompanied Zaman on that journey worked at the hippodrome. Naturally, we asked to talk.
Like his jockey grandfather Ali and father Vidadi, Jamal Taghiyev is a rider and trainer of horses, since the age of 15 in fact. Like his grandfather, too, he was on the way to England to ride before Queen Elizabeth at Windsor Castle, in the Diamond Jubilee Pageant. His father Vidadi told us of the 1,000 prizes he had won for racing and of his love for training now and of his brother Vagif, a champion steeplechaser, the only one from Azerbaijan. There is clearly something in the Taghiyev genes.
Talking to the embodiments of a tradition was one thing, but obviously we wanted to see the tradition in action and as happens so often in this country, hospitality meant the guests' wishes were granted. We couldn't see Golden Boy I and II, as they were already on their way across the continent to Windsor with Qafaghli, from another stable. Jamal, however, was only too happy to don national costume and give us a preview of his riding skills and the beauty of another Karabakh horse. Our day was complete.
The Azerbaijan Equestrian Federation also provided information used in this article