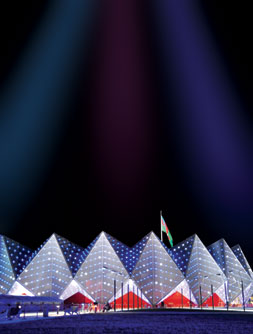 That's all! The regular Eurovision Song Contest that gave millions of viewers memorable music, the fantastic atmosphere of Baku and, finally, a grand show has finished. Lighting its fire in Baku's Crystal Hall the 57th Eurovision contest had long left a glowing light in the hearts of the people. Azerbaijan as the host country tried to impress foreign guests with its very best. Visitors did indeed remark on the hospitality, people's kindness, Baku's lights, the old and new architecture, cultural traditions and national cuisine indeed. But what was most memorable about the contest? What new faces did it bring? Here are the Eurovision's most memorable acts who entranced millions of fans not only in Baku but also around the world.
Russian oven and freshly-baked buns from the Buranovo Grannies
This may have been the Eurovision contest with the oldest singers. Britain´s 76-year old contestant Engelbert Humperdinck, who opened the Grand Final in Baku's Crystal Hall on 26 May, proved with his Love Will Set You Free that you're never too old for a bit of pop. However, the oldest contestant was one of Russia's Buranovo Grannies. Natalya Pugacheva, the 77-year-old vocalist with the Buranovo Grannies became a favourite of the whole Eurovision contest. Their performance was spectacular and tasty with a steaming Russian oven set up onstage. The lovely grannies were not only singing their rousing Party for Everybody, but were also baking fresh buns. It must have made everyone watching recall their childhood. Marina Tolstukhina who is an adminstrator for the Buranovo Grannies shared her thoughts about the contest and the host country with Visions of Azerbaijan:
The Eurovision Contest usually features young singers. How did the grannies get here? How did you come up with the idea of the Buranovo Grannies?
We were successful at different stages and gradually got noticed. The more famous we became, the more people supported us. And step by step we got to the Eurovision Song Contest; there are no age restrictions. What does it matter whether youth are singing or adults? Anyway, we have 'found a vein'.
And who made the grannies' costumes?
Nobody. The grannies don't have any special costume. They are wearing dresses left by their mothers and grannies which have been passed down from one generation to the next. These dresses are 100 years old, while their headscarves are 200 years old. You see how old they are. Only their bast shoes were made recently - they wear out so quickly.
What is the recipe for the buns that the grannies take out of the oven onstage? How do you call them…perepechi?
Yes, perepechi. The recipe is pretty simple. They are baked at the front of the oven and that's why they are called perepechi; it means next to the oven. They can have a filling of meat, fish or cabbage. They're tasty…The grannies even brought wheat flour from Udmurtia in Russia.
What about Azerbaijani cuisine? Do you like it?
Yes, especially pakhlava, kebabs. It's wonderful to be here. I wish all Azerbaijani people all the best. We are so pleased to be in Baku. It's a sort of huge happiness, and as the grannies said 'like being in a movie'.
Jedward's huge blonde quiffs
For the Irish twins John and Edward Grimes this was a second chance to compete in the Eurovision Song Contest. Known for their distinctive blonde quiffs and unique performances, Jedward will perhaps go down in Eurovision history as the most energetic and charming twins. With their Lipstick the brothers took 8th place with 119 points which was Ireland´s best result since 2000 in last year's Eurovision Song Contest held in Düsseldorf, Germany. Their popularity with teenagers, however, couldn't bring them victory this year, even with a second chance. In Baku's Crystal Hall they sang Waterline and received 46 points, putting them in 19th place. Despite this their charm and playfulness captivated many fans in Baku. They had fans even among the international journalists here to cover Eurovision, some flattering Jedward by imitation.
In feathered headdress
22 year old Joan Franka (born Ayten Kalan) who represented Holland is remembered for her unusual headwaer. Joan wrote the song You And Me, which is about her first teenage love, with Jessica Hoogenboom. The song was taken from her album and rewritten especially for the Eurovision contest. Her simple and uncomplicated song attracted many fans; however it did not get past the semi-final. But they say winning is not so important; it is taking part that matters and Joan was loved by many fans and will remain in their memories for a long time. In the semi-final she wore a Native American headdress because, as she said, as a child she used to dress up like this with the boy the song is about.
I have beautiful memories of those particular moments, so the headdress was a symbol that you always carry your memories with you. I always wear feathers in my hair, they are a sign of freedom, I think it suits our performance in Baku.
Joan's fans supported her as much as they could. At least they were to be seen with bright-coloured feathers on their heads in the press centre where all international and local journalists were based to cover the contest. The other members of Joan's delegation did the same. Patrick Ploeg was one who didn't remove his feathers at all although, as he confessed, his favourite singer was from Spain.
Because I love the ballad and I think the song from Spain is so nice. But anyway, I'm really a supporter of our Joan. And you see, I'm all in feathers.
The year of huge vocals
Sabina Babayeva, Azerbaijan's representative at Eurovision 2012, won the hearts of thousands of fans primarily because of her huge vocal and performance talent. When the Music Dies is a soulful and touching ballad that blended perfectly with an ethnic element introduced by Azerbaijani instruments and the legendary vocal art of mugham singer Alim Qasimov, who shared the stage with Sabina during the performance. As a result, she finished 4th of the 26 countries in the Grand Final. As the host country's representative it was huge responsibility for her and Alim Qasimov to present Azerbaijan. The country has proved that their singers always bring a great show and a powerful performance, landing top 5 placings in the last 4 years and have always been in the top10. It must be said that this year's Eurovision was the richest in strong vocals. Besides Sabina, the singers from Spain and Albania, as well as from Ukraine and Estonia, and indeed Sweden, the winners this time, all conquered the audience with their vocal.
Loreen's Euphoria of freedom
It came as no surprise when Loreen, from Sweden, took first place with 372 points in the Grand Final in Crystal Hall. The bookmakers had been predicting her victory from the beginning of the contest. An extraordinary performance with dance elements familiar to eastern culture, a huge voice and Euphoria itself – all brought Loreen to the top of the lists. We should note that Loreen is her better known stage name. Lorine Zineb Noka Talhaoui grew up in the countryside outside Stockholm in a family of Moroccan-Berber origin and she has a very detailed approach to her music. She is, for example, frustrated by being tagged as an R&B artist.
She said the music that inspires her is music that gets you into a kind of trance, both the music and the voice. She thinks that making music that connects with her soul is most affecting. She describes herself:
Somewhat a loner, a seeker that steers away from the information overload of today. I have no TV set. I have a laptop but I only use it for e-mails and music programs.
Her general aim, as she said, is to unite people in the thought that there is much more to life than its material aspects. But was the meaning of her dance? The contest victor simply replied:
Freedom. My dance is a symbol of freedom. Do not restrict yourselves. Do not think, just be free. So I acted. She also stressed that the Azerbaijani people had been very good and she liked them and the local cuisine. People in Azerbaijan are very intelligent, friendly and smiling. Azerbaijani cuisine is wonderful.
Loreen fan Lilian Brunell is originally from Finland. She has loved Euphoria since she heard it first and decided to come to Baku as a delegate from Sweden.
I really like the Russian babushki's performance, they are so sweet….but think the song Euphoria should win this contest.
Eurovision's ever first winner
Lys Assia, the very first winner of the contest, was among the honorary guests who attended the Eurovision Song Contest 2012 in Baku. You may remember that she won the contest in 1956, in Lugano, Switzerland. That year, representing Switzerland, Lys won with the song Refrain. In fact, it could be said she fell in love with Eurovision; she also entered the contest in 1957 and 1958. Years later, in 2011, she was back again, trying to win national selection from Switzerland but was unsuccessful this time. That was no barrier to her being a prominent guest at Europe´s favourite TV show almost every year and it was no surprise that she was in Baku this year. In a conversation with us, Lys said she had enjoyed her time in Baku. Visiting Atesgah (the fireworshippers' temple) she commented that the Light Your Fire slogan suited Azerbaijan very much. She also voiced the slogan of this year's contest for all the fans of the Eurovision Song Contest.
What is your impression of the contest in Baku?
I feel so positive because Sabina Babayeva represented Azerbaijan at a very high level, no worse than Loreen from Sweden. Very beautiful song, nice performance….it was all brilliant.
Who was your favourite in this contest?
Indeed, it was Loreen. She was my favourite from the beginning. But as I said before, the singers from Azerbaijan and also the one from Spain impressed me as well. What can we do? There can only be one winner!
You were the very first winner of the Eurovision contest 56 years ago. Has the contest changed?
Yes, it has. It has become more popular than before. And no wonder, because this is a festival of the best songs. You know, everyone and everything has changed, nevertheless it is still the best show in all Europe because more than 40 countries present their culture and music at the same time. It is incredible. I remember in my time there only a few countries participated, now it's different.
There is a view that the show has become more political…it is traditional for neighbouring countries to vote for each other. Is this alright?
That's true. But I don't think it's right. We should definitely separate political issues from music.
And what could be done to change this?
Frankly, I don't know.
Too extraordinary
And there is someone very interesting and extraordinary among the Eurovision delegates. It's a Muppet doll resembling the BBC's famous presenter Terry Wogan… his name is Terry Vision. He came here not just to support but also to cover the contest. Yes, cover, because he spoke and asked questions in his trademark lilt when operated by Edinburgh journalist Ewan Spence. Terry was created by Ewan's wife from the base of a Jim Henson puppet. As Ewan confessed, he came up with the Terry doll after the real Terry stopped coming to Eurovision. He said that what Terry was great at was asking the hard questions concerning tactical voting, bitter rivalries and so on.
And after Terry stopped coming to Eurovision, I decided to continue that tradition, but asking those sorts of questions would probably lose me my Eurovision accreditation, so my Terry asks those questions for me. That is how we work together… And those were just some of the characters who helped to make the Eurovision Song Contest 2012 such fun to attend in Baku.