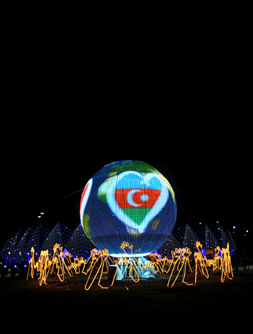 In May I was in Baku for Eurovision, a competition regarded as kitschy at home, but what about for Azerbaijan?
Barely a twelvemonth earlier, the city had been up all night celebrating the country's victory in the 2011 competition, with Ell and Nikki singing ´Running Scared´.
From that moment on, Azerbaijan had been doing anything but ´Running Scared´ and had been powering up to achieve admiration in millions of homes worldwide.
The opportunity for Azerbaijan to promote itself had never been so great. The possibilities and dreams so unthinkable just a few years ago were suddenly a reality.
The timing couldn´t have been better - the country was able to use its new-found oil wealth to showcase itself to the world. And the world gazed with awe and wonder.
Never before had a country set out to put on such an ambitious show. And with only a little of the infrastructure in place to host such a great event, Azerbaijan had not only a massive uphill task, but also something of a blank canvas.
For a year Eurovision was the target. All roads led to Crystal Hall. Even the smallest established businesses found ways to get involved, and the newest, biggest businesses joined in to create everything from hotels to the concert venue itself, from IT and communications support to banners, t-shirts and flags. More London cab style taxis were ordered from a bewildered China (who could hardly believe their luck at such a big order).
All fired up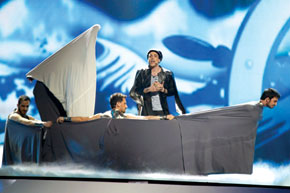 Can Bonomo and crew sing for Turkey
Arriving in Baku for the event, I was surprised to find a brochure in my hotel room which detailed all the cultural events on in the city, together with information on free city bus tours on double-decker buses, maps, beginner tourist language booklets... I was impressed. This was looking good.
All the black cabs (actually aubergine coloured) were covered in red and orange Eurovision ´Light your fire!´ logos, as were the buses, shop windows, street banners and so on. Even the older taxis joined in by proudly flying Eurovision ´Light your fire!´ flags. Taxi drivers were in an especially jovial humour.
City smiles got wider and wider as the day of the final loomed. The city streets, even busier and more confused than usual, came alive with a passion for welcoming guests. Everything was polished and clean with the newest buildings bustling to be finished for the event. Finish me, notice me, I shine, do you like me? How could you fail to notice Flame Towers, with their flames reaching high into the sky? Or the newest sea-front hotels, the new Marriott having its terraces filled with flowers and the competing high tech Hilton opposite, both with resplendent towers overlooking the magnificent boulevard and the gleaming Caspian Sea? I enjoyed a light lunch with a friend in cafe Zest at the Marriott, meeting passers-by and revelling in a new side to Baku.
Baku´s newest venue, the circular Crystal Hall, designed and built within the year specifically to hold the contest, lies almost at sea level on a platform jutting out into the Caspian Sea. At night it is lit by soft blue lights in crystal shapes around the periphery. It looks stunning, and from a distance a little like a gigantic gas burner on the sea, with scorching laser lights reaching high into the sky above.
Magic in the air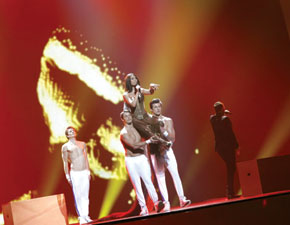 France´s Anggun sings Echo (You and I)
"Are you a tourist, where are you from?" was the most commonly heard question on the Boulevard. So excited, young people were daring themselves to act ultra-European, to be a little reckless, to laugh, to joke, to relax, to have a holiday. They acted as if they believed themselves to be in deepest Europe with their perceptions of Europe coming to the fore with a bold and friendly demeanour uppermost on their list. The magic in the air was tangible, endlessly captured by cameras of all shapes and sizes including ever so many camera phones and some high-end, super-long lenses.
We joined in a little, sitting watching the ever-changing view from the new Sahil complex of restaurants on the Boulevard. This replaces my old Sahil favourite and while I will always remember the old Sahil with fondness, I really like the new place with the spacious and friendly Tosca on the ground floor (great Pizza and do try the Tosca Spritz cocktail, though not too many...), Sahil on the next level up (serving traditional Azerbaijani fare and always booked up during my visit), and on the top a Brazilian restaurant, Pasifico, with a top notch viewing / drinking / eating gallery (in that order, in my opinion, maybe because I didn´t make it to the food).
Multicoloured balloons and Xirdalan beer tents, music stages and hair from Schwarzkopf, 4G from Azercell (wish I had found out more) fine weather and candy floss, as well as a passeggiata of the smartest and biggest walking Azerbaijani flags, was enough to keep every camera in action.
Euphoria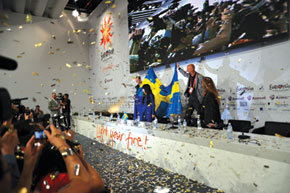 This year´s winner, Loreen, celebrates with the world´s press
The event itself was outstanding. The lights, especially, were mesmerising. The sheer size of the venue, the fact that the whole contest was indeed a magnificent show, the good humour of the audience, the sleek management of security, just so much to remember. It rained. Poured even. But the music played on and by the time we emerged, some twenty thousand of us, the rain had stopped falling. But drainage has never been high on the agenda for the normally dry Baku streets, and so at 4am we all hauled up our skirts and breeks and waded the long path out, searching for our buses and taxis, Lords and Ladies alike, we finally made our way past the packed shawarma bars and back to hotels, maybe sometime after five.
I felt a little like I had just spent a Hogmanay in Baku, but the New Year was for Sweden, whose Loreen won with her dramatically appropriate 'Euphoria'.
Didn´t Baku just shine!
A big thanks to Visions for the ´of course you will come´ invitation and to the staff at the Kempinski Hotel for a most comfortable stay.