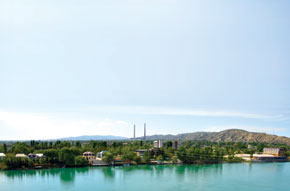 Found - the dairy of German prisoner of war Willi Desch….
….When they came here they were very skinny. They were very tired. They say most of them died on the way.
But Old Isa says the following.
According to Old Isa, these were more than 10,000 German prisoners of war; they were destined to go down in history. With 5,000 local inhabitants, about the same number of prisoners would build Mingechevir city and the biggest hydroelectric station in Azerbaijan.


But that was later…
According to historical sources, the prisoners working on the construction of Mingechevir were Germans captured with General Paulus on the outskirts of Stalingrad; they say that up to 110,000 German soldiers and officers were captured. Most of them were sent to detention camps in Central Asia and the Urals, some were taken to Ukraine. About 10,000 were initially relocated to Ukraine.
It appears that the prisoners were happy to come to Azerbaijan
War and labour veteran Isa Salahov recalls those times:
Then, in late 1945 they came to the area called Mingechevir. They were brought here in cattle wagons they were said to be happy to leave Ukraine for Azerbaijan. They were brought first to Bilajari. Later the prisoners themselves declared that instead of being met with hatred, people gave them bread, tinned food and fruit when they were waiting at the station. They called us Turks. They said, 'It's good that we were not kept in Ukraine, Belarus or any other Russian city and they brought us to a province where Turks are living'.
Old Isa says that among the German prisoners there were Russians who had betrayed their country and several Turks who had served in the German army. Before discussing the fate of those Turks, let's see why those Germans were brought here.
SS servants, engineers, geologists…
There was one clear reason – they were to work on the construction of Mingechevir and they were to construct the Mingechevir HES (hydroelectric station). They were going to build a city brick-by-brick. There would be various public buildings, from a State Drama Theatre to the current building of the Mingechevir municipality, as well as residential buildings and wide streets. They were also to train the local population in the necessary professions and skills.
These were no ordinary fighters. Of course, Old Isa says, they included members of the SS, ordinary soldiers and some who had been pressed into service. However, there were also specialists: engineers, cartographers, geologists, even experts in hydro-installations.
The Germans were housed mainly in barracks. Some lived in tents erected on the right bank of the River Kur. But the specialists needed for the construction of Mingechevir and the HES lived in administrative buildings. They were supervised by a man named Islamzadeh who was responsible for Mingechevirtikinti (the construction company).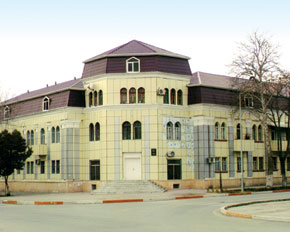 A building constructed by German prisoners. Mingechevir district
Although they had come from the war and may have had the blood of thousands of Soviet people on their hands, they had not lost their army discipline and diligence even ten thousand kilometres from Berlin, Frankfurt and Munich in a hot, waterless place full of snakes.
Just one more aside here about the conditions and then we will continue the main story. Malaria spread through the Germans, who were not used to such a climate. About 400 succumbed early on and were destined never to return home; they were buried at the foot of Bozdag Mountain.
Mazahir Dashgin among the prisoners
Old Isa was a kind of escort. He says that at the time technology was not well developed and the prisoners worked with picks, hammers and crowbars. All the excavation work was done with these tools:
They worked very accurately, like jewellers. It was impossible to find even a tiny mistake in their work. It was enough to say just once that something had to be done and everyone knew his job.
After some time the Germans developed close links with the local population. People say that locals who often visited the barracks even invited prisoners they knew well into their homes as guests. There was also one stranger among the Germans who was taken by many to be one of them. For some reason he was added to the prisoners of war and sent to the Mingechevir construction. I'm talking about the celebrated national poet Mazahir Dashgin. Later the NKVD (the People's Commissariat for Internal Affairs, forerunner of the KGB) discovered that he was Azerbaijani and removed him to Siberia. Only the poet Samad Vurgun rescued Dashgin from exile.
2,000 Germans died during the construction of Mingechevir
Ibrahim from Tanrigulular village in Yevlakh supervised the Germans who were SS officers. Unlike the ordinary soldiers, the SS men were taciturn and gloomy. They kept themselves to themselves.
According to Old Isa:
Some people say that when those former SS officers died we buried them all together. That is not true. Those who died in captivity were buried separately. I think that a few more than 2,000 Germans died. Small metal nameplates were placed on the graves of each prisoner of war instead of gravestones. Unfortunately, their names were not registered.
The prisoners of war cemetery is still there in Mingechevir and is protected by the state. But Old Isa recalls that during the construction of a railway our experts were amazed by their knowledge and the valuable advice the prisoners gave. And they always did quality work. If one did shoddy work he was reproached by the others.
The secrets of Desch
As I mentioned before, there were many professionals among the Germans; one of them was Willi Desch. Willi kept a diary from the first day of captivity until his departure for Germany. But it was not an ordinary diary. In it he drew landscapes and portraits of unknown Azerbaijanis. He had a photograph of Mingechevir before construction began and precise drafts of a bridge and other structures on the River Kur. By the way, Desch's diary is called: Daily Notes and Impressions of Russian Captivity from 1945 to the 1950s. The diary contains only good impressions about the local population.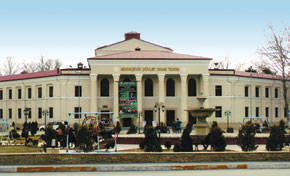 A building constructed by German prisoners, now the State Drama Theatre of Mingachevir
But most interesting are the many pictures of German prisoners. As well as most of the prisoner's numbers and names, even their German addresses are detailed. It is a very valuable document which should be translated into Azerbaijani and should also be published in book form in German. Willi Desch came to Azerbaijan in 1992 and visited Mingechevir. He was very saddened by the desolation that he saw at the Germans' cemetery; it had fallen into neglect there at the foot of Bozdag Mountain. But after the appointment of a new head of the executive authority, veterans of the war contacted him about the cemetery and it was soon renovated. Further renovations are planned for this spring.
Adolf, head theatre designer
The prisoners were released In 1950 and, of course, most returned to their homeland. They were given a suit, several days' provisions and enough money to help them return safely. However, there were some who stayed. They had heard about Soviet soldiers who had returned from captivity only to be imprisoned again and even tortured. One of those who stayed was Adolf Andersen, he was head designer at the Mingechevir State Drama Theatre for many years. There were others who married here; in fact, they chose Mingechevir as their second home.
He hugged us and went towards Ararat Mountain
And what about the Turks? At the beginning we mentioned the Turks, Ottoman Turks, who were held captive alongside the Germans. Let Old Isa explain, because, he is the hero of the story that we are going to tell. He says that escape was unthinkable for the Germans:
First of all, they were counted twice, when they arrived for work and when they returned. Even the most trusted German understood that if he thought about escape his imprisoned mates would be punished and perhaps even shot. Besides, the head of Mingechevirtikinti was such a good person that no one would want him to be blamed. As for the Turks …
He added that from the very first days of captivity, the Turks were very close to both their supervisors and to the local population:
They had no thought of escaping at first. They thought they were there by mistake and would soon be deported to Turkey. But they were wrong. Officially, there was no distinction between them and the Germans; it was just that we did not need a translator to talk to them. One day, one of the Turks, whose name was Ahmadkhan, brought me a map. The map was on a simple piece of paper and drafted in German. It was clear that it had been drawn by a professional. Ahmadkhan showed me Lake Goycha and Nakhchivan. Then he put his finger on Leninakan (now Gyumri in Armenia). He said that if he could get there he could reach Turkey over the mountains. I said, 'Ahmadkhan, the prisoners are counted here every morning and night. Even if you escape, the Soviet Union is all around you. They will find you and bring back and the punishment will be severe.' He almost begged. He said, 'there is no way out of here, after the city is built we will be sent to Siberia.' I did not know what to do. But I promised that I'd help him.
At 7 pm everyone returned from work. The prisoners went to their barracks. First I arranged with the driver of a Polutorka car to go to Leninakan. He did not work at our camp and I promised to give him some money and tinned food. After the evening count, I signalled to Ahmadkhan to come out. The car was waiting for us near the barracks. The main problem was that I had to be back at camp before 7am in the morning. I told Ahmadkhan not to talk if anyone stopped the car on the road, but to act dumb. I don't remember how many hours it took us to get to Leninakan. He hugged us and set off towards Mount Ararat without saying a word. I heard no more about him after that.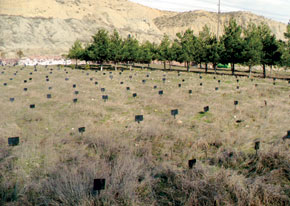 From the German prisoners' cemetery
But Old Isa's second attempt was unsuccessful. A Turk called Nazim, originally from Rize, asked for help to get to Georgia. He said that he would then make his way to Batumi and from there to Turkey.
Nazim wept so bitterly that even the Germans could not hold back their tears
To tell the truth, I was afraid. Ahmadkhan's escape created an emergency situation in the camp. I told Nazim that I'd only be able to escort him to Qazakh. He agreed. But someone betrayed him. The police captured him in Gazakh and handed him over to the NKVD. But he did not betray me. The NKVD sent him back to the camp. Two days later, it was announced that he would be sent to Siberia. As he left the camp he wept so bitterly that not only I, even the Germans, could not hold back their tears.
Isa was to cry again, this time because of a German. No, nothing bad happened to him. In 1950, after the prisoners had left for their own country, Isa was sent to the GDR as an advanced worker. Actually, he was sent there for a holiday, however he also had to visit a weaving plant and learn from their experience. This was in Leipzig.
It was an ordinary meeting. The USSR delegation, a few Germans and a translator were sitting at the podium. KGB officers were also there. They dogged our every step and did not leave us alone at meetings. Someone stood up from the centre of the hall and came towards us. He was stopped immediately but he pointed at me and said something to the German guards. The hall door was close to where we were sitting. As he passed, he stopped for a moment, pointed to me and said 'Mingechevir'. Everyone in the hall was surprised. I asked the head of the group accompanying us to arrange a short meeting with him because he had mentioned the name of my city. I did not recognize him at first. I remembered him only when he hugged me and wept 'Dietrich', 'Dietrich' … He was one of the prisoners. Although he invited me to his home I was not allowed to go. I saw him again only when leaving. He brought a bunch of flowers. He asked me to lay them at the German cemetery. And I did so.
- Did you correspond later?
- What are you saying? I was interrogated so much afterwards that I regretted my visit there.
Afterword
While on the subject of interrogation, it appears that when Willi Desch was writing his diary, he always re-read his notes to be sure that he had not written anything bad about the Soviet Government. He described one such episode:
Early in the morning we cross to the other side of the River Kur to go to work. Along the road we see men and women working in the cotton field with spades in their hands. When we return for lunch, we again see them working. We have a two hour lunch-break and then go back to work. They are still in the field. When we return from work at 7 pm, we see those people still in the field. I did not dare to ask our commandant. However, it is still unclear for me: where are these prisoners from that they are not even allowed to rest? Wherever it this, it is a much more despotic place than ours...
Poor Desch did not know that they were the citizens of the country in which they were prisoners…
- Despatch from Mingechevir