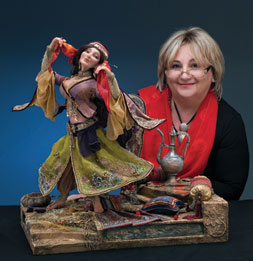 Elmira Abbasly has been many things in her life, but she is at heart a doll maker and her dolls are truly cultural phenomena; the closer you look at her creations, the more you learn about the legends they embody, the life they contain; they are lifelike to the fingernail but are painstakingly conjured from a fantastical imagination which is, yet is not quite, of this world. They can be admired simply for the craft in their making or the beauty of their appearance; or they can be objects for contemplation and meditation – inspiring your own flights of fancy.
It doesn't take long in a conversation with Elmira khanim to pick up on the perpetual energy that drives her to self-expression. It is one of the clichés of Baku to climb the unprepossessing stairs of an apartment block and wonder how you are going to find an artist here, and then go into the apartment and find yourself on a different plane. The Abbasly experience is even more so; a living space which is inspiringly elegant, imaginative and homely, even the room assigned as workshop; here the traditions of Azerbaijan's history and her own works are stylishly combined with racks of western jazz music and, as ever, nothing happens before the guest is fed and watered – or rather tea'd.
Energy and independence
It is no surprise when she tells us that she was animated, and romantic, from childhood.
I liked to make things. By the age of 12 or 13 I was making clothes for myself. I was desperate to make things with my hands, even with plasticine.


She studied Geography at the State University, because?
I'm a natural romantic and I like travelling. I was well-read and studied a lot.
The only problem was that her mother Adila was head of the Physics Department at the university and everyone knew Elmira as Adila khanim's daughter. Keen to prove her independent ability and establish her own identity, she moved to the Pedagogical University. But, with romance boiling inside, she got married in her second year and then left to have her first daughter who, by the age of 3, was cutting and making with scissors.
I couldn't be stuck at home, I had to do something and went to work at the Baku Doll Factory.


She worked there as an artist/modeller and also studied part-time at the College of Light Industry While the work was good practice, the restrictions imposed by the factory's demands eventually proved too much and Elmira khanim was on her way again. In 1983 she began a ten year stint teaching doll-making at the Children's Gallery. In the same year there was an international symposium in Baku on the history of the art of Eastern carpet making. The organisers asked her to make thirty models in national dress.


The first step was to read, to study the ethnography, in order to prepare the dolls accurately – it was important for participants in the symposium. After that I continued to read and study. At first in 1983 I hadn't known what to do but I developed a lot in two years. In 1985 there was an exhibition of theatre and cinema artists. There was little literature and no internet of course, it was hard work finding the information but I made a lot of models - of Hajibeyov's, Mammadguluzade's characters….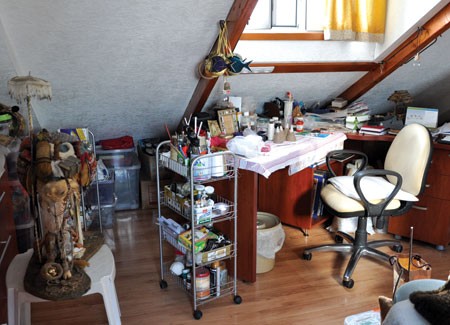 To display the art in my own way
In 1985 she went to Moscow to study methods used at the Abrasov Puppet Theatre, in 1988 she was to be found in Taghiyev's house museum in Baku studying the collection there and still reading up on the history. A further breakthrough came in 1989 with a bronze award at the Folk Dolls Biennale in Cracow, with entries from 27 countries. There have been many exhibitions and awards since then but the doll shown at that Biennale, My Grandma, is still a dear memory.


Restlessness and her desire to reach out led, in 1994, to the creation of the private Museum of National Costume at the invitation of a sponsor who admired Elmira khanim's work. It naturally featured the dolls, but it was as much about creating an atmosphere, an eye for tradition, design, whatever eased or refreshed the spirit – including, carpets, copperware, a tea ceremony – and it proved particularly popular with international visitors in the three years she was there.


I want to introduce people to Azerbaijani art through genre…. to display the art in my own way.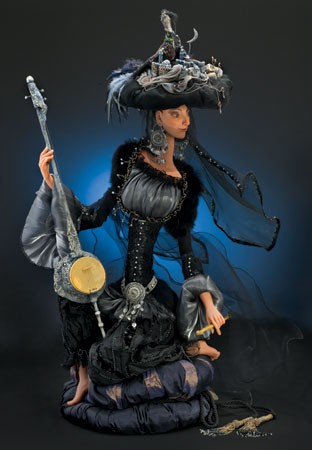 She still does this at exhibitions in galleries and festivals, also at Baku's annual Oil and Gas Show; her output is prodigious, but she has never had her own studio and, when necessary, has to expand beyond the workroom in her apartment to rented spaces wherever she can find them. But she is never still and always looking to move on.
My doll making has developed step by step – I began by using old fabric but have gradually become more and more demanding of special materials; now half my income goes on materials….The compositions have developed, too, I have made collages and as I have gained experience the works have become more philosophical.
Life from art from life
This philosophy is well-rooted in her experience and studies and she relates some uncanny connections between life and art.


I was making the White Camel and had the idea of a little boy with it, somehow an idea of birth. The camel as a symbol of truth and truth bringing new life to Earth. Then my daughter called me – 'Are you ready to be a grandmother?'


She shows and talks us through some of her models. There is one of an extraordinarily fertile house, which has plants growing from it, a bird's nest, and shoes lying outside the front door: Love arrives and the house blossoms.


On the wall there is a round collage composition, City that Empowers, assembled around a copper pan; a picture of a city in the middle is surrounded by an organic arrangement of mementos from Baku's old Inner City.


I was relaxing on the sofa when I looked at the pan. There was a spot on the copper and I saw there a picture of a city; I made the picture on material and everything is connected to Icheri Sheher.


Elmira khanim was born in Icheri Sheher (Baku's old Inner City) and retains an affinity with a quarter of the city which is recognised as having its own character – and characters - which have naturally appeared as perhaps her most spirited dolls. You have to live and feel it, she says about the area, and that living and feeling is certainly present in the portrayals she hopes will be exhibited there, perhaps in a renewed museum she would like to establish.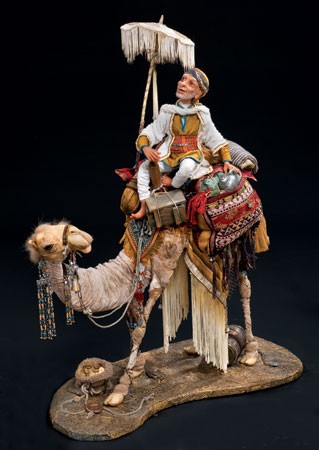 Words, wishes and a caravan to connect
Another more recent direction has been to bring words into her work; a project has just been completed, with design work by painter Vugar Ali, to produce posters of her models accompanied by short poems. The writings are mostly of her own composition but she has also used those of other writers that appeal, including the 14th century Azerbaijani Sufi poet Nasimi and the ancient Chinese philosopher Lao-Tse. From her desire to introduce Azerbaijani art to the wider world, the poems are in Russian and English. When we ask why she branched out in this way, she can only answer,


I can't really tell you, it comes from inside and gives deeper meaning to the work – the words help to explain.
As we mentioned, her thoughts have also turned towards another museum:


To create is one thing, it is something else to protect. It shouldn't be a gallery, they change all the time, it should be a museum that can protect. There are things that shouldn't be sold, they should be saved and stay in Azerbaijan. Perhaps we could teach in the museum, continue the tradition. We have museums for other arts: painters and sculptors have their places; there should be one for dolls.
A current theme in her work is that of a caravan; all her recent exhibitions have featured at least part of one and again it carries symbols of her philosophy of life:
Behind the world of symbols is a world of feeling. A caravan, like life, is always moving, always connecting things that happen in life…. The caravan always has a bride and groom, for union and harmony.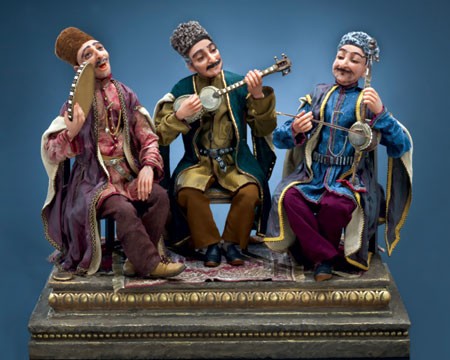 She continues to create and supplement her caravan and has an idea to take it across the continent in a series of exhibitions, using sales to support people or projects and move on.
Elmira khanim is self-supporting and takes on commissions to support her own projects, which explains her answer to the obvious question of what she wished for next.
For someone to tell me 'Don't worry about everyday life, just express yourself for one year'. I would love to work only on my own art, my own thoughts, for one year…. It takes money to produce art. Money is power and in good hands it creates….


She is restlessly energetic and the love she feels for her subjects makes her a most communicative artist. Combining great skill learned through practice and engagement, with her feel for the lives and culture of the people around her, Elmira Abbasly is the living model of a 'creative lady'.