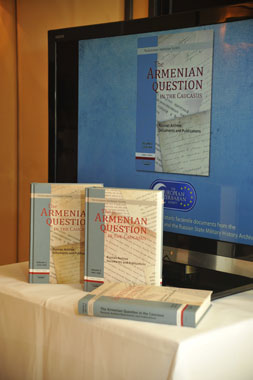 The audience at a book launch in London on 6 February heard a distinguished panel of speakers introduce the English-language version of The Armenian Question in the Caucasus: Russian Archive Documents and Publications, a three-volume collection of facsimile documents with commentary. The documents were researched and compiled by The European Azerbaijan Society (TEAS) in the Russian State Historical Archive in St. Petersburg and the Russian State Military History Archive in Moscow. Many are published for the first time in this collection and represent an invaluable resource for studies of Armenian migration to the Caucasus and subsequent relations within the Russia of Empire.
Dr Karim Shukurov, leader of the research team, explained that the Armenian Question was a term still not exactly defined but covering developments which affected the whole of the South Caucasus, including the current Armenian-Azerbaijan conflict. He said that care had been taken to present the documents as they originally appeared to provide accurate access to key evidence, especially of 19th century Armenian migration to the Caucasus. The collection contained 2,000 pages of documents, taking the history up to 1914. In fact, he said, 10,000 pages had been found so far, the research was continuing and future publications would provide evidence of relations between Armenia, Georgia and Azerbaijan from 1914 onwards. He added his willingness to discuss the issues raised by the documents with Armenian and Georgian historians.
As a 'recent discoverer' of the South Caucasus area, Lord Laird of Artigarvan welcomed the book as a source of serious archive research:
It is important that the Azerbaijani case is understood and I thank all involved in its production.
Professor Tadeusz Swietochowski, Monmouth University, USA, author of Russia and Azerbaijan, a Borderland in Transition and other works on the area, provided a brief survey of the key historical developments covered by the documents in the three volumes. He took the audience through the policies of 19th century Russian colonialism, including the systematic settlement of Armenians in the Caucasus and the fostering of divisions between peoples. He also related the development of Armenian nationalist politics, the cultural advances made in Baku following the late 19th century oil boom and the bloody Armenian – 'Tatar' (Azerbaijani) fighting of 1905-06. He welcomed the publication of the 'impressive, overwhelming detail' in the documents and looked forward to future volumes covering the post 1914 period.
The Armenian Question in the Caucasus: Russian Archive Documents and Publications
Published by Ithaca Press in 3 volumes
ISBN: 978-0863724091
Copies may be ordered at http://amzn.to/xZ8bGD