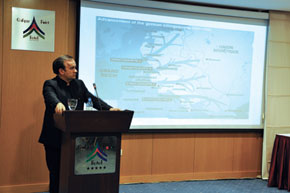 Yahad–In Unum is the leading research organization investigating the mass executions of 1.5 million Jews and Roma/Gypsy people in Eastern Europe between 1941 and 1944. This part of the Holocaust is less well-known than that which took place in concentration camps and is sometimes referred to as the Holocaust by Bullets and Yahad-In Unum has conducted interviews with more than 2,000 witnesses in order to locate mass graves and to preserve the identity of the victims.
A team from Yahad-In Unum led by its president, Father Patrick Desbois and including Marco Gonzalez and Andrej Umansky, visited Baku for one week in February. They had learned that many Jews survived because they had found refuge in Azerbaijan and they were also interested in the country's other contributions to a war effort which helped put an end to the genocide.
Here at the invitation of The European Azerbaijan Society (TEAS), the delegation delivered lectures in universities and schools, attended an exhibition commemorating Khojaly and met historians and the Head of the National Archives. They also discussed further cooperation with TEAS, including the organisation with the Paris IV University Sorbonne of an international symposium in Baku in October 2012 on Azerbaijan as a country of refuge in World War II and its contribution to the war effort.
Visions of Azerbaijan spoke to the Yahad-In Unum team at the end of a busy week.
Visions of Azerbaijan (VoA): Could you describe the purpose of your visit to Azerbaijan?
Father Patrick: The purpose of the visit is to establish cooperation with The European Azerbaijan Society for different reasons. The first is to prepare a symposium that will take place in October about the evacuation of citizens from Russia, Belarus and Ukraine to here and both Jews and non-Jews survived because they were evacuated to Baku. We know that in Baku there are a lot of archives about the evacuation and a lot of survivors who saw that – Azerbaijani – so we will organise a symposium with specialists on this period from Azerbaijan, also specialists from Germany, from France, from America, from Israel, so we will build a network to show the place of Baku in the evacuation. In the same symposium we would also like to study the importance of the oil factories in Baku during the war, because it was a challenge; Hitler wanted to reach Baku to get oil for his tanks and Stalin also used the same oil for his own tanks. It was special oil, it could be used directly to fill the tanks. We learned that most of the workers in Baku agreed to work 12 hours a day to furnish the oil for the Red Army tanks and planes and different aspects that are not known in western countries. Also in Baku they were producing the tea for all the Red Army, and this is totally unknown.
In this part of history, Azerbaijan as a country is seen as merely part of the Soviet Union and in fact there is a special local history that needs to be re-established for the dignity of the Azerbaijan people within this huge history. It is also important now…. to speak of the particularity of Azerbaijan and to bridge researchers, young historians from Azerbaijan with young historians from America, Australia, Germany etc. It's a huge challenge for tomorrow for Azerbaijan, for many people there is no linkage, Azerbaijan is the end of the world. People who are technicians know Azerbaijan because of the oil, but historians – no.
VoA: So this is at least in some ways an expansion of the brief of your association….
Father Patrick: Yes, because until now we have worked on the territories that were occupied by the Nazis and for the first time we have adjusted the limit. I would say we are still at the heart of our research to establish what happened in the genocide of the Jews, the genocide of the Roma, in the killing of Soviet prisoners, but here we can have access to archives which explain why it stopped here and what was the engagement of the civilian population who helped to stop the war, and nobody knows that.
VoA: Is there a particular reason why it stopped here?
Father Patrick: I think because of the particularity of the energy of the population. It seems that during the war the population was totally mobilised to help the Red Army. They were not welcoming the Germans and they were not weak in front of the arrival of the fascist army, so they helped the Red Army to the maximum and some were engaged as partisans. Some partisans were sent to France and some on the other side (behind the lines –ed.), so the facts have to be shown with archives and with testimony. That's why ….we have recorded many testimonies of survivors who succeeding in taking a train and who arrived in Baku and who survived primarily because they were in Baku; they were from Ukraine, from Belarus and from Russia. And so now we are in Baku.
We heard about Baku a long time ago but in villages very far from here; it was seen like Tashkent, like other places that they could finally reach and survive. And so now we are here …. we want to record survivors , people from here, Jews, a rabbi told us we could interview 11 Jews who are survivors, not from Azerbaijan, but who came here and made their lives here, so it would be important to interview them, to establish the truth about that story. It is also important to interview old Azerbaijanis who saw that story, because we have the oral memory of Ukraine, we have the oral memory of Poland…. of Belarus, of Russia, but we don't have the oral memories of Azerbaijanis…. so it is part of Yahad's programme to send a team to interview, so that these memories of Azerbaijanis of the war will be saved; Jewish Azerbaijanis and Muslim Azerbaijanis. It is at the heart of our work and to show that Muslim people of Azerbaijan were not outside this history at all; they were at the heart of the history to the end, Baku was a key point in the end for both Stalin and Hitler. I would say that if Hitler had succeeded in invading Baku the whole story would have changed. So we are at a key point in the work and one of the key points is Baku. I don't say that because we are in Baku, it's historically true.
VoA: This week you have been delivering lectures in different schools and universities in Baku. What has the response been?
Marco: I would say it was very positive. First of all the students gave a good reception to all that we told them; they did not know too much about the role of Azerbaijan in the Second World War; so they learned something, and they knew almost nothing about the killing of the Roma people; they hadn't heard about the Jews in the war killed by the Germans, so I think it opened a new curiosity about this part of history. We spoke about the symposium we are organising in October and I think a number are very interested in attending. So the reception was very popular, I think.
Andrej: Yes, I think most of the students were very interested; they asked questions and discussed with us, I think they are interested in knowing more about the history of their grandparents and great grandparents, and some of them even talked to us later and told us, "My grandfather was in the army and fought in the Crimea and other cities" or "My great grandmother 's family was killed in the Northern Caucasus and we don't know anything about our family, so please help us. We want to know what happened." VoA: And do you think they can contribute? Perhaps they can bring family histories to the symposium.
Andrej: Of course, and I think they are interested. We told them that there are a lot of archives about their history and I think they are interested in working further, with the archives and to write the history of their country.
Father Patrick: We saw a very proactive reaction from students and a few of them raised questions and showed a real interest and already knew part of the story. And I felt that many would be happy to enter a search of the archives and they want also to enlighten their own story, of Azerbaijan…. and I would say there was a lot of interest. It was a surprise, as we are used to giving conferences and this is not always the case. Many students gave us their email address, so we can contact them and perhaps some of them will help us to work in the archives. We need people to work in the archives who speak Azerbaijani and Russian and who can translate into English to make it accessible to many people.
VoA: On Monday, you went to the photographic exhibition on the Khojaly events. What was your response to that?
Father Patrick: It is very important to have photographs of these mass killings and it's also very important to show the faces of the victims, that they were not only numbers of people, but children, mothers, grandmothers, fathers and I said to many children, "If you could work to help to find the names of the victims, even a few names, it would be very important, because in the modern world, unfortunately people are used to seeing awful pictures on the TV but suddenly, when they see the name of one person…." I remember in the last Egyptian killings, not recently but a few months ago, they were saying 200…. 300 and suddenly this girl, with this name, has been mistreated, here is her face, and everybody identified with that girl. So I think it is very important for Azerbaijan to give the name of one and to tell his story before the shooting: who he was, how he was as a child, how he was brought up, who were his parents and the address and so on, and then say "he was killed on this day". So you realise he was a person. Unfortunately, we see so many mass crimes on TV, so people are de-sensitised, they see that every day. So for Khojaly the person is the key issue…. to use one photograph, the name of one person that anybody can identify with.
VoA: You are researching where all the victims of the killings are. What is the final aim of your organisation?
Father Patrick: To find the evidence first. To find all the evidence of the mass crimes committed by the Nazis: the genocide of the Jews, the Holocaust, the genocide of the gypsies, the killing of Soviet prisoners, the killing of partisans, to remind people that no crime is forgotten and no victim is forgotten. Because we see that in a genocide or mass killings in war we have a tendency to remember the killers; everybody knows the name of Hitler and very few people know the name of one Jew from Ukraine, so it is really important. So we say that, no, the important thing is to say the name of the victim.
I always say we cannot build humanity on mass graves or pogroms, otherwise we are like animals or predators. And we should keep all our values, whether they are Christian or Humanist or Muslim or Jewish, keep them. So the best way to stop genocide is to identify each victim, to bury them with dignity and to save their memory. That's why in Yahad we build a website in different languages and we will be publishing soon a Google map where people will be able to see all the locations of the mass graves and also more evidence, that is pieces of archive, pieces of testimony, photographs, so that we understand that a genocide or mass crime is not a tsunami, it's a crime and a crime has evidence. So the mission is to go outside of politics and to see the truth. Marco: Also it is true that genocide is man against man, regardless of religion….
Father Patrick: …. There are genocides in Europe, genocides in Africa, in Asia, South America, nobody is an exception. And I think it will help the new generation to say, "Perhaps one day you will be confronted by genocide, whether you are in the army or a journalist, please take a picture with your telephone and send it to CNN." Today a picture, a two-minute movie on CNN is stronger than any political action. I think that today with the media, we have a return of power to the little people, we see that every day; most of the testimonies we have are from simple people with a telephone; professional journalists may be forbidden but now you cannot forbid the telephone. So I think we have to say to people "You have a great responsibility to stop this". We have had too many mass crimes, too many genocides in the 20th century and the best way is with images. You see that journalists used to take the pictures, but today anybody can be a journalist, with the telephone.
VoA: The genocide of the Second World War is over as an event, it is no longer continuing, but in terms of Khojaly, it is still an ongoing event. There is still a state of war between Azerbaijan and Armenia; what is your message to people in facing that?
Father Patrick: I am not a specialist on Khojaly but I would say that many will tell you they are in a state of war. If you speak to Tutsis in Rwanda, perhaps they will tell you they are in a state of war. If you speak to Jews or Palestinians or, after the bombing recently in India, they will tell you it's a state of war. It's not strange in history. So, unfortunately, genocide and mass crime is most of the time the tip of a very long story…. so my question is more to train people for the future. I say, learn about the past, teach the past, but look to the future, and speak about the victims, not only about the killers.
VoA: I think Stalin said, "when one man dies it is a tragedy, when thousands die it´s statistics"….
Father Patrick: I fight against that because when your mother has become a victim of genocide, she is not a statistic. Yahad is fighting against that, to say each one is a tragedy in a genocide, there are not one million; that's the view of the killer, but the view of the family is that they have lost their mother, they have lost their son.
Marco: And the witnesses that we interview, they don't talk about numbers, they talk about neighbours, their schoolmates, their friends. They always give their names and remember when they saw that person for the last time. For them, for the witnesses, it is very important; identification, the human face that sometimes we forget.
Father Patrick: I've already said that everybody cares about the killers and nobody about the victims. That's why I argue with forgetting the names of the victims while searching for the killers. In the case of the Jews, for example, we don't want to give anintimate picture of Hitler and forget the last child, betrayed from the small Kolkhoz at the bottom of the Crimea. If we forget his name, it's a pity because no one forgets the name of Hitler.…You know, I'm a Christian, and at the beginning of the Bible, God is asking where is your brother? He doesn't ask, where are your millions? And he doesn't care about the killer, he cares about Abel, the victim. I think this question is heard all over the world. Where is your brother?
VoA: Do you have much success in making this argument in political arenas? You must inevitably talk to politicians.
Father Patrick: Not so many. We are not political animals. I believe much more in ordinary people…. In France, during the Holocaust, most of the Jews who were saved, were saved by 'little' people. Don't think that the president was hiding Jews in his house. But you would have a farmer who was hosting fifty Jews in a large farm in the forest and because of that 75 per cent of Jews survived. So we remember that lesson, it is the 'little' people who helped them. And gypsies the same. There are many more 'little' people than political people, so we have much more to do and they are more receptive because they know that they can be victims too. So my strategy is to reach the 'little' people and to say "take courage, be like the people in Europe". Many, many people were hiding Jews, not for money or anything and when we ask, "Why did you hide Jews in your house?" they say, "It was normal". So many Jews are alive today because of the 'little' people.
VoA: The Khojaly survivors too, don't talk about numbers, they talk about the person at the end of the street, relatives…. What did you expect when you first came to the country?
Andrej: I didn't know a lot. In history in Western Europe, learning and teaching about World War II was a story of two sides: on one side the Germans, on the other the Soviets and you don't learn a lot about the detail, the importance of Azerbaijan. All the men who participated in the war, all the efforts that were made, it's not written. It's very important to get this known in the western history, because everybody says, it's down, it's written, but we have to adjust some of the pages and to shed light on the specific role of Azerbaijan during the war….
VoA: Going back to the symposium in October. What would you like to come out of the symposium?
Father Patrick: ….We want to establish a network and know more about what happened in the region, for example where were the tanks filled with oil, do they still exist?... Where were the planes, which airport? We are talking about the history of the Second World war and it's a way to integrate, so you are not forgotten, to say, you are not a small country in fact you were extremely important. We are not changing the story, it's the real one….
Marco: It is also important for the country, to open and encourage research in the archives…. The first one we organised was in Ukraine, about what happened in Ukraine. There were many historians from different countries working on this, they came and they met face to face, for the first time…. So it's also very important, I think, to build links. I am sure there are good scholars studying here in Azerbaijan, and they don't know about other historians working elsewhere on the same subject.
VoA: So you intend it to be an international event?
Father Patrick: Of course. We want the best researchers on the subject…. to connect with people from here so that researchers from Azerbaijan will be invited outside.
Marco: And it will also be an open symposium so students from all the universities we visited can come and participate, ask questions. It's not a symposium where people are just talking about their topics and that's it. There will be questions, answers and debate, but not only between researchers, also between students and others.
VoA: And will the symposium produce documents as a record of the event?
Father Patrick: With the help of The European Azerbaijan Society; we would like to publish a report in different languages.
International Symposium
The Evacuation of Soviet Civilians during World War II
15-17 October
Baku, Azerbaijan
Researchers wishing to contribute please contact: secretariat.baku@teas.eu