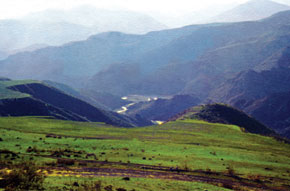 Almost 7 years have passed since a group of Azerbaijani IDPs (Internally Displaced Persons) filed a complaint against Armenia in the European Court of Human Rights. The case: 'Chiragov and others against Armenia', was thought to be simply gathering dust on the court's shelves until long-awaited news reached Azerbaijan. According to information published on 9 January 2012, the European Court of Human Rights had begun considering the issue of IDPs from Nagorno-Karabakh and other Azerbaijani territories occupied by Armenia during the Nagorno-Karabakh conflict. Thus, the Chamber of the Supreme Court agreed to hear 'Chiragov and others against Armenia' in September 2012. This is now the leading issue for Azerbaijani IDPs in European's main organisation for the upholding of human rights.
The best from Lachin
The best honey and carpets are from Lachin. Without a shadow of doubt this is what every man originally from Lachin will tell you. Sagatel Jabrayilov and the two brothers Chiragov were no exception when we called on them to discuss the case of Chiragov and others against Armenia. 64-year old Adishirin Chiragov was a beekeeper when he lived in his homeland and a vocation is not so easy to give up. When Lachin was occupied and he and thousands of other residents had to leave, Adishirin had no chance of keeping his bees. All his hives were destroyed by Armenian troops. Only recently has he been able to get hives in the Ismayili region and return to his former living. However, the taste of his honey now is radically different, he complains.
Our honey from Lachin is something special. And you will never confuse it with any other. I miss Lachin's honey very much; I miss Lachin and its landscapes. But you know what makes the taste of Lachin's honey unique? The plants. You would never see here the plants we once had there. We lost everything but, most importantly, we lost our lands…and I don't want to believe that we will never get our homeland back.
Adishirin and his 62-year old brother Elkhan Chiragov look very sad when recalling those days. Every night of May they dream of Lachin; Armenian troops invaded in May and the brothers were driven out. They moved on to a number of places, region by region, and finally settled in Baku. Now they intend to seek justice in the European Court by claiming against Armenia.
Note: The Lachin region is situated in south-west Azerbaijan, with the Kelbajar region to the north, Khojaly, Shusha and Khojavend to the east, and Qubadli and the Republic of Armenia to the west. It covers 1835 km2 and is rich in natural resources such as cobalt, gold, uranium, mountain crystal, limestone and many mineral springs.There are also red oak, hornbeam, beech and rare species of medicinal plants. On 18 May 1992, the region was occupied by Armenian military forces; hundreds of its people were killed, taken hostage and tortured. 304 residents were killed and losses amounting to $7 billion are estimated as a result of the occupation.
In search of justice
Six Azerbaijani IDPs from Lachin (Fakhraddin Pashayev, Ramiz Jabrayilov, Sagatel Jabrayilov, Akif Khasanov, Adishirin Chiragov and Elkhan Chiragov) appealed to the Court demanding that Armenia compensate them for moral and material damage. Their main demand is to be able to return to their homes in Lachin. In their address the complainants emphasised that on 17 May 1992, Armenians forcibly expelled them from their homeland and misappropriated their property. They referred to several articles of the First Protocol to The European Convention on Human Rights (I – Inviolability of Property; VIII – Inviolability of Private Life; XIII - Right to fair trial). All these articles were violated. The complainants also stressed that they had experienced discrimination based on their ethnic and religious origin, also covered by the Convention. They believe that at least two churches have been built in Lachin since it was occupied, even though no Armenians had lived there before.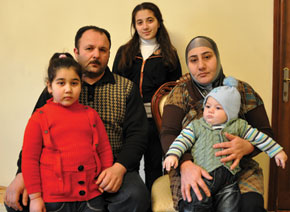 Sagatel and his family look forward to a Lachin return
Chingiz Askerov, the Azerbaijani representative to the European Court of Human Rights, told journalists that the decisions made by the Court on 9 January2012, are interim in character. He said that at that stage the European court had considered the eligibility of the complaints. Questions concerning the merits of the case and determining the basis of infringements of the Convention will be submitted at the next stage, he added.
He said that the proceedings also underlined the fact that the Armenians had, by armed action, occupied not only the whole territory of the former Nagorno-Karabakh Autonomous Region, but also seven adjoining areas, a total area double that of the territory of NKAR. About 800,000 Azerbaijanis and persons of non-Armenian nationality had left their places of residence and become refugees. The court noted that no Azerbaijanis remained in the occupied territories.
The question of jurisdiction, that is the Armenia Republic's responsibility for the alleged infringements of the rights of the Azerbaijani IDPs, will be submitted at the next stage. The Azerbaijani side has presented both direct and indirect evidence that the so-called Nagorno-Karabakh Republic (NKR) is, in the language of the European court, an 'accountable local administration' subordinate to Yerevan. I believe that these proofs are weighty enough for recognition of Armenia's responsibility for infringing the rights of the Azerbaijani IDPs.
It seems that this first success in the trial has also inspired other IDPs. Thus a group of Azerbaijani journalists is planning to follow the same route – to find justice in the Europe court. The group consists of 10 people originally from different districts occupied by Armenian forces during the Nagorno-Karabakh war. They all intend to claim material and moral compensation. Aynur Elgunesh is a member of the group.
That fateful night changed all
From a small, noisy yard in one of Aghdam's residential districts, 14-year old Aynur Elgunesh was a carefree teenager with almost the same dreams and goals as her contemporaries. She remained that way until the city was taken by siege in the winter of 1992. She remembers 28 February 1992, as the residents of the city were forced to wait out the night in their basements. Next morning she and her small brothers and sisters were taken to the nearest village in Aghjabedi region. There they stayed for more than a year. After Aghdam was completely occupied by Armenian forces in July 1993, Aynur's family moved to Mingechevir, an Azerbaijani city where refugees and IDPs from the conflict zone had found temporary shelter. The family had left behind them in Aghdam a 4-room flat and 16 acres of land. They have been without their own property since they moved to Mingechevir. They stay in a hostel, still hoping one day to return home. After graduating from school, Aynur and her sister moved to Baku to continue their education. She works now as a journalist and takes an active part in public life. She believes that the group she joined will get justice at the European Court and receive a fair decision.
Aghdam, the city where I'm from, suffered greatly. Neither my family nor our neighbours and relatives could take anything with us from the occupation. We lost everything. I understand that it's impossible to return our homes and possessions to what they used to be, but we at least want the return of our lands. That would be compensation. And only this can establish peace between Azerbaijani and Armenian people, just this.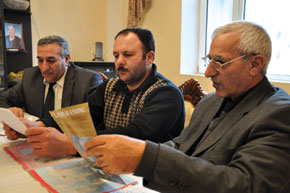 Lachin IDPs live in hope of justice from the European Court of Human Rights
Our aim is politically motivated
According to Rashid Khajili, the lawyer assisting the group of journalists in appealing to the European Court of Human Rights, it sometimes takes a long time to get a result. The Chiragov and others against Armenia case is not routine, he thinks. The fact is that Azerbaijan joined the European Convention on Human Rights in 2002, long after Azerbaijani territories were occupied. Logically, the Court shouldn't take on this case, because people became IDPs before the country committed to the Convention's obligations. However, this case is exceptional due to the fact that the IDPs' rights continue to be violated. That is why we had no doubt that the Court would take this issue into its consideration.
According to Khalid Kazimli, the group's leader, they are now collecting all the necessary documents to send to the Court and that is quite a long and tedious process. But it is worth it! They were inspired by Chiragov and others and decided to declare themselves to the Court.
I am not 100 per cent sure that we will win the case. They seem to go on for decades. Our aim is to make the European Court recognize Armenia as the aggressor and occupier rather than to get material compensation. Our aim is politically motivated. We must be more active now and not give up.
Was Lachin like this as well?
Returning to the Chiragov case, we should note that the complainants did not at first believe that their applications would be accepted by the European Court. Sagatel Jabrayilov told us that he had already begun to lose hope when the news from the Court reinforced his determination to continue seeking justice.
Like pioneers, we are first in the field. We hope our victory will have a positive effect on the situation facing other Azerbaijani IDPs. It is very important for us to show the world the fact of the Armenian occupation of Azerbaijani territory.
Sagatel is 42 now. He has a family and is raising three children, all born in Baku: the eldest daughter is Aysha, 12; the middle daughter is Asli, 6; and the youngest, son Hemze, is just one year old. Sagatel tries to talk often about their homeland, Lachin, and give them more specific information, about the world's best honey and carpets, for example. His wife Zabila is also from Lachin. She used to weave carpets when she was 18. As she says, in her village it was shameful for a girl not to be able to weave carpets. Now she tells her daughters about Lachin's carpets, but does not have the facilities to teach them how to weave.
I wish I could teach my daughters to weave a carpet. It's part of our tradition. But to do that we need a special fleece, loom and, most importantly, it should happen in Lachin. When we go to Ismayili and other regions of Azerbaijan and see the mountains, my daughters often ask me – 'Mama, was Lachin like this as well?' And I don't know how to answer; they have never seen Lachin…