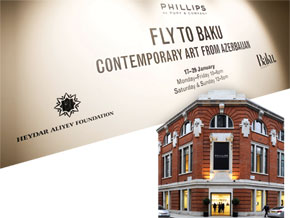 What an invitation, and in London town so easily accessible. Shall I go?
An advert for this Art Exhibition, hosted by Phillips de Pury, was in the UK newspapers in January. Based near London at the moment, I couldn´t resist.
However the only time I could make it was just before the exhibits were wrapped up for the end of the show and so with only a couple of Azerbaijani families as viewing companions, I had the whole exhibition to myself.
This was a bit different, I am sure, from the opening evening which will have been very grand and crowded with many guests and Baku devotees.
Much of Azerbaijani art is bright, colourful and brave. It´s invigorating and stylish, and to have Azerbaijan's art on your walls at home is almost as uplifting as having its carpets on your floor. (Of course many enjoy carpets on their walls.)
Azerbaijan is stuffed full of art and any visit to the capital, Baku, can be taken up with visits to galleries or, even more fun, to individual artists in their studios. Wander through Baku´s historic ´Inner City´ and you will find art galleries everywhere. Some big, some small, some smart, many not. Hidden away, up a stairway, round a corner, through a courtyard, in spaces where it feels as if no tourist has ever trodden.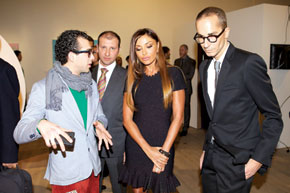 First Lady Mehriban Aliyeva views the exhibits with curator Herve Mikaeloff (right)
Meet someone with a friend and you may then maybe find yourself in an artist´s studio, in the grey, old Soviet residential outskirts of the city, up a broken concrete stairwell, through a wooden door and into a concrete space decorated only by a chillingly Soviet telephone hanging on the wall. The smell of oil paint pervades; into the next room to view the canvases stacked there – help yourself, have a look, tell me a price. And more importantly - let´s have tea. And in the middle of the almost bare room a table creaks under the weight of the best china and tea glasses, jelly sweets and pakhlava. These homes are typical of the many less-well-known artists. Often Soviet trained, they have developed an expert eye for recording life in Azerbaijan. The people here have a keen eye for design, for what looks good. Couple this with today's less restrictive modern art training and is it any wonder the city is exploding with artistic exuberance?
And now it´s arriving in London
Art, of course, means different things to different people and some might be better suited to an office or large space than to your own home. From a personal perspective, I generally look for something I would welcome into my home.
So I see the huge hoopoe on the wall almost as soon as I get beyond the entrance and am instantly drawn straight towards it. But it´s part of a huge painting (untitled, by Farid Rasulov) which would wrap right round a large board room, never mind my living room. The hoopoe sings to me of Azerbaijan and I carry it with me as I continue my way round to look at the contemporary sculpture, not really my thing but I admire it anyway. I climb the stairs to the upper floor where a range of exhibits vie for attention.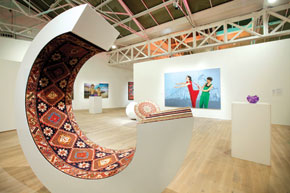 Faig Ahmed´s Wave
Many exhibits stand out. Melik Aghamalov´s Pomegranate reflects Azerbaijan perfectly, each seed bursting with promise. Leyla Aliyeva, daughter of the Azerbaijani president, is exhibiting some beautifully intricate pictures, but the ones I like best aren´t for sale. I decide that one of my favourite exhibits is a sculpture which I would describe as a minimalist, cream, plastic rocking chair lined with an Azerbaijani carpet – so smart and so, so stylish (Faig Ahmed´s Wave). I´m sure they are in some new Baku coffee bar by now. I want one.
Wandering further between exhibits, I enjoy the gentle humour of Orkhan Huseynov´s video of workers drinking oil out of Azerbaijani tea glasses. I watch the changing expressions of Azerbaijani children, inspect Sanan Aleskerov´s photographs of Baku from earlier this century (my, how it has changed) and wonder at exhibits a little too contemporary for my taste.
And then I come to the exhibit I had been waiting for. Indeed, how could this kind of exhibition be in London without me being ´reminded´ by a daughter who knows of my love for Azerbaijan? And so here it is, the art which everyone on Facebook was talking about. Rashad Alakbarov paints with shadows and light.
Definitely not for my living room, but really something. And just why a visit to a gallery is the best way to enjoy art. I was blown away by the sheer inventiveness of Alakbarov's exhibit. A multitude of toy aeroplanes made out of translucent coloured plastic were suspended from the ceiling. A light shining through the planes projected an image onto the wall - an image of Baku bay. That´s all. Just brilliant.
Do fly to Baku. Go soon!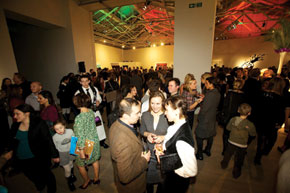 A lively opening
Credits
Fly to Baku, Contemporary Art from Azerbaijan was organised by Phillips de Pury and Company with the Heydar Aliyev Foundation and Baku magazine, at Phillips de Pury, Howick Place, London SW1P 1BB, 17–29 January 2012. The exhibition was curated by Herve Mikaeloff.
Simon de Pury, Chairman of Phillips de Pury & Company, explained:
In the summer of 2011 my wife and I visited Baku for the first time and we were struck by the vibrant art scene and the quality and originality of the artists we visited, which led us to put together this groundbreaking show curated by Herve Mikaeloff.
The exhibition featured works by Tora Aghahayova, Faig Ahmed, Leyla Aliyeva, Rashad Alakberov, Sanan Aleskerov, Eliyar Alimirzoyev, Enver Askerov, Rashad Babayev, Irina Eldarova, Huseyn Haqverdi, Ali Hasanov, Orkhan Huseynov, Aida Mahmudova, Fakhriyya Mammadova, Mammad Mustafayev, Niyaz Najafov, Aga Ousseinov, Farid Rasulov, Altai Sadiqzadeh, Mirnadir Zeynalov.
Meantime, if you could not make it, inspire yourself:
http://www.thisiscolossal.com/2012/01/rashad-alakbarov-paints-with-shadows-and-lights/
http://www.phillipsdepury.com/media/415903/fly_to_baku_press_release_v3.pdf
http://www.phillipsdepury.com/exhibitions.aspx?sn=EXUK0112
http://gulustan.ws/2011/11/white-noise/
http://www.qgallery.net/gallery.html