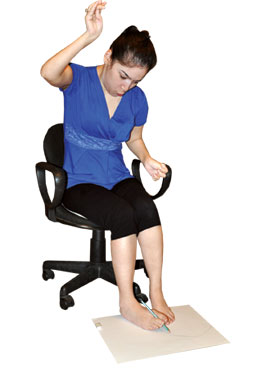 Pages 88-91
By Nushaba Huseynli
She turns her head towards her mother and points to me. Although I cannot catch the meaning in her expression, I feel that it is about me. Then she looks at me and smiles. Her smile amazes me, as it did the first time we met. It is so sincere, from the bottom of her heart, that the love of life there confuses me. Samira Salmanova, in a wheelchair and dumb, only able to express herself via looks and various sounds, has a very good memory. Although ten years have gone by since our first meeting, she remembers me immediately and tells her mother so.
She says she remembers you. She is happy to see you again.
Very good – I say and smile in response. It is strange for me, and I want to ask if she remembers everyone or... But I do not ask. Because I remember that Samira, who has brought me to this house ... is an artist. An artist's visual memory may be stronger than that of other people. There is one other distinctive feature about Samira - she paints her works with her feet.
Almost every day she falls asleep in the early hours. And I sit and wait for her. I sleep when she goes to bed. Every day she is painting, working on the computer or watching TV. That is why she wakes up in the afternoons, at 1.00 or 2.00 pm. Yesterday, she heard that you were coming. Although we went to bed very late, at about 9 this morning she called me to help her to prepare to meet our guest. I washed and dressed her, did her hair. She did not even have a normal breakfast. She just sat and looked at the door. She was excited, waiting for you. She is very happy when she knows that someone is interested in her work. You will leave us, but, for a month or even more, she will live with the memory of this meeting.
Our photographer, Eldar, takes Samira's picture. Meanwhile, her mother talks about her. The more I listen, the most interesting, even amazing, thing is that this mother is talking about her disabled daughter with great pride. Of course. How could it be otherwise? She has raised four children in her family. Her three other children are totally healthy and work in various jobs. However, I have not come to this home for them, but becase of Samira. Really, this world is very strange. Then Eldar breaks into my thoughts. He shares his opinion of one of Samira's paintings.
Samira was born in 1981 with infantile cerebral paralysis – paralysis of the brain. Her hands and legs do not work, she is unable to hold anything and cannot speak. Her only physical ability is in her toes. She began painting at the age of 7 or 8 years old. When her younger brother started school, she liked his pencils and coloured pens very much. She gripped them with her toes and tried to draw something. Her father encouraged her, buying fibre-tipped and coloured pens and paper especially for her. Thus, Samira began drawing every day. Days, months and years passed and by about 10 or 12 years old Samira was drawing pictures easily.
Finally...
Finally, she drew two pictures in pencil, which she liked very much: Maiden Tower and a duck swimming on a lake with 7-8 ducklings. A visitor from Turkey saw these two pictures at an exhibition, liked them and bought them.
Her mother continues to talk, ignoring her daughter's modest smile.
Until 1997, she collected all her pictures. Samira is usually very demanding of herself. If she does not like something in a picture, she tears it up and throws it away, even if she has worked on it for weeks. She often asked her father why her pictures were not shown on TV, and this upset him. However, he tried not to let her be discouraged and told her to draw and save them. 'We will negotiate with the TV channels and they will show you and your works'. In 1997, a disabled boy moved to our neighbourhood. One day the boy told us that there was an international organization for the employment of people with disabilities. He said that there was also an organization for disabled women and suggested that Samira join the organization. We agreed. About 5-6 months passed after this conversation, it was November, we heard that the 3rd Republican Competition for Disabled People, dedicated to the International Day of People with Disabilities, would be organized. It was announced that President Heydar Aliyev would also visit the exhibition. 6 or 7 of Samira's pictures were selected by the organization for inclusion.
That exhibition, held on 17 November 1997, left a lasting impression on Samira. As expected, the president also attended. About one hundred works of art were on diplay. Samira was the only disabled artist who drew her pictures with her feet..
Her father says that when the president came to Samira he looked at her with pain in his heart. Samira was barefoot and drawing a picture there before him. Heydar Aliyev watched her attentively for some time. He was very impressed. Then he approached Samira and kissed her hair. When he wanted to shake her hand, he saw that she could not respond, so he bent and kissed her forehead. After he had walked around the whole exhibition, President Aliyev gave a speech. He said some very nice words about Samira. He said that although she could not transfer her inner talent to paper with her hands, could not express it in words, this girl who delivers it to people by drawing with her toes should be seen on the same level as national heroes. He father says that when he heard those words he was choked with emotion.
Following that event, people became interested in Samira. Before, she had been embarrassed even to go out for a walk, but now she had the courage to go out in public. Since then, her pictures have often been noted and displayed in exhibitions. They have even been taken to Moscow.
In November 2001, representatives from the Ministry of Culture called on us. They told us that an international philanthropic foundation would hold a competition for creative people with disabilities in Moscow in 2002. They also wanted art works by disabled people from Azerbaijan. They wanted Samira to participate. Works by11 children from Azerbaijan were sent to the competition, Samira's among them. They took photographs of ten of Samira's pictures, filmed the working process and sent the photographs and tape to Moscow. To tell the truth, we did not believe that we would be invited there. But Samira told me several times that she had seen a white horse in her dreams and that she was riding the horse; it felt like flying. She said, 'You'll see, they will invite me to Moscow, and I'll take you with me.' It was March, we were preparing for Novruz Bayram. Suddenly we received a telegram for Samira. It was sent by Yuriy Solomin – the chairman of the philanthropic foundation jury.
Thus, Samira went to Moscow with her parents. They stayed at the Rossiya hotel in the Russian capital. The awards ceremony was very grand. Gennadiy Seleznyov, who was the speaker of the Russian parliament at the time, personally met the children and organized a reception in their honor in the Kremlin. Throughout those ten days, Yuriy Luzhkov, then the mayor of Moscow, never left them. On the last day of the event, a special magazine was published, dedicated to the winners. And finally, one more achievement: two of Samira's works were placed permanently in the Tretyakov gallery. One was a portrait of Heydar Aliyev and the other a landscape. Of the 11 children representing Azerbaijan, only her works were awarded such a great privilege. Since her return to Baku, Samira's art has been displayed at one more international exhibition.
A great exhibition was organized in Baku by the ConocoPhillips oil company working in Azerbaijan and Samira's works were highlighted. The organizers took two of them to London and they were sold in the first week. And the price? Considering that they were done with the feet, they are actually invaluable and beyond price. But a symbolic price was attached, according to the rules, and both works were sold. The proceeds were brought and presented to Samira at home. A small book was published describing the event; it gave information about Samira and had photographs of her works. The book is very precious for her.
As we talk with her mother, Samira is either drawing or, perhaps because we are disturbing her, sitting in front of the computer surfing the internet for news about events taking place in the country, or listening to music. All these activities require incredible effort. It is amazing to watch how she balances her whole body just to draw a single line and how she moves to take and use a pencil or rubber..
Our biggest wish is to organize a solo exhibition. She wants it, too. We cannot say 'No' to her, but it is difficult for us to organize. But that is fate…
I hear her mother's wish as we are leaving with strange indecision. Really, how to explain to someone so full of love for life, who handles intricate work in such difficult circumstances, that there are some things which are even more difficult? I stop at the threshold and turn back. My glance meets Samira's, seeing us off. This time I kiss her and leave. Just like old friends…