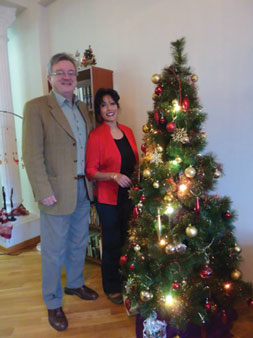 The McIntyres' first Christmas without their children
Pages 70 72
By Jeyran Bayramova
The Christmas cracker has just celebrated a jubilee! The year 2011 marked 150 years since Tom Smith, the English sweets seller, invented his 'bon bon', a sugared almond wrapped in a twist of tissue paper which eventually led to the creation of the Christmas Cracker. Nowadays there is hardly a family in the UK that celebrates Merry Christmas without crackers. Adults and children are brought together to pull apart the cracker in joyful anticipation of the goodies inside.
Christmas has long been seen as a family holiday. On this day, 25 December, the Christian tradition is for families to celebrate together, to taste Christmas turkey, mulled wine and exchange presents in the bosom of their family. It's no wonder children love Christmas so much – in the morning, under the Christmas tree decorated with baubles, crackers and sweets, they find presents from Santa Claus… if they have been good during the year!
What is Christmas without children?
This year was the first Christmas celebrated by Paul and Maria McIntyre without their children – their two grown-up daughters did not come to Baku to visit their parents as they usually do. The eldest is in the middle of a University course and their youngest daughter has recently married. Paul and Maria moved to Baku from Yorkshire, England seven years ago and Paul manages Fircroft, an international recruitment company. Fircroft provide manpower services for BP and other oil and gas related companies. Prior to Baku, the McIntyres lived in a number of countries around the world. Wherever they live, they always make sure they take with them a box of Christmas decorations. Some of their decorations are recent additions whilst others have been acquired on their travels and are now considered to be family heirlooms.
Shortly before Christmas, Visions of Azerbaijan was invited into the McIntyres' home to see how they prepared for their Christmas holiday. Before we take our readers into their world, however, it may be helpful to provide some information about the traditions of observing these special days for Christians in Azerbaijan. According to the statistics, fewer than 3 per cent of the population are Christians. Most of them are Orthodox Christians who celebrate Christmas on 7 January. There are, however, Christians, mainly Polish, British, German and Americans, whose Christmas starts on 25 December. And as everywhere else in the world, the Christian community in Azerbaijan marks Christmas as a symbolic time of renewal, tranquillity, charity and mercy. Religious services are held in the country's Catholic and Orthodox churches during the holiday, on the eve of 25 December and 7 January respectively. Every year the President of Azerbaijan congratulates all Christians on this Christmas holiday.
Very much an international day…
And now, let's go to the McIntyre's home, where Paul and Maria have already decorated their Christmas tree with tinsel, baubles, fairy lights, streamers and crackers from the heirloom box; a tradition usually practised with their daughters. The day before Christmas the family go to church and, as Maria believes, Christmas is very much a family day:
This is my first Christmas without my daughters. Paul and I miss them very much but we decided to invite some of our close friends to celebrate with us and I'm sure it will be a special Christmas. About 12 people from 6 different communities: English, Scottish, American, Azerbaijani, Portuguese and Indian, will gather together for this celebration. It promises to be very much an international Christmas (smiles). Everyone will bring some food and drink and our meal will be served in the afternoon and the celebrations will continue until the evening. We plan to play party games, maybe charades, and as we have a friend bringing along his guitar, we will also sing some Christmas carols.
Paul and Maria will host their guests at their comfortable and hospitable apartment which is close to Paul's office. The main advantage of this is that he does not need to use his car to drive to work in the mornings and therefore avoids the Baku traffic! Maria agrees with this sentiment and says
I can drive, but I wouldn't like to drive here in Baku (smiles). I prefer to take a bus or a taxi. You know, I really like Baku's public transport system, especially the bus services. It is reasonably priced and very convenient.
However, the McIntyres do have to use their car for their Christmas preparations as there is much to be bought for the Christmas menu.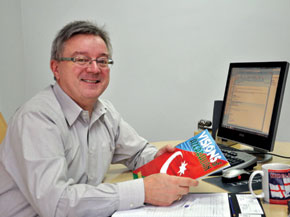 Living and working abroad keeps Paul active and curious
What is on the Christmas menu?
Traditionally we have roast turkey, roast potatoes and all the trimmings. At least, that is the main Christmas dish for almost every family in the UK. The McIntyres in Baku are no exception but with the turkey they will be having roast beef and pork as well as other special national dishes contributed by their guests. Maria told us that her husband had ordered a special piece of beef from Dubai because it is more tender.
Two or three days before Christmas, I marinade the beef thoroughly in spices... That will be our Christmas roast beef. We will also have roast pork and roast turkey. So it's going to be unbridled revelry!
Paul and Maria will also enjoy some Azerbaijani cuisine. They are often invited by their local friends to have dolma, ash, qutab (Azerbaijani national dishes), accompanied by salads. Maria has even experimented at cooking these dishes herself. However, as she confesses, it's not so easy.
Maria:
I love your cuisine. Unfortunately, I still haven't learnt how to cook them them well. What else? Aha..I also really like the salads. And I love the doner (Turkish fast-food); we buy donors from an excellent doner stand which is quite close to our apartment.
Paul:
I enjoy Azeri food, it's fantastic. However at Christmas we are used to the traditional food rather than Azerbaijani or other cuisines. For the kind of holiday that Christmas is, people prefer to cook their own native dishes. But on other occasions, we love to travel, especially to the countryside and enjoy tasty Azeri food. Often, in the summer months, we travel out of the city with friends to the beautiful Azeri countryside to camp and cook an Azeri barbecue. We have been to Quba, Qabala, Lenkeran…such beautiful places.
And drink?
Indeed, there will be mulled wine on the festive table on Christmas day. It is a fact that this warming drink has been enjoyed for thousands of years and is now a holiday tradition. Mulled wine is simply wine that has been slightly sweetened and spiced. According to Maria's recipe, the wine should be poured into a saucepan with sugar, orange and spices. It is then heated gently until the sugar has dissolved. The wine is then poured into heatproof glasses ready to drink whilst hot. Enjoy your meal and drink!
Besides the wine, Paul and Maria will treat their international guests to some French, Italian as well as Azerbaijani wines. Their apartment bar holds a good selection of different, popular labels, each to be enjoyed on special occasions.
How are Christmas celebrations different in Baku?
The McIntyres feel just as much at home in Baku as they do in England. They have already acclimatised themselves to the chaotic driving, the city hustle and bustle, and even people's aloofness in a crowd, which, as Maria says, evaporates once you talk to them. The people of Baku make you feel it is an easy place in which to live, Maria confesses:
Baku is a very nice place to live. I enjoy walking along the city streets, watching passersby and observing how they treat each other, with friendliness and openness. I feel there is nothing artificial here in Baku. Azerbaijani people are so, I would say, warm and friendly which I really appreciate.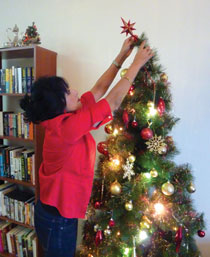 Wherever they go, the McIntyres always take a box of Christmas decorations
Not having family close by is what Paul misses most, namely his daughters, his father, brother and his brother's family. Apart from that, he feels that he will be celebrating Christmas just as he would at home in the UK, he says:
Apart from the fact that I have seen a larger number of Santa Clauses here in Baku than I do in my own country, I don't feel that there is much difference between the Christmas celebrations here or in the UK. The only difference is my personal situation; I do not have my family with me.
However, there is one thing that Maria feels she is missing during the Christmas season. And that is shopping. As she told us, she misses the shopping in the UK supermarkets and malls where everything can be bought under one roof. The city and towns are decorated long before Christmas; even in September the festive spirit of Christmas is in the air. Such a feeling creates a special atmosphere and keeps you in a good mood, she said.
Baku: an expat's first impression
This is actually Paul's second stay here. He first arrived in Baku in 2002 to do a four-month job. Paul's limited knowledge of Azerbaijan came from his memory of geography. A post-Soviet country located near Russia and washed by the oil and gas rich Caspian Sea – this was his first impression of the country after looking at the map:
I remember, when I was being driven to the Crescent Beach Hotel, it seemed quite a long way to me. There weren't any lights or illuminations on the roads and very little traffic. I also remember as we drove along, the headlights picking out the trees painted white for the first metre from the bottom. And I thought – why is that? To this day I have never had an answer to that question. Someone told me the reason for the paint was protection from insects; others said that when it is snowing you can see how deep the snow is etc. But it made an impression on me.
Paul and Maria really enjoy the mental stimulation of living in foreign countries within different cultures. They find it interesting meeting different nationalities and various traditions. They have lived in Africa, the Far East, and the Middle East and have travelled around Europe, so coming here to Baku was another adventure for them as well. Thus, Maria's painting that she does in her free time says more about her impressions of places she has been to. Even the handmade toys that she makes with other expats to sell and raise funds for different charities during December - they all hold elements of various cultures.
As Paul confesses, to live abroad is sometimes frustrating because you know, it is different, it is foreign. But it is also stimulating and keeps you active and curious all the time - as Azerbaijan does to all expats travelling and even celebrating Christmas, with crackers, so far away from home.