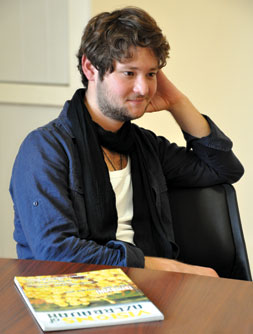 Pages 36-39
by Ian Peart with Fanara Bunyadzade and Kemale Shamilova
Isn't it strange how you feel you know someone who is famous? Even if that knowledge is based on just a few moments in their life – and, inevitably, the publicity surrounding those moments. But it's no probably no stranger than feeling you know the people of a country from hearing about a single event there.
Coming from England, where the Eurovision Song Contest is generally treated as a joke, I had been taken aback by the huge enthusiasm with which Azerbaijanis welcomed home their conquering heroes Ell and Nikki from Germany in May.
Some six months later, Ell (Eldar Qasimov) was in Baku and was still only too happy to come in for an interview, an intriguing chance to get to know a little more about a man now 'known' to millions. Given my age and background, I enlisted two students with us on placement to help tune in to the Azerbaijani Eurovision experience. Kemale Shamilova and Fanara Bunyadzade seemed only too happy to sit in.
More to meet the eye….
From the opening pleasantries it was clear that this was going to be a refreshing experience. Inevitably the first question was how Ell was coping with the globe-trotting round of appearances, interviews and performances since that night in Düsseldorf - there had only been one week's break.
I'm great, I don't need it. I'm resting as I'm moving through the world… and seeing all the fans, it's great. Actually, I don't need it right now. I know that when I'm older I'll have time to take a rest, but now I have to work. I won Eurovision, and that's ok, but I have to prove… that I can do better, I can do more.
What more did he want to do?
Oh, I have a lot of wishes. Two of them came true: Eurovision and film shooting….
It turned out that he had just (3 days before) finished acting in a feature film, and his sights were set higher in both singing and acting careers…. Grammy and Oscar were mentioned. But this first film is
An Azerbaijani Romeo and Juliet…. it's a kind of fairy tale. I think that people right now need good fairy tales, with happy ends. After all the disasters in the world and the wars…. we need love and we need good times. This is what we wanted to show at Eurovision, with Nikki.
Stories pour out, as they do everywhere in this country; the film is directed by man of many parts, Baku-born Yuli Gusman, who turned to directing after completing a master's degree in psychology. Gusman's very first film featured Ell's grandmother (his great grandparents were also actors) and the film just shot is a continuation of the director's 1981, Don't Be Afraid, I'm With You. Opposite Ell in this sequel is 16 year old film school student, half Azerbaijani, half Russian, Kristina Gulaliyeva who, the 22 year old 'Romeo' says, is great, very natural.
His description of the early days on the set is naturally enthusiastic, but modest enough to acknowledge that success means work, not just inheritance:
When they first invited me, I said 'Ok, I'm gonna do that…it's all about genes and I can get it.' On the first shooting day he was telling me how to do it, how to act and so on….and I was, like, I can do that…. it's very simple for me to do it", but after two minutes in front of the camera I understood that it's very, very difficult…. I am grateful that I met great actors from Russia and Azerbaijan and I'm really thankful that I had the closest connection with the animals in the film, horses, bears…. they can tell everything I say, they can understand!
To assess his chances of getting an Oscar at his first attempt, you will probably have to wait until autumn 2012 for the release of Don't Be Afraid, I'm With You - 1919.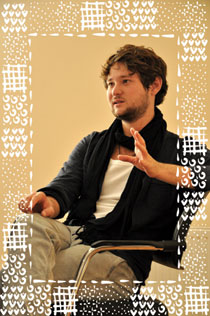 More like a festival
Returning to that May night in Düsseldorf, Fanara had noted a difference in levels of confidence between Ell and partner Nikki (Nigar Jamal) about the final outcome; this was confirmed:
Nikki didn't believe that we could win; in the last minutes of the show she was saying 'Maybe France is going to win'…. the bookmakers said that France was going to be first…but I was, like 'No! Why did I come here?... I didn't come to lose, to be second, third…. You know, I was wishing, dreaming of first place but, most important, I believed in it….but on the stage… I just tried to do it for myself, from the bottom of my heart and I didn't care about any places for those three minutes. That was the main part.
He tells of a largely positive atmosphere among those involved in Eurovision 2011. Having met many of them before Düsseldorf in Kiev, St Petersburg and Estonia, there were also 10 rehearsals over two weeks at the competition venue in which to establish contacts which were friendly and still maintained. More like a festival than a competition. Acknowledging that there were some who couldn't hide their feelings after the final results, Ell says he could understand their feelings:
It depends on the situation, maybe I would do the same myself…
A winning team formed….
Delving deeper into how Ell & Nikki found the key to success, we went back to the original selection process in Azerbaijan which they had entered as soloists, not knowing each other. So how did they come to be a duo?
(In the final) there were four girls and me and there was a very big break after our performances before the judges' decision. I know that they had a big, long discussion about it and at the end they said 'We want to see you and you, Ell and Nikki, you should come together and go to Eurovision….You know, I think there is something that I have that she doesn't have and there is something that she has that I don't have and if we sit together we can build a big picture. It's like a puzzle…. if you don't have any part of it, it's nothing.
How did he feel about being asked to be part of a duo?
From the first moment I didn't care…. I was very happy and amazed, because it was my dream from 2000…. I first tried to get there in 2009, but I couldn't… I had sleepless nights, friends around me (laughs)…. there was a big party and in the morning my voice was falling apart. But last year, in 2010, I said to myself 'I am going to do it, I want to be part of history, whether people want to take it seriously or not'.
After two days, when I realised I was going to represent my country, not by myself but with…. Nikki, who I didn't know before, I didn't know her character, what she wanted from life, what she thought about Eurovision….I tried to get to know her. I love to do any job - in the university, at home, everywhere - I love to do it myself, to be responsible….and if anything is not ok, it's about me, I have to change myself. I understood that in this situation it was not only about me. I tried to work together, I tried to teach her and learn something from her, because she's older than me and I think that she knows life better than me.
….and song found
After two or three weeks I understood that we were quite similar, we could feel a song the same way. She's an r'n'b singer and I love lyrical compositions, but the first time we heard this song we said, 'Oh, we have to sing this one. We had a lot of songs to choose. There were r'n'b songs that were not good for me but great for her, and she would disagree with my songs….but the first time we listened to that song we said, 'We have to do it'.
'That song' was, of course, Running Scared, and Ell feels it was successful because,
Everyone who voted for us found something in that song that belonged to them. Maybe a love story, maybe their first love, of fifty years ago, or five years ago, or right now.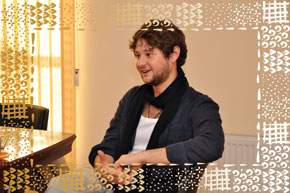 Kemale probed further into how he felt now about working as a duo rather than solo, following such success with Nikki:
It depends on the person. I always wished to be the only one on the stage, but the moment I understood that we could do it better together I had to find a way to get to her and I realised 'a duo is much better for me right now'. Sometimes you have to say 'It's not a thing I have to decide – it's all in God's hands and he can do it better.
For the future, he would like to more work together with Nikki, but:
We are two independent singers who became a duo, not a band. We have our own styles, our own vision. Nikki is working on her first album and I'm looking for good songs, but it's very difficult….
I want to show the world
As for immediate plans, there is more work to be done on the film, including singing for the soundtrack. Reflecting on his acting so far, Ell takes a level-headed approach, accepting that everything depends on experience and that the next performance will be better. He'd like to try the stage – but not in a romance:
I've already been the lover – 'Romeo' in the film and at Eurovision - I want to be someone other, maybe in a thriller, or someone with psychological problems…. I want to show the world I can do something else.
Finally, our two students of international relations wondered if Ell had time to continue his master's studies in the same subject:
Well, singing is a difficult profession. You are not just a person on the stage who goes home afterwards, you have to be in a relationship with all the fans, even in other countries. Sometimes journalists ask difficult questions, about politics, nothing to do with the singing. I can't just say I'm not going to answer that question. I have to answer and be very diplomatic…. I am very proud when our president goes to another country and they congratulate him on Azerbaijan's victory at Eurovision…. So I'm mixing the two professions, and I'm doing ok!
With that, it was time for photographs and thanks for taking the time to give an infectiously positive interview. For all the glitz and glamour of Eurovision, it is impossible to believe that there is not more to come from Ell.