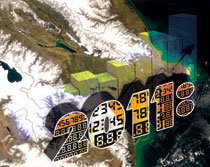 Pages 24-29
by Ibrahim Zeynalov
2011 was a year of dynamic development in the oil and non-oil sectors, agriculture and other areas of Azerbaijani life. The non-oil sector's share of Gross Domestic Product rose 2 per cent in the last year, to a figure 88 times that of 20 years ago. Of the priority sectors, transportation services rose by a factor of 3.7 and freight turnover by 2.3.
Although 2009, 2010 and 2011 were years of global financial and economic crisis, there has been little impact on social, economic and cultural life in Azerbaijan. The reforms and economic and social policies implemented in 2010 and 2011 produced rapid development in all sectors of the economy as well as in cultural and social life and overall wealth increased. This was manifest in salary and other benefit increases for state employees: grant-aided students, pensioners, musicians, policemen, workers in education (except for higher education), and science staff, in the last months of 2011. Further, parliamentary discussion of the 2012 state budget confirmed that state-funded incomes would rise again.
Compared with the first 9 months of 2010, the same period in 2011 saw the economy expand by 5 per cent, while the microeconomic situation remained stable. As the currencies of neighbouring countries suffered devaluation, the manat (AZN) remained stable - very important for the economy as well as for social and cultural life.
Social benefits
The three-quarter results for 2011 and forecasts for the rest of the year indicate that inflation was just 5.7 per cent and incomes rose 12.3 per cent. 550,000 people are currently in receipt of state allowances. In 2010, the minimum salary and basic pension were increased from 75 AZN to 85 AZN, in 2011 this figure exceeded 100 AZN. Poverty rates continued to fall; 9.1 per cent of the population live below the poverty line, some 20-25 per cent of the number in 2003.
In 2011, as in 2010, investments in the economy have maintained their dynamic; the private sector is also investing in the state economy and, overall, investment in the non-oil sector exceeds that in the oil sector. Thus, of the $15.5 billion invested, $9.3billion went to the non-oil sector as efforts continue to reduce the economy's dependence on the oil sector.
As for social infrastructure, more than 40 medical institutions and over 70 schools were constructed or repaired during the year. Work also began on five Olympic and cultural centres in the regions.
2011 was a Year of Tourism in Azerbaijan and here too, there was progress in using the country's geographical location, beauty and natural resources towards making it an elite tourism centre.
The building of 6 five-star hotels in Baku indicates international investor confidence in this potential. The Kempinski and Hilton hotels opened in Baku in 2011. The Marriott, Four Seasons, Fairmont and Jumeirah are also scheduled to open in the capital early in 2012. Hotels are being built to contemporary requirements in the regions, including in Shemakha, Guba, Lenkeran and Qabala.
Regional development is also important. Over 80,000 jobs were created in 2011, more than 50,000 of them permanent. In fact, more than 900,000 jobs were created between February 2004 and November 2011; this has been the major factor in reducing unemployment.
The construction of a modern infrastructure in the regions – medical institutions, schools, sports and health complexes, roads and gas pipelines was also continued in 2011.
The State Programme on the Social and Economic Development of the Regions of the Azerbaijan Republic (2004-2008) has been extended. Between 2004 and 2011 it resulted in more than 40,000 new institutions being established. More than 2,000 schools, about 400 medical institutions and 29 Olympic Sport Centres were constructed and opened in the regions.
The 2011-2013 State Programme on the Social and Economic Development of Baku and its Settlements is also underway. Nine presidential orders have already been signed under the programme; 28.5 million AZN has been allocated from the President's Reserve Fund for appropriate projects.
Energy and transport
In 2011, foreign trade turnover was seven times that of 1991; the figure for imports was 3.5 times greater and for exports 10.1 times greater. Azerbaijan now trades with about 150 countries.
The oil and gas sectors constitute the bulk of the economy and continue their success. In 2010 alone, 51 million tons of oil were produced, most for export and 27 billion cubic metres of gas were produced. Current gas reserves amount to 2.2 trillion cubic metres. Production figures for oil and gas are expected to show a rise of 3-5 per cent in 2011.
Between 2006 and 2011, new, 1500 megawatt electric power stations were constructed or refurbished. The country now has 6.5 thousand megawatts of generating capacity and work continues. The Shimal-2 electric power station is under construction and work on the Janub station continues. They are expected to produce 780 megawatts of electric energy.
New investment projects are in preparation and work continues on the second stage of Shah Deniz, one of the world's largest gas deposits. Shah Deniz alone holds 1.2 trillion cubic metres of gas. Sources of alternative and restored energy are also being investigated, with the first pilot project already underway; hybrid wind-solar electricity stations are in operation. Work is being done on the production of solar batteries.
Modern, well-equipped healthcare institutions were opened in 2010-2011.
Transportation is important to economic development and is also receiving greater investment. Road construction continued during the year, new planes were purchased, the foundations of the new trading port were laid and construction of a shipbuilding plant began. The aim is to establish a robust, modern, transport infrastructure. Tankers and dry cargo ships have been bought in to develop sea transport and a special programme to develop the railways is in preparation. Construction continues of the Baku-Tbilisi-Kars railway, a joint project between Azerbaijan, Georgia and Turkey.
The non-oil sector
A new industrial complex at Gadabey was launched and a large metallurgy complex is expected to open soon as part of the drive to raise per capita gross domestic product to the level of developed countries. It stands now at 6,000 USD, the highest in the Commonwealth of Independent States. There was, however, a slight decline in oil production in 2011 and industrial production fell correspondingly. From 2001-2011, the volume of non-oil sector production increased by a factor of 2.8. From 2006-2011, the non-oil sector's share of GDP increased from 40.7 per cent to 44.4 per cent, the oil sector's share falling from 53.8 per cent to 48.5 per cent.
A new aluminium plant was launched and hundreds of large and small businesses were established in the republic in the oil and chemical industries.
The regions also benefited from extensive gasification. 95 per cent coverage by gas supplies is planned for 2013. 300-350 billion cubic metres of new gas reserves were established during the year, bringing confirmed reserves to 2.6 trillion cubic metres. Fertilizers, seeds and agricultural equipment are provided to farmers at concessionary rates and agriculture's contribution to the economy increased in 2010-2011. The variety and quality of goods displayed at an exhibition dedicated to the 20th anniversary of independence demonstrated the broad range of agricultural products and industrial goods produced in the republic. There is great demand for these products and they are already establishing a competitive edge.
Entrepreneurs and finance
Entrepreneurs continue to receive support and the number of jobs created is one result; the country is also expanding its investments abroad.
Recent years, including 2011, saw developments in the information and communication sector and this has attracted the attention of international financial institutions. Broadband Internet is now in wide use.
Much was done last year to combat bribery and corruption and recent years have also seen substantial changes to the financial system and banking sector. As a result, from 2003-2011 bank assets increased 15-fold, people's deposits by 36 times, and credit in the economy by 19.6 times. In the same period state budget income increased by 9.5 times. The republic's foreign currency reserves now total more than $40 billion.
Regional relations and security
Standing at the forefront of regional foreign policy in 2011 were: settlement of the Armenia-Azerbaijan, Nagorno-Karabakh conflict based on the country's territorial integrity; preserving good neighbourly relations in the Caspian Sea region; the establishment of trust, active cooperation and the deepening of partnerships; strengthening the country's position in the export and transportation of hydrocarbon resources and effective use of its unique multicultural make-up and geopolitical position to contribute to intercultural dialogue.
In 2011, military expenditure amounted to $3 billion and there was much progress in strengthening the army's material and technical base. The forces possess modern airplanes and battle and military transport helicopters and the president, in a speech given at the military parade held on the 93rd anniversary of the armed forces, stated, Azerbaijan has a disciplined army and its professionalism is increasing. There is enthusiasm in the armed forces.
Karabakh
The country's greatest problem and most important concern is settlement of the Armenia-Azerbaijan, Nagorno-Karabakh problem. However, we were not able to achieve any progress on this issue; the conflict remains unresolved and represents the greatest source of danger to the whole region. However, the European Parliament adopted a very just resolution on the conflict and the European Union continues to support the country's territorial integrity. In 2011, the search for a settlement continued, but the army was also strengthened.
International relations expand
In 2011, foreign policy was conducted on both bilateral and multilateral planes. The republic currently has diplomatic representations in 65 countries.
On 24 October Azerbaijan was elected one of the ten non-permanent members of the United Nations Security Council. For the next two years it will be able to make direct input to Security Council discussions and resolutions. Resolutions 822, 853, 874 and 884 adopted by the UN Security Council in 1993, remain unimplemented. Azerbaijan is also a member of the OSCE, the Council of Europe, the Organization of Islamic Conference, the Organization of Black Sea Economic Cooperation and has representations to the European Union and NATO.
In 2011, close cooperation and the successful continuation of peaceful relations with neighbouring countries was a priority for foreign policy and economic, political, cultural, scientific and other relations were expanded.
The Forum on Inter-Cultural Dialogue, in Baku in 2011, was well-received internationally, as was the International Humanitarian Forum, The 21st Century: Hopes and Challenges held in Baku in October.
Sitting at the junction of West and East provides Azerbaijan with opportunities in the transportation of goods and services from European countries to the increasing capacity of Asian markets and vice versa. Thus cooperation with the Middle East and Asia has a key role in foreign policy.
Looking west, preserving eastern relations
The principal direction for foreign policy strategy is Euro-Atlantic integration. In 2011, Azerbaijan actively pursued cooperation with NATO, the US, Israel, the European Union and Eastern European countries, cooperating with western countries in the exploitation of energy resources. The first conference of the All-Russia – Azerbaijan Congress held in Moscow in 2011 was a measure of the continually developing relationship with Russia.
Summary
Azerbaijan is now in a position to exert international influence and provide for sustainable future economic development with the achievement of production and energy security. From being an importer of energy resources, the country has become an exporter and a reliable partner in the provision of energy security.
In 2011, the country developed stronger relations with neighbouring and Turkic countries, as well as making an impact in the wider international arena.
A concept for the future
A new development strategy is in preparation and new directions sought in order to ensure sustainability against international competition. Azerbaijan 2020: future development concept, signed by President Ilham Aliyev, is crucial here as Azerbaijan enters a new era of economic, social and international developments.