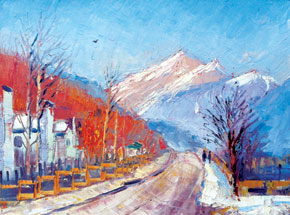 Pages 16-23
by Jeyran Bayramova, Ian Peart, Saadat Ibrahimova
Art! Life! Earth! was the theme attracting 116 artists and sculptors from Azerbaijan, the USA, Germany, Austria, Britain, France, Israel, Italy, South Korea, Kazakhstan, Latvia, Russia, Japan, the Czech Republic, Slovakia and Turkey to the II Gabala International Art Exhibition on 17 and 18 December. Organized by the Culture Fund of Azerbaijan and the Azerbaijan-Korean Cultural Exchange Association SEBA (Seoul-Baku), the exhibition promised too much to ignore.
Home grown
In fact, entering the conference hall of the Qafqaz Resort hotel was a bit like a child's Christmas morning, waking up and trying to decide which of the brightly-wrapped presents to open and explore first. With over 200 works on display, the only way was to plunge in. Farhad Yalguzag soon caught the eye; his Altar and Village Houses had a familiar atmosphere and colour, but an expressionist edge gave them a sharp impact. Samadagha Jafarov's surrealistic views of the Caspian and Mammadkerim Guliyev's Nardaran also presented new angles on typical subjects of the Absheron school of painting. Orkhan Mammadov's more conceptual Flying Carpet intrigued – but more about that later. There were, naturally, fine examples in the traditional Absheron style, from Museyib Amirov, Namiq Mammadov and others. Miraslan Zeyn's submissions were also worked within the genre, but I preferred his Lonely Shore; infused with a compelling spirit of yearning….
The hoopoe is a fabled and fabulous bird; legends in these parts have it as a knowledgeable leader of the birds and its colour and dipping flight are especially invigorating sights. It is quite a frequent motif in Azerbaijani painting; both Vugar Ali and Amrulla Israfilov featured shanapipiks imaginatively re-created. Water-based impressions from Aylel Heydarova and impression pushed to abstraction in her sister's (Aysel Aziz) Colourful Tints of My Land were among the more interesting works by younger artists. Ayten Rzaguliyeva's City without Fog, Evening provided an atmospheric, if traditionally exotic eastern cityscape. Tahir Salahov is firmly established as one of the country's most eminent and distinctive of painters and it was impossible to ignore the majesty of his portrait of Mahmud Ibrahimbeyov
International artists
This is not to say that international artists were left in the shadows – far from it, there was equal variety and colour. Highlights included Sophie Marland's Dawn of the Drying Forest – all the scale and light of nature drawing you along its winding way to a bright but undefined destination. The rather more abstract but equally attracting Pieces of Nature by Maria Dierker; the textured romance of Shin Ki's Korean landscape contrast with the coexistence of long-established cultural roots and gritty modernity in Saule Suleymanova's Tekemet and then we are back on a journey into intriguing abstraction with Eva Verhnjak's Long road to….2.
There was also a small stand of sculptures with creations interesting enough to whet the appetite for more: Silvia Krupinska's organic forms and Khanlar Ahmedov's Sea Shore vying for attention.
It was a little disappointing that attendance over the two days was generally limited to the various dignitaries, artists and media – few members of the general public were in evidence. This will probably be addressed as the exhibition gets further into its stride and it was all the more heartening to see visiting artists making the most of the location and the chance to exchange experiences and ideas.
I'll be back!
The earth for me is always something that keeps the spirit of our ancestors. And I tried to pass it on through my paintings
said Saule Suleymanova, confessing that she had loved Azerbaijan and experienced a similar feeling of ancestral spirit from the moment she stepped off the plane.
I can't explain this feeling through words, but I felt the same spirit here in Azerbaijan. I felt it even in your artists' works, these very talented works. You really have a very successful school of artists. As it seemed to me, art is much respected in your country.
Silvia Krupinska was born in a national park in Slovakia and turns to nature for sculptural inspiration, often setting her work in a natural environment:
We should comment and give back what we can to nature after we have used it.
She had, however, also been impressed by a visit to Baku's Museum of Modern Art
One of the most impressive museums I've seen, with its open space and ambience, its wall space for children's art – the quality of work was fantastic. I remember how proud I was when my work was shown; it can change lives.
She is in a dialogue with the Museum and hopes for future collaboration.
Fingers crossed for that! It's been such an honour to be part of this exhibition. I feel privileged to represent Slovakia and seeing the Slovak flag with the other 17 made me feel proud. I have had an amazing experience. As soon as I arrived in Baku and Gabala, I felt looked after and quite overwhelmed with the beauty of the country and kindness and welcoming of the people. I was able to meet so many interesting artists during the event.... Now I have been introduced to Azerbaijan, I can assure you I'll be coming back again! I just love it!
Totally positive
Impressed by Silvia's works, Azerbaijani artist Miraslan Zeyn told us that compared to sculpture, painting is much more developed in Azerbaijan.
We do have very strong sculptors in Azerbaijan, but there are more painters. I think painting is the most independent form of art, demanding only ideas and inspiration from the artist. Theatre and film, for example, are more dependent on other factors which somehow impose more limitations.
After working for some time as a designer, Miraslan has recently devoted more time to 'free' art – good news, judging from the work on display in Gabala.
Andrew Evans is a Welshman through and through, but was immediately enthusiastic about the chance to explore new territory. He had arrived in Qabala via contact with Kabira Aliyeva (see our last edition about her London exhibition) which had led to The European Azerbaijan Society… His response?
Totally positive! I'll be going back to the UK, to Wales, singing its praises.
He was also getting positive feedback about his work. Leyla and Sayyara khanim, two local visitors to the exhibition, were very taken with his autumn scene of the agricultural valley near his home; indeed the painting's title, Two for Joy, described their response to it, as well as referencing the country rhyme about magpies. Sayyara khanim was anxious to write her own contribution to our notes, thus: It is a very beautiful picture.
Connections
People's friendliness was the first point Englishman Tom Young wanted to share with us:
Gabala is a really beautiful place. I am amazed by the hospitality and kindness of local people. The first day I arrived here I decided to capture my impressions in painting. So, the 'Caucasian Mountains, Gabala' was born. And I had an interesting experience doing it. While I was painting, a fly flew onto my painting and got stuck in the wet oil paint. Standing near me a security guard could see that it might spoil the painting, so without me asking, he found a toothpick and picked off the fly. This made a mark in the paint which I turned into a bird flying in the sky. We all laughed. It was a great experience - to see how art can bring people together. I was touched by his generosity!
Besides that still-wet painting, Tom had other works in the exhibition. One, Bekaa Valley, Lebanon had already indicated his interest in what he called gateway places, in between civilisations, so he was in his element in the Caucasus and tantalised by the Caspian he'd glimpsed on the way through.
In contrast to Tom's mainly figurative work, there were others who responded in abstract to the exhibition's themes. Azerbaijani artist Orkhan Mammadov captured his idea of earth and life in the form of a flying carpet; abstract but holding on to local tradition and values. Despite (because of?) their different approaches, Mammadov was the artist whose work appealed most to Tom Young.
It was good to meet the Azerbaijani artist Orkhan Mammadov. We were exchanging ideas and techniques, and he was interested to see how I painted. We went outside the hotel complex to the street outside, where I could get a better view of the mountains. He was able to translate what the local workers and taxi drivers were saying to me as I painted - although art itself is a language that we all share, so it is not always necessary to speak the language. But I did learn a few words!
One man on the street showed me many pictures of various spectacular sunsets he had photographed on his mobile phone. So I could see how local people value the landscape. It was a great experience to share our ideas and views about art. I was inspired by Orkhan´s more conceptual approach to painting, and in future I will see how I can infuse conceptual ideas with what he called my ´impressionist soul´.
We should just be thankful….
A distinguished supporter of the event, South Korea's ambassador to Azerbaijan, H.E. Li Chi Ha, told us that the Gabala exhibition was an integral part of intercultural dialogue and expressed the hope that this celebration of fine art would become a regular event.
This exhibition….is being held for the second time in a very pleasant and beautiful place: Gabala. It is really a good platform for artists, sculptors and other creative people to change their views, to share their ideas and to make the world different. I think that in the future it will be good to conduct such events not only in Gabala, but in other regions of Azerbaijan as well, including the capital, Baku. I really liked many paintings here. As I can see, each painter has their own approach that comes from what he or she has captured in their mind. For me, the most interesting approach is seen here in the painting by Samadagha Jafarov. The boy and his dog have the same look. This painting (The Caspian Sea and Soil) is really heart-warming.
Looking at the many paintings on display underlined the indispensable role artists have in our attempts to understand the world. They help us to see the world as colourful and diverse. Tahir Salakhov, Vice-President of the Russian Academy of Arts and People's Artist of both Russia and Azerbaijan, was right in requesting our indulgence for artists:
Waking up in the morning, every single artist wishes to create a new painting and make something for his family, people and homeland. Sometimes it works, sometimes it doesn't work. Artists should never be judged. They are open to society; they always want to give people a gift. What we should do is just be thankful for their talent.
As we should be thankful for the chance to see the works of so many talented artists and to look forward to the III Gabala International Art Exhibition.
Silvia Krupinska (Slovakia):
I've had many ideas and inspirations while admiring the nature in Azerbaijan. I was born under the mountains back in Slovakia and Gabala's setting is incredibly similar to that. If I were to come back again, I would visit the local rivers and the sea coast, and explore the stones and found objects as sculpting material.
Tom Young (England):
I was impressed by the beautiful landscapes around Gabala, and the sense of luminous light and space that I try to capture in my painting. I would like to do more work on this- to create my own ´dream´ of what I feel in Azerbaijan, the country. I'm interested in its identity as the ´Land of Fire´, and how the 8 point star on the flag comes from this legend. I have heard about fire that comes out of rocks and ancient temples that celebrate this phenomenon. This feels like a metaphor for a passionate, creative soul. I´d like to use these legends somehow in my work, and contrast them with the ice and snow in the mountains and the water of the Caspian - to show the extraordinary contrasts of landscape and climate in Azerbaijan - that are in turn metaphors for the mix of different cultures, and the hot and cold that we all have inside us - wherever we are from.
Saule Suleymanova (Kazakhstan):
Azerbaijan is always a sister country to me. It is a country associated with something dynamic, bright and soft at the same time. I can even say that it is a gentle country. In Azerbaijan I feel that I have been here for ages. I think the first thing I'll capture in my painting about your country is a compound of past and present which is a very important thing for me as an artist.