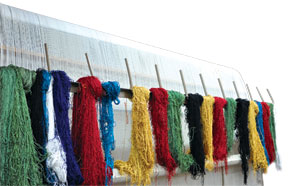 Pages 88-90
by Farhad Mammadov
Not content with occupying the lands of Karabakh, it seems that Armenians want to claim and register as all their own the Karabakh carpets as well as other historical, cultural and artistic works that were created on the occupied territories of Azerbaijan. An article placed on the Caucasian Knot website announced that a museum of antique and modern Karabakh carpets had been opened in the occupied city of Shusha (http://www.kavkaz-uzel.ru/articles/193486/). The article says that dozens of rare carpets and kilims have been collected from the various villages of Nagorno Karabakh for exhibition in the museum. Some of them are more than one hundred years old and are considered to be rare examples of the craft, and many have been sent to Armenia for 'restoration'.
Although little is said about the creators of these carpets, it is clear that many were woven by masters of a strong carpet-making tradition among Karakabkh Azerbaijanis. There were so many carpets that Azerbaijanis had no opportunity to take with them when they were forced to leave their homes and property. Many beautiful products of the Karabakh carpet-weaving school were left behind in the deserted houses and workshops. Azerbaijani art workers and specialists have long been warning that Karabakh carpets have been displayed in foreign museums and exhibitions as Armenian carpets.
At this point, perhaps we should remind readers that:
The traditional art of Azerbaijani carpet weaving in the Republic of Azerbaijan including from the Karabagh region, Bard, as well as Jebrail, Agdam, Fizuli, and Shusha (now relocated to Baku) were added to UNESCO's Representative List Of The Intangible Cultural Heritage last year (see www.unesco.org/culture/ich/doc/download.php?versionID=07258)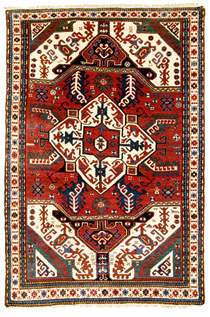 Karabakh Group. Qubadli, Azerbaijan
No carpet weavers left in Karabakh
No company is now producing carpets in Nagorno Karabakh, according to Robert Babayan, director of the Soviet era carpet weaving factory in Khankendi; he says that there were about 200 workers at the factory and all the carpets produced were sent to Baku. He says that the carpet-weaving factory closed after the Karabakh war, citing high production costs.
Meanwhile, the self-named 'Ministry of Culture' of the separatist regime states that they do not have the professionals to study Karabakh carpets. It is evident that the industry is now completely paralysed.
David Arushanyan, presented as an expert on Karabakh carpets (despite the 'Ministry' statement that there are no professionals there) says that there are no carpet weavers left in Karabakh. He says that the carpets exhibited are the work of the old masters.
However, he does not say which masters. Azerbaijani people who created and wove Karabakh carpets have been 'internally displaced people' (IDPs) for 20 years now. Like all their Azerbaijani compatriots from Nagorno Karabakh and seven surrounding regions, they have also been deprived of their work, property and homes.
Some might draw the conclusion that in killing or expelling the Azerbaijani population of Karabakh, the Armenians also killed or expelled the carpet weavers and professionals. But the Karabakh carpets exhibited in the museum created in Shusha are represented by Mr Arushanyan as being exclusively Armenian.
Karabakh carpets and their history provide evidence that the Armenians were latecomers to these lands. Carpet weaving is an Azerbaijani speciality of the region, as mentioned in the UN citation. According to art and carpet experts, the Karabakh carpet-weaving school, located in the south-west of Azerbaijan, was developed in the mountainous and lowland (aran) zones. Records written by 10th century Arab historians Al - Mugaddasi, Masudi and others, identified Shusha city and surrounding villages in the mountainous part of Karabakh, as a great centre of handicrafts, wool and cotton processing, with carpet weaving being very important. In the lowland (aran) regions, much better supplied with raw materials than the mountainous areas, Jabrail, Aghdam, Barda and Fuzuli were very important to carpet-making.
Zili. Karabakh Group. Kelbajar, Azerbaijan
Once a thriving industry
From the 18th century onwards, the Karabakh carpet school was centred on Shusha. Together with the classical cheshni carpets, Shusha produced new carpet designs: cheshnis such as Bagchadaguller, Sakhsidaguller and Bulud, whose patterns were taken from salvers, aromatic soaps, prints and other every-day life objects brought from Russia and Europe. A carpet-weaving factory was opened in Aghdam in 1939; it had 500 employees. Robert Babayan, mentioned in the Caucasian Knot's article, was director of its branch in Khankendi. From 1956, Karabakh carpets were woven in branches opened in the Aghdam, Shusha, Khankendi, Zengilan, Khojaly, Jabrail and Lachin regions which are now all under occupation. There was a time when there were carpet-weaving plants in Malibeyli, Dashbulaq and many other settlements of Karabakh. Since the occupation, carpets, as well as the population, have been displaced from Karabakh. The carpet-weaving plants in the occupied territories have been destroyed, and their artisans dispersed to various parts of the country, including the one that used to work in Aghdam, but functions now in Barda region.
Identity
The Azerbaijan State Museum of Carpets and Applied Arts was established in 1967 in order to preserve carpet weaving. It currently holds more than six hundred Karabakh carpets as exhibits. Professor Kubra Aliyeva, deputy director of scientific work at the Institute of Architecture and Art of the Azerbaijan National Academy of Sciences, says that there are many instances of the misappropriation of Azerbaijani carpets by Armenians over time:
Armenians present historical Karabakh carpets as their own. Even now Karabakh carpets, which have their own national patterns and design connotations, are stolen. Armenians introduce themselves to the world with carpets belonging to Azerbaijan. They nationalize these carpets and exhibit them in the world's museums.
Carpets like the Khanliq, Shusha, Nalbaki gul, and Ag chichaklar are put on sale in European countries, as the products of Armenian carpet-weaving traditions. Zohra Aliyeva, from the Ministry of Culture and Tourism's press service, pointed out that Armenian art historians confirm that they have misappropriated Karabakh carpet weaving masterpieces:
Of course, we try to prevent such cases and present incontrovertible facts proving that those carpets have no connection with Armenians.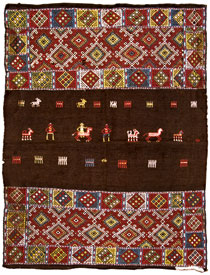 Carpet represented as Armenian in the museum, Shusha, currently occupied by Armenia
One researcher, George O'Bannon, writes in his article A Group of Rugs Attributed to Shusha that these carpets are an example of Shusha city carpets and reflect the taste and traditions of the urban population of Azerbaijan.
We should mention that the Caucasian Knot article is accompanied by photographs taken at the museum opened in Shusha. Two types of kilims are shown in the photographs. We presented these photos to the Latif Karimov State Museum of Azerbaijani Carpets and Applied Arts and researched the origins of the examples presented by the Armenians as their own. A review of the photographs made by the museum's experts confirmed that they belong to the Karabakh school of carpet weaving. Professor Mammadhasan Huseynov of the Azerbaijan State Academy of Art, and the museum's expert on carpet weaving, said that the first photograph shows a khovlu kilim of the Karabakh school. The second kilim contains elements of both the Shirvan and Karabakh schools of carpet weaving.
It only adds to the human tragedy of the ethnic cleansing of Karabakh that such a creative and productive culture no longer exists there, as is now acknowledged by the Armenians themselves.
About the Author:
Farhad Mammadov is an analyst of the Nagorno Karabakh conflict; the author of articles and research on this topic.