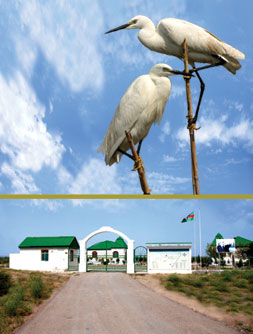 Pages 70-74
by Fiona Maclachlan
I like to visit Azerbaijan´s National Parks. They are managed, developed and promoted by Azerbaijan´s Ministry of Ecology and Natural Resources, based in Baku, Azerbaijan's capital. The international community is taking ever more notice of the world´s countryside and environmental issues and I´ve been discovering plenty of reasons to take a close look at the parks here.
First and foremost, I enjoy the natural environment, and in Azerbaijan there is an amazing variety of ´nature´ because of the diverse geography. My aim is to go along to the parks, see what there is to see, find out about visitor facilities, and then tell you about them. We hope to increase international awareness and maybe visitor numbers too. You can see the previous articles on the visions.az website. These articles are also posted on the website of Azerbaijan´s Ministry of Ecology and Natural Resources. All Azerbaijan´s National Parks are intended to be open to the public, but because the country and its various facilities are undergoing development, then some National Parks are more ´open´ than others. The easiest to visit, in my experience, is the fabulous Shirvan National Park. But others are also welcoming, including Alti Aghach, Hirkan and Absheron National Parks.
Ag Gol National Park
You will find Ag Gol National Park in the low-lying plain of the Rivers Kur and Araz. It comprises a marshy ecological system with a semi-desert landscape and is an important wintering and nesting place for birds, especially wetland birds, with many of the species being migratory.
Over 140 species of birds are found in the park, including 89 species of nesting birds (partridge, spoonbill, swan, teal, bustard etc).
Ag Gol is an Important Bird Area (a BirdLife International designation), a Ramsar wetland of International Importance (since 2001) and is incorporated into UNESCO´s convention 'On internationally important marshy areas as the residing places of birds'. Visitor facilities are currently limited, due in part to severe flooding last year. There will soon be more facilities, in keeping with other National Parks in Azerbaijan and consistent with plans for the development of tourism. At the moment entrance to Ag Gol National Park costs 2 manats for a local person and 4 manats for a foreign guest.
For further information, see Azerbaijan´s Ministry of Ecology and Natural Resources website. eco.gov.az/en/milliparklar-aggol.php.
Where is it?
If you imagine a point due south of somewhere between Kurdamir and Yevlax (on the road to Ganja from Baku), then you would find Ag Gol. The nearest towns are Aghjabedi and Beylagan. It´s not so far from the border of Iran, and towards the occupied area. Ag Gol, which translates as ´White Lake´, is more precisely located on page 278 of Mark Elliot´s Azerbaijan book (4th edition).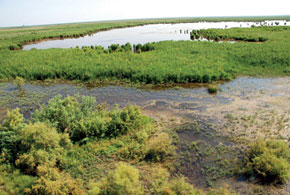 Arranging the visit
During a two week winter trip to Azerbaijan, I wrote to the Minister at the Ministry of Ecology and Natural Resources to request permission to visit the park. The permission arrived in time and I was pleased to be able to realise my plans.
The park staff recommended that I stayed overnight at a local hotel, but I had insufficient time. However, I would recommend that you consider this option as journey times are long and bird watching shouldn't be rushed. You'll also get a much better feel for the place.
Winter is a perfect time of year for seeing the migratory bird life.
In summer there are fewer birds of interest and perhaps some biting mosquitoes (and consequently the potential risk of malaria), so winter is altogether the most advantageous time to go.
The journey
The first day of February, and the day before I´m due to fly back to the UK, I am excited to be on my way to Ag Gol. The new roads in Azerbaijan made the first part of the journey easy; closer to the park we had the joy of negotiating our way along the more interesting smaller and rougher roads through towns and villages. Take care not to underestimate the travelling time, and take plenty stops for tea.
Approaching the park
The access road, washed away by the floods just last year, is due to be replaced.
Instead, by arrangement, we met the Park Director in Aghjabedi, a relatively prosperous looking town. The director invited us to travel in a Park vehicle, a Lada Niva 4x4, as it is best suited to the terrain.
We piled into the Niva - me, my driver, a Park Ranger (Sadig) and the Park Director (Mehdiyev Logman Miraga oglu).
The Park Director hands me a useful information sheet he has put together about the park. It´s in Azerbaijani, and my driver translates it for me. So I learn about how the water in the lakes is between half a metre and two and a half metres deep and so on. And in no time we are on our way. I start to relax and take in the scenery.
Unfortunately for me the landscape is turning more and more to … mud. It´s raining non-stop.
Getting closer
We turn off the track and head across the open landscape. This is the way to Ag Gol until the new access road is complete. We´re driving through wet, soggy desert scrub which looks as if it might be sandy but in fact is most definitely muddy. So this is the marshy, semi-desert landscape so loved by wintering birds. It reminds me a little of the landscape of Shirvan National Park and I ask if they have Turaj (Black Francolin) here (as they have in Shirvan National Park). Yes, comes the reply, and we are then looking for Turaj. The Park staff are very helpful and want to show me everything.
Sadig is driving confidently, taking us sometimes directly through the artemisia scrubland and sometimes along the muddiest of tracks. On drier, warmer days I am sure the air would be fragrant, but today – a chilly 3o C - it´s simply cold and wet. We´re relieved to have abandoned the Pajero, as we drive sideways, rally style, through mud, as we plough through scrubland, as we go boldly where we definitely wouldn´t want to take a more urban off-roader.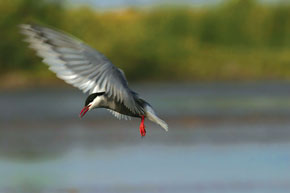 After a good distance we arrive at a bridge which crosses over a waterway some way below. At the far side we wait while another park employee opens a big metal gate, and lets us through into the park.
The park at last
I was trying to take photos out of the car windows, but if they were open then the mud flew in, and if they were closed then you couldn´t see anything for flying mud. If we stopped then the scenery looked - rainy. The landscape was very open, with vegetation typically up to a metre high, and very, very flat. It looked the same for miles and miles and miles, or as many miles as you can see in incessant rain. Being winter, the vegetation was completely brown.
After what felt like an eternity, we reached a lake. The boundary of the lake was marked by phragmite reeds, just as well, or we might have driven straight in. This is the small lake, they explained. And on the lake there were birds!
With the rain pouring down, photography was near impossible. I did my best. We drove on through the vegetation again. Every now and then we would get a glimpse of birds flying in small flocks, and my guides would point excitedly. Maybe on a good day I would have requested them to stop, then calmly and quietly got out of the car, had a look around, asked for the car engine to be switched off so I could listen, and taken, perhaps, some good photos. But the pouring rain and excitement of the drive - got to keep moving through the mud, don´t want to get stuck here - was against any such action.
We drove around a little further, "This is another lake", they explained. "The big one?" I asked. "Well, really, there are lots of lakes", came the reply.
We did stop there, for a moment. It seemed drier underfoot, so I got out and looked around. The nearest bird was a Mallard duck. The rest were in the gloom, on the other side of the lake.
The environment – rainy, muddy and cold - was definitely not welcoming, but this was more than compensated for by the willingness of the park staff to go out of their way to show me everything they could.
Interestingly, the Park Staff were keen to point out the jeyran (gazelles). This is gazelle country; open, flat, no trees. Gazelles can run and run, which seems to be what they like to do when they´re not grazing. We saw twelve. There are fourteen altogether, the Park Director explained, but two go by themselves. The gazelles have been re-introduced. Eight were brought here, and now we have fourteen. There should perhaps be more by now.
I think I was expected to be impressed by the gazelles. And I was - I mean how can you fail to be? They are such beautiful animals. But I had come to see birds. Spoonbills, Little Bustards, Pelicans… not to mention all manner of ducks. You can see gazelles any day of the week at Shirvan Milli Park, so if you want to see gazelles, head there. Not that I had any objection to them being at Ag Gol.
I was glad that in this corner of Azerbaijan there is an amazing, wet, low-lying area which is an absolute haven for birds. It has everything that the visiting rare migrating birds like best - that´s why they come, year after year.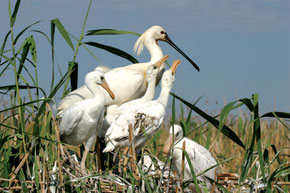 Tea and kebabs, and the opportunity to find out more
Reluctantly we felt it was time to leave the park. The exit seemed much faster than the arrival, and in no time we were re-united with our car and taken for an excellent traditional meal - kebabs - in a local restaurant.
Here at last, on dry land, I could get out the bird book I had found (thanks, Sandra!), with pen and paper and ask some questions.
One of the main purposes of the park staff is protection, they explain, and they proudly told me how they catch people who like to hunt and shoot. They recently caught three people who were carrying weapons. The fines are high, so anyone caught hunting is in big trouble.
We chat a little about the spoonbills arriving in autumn, the flamingoes which winter mostly in the Beylagan area (a little south of the park), always arriving in autumn and flying in spring. We chat about the pelicans coming in winter. The director describes the success of the Soltan Toyug, a red book species, reintroduced, it is now everywhere here. He smiles; he says he enjoys his work.
We went through my bird book which, thanks to a project associated with the BTC Pipeline some years ago, was in both English and Azerbaijani. I pointed at the pictures and the names, and the Director was able to tell me whether they had this bird in the park, and the numbers of the birds they had counted. It was a Caspian Sea book rather than inland, but it had to suffice. (Biodiversity: Waterfowl in the Azerbaijan Sector of the Caspian Sea, Ilyas Babayev, Faig Asgerov, Fizuli Ahmedov. Copyright 2007 BP Caspian Sea Limited. ISBN: 9952-426-66-6)
Our Director says he has seen the White Pelican (Pelecanus onocrotalus), and the Dalmation Pelican (Pelecanus crispus). (The book says that Ag Gol is the main breeding place for the Dalmation Pelican in Azerbaijan.) He says there are some 98,000 Great Cormorants (Phalacrocorax carbo) and 140,000 Pygmy Cormorants (Phalacrocorax pygmeus). They see Greylag Geese (Anser anser) - familiar to me from Scotland – which, according to the book, arrive on Ag Gol in the second 10 days of March, building their nests here at the beginning of April. Another goose, the White Fronted Goose (Anser albifrons) number some 140,000 here (contradicting the 150 individuals listed in the book). There are lots, says the Director. Whooper Swans (Cygnus cygnus) number 246, and 177 Bewick's Swans (Cygnus Bewickii) have been counted, as well as 570 reddish yellow Ruddy Shelducks (Tadorna ferruginea). The familiar Mallard (Anas platyrhynchos) numbers some 186,000. No wonder I saw one. They also see Common Goldeneye (Bucephala clanqula).
According to the Ministry of Ecology and Natural Resources, bird counts have been carried out by specialists from the Ministry of Ecology and Natural Resources, in cooperation with the ANAS Zoological Institute and Baku State University.
Afterthought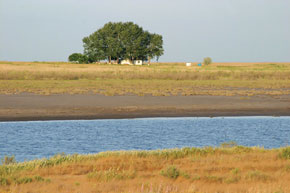 Azerbaijan has a very special habitat at Ag Gol. Indeed, my visit there was the highlight of my two week stay in the country. This was despite the weather. By all accounts the rain I experienced followed a long, dry period. The chances are you will be much luckier with the weather on your visit, and therefore the visibility will be better.
In a strange way, the scenery was beautiful and seemed familiar to me, but then I grew up near what is now called the Flow Country in the far North of Scotland. The Flow Country also has a desolate but somehow captivating appearance.
Regardless of what I think, birds are Ag Gol's biggest fan.
Take just one species, the Little Bustard (Tetrax tetrax). Look it up on the birdlife website: http://www.birdlife.org/datazone/speciesfactsheet.php?id=2759. Look at what the site says about its numbers in Azerbaijan. The Little Bustard absolutely needs Ag Gol.
And then look at this 2005 thesis by Anke Gaude, http://laoek.botanik.uni-greifswald.de/literatur/diplom/Gaude202005.pdf . It looks at the socio-economic situation and land use conflicts in the Ag Gol National Park Region. The thesis is dominated by the problems associated with the presence of IDPs (Internally Displaced People as a result of the Karabagh conflict). I would like to see the IDPs returning to their home. This would be best for both the birds and the IDPs.
Thanks
Ag Gol National Park staff were very kind and generous in taking me out onto the park, especially given the particularly difficult and inhospitable conditions on the day, and given that the usual access to the park is unusable. I appreciate the arrangements made by the Ministry of Ecology and Natural Resources which allowed my visit to take place. I would encourage any interested visitors to apply to the Ministry for permission for access. Not only is this the correct procedure in Azerbaijan, I simply couldn´t have seen anything at all without their support. The Visions team were wonderful in their support of my trip to Azerbaijan and special thanks also to Zaur who drove me to Ag Gol (well nearly), and back - not a day trip for the faint hearted. You need three days for this trip, but I only had one.
Thanks also to Hartmut Ernst Müller for the photographs used in this article.