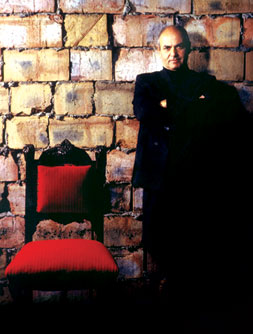 Pages 66-69
by Turan Mammadaliyeva
The 1960s saw the dawning of a golden era for Azerbaijani jazz. It was a decade with a very particular environment, nurturing the flourishing of many styles in the country's jazz life. Innovations of the time included free flight as well as intensive styles; the quality improved and the period witnessed some unique and brilliant talents.
One of the finds of the 60s was jazz composer and pianist Rafiq Farzi oglu Babayev (1936-1994).
Babayev was born in Baku on 31 March 1936, into the family of Farzi and Shahbayim Babayev. He was the fourth of the family's five children. Hardwork, education and comprehensive knowledge were fostered in all the children from their earliest years. With this upbringing, all of them found their station in life, but perhaps the most suitably placed was Rafiq. He received his first music education in the music school attached to the Azerbaijan State Conservatoire, and continued in the piano class at the Asaf Zeynalli vocational music school. Rafiq was already seen as a developing performer as he pursued his interest in jazz. He had a sharp musical ear, enthusiasm, perfected technique and beautiful talent. His studies of European romantic music (especially Chopin, Liszt, Rachmaninoff and Scriabin), and Azerbaijani classical music (Uzeyir Hajibeyov, Gara Garayev, Jovdat Hajiyev, Fikret Amirov, Rauf Hajiyev and others) strengthened his interest in jazz music, as well as sharpening his ear for picking up its nuances.
However, in 1957, while still studying at the Conservatoire, the young Babayev participated in the 4th Youth and Students' World Festival in Moscow, presenting his first composition in ethnic-modal form.
He went on to form and lead several groups, promoting the country's music culture on tours of several countries – the USA, France, Belgium, Canada, Mexico, India, Libya, Syria among others. A look at the groups he led indicates that his creative work developed in stages.
Talent and learning the basics
There was certainly about him a natural individuality and personal outlook. This feature was most fully apparent in his talent as composer and musician, of course, but he made his brilliant mark on every field he touched. Although he is known for his musical contribution, it is worth noting his other talents; he was also blessed with mathematical and literary abilities.
Rafiq's musical thinking, especially his approach to jazz, took various forms. The 1960s saw him delve into traditional jazz, mainstream, blues, cool, and bop. He learned the classic jazz standards in his first quartet with double bass player A.Hodja-Bagirov, guitarist Y.Sardarov, and drummer A.Dadashov, while also improvising on themes taken from his predecessors Gara Garayev and Rauf Hajiyev. His vinyl record, released in 1970 and including improvisations on themes from Rauf Hajiyev's operettas Cuba – My Love and Fourth Vertebra, reflected his grasp of the jazz classics and sums up the first, traditional, stage of his work.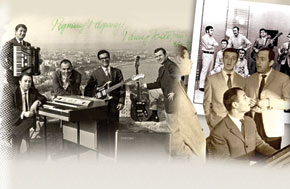 Babayev's studies of style reflected the diversity of his interests and focused on a new beginning – a national spirit and personality, alongside a personal jazz style. National music was always of great interest to him and an important source of inspiration. This strand was most prominent from 1966-1982, as he worked with the popular singer Rashid Behbudov at his Song Theatre. Rafiq arranged folk and variety songs in his own distinctive style, combining jazz and national motifs. This was the period in which his talent as an arranger and interpreter developed fully. In his interpretations of folk songs, national dances, as well as modern compositions, Babayev combined specific rhythmic patterns, the modal-melodic features of Azerbaijani folk music and elements of fusion and jazz-rock, which were the vogue in jazz at the time. Well-known Azerbaijani songs – Sari Gelin, Dur gel, Garagile – with their haunting beauty, and the music of Said Rustamov and Tofig Guliyev, were worked into Babayev's arrangements with delicacy and respect for the text. He then moved on (1983-1989) to lead the Azerbaijan Television and Radio Variety Symphony Orchestra, (which had a jazz group attached to it); this allowed him to show his facility as an arranger for orchestra.
Folk and jazz fusion
He led various ensembles: the Jangi instrumental group (1971), a Jazz ensemble formed from the Variety Symphony Orchestra (1983), and the Jangi jazz band (1991). With these groups, Babayev turned to fusion and modal-jazz, based on folk music. Strangely, these ventures provoked different responses. The jazz researcher Frederick Starr noted:
The more rigorous critical standards placed particularly high value on original compositions, especially those embodying indigenous musical ideas. Azerbaijani pianist Rafik Babaev used Central Asian folklore to good advantage in his compositions, while Russian folk themes proliferated in the music written by Alexei Zubov for his quartet Rondo. [1, p. 279].
Russian musicologist and jazz critic Vladimir Feuertag, while considering national themes or song materials the main factor grounding the Soviet jazz repertoire noted:
The formation of a unique repertoire does not derive solely from folk songs, but is more about creating compositions which reflect an in-depth knowledge of the national culture. This knowledge should reveal itself in the composition's theme, as well as in its improvisations. [1, p. 213].
Among the first groups to demonstrate this quality to brilliant effect and consequently attract interest, the critic mentions Babayev's Jangi, playing his composition Mugham.
Babayev's individual way of thinking is quite apparent in his jazz compositions and in the music he composed for many films. This thinking emerges in his selection and means of expression, based on three main elements – jazz, European and Azerbaijani classic music. Perhaps the composer's individual style may be encapsulated by the following: Rafiq Babayev's style is based on immanent elements of jazz; that is not from the structure of blues, but from a merging of the characteristics of Azerbaijani national music with modal-rhythmic models picked up from jazz-rock. His melodies are based on colour and harmony, while rhythm-building is central to his musical language and texture.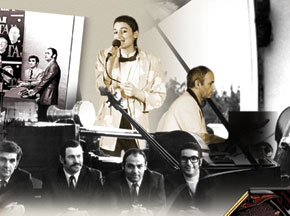 There is a further sense in which he was a pioneer: he was the first composer to discover the qualities of artificial, electronic timbres and to bring their richly expressive palette to Azerbaijani professional jazz music. Indeed, Rafiq was the first composer and arranger to use modern jazz styles and Azerbaijani folk music within a framework of fusion, jazz-rock and modal-jazz. His most notable jazz compositions include Portrait, Azerbaijan Etude, Holiday in the Mountains, Breath of the Earth, and The Phaeton Driver, and are worth seeking out. Babayev's music, inspired by images of his native land, its colour and traditional ways of life, creates its own lyrical and philosophical world. It is a music which, above all, touches people's spirit and inner world with its melancholic mood, radiant sorrow, and accessible intellectualism, controlling complex, delicate feeling.
Legacy
Rafiq Babayev, was a highly intellectual and talented artist, pianist, and arranger; he caught the new pulse of Azerbaijani national and succeeded in revealing its new shades and accents. History endowed him with one more mission – to be the first to establish a school, from which several generations of talent have emerged. They include Jamil Amirov, Siyavush Kerimi, Alasgar Abbasov, Emil Hasanov, Salman Gambarov, Tofig Jabbarov, Gennady Stepanishev, Aziza Mustafa Zadeh, Rain Sultanov and others, who are keeping jazz music alive.
Well known Azerbaijani film director Ogtay Mirgasimov, assigned great value to Babayev's art and compared his whole creative process to "weaving a huge residence" [3, p.51].
Rafiq Babayev died in a terrorist atrocity in Baku's metro on 17 March 1994. How does that residence look 17 years since that loss?
No loss, Rafiq Babayev has simply left us and will return to his residence.
This, with God's help, is a matter of time, and is in the hands of musicians and those immortalizing Babayev's legacy.
NOTES
1. S.Frederick Starr. Red and Hot. The Fate of Jazz in the Soviet Union, New York, Limelight editions, 1994
2. Feuertag V. Jazz on the Modern Stage – Stage: What? When? Why? (E.Uvarova ed.) – Moscow, 1988
3. R. Farhadov, F. Babayeva From Theme to Improvisation – Baku, Letterpress, 2010