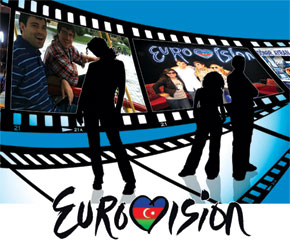 Pages 44-47
by Fiona Maclachlan
An email arrived from a friend in KL who used to live in Baku.
FW: Let´s Hear it for Baku
The content was short and to the point.
This is such a cute song about Baku...In case you missed it, here it is ...
http://www.youtube.com/watch?v=f4-U6TGX1T4
And on clicking on the link I joined the thousands of others around the world who were doing the same, and then passing it on, and on, and on....
Such is the power of social networking. Within a week over 50,000 viewers had seen this ´cute little song´ about Baku, and had passed it on to their friends and colleagues who might also be interested.
And so we see not only how well connected we fans of Baku are, both Azerbaijani and people who have visited or worked in Baku, but also how keen we are to pass on good news about Azerbaijan.
And that´s what this little video is all about. Two young men – the 'Caspian Dreamers' - who, staggered by the excitement on the streets of Baku about the forthcoming Eurovision contest, decided to put together a video and song which would promote the city to the world. Of course there are the exceptionally well made and expensive official tourist videos out there, but not so many people pass those on to their friends.
The real thing
This video is different. It´s about the Baku that we all know and love, warts and all. For anyone who knows the city, the video cleverly and succinctly conjures up the excitement in this city, the buzz, the variety, the humour, the culture, the opportunities, the fun, the challenges, the friendliness.....it´s all here. Created as a parody of Jay-Z and Alicia Keys´ New York City 'Empire State of Mind', the rapping style keys into the huge popularity of rap in Baku. The fact it´s a parody epitomises the early culture of independent Baku; you can see such restaurants as Pizza Hat, where a love of style and design means that the world´s most iconic brands often appear in a slightly different guise.
This desire is being translated into a movement to be the most stylish city on the planet. It is happening fast, before your eyes. As more money arrives in town then we don´t need the copies anymore. Baku has its own style now, and anything branded is the real real thing in its most expensive and glitzy form.
Roll over NYC, Dubai, Moscow... Baku is where it´s happening now.
And yet this video is a bit of a kick back to the days of no money. Well not everyone here has money, and the video was produced on a tiny, tiny budget. About twenty quid in British smackers. Yet another little dig. Despite appearances, you can have fun in Azerbaijan on a relatively small budget. And many people still live here on very little money.
And so the video simply appears to have been made by a couple of talented Azerbaijani guys, messing about on the street, just having some rapping fun.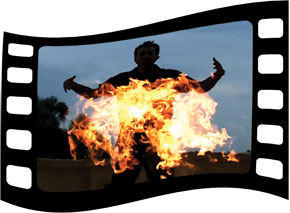 The Azerbaijani audience were entranced, just look at the comments on YouTube. Amazing, When can I have this for my ringtone? Reminds me of home…
When it was revealed that the Caspian Dreamers were American then many viewers had trouble believing that anyone American could know their city, their culture, their language, so well.
PCVs?
That´s because these are no ordinary visitors to Baku, they came to live in Azerbaijan as American Peace Corps Volunteers.
American Peace Corps Volunteers learn Azerbaijani, usually live with local host families, and are typically involved in projects which help local people, often in rural parts of Azerbaijan. Most PCVs stay for a couple of years, occasionally extending for even longer, giving some fortunate Azerbaijani people an opportunity to learn skills which can make life easier for them. These might be English language or business skills, or perhaps agricultural advice. A number of projects are underway throughout the regions of Azerbaijan, mostly small scale, where local people are sometimes mentored one to one. Given the region´s years in poverty following the collapse of the Soviet Union, the help of American Peace Corps Volunteers must have been invaluable for many Azerbaijani families, schools and small businesses over the years.
Many Peace Corps Volunteers grow to love Azerbaijan as a second home, a feeling I can most definitely relate to.
And doesn´t that love for Azerbaijan come across in this video? The idea of ownership, that we can show Baku this way because it´s our city, is this what makes the video so loved by Azerbaijani people?
And yet the idea was to make a video which would welcome foreigners to Azerbaijan, to show them the real Baku, to make them feel that when they come for Eurovision they will feel welcome, that there will be something here for them.
Because of course you will come? I mean, you are practically expected!
The new hotels are all built, the city is being spruced up beyond the wildest dreams of its inhabitants (and previous guests) and Azerbaijan wants to put on a real show. It will be an extravaganza, there is no doubt.
So what really is behind this cute song about Baku?
Imagine my surprise when I realised that I knew one of the ´Azerbaijani´ performers. I mean we had dinner the last time I was over, when I was trying to find out how my favourite Peace Corps project on Community Based Tourism was coming along. An evening with a few of the PCVs was amazing fun. They are such a bright, creative and hardworking group of people, tremendously devoted to their cause, and lovely, jolly company.
So I had to contact Tim McNaught, to say well done with the video, and to ask him about it, to feature its success in this magazine. Luckily we were due to be in Baku at the same time and a few emails later we were chatting over a pizza in Fountain Square. I was almost waiting for his fans to notice that he was in town.
I wanted to meet Brad Kessler too, but he´s up in Ganja, about 6 hours out of town, and so not possible on this visit.
Tim explains, who:
Brad Kessler, from Washington State, has another year left in Azerbaijan as a Peace Corp Volunteer. He is mid way through a Masters in Public Administration (Washington). Brad is really popular in Ganja; he´s into Youth Development and enjoys joining in the fun with local people, playing softball or whatever.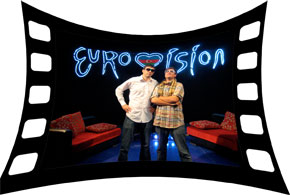 At the recent World Youth Festival in Ganja, Brad got really involved. El and Nikki, Azerbaijan's Eurovision winners, were there. In fact Brad ended up on the stage in front of about 6,000 people, so it seems he is a celebrity in Ganja.
Tim on the other hand, is modest about himself. He is due to leave Baku in about a month. (Oh no, so soon?) An Economics Graduate from University in Miami, Tim´s interest is in economic development.
I asked Tim about how he and Brad got together on this, where the idea came from, and so on, and so, exclusively for us (or maybe not!) here is what Tim told me.
So Brad and I met here in Azerbaijan in the Peace Corps. I´ve been here for two years and Brad has been here for one.
We actually had the same host family for training in Masazir (a village outside of Baku where I currently live). It was just chance that we had the same interests and we got along very well.
I have a lot of experience in filmmaking and writing music in my free time. Brad was in a pop-punk-rock band called Man of Action in Seattle. He was rhythm guitarist and backup vocalist.
..Why…
We didn´t know much about Eurovision before we came to Azerbaijan. However, it was so exciting to be in Azerbaijan this last year when Eldar and Nigar won. Seeing Azerbaijanis celebrate in the streets of Baku was amazing. For the next few days/weeks after their victory, that was all everyone in the streets and on TV was talking about.
Once we realised that Baku would be hosting the next contest we came up with the idea to make a video about Baku to welcome foreigners to Azerbaijan. There are a few tourism videos online, but nothing that shows what life is really like in the city.
As Peace Corps Volunteers, we tend to live in smaller towns outside of Baku. We are always excited to come to Baku as it is truly beautiful and has a lot of modern attractions.
We more or less made the video to entertain ourselves, our friends, and promote Azerbaijan.
… How…
We just made a list of all of the fun things that Volunteers like to do when they are in Baku. And then it´s just a matter of rhyming them closely enough and setting the words to music. We specifically chose the music from Jay-Z´s "Empire State of Mind" (a song that celebrates NYC) as there are many videos on YouTube that use the musical background to write a song about their own city, state, or university. We wanted to add Baku to that list.
The songwriting process was made more difficult by the fact that Brad and I don´t live in the same city. Brad is living in Ganja, which is about 6 hours from where I live in Masazir. The process basically consisted of Brad writing down some lyric ideas and emailing them to me. Since I have my own miniature studio (a MacBook Pro and a low-end microphone), I would then record myself singing the words. This went back and forth for about 10 days until we both liked the flow of the song.
Brad and I are both working for different organizations and don´t have a ton of free time to record videos. However, Brad was going to be in town soon arranging a visit from his family, so we decided to get the whole production done in 3 days. Brad came to my house one evening and we recorded a final mix with both of our voices.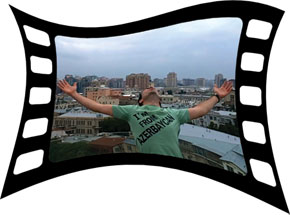 We then went to Baku the next day to start filming with our cheap Kodak portable video camera, my laptop with the song, and a few outfits stuffed in our backpacks. As Peace Corps Volunteers, we basically had no budget for the video so we had to be thrifty during the whole shoot. We think we ended up only spending about 20-30 AZN for the whole film (bus rides, shaurma, McDonalds hamburgers, boat rides, ping pong, amusement rides, and a couple of other things). The whole shoot took 21/2 days and we edited the video on the fly, so we had basically recorded the final mix of the song, shot the film, edited everything and uploaded it to YouTube in about 5 days.
We shot most of the video ourselves, passing the camera off to each other for different scenes. However, sometimes we needed someone to shoot both of us in the scene. We were basically these two random foreigners walking around asking people to film us. They thought they were just taking a picture and then we would start singing our song with no music. Some of the bystanders would just start laughing or staring at us. It was quite amusing.
Getting on the TV set of Onun Yarisi (one of the Azeri wedding shows) was pretty difficult. All we wanted was to shoot a short clip, but they wanted us to stay on the show to try to get married.
Facebook and feedback
We had no idea at all that the video would be popular. It was completely unexpected. We thought it would be really cool if we got 1,000 people to see it. And we had 5,000 by the first day and 50,000 in the first week. I think it´s hovering around 88,000 now.
It´s been shared by more than 53,000 people on facebook. It just shows how connected we are with social networking.
We just connected with people on some level. It´s definitely not about our mediocre musical skills. I think it´s just that people love Baku and can relate to many of the places we visited in the video.
Most of the views have come from Azerbaijanis either here or abroad.
We were contacted by the Azerbaijan channel that will be hosting Eurovision (Ictimai). And they have a weekly Eurovision News show that we were asked to come on as guests. We did an interview in Azerbaijani, they showed our music video, and then we did a live performance of the song (with soulful lip-synching).
The girls doing the dancing are also Peace Corp Volunteers.
I think my favourite comments are the ones that think we´re Azerbaijanis. Even after people wrote that we were American PCVs, they still thought we were Azerbaijanis or maybe half-Azeri. Brad thinks it´s because of our amazing Azeri wedding dancing skills.
Here´s a real comment made by YouTube user 'turkic612': "Nice. But for some odd reason, you claim that you guys are some Americans living in regions of Azerbaijan or smt. Well, you might have been to the US as an exchange student (Flex) etc. But don´t you think it´s utterly unethical to respond lying to someone who was asking about your nationality and telling them that you are Americans?. Please no offense, and don´t get me wrong; I give you credit for this great video and I admire your creativity. But that´d be better if you are honest!"
Whatever next?
We were actually contacted by Eldar (from Ell&Nikki) through a mutual friend who told us that he loved the video and is a fan of ours. That really made us happy since he is a great singer and won Eurovision.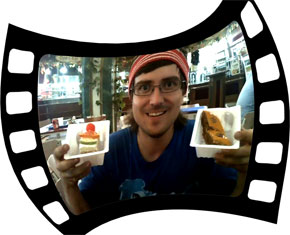 Also, DJ Tacho made a remix of our song on ANS radio for a DJ contest and took 2nd place.
We are in pre-production for a new music video focusing on the whole country of Azerbaijan and its tourist hotspots. We´ve been approached by music producers, film directors, and websites that are all in support of it.
We are having to think carefully about this. It´s going to be winter soon and we have already maybe missed the best time of year for filming in the countryside. Of course it´s very exciting and we want it to be fun and we want people to like what we do. There are so many beautiful regions and we would like to show them all. But we will have to choose between them and that is difficult. We have a lot of ideas, we have other Peace Corps Volunteers who will help us. Some of them might join us.
Basically, because we had no idea that ´Baku State of Mind´ was going to be so popular, we don´t have a definite idea where we are heading.
Brad is going to audition to represent Azerbaijan at Eurovision 2012. The auditions start at the end of October. I think he has a good shot. Especially with me as his faithful campaign manager.
I won´t be here for all the auditions because I have to leave in a month. I would love to come back to Azerbaijan if I can, and I am looking at opportunities, because I like it here so much. Meantime, I´ve bought my first carpet. Do you know even the carpet shop said they had a surge in business because of our video?
So when you come for Eurovision, and you see the shiny glitzy razz-ma-tazz, be sure to have a great time.
Who knows (at time of writing) if Brad will be up there on stage, representing Azerbaijan? I´m sure he would be great.
But Baku deserves to be on the map, and if Tim and Brad have helped this happen then hats off to them!
However, what I think you must do, is book some extra time here, lookup cbtazerbaijan.com, and throw in some off road trainers to supplement your high heels. Come and get to know the real Azerbaijan.