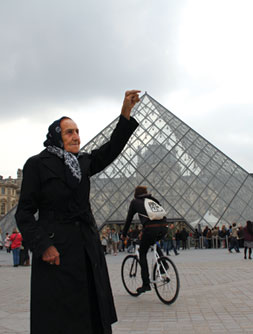 Pages 32-38
by Sabuhi Mammadov
An Azerbaijani journalist came across the story of an 84 year old French woman who married and came here to her husband's home town of Imishli when she was 19. She had a wish to see the place of her birth once more. The European Azerbaijan Society helped her fulfil this wish.
… How much longer?
Not even an hour has passed as she asks this question for perhaps the tenth time since the Baku-Paris plane took off. She has not taken her eyes off the monitor showing the flight's progress. She merely glanced at the food brought by the flight attendant. She took a sip of water and continued to stare at the screen. And the next question:
- Do they know I am coming?
- Yes, they know, don't worry.
- What if they don't come?
- We told all of them. They told us they would come for sure.
- How much longer?
- 3 hours.
She stares back at the screen. She takes the photos from her bag and looks through them. Actually, we found most of them. She has never seen many of the people in them, but one is her cousin on her father's side and another a cousin on her mother's side. They were not born when she married and left France for Azerbaijan. Because, that was 64 years ago. She is returning to her native land after 64 years. This is Nana Ivonna, Ivonna-Botto-Shirmammadova (Yvonne Botto) who married and moved from France to Imishli and is now returning to Lyon in France, to be exact to the village of Le Fayet, 200 km. from the city. After her long, long wait she doesn't have the patience for this 6 hour journey...
October 1947. Azerbaijan, Imishli region, Murguzalli village. The gate to the Shirmammadovs' yard opens. A four-wheeled ox-cart enters. There is the carter, a young man and a young woman who does not look like the local girls at all. Suddenly there is a huge commotion, people are shouting. The young man is Shammad who went to the war and whose family was told he had died in 1944. The young woman is 19 year old Ivonna, whom Shammad loves and has brought home from France … Now Ivonna who turned 83 on 9 October, is returning to her mother land - after 64 years…
Nana Ivonna is not travelling alone. She is accompanied by her son Farahim, the crew filming our heroine's destiny and your correspondent. Nick Sturdee, who is also working on the film about being made about Nana Ivonna, and Eliza Pieter, head of TEAS's Paris office, will join us in France.
Paris greets us with dense fog and we could not see the city from the air, but Nana Ivonna's main concern is for the family she has never seen. Going through passport control she asks, hoarsely:
- Look, have they come?
They are there… impatient, excited and bustling in the waiting area. They see us.
Camera operator Rauf and director Elchin go through first to catch the scene.
Now Nana Yvonne; she takes her passport from the customs desk… a few steps and suddenly stops. She whispers something. I don't know whether she is praying or saying something else, and actually trembling from excitement. Her eyes open wide. On the other side… I don't really know how to describe this to you. Two cousins, Yvonne and Marcelle, who has come to Paris from Lyon, embrace, they do not cry. Can you imagine, they hug each other and look into each other's eyes. Her brother's daughter Beatrice, who has heard about but never seen her aunt, holds her hand so tightly, as if releasing it would create a gap of another 64 years. If I'm not mistaken, her uncle's grandson, Thomas Gregoire, who works at the court in Bordeaux, is crying from excitement. To tell the truth, we are all moved to tears. Only Rauf remains calm. He is aware of the responsibility for filming a life story that even Hollywood filmmakers would covet, it seems that way...
Nana Yvonne's life story is really fit for a feature film. In 1947, she came to a country she did not know, she lost her husband after three years, he died from malaria, she herself almost fell victim to the disease but somehow survived. She married again and had four children and many grand children … Let her tell it herself:
- We lived in Le Fayet. My father was a director of the chemical plant. But he had connections with the Resistance; he helped them. My brother Paul was also in the Resistance. At that time, the French Resistance was not only French people, there were many nationalities involved. Shammad joined them when he escaped from captivity. I remember that very well. Suddenly there was a knock on our door. We opened it to see a handsome young man in ragged clothes; he was exhausted. We immediately thought that he was an escapee, and so he was. Shammad and other prisoners were being taken somewhere by train. He had broken a window in the wagon and jumped out. He stayed with us for several days and then joined the Resistance. He was a communist, like my father, and so my father liked him from the very first day. So did other members of the family and friends…
Eliza tells us that we will not stay in Paris now, but will return in a few days. In two hours, we will catch the express train to Lyon. Only three of Nana Yvonne's relatives have come to Paris. The Bottos, who have dispersed to all parts of France, have assembled in Marcelle's house in Lyon. Beatrice, who is here, lives on the other side of France, in Bordeaux.
But for now, we are at the airport. We are waiting for the train to Lyon. Eliza has brought Le Journal du Dimanche, a weekly newspaper. (A month before, our colleague Pierre-Laurent Mazars had travelled to Imishli and published a major article about Nana Yvonne).
- Eliza turns to the page. There is the photo of Nana Yvonne and her story.
The Bottos are doing their best to be orderly when the Paris-Lyon train pulls in. Her cousin Yvan, Marcelle's husband and sons, Yvan's children … in other words a large army of Bottos. If they could, they would carry her home. It seems that the Europeans, whom we think of as calm and cool people, are even more family-oriented than Azerbaijanis.
We drive in a long convoy to Marcelle's house in the suburbs. The house is crowded. The flow of relatives is so great that we cannot take in all the names. People come, hug their Nana Yvonne, kiss her and, without exception, take out their handkerchieves to wipe their eyes; they bring her flowers and small souvenirs.
Nana also came to France bearing presents. She brings out the Imishli pomegranate, and explains how to eat it. Later, when we tell the relatives that Imishli is on the border with Iran, they are very surprised, not imagining that their Nana was living so far away, at the other end of the world. They like the pakhlava, souvenirs from Baku and Azerbaijan and the head scarves she has brought. There was one moment which Mathieu, her uncle's grandson, perhaps regretted – when he asked an awkward question. Nana Yvonne, however, was diplomacy itself in her answer.
- Nana, do you still fight with Armenians?
The question was translated; then she answered, to applause:
- Not yet. If they do not leave our lands, they will have such a big fight that they will never again talk about fighting.
At the end of World War II, Shammad starts working at Jean Botto's chemical plant. Very soon, everyone realizes that Shammad, who often visits the Bottos, is in love with Yvonne. Finally, the young couple decide to marry and Yvonne's father organizes a wedding for them in 1947. Their marriage is registered in the neighbouring village of Passy.
… Marcelle pours champagne for everyone. And, of course, she is excited.
- I was looking for her for years. In 1993, I prepared all the documents to invite her to France. There was just one document I couldn't find. I went to Monaco to find it (Nana Yvonne was born in the principality). Ridiculously, they told me that I had to bring the person with me to obtain the document. I couldn't get through to them that the person was living in Azerbaijan and we needed the document to bring her here. But today we are finally together with our dear Yvonne. And we will always be together. Am I right?
Nana Yvonne answered immediately, without translation:
- No, I will return to my motherland. To Azerbaijan.
Everybody laughs.
Marcelle continues:
- Of course, you will go back. I just want to say that we all are finally together. The Botto family is sure that you are loved there. They gave you the chance to come here. I express my gratitude to those who organized this visit. Let's drink to Yvonne.
The glasses clink. But, despite all requests for her to drink, Nana Yvonne does not even sip the wine. She avows that she is Muslim and such things are prohibited! More loud applause from the assembled guests.
Reporters from the French state television, channel France 2, arrive. We leave them to talk. When the reporters emerge they say that the life story of Yvonne Botto-Shirmammadova is currently one of the most discussed topics. They had just learned about her visit and they immediately got the order to prepare a report.
The next morning, we are due to visit Le Fayet where Nana Yvonne grew up. We want to do some research there while she has a rest day.
Nick suggests going to Passy first. There is little time and the mayor's office, which will issue the certificate of Yvonne and Shammad Shirmammadov's marriage, may close soon. So we change our plans.
Our first success. The French official finds the document. But he does not want to give it to us. He wants information about Nana Yvonne and evidence that she is alive. We cannot prove it now. Our director Elchin cuts loose.
- No problem, tomorrow you will see her.
The official is happy with that.
We leave Passy and go on to Le Fayet, a village located at the foot of Alps, surely a paradise.
Very soon, we find more evidence of the Bottos life here; we find their house. Of course, this house is now owned by others, but they greet us pleasantly. They know little about the former owners, but the neighbours know the Botto family very well. Very soon, we achieve our third success. We find Loretta, the daughter of Denise, Yvonne's best friend. Although Denise died a year ago, she had told her daughter a lot about her friend.
Later, we go to the neighbouring village of Chedde. Yvonne's father, mother and brother Paul should be buried here. We divide the rows in the cemetery between us and start looking for gravestones with the name Botto. Two hours and no result…. then, as hopes drain away … our driver, Jules, with us for two days, comes over, almost shouting:
- I've found it!
Here, three Bottos: father, mother and brother are all buried in one grave. Tomorrow, the only living member of the family will visit them. We return to Lyon.
Early in the morning, the convoy leaves Lyon for Le Fayet. Many of her relatives are waiting for us in the village. On the way, we realise that Nana Yvonne has stirred great interest in the French media. Reporters from several TV channels, newspapers and news agencies are already waiting outside the cemetery.
Here is Chedde's cemetery… there are about hundred people here. Relatives, villagers, local officials and reporters. But it is completely calm. Everybody watches Nana Yvonne getting slowly out of the car. As soon as she emerges, cousin Marcelle takes her hand. She looks into the distance to the clicking of camera shutters. And ... Suddenly someone shouts Yvo! Yvo! A woman of about seventy throws herself into Yvonne's arms. Nana's eyes almost pop out of their sockets and all she can say is:
- Denise!
They hug. We ask who she is. I think it is her husband who answers:
- Loretta, the daughter of Yvonne's best friend … She really looks very much like her mother, like two halves of an apple. Madame Botto thought it was Denise.
Now Marcelle is on one arm and Loretta the other. Her niece Beatrice is standing almost fifty metres away. CousinYvan calls Beatrice. But she puts her hand to her heart and says something in French. We ask Yvan what she says.
- She says, I will die from excitement, I can't go in with you, let her visit the graves and I will go in later…
Time stands still
Nana Yvonne takes a few steps and stops at the entrance to the cemetery. Once more, all is still. Only the clicking of cameras. She stands for a while and looks at the Alps. 10 minutes go by. It is as though time has stopped and will only restart with Yvonne's step across the threshhold. She seems undecided about a step she has waited 64 years to take.
She asks for water. And immediately gets it. She leans her head on Marcelle's shoulder and whispers something. Marcelle shakes her head and begins to cry; Loretta too. But Yvonne is calm. She is very calm. Her son Farahim, however, cannot hold back the tears.
- Where is it?
She turns to director Elchin.
- To the left, Nana.
She looks left. Takes a deep breath. Takes out a handkerchief. She does not cry, she sighs. The tears will come later. And then she will confess that the last time she cried was 61 years ago. When her husband, the Resistance fighter Shammad Shirmammadov, died …
Shammad and Yvonne do not stay in France for long. The Azerbaijani Resistance man says that he wants to return to his native land, and Yvonne agrees. Her father Jean advises Shammad to stay in France, not to return to the Soviet Union. But Shammad insists and the couple departs. Their journey takes three months. Nana Yvonne tells us:
- There were dozens of wagons. There was only room to sit; they were cattle wagons. We went, all together, to Grodno in Belarus, near the Polish border. I sold all the jewellery my mother had given me to buy food. Sometimes we had nothing to eat. Finally, we somehow reached Moscow. My documents: birth certificate, passport and marriage certificate were taken. They gave me a temporary Soviet passport. We went first to Baku, and then to Imishli.
…Marcelle whispers something in her ear. She nods. Marcelle looks to her son. Immediately, flowers appear in Yvonne's hands and … she takes that step towards the cemetery. And now it is impossible to stop her, but still no tears yet. This 83 year old woman pulls the two others along. She simply heads off to the left, in a hurry, as if she is late. No need to show her where the graves are. A crowd of reporters with TV and picture cameras marks the graves of Jean, Maria and Paul Botto.
At the grave she stops. She points at the words written on the stone and reads. She gives the flowers to Marcelle and kisses the gravestone. Now, suddenly, the bitter tears fall. Now it is impossible to stop the flow. She does not want a handkerchief. It seems that she deliberately sheds her tears on the grave. She is not the only one crying. The whole Botto family are with her. Even the woman from France 2 channel has forgotten the microphone she holds and taken out her handkerchief …
Again, she leans towards the graves. She wipes the stone with her handkerchief. She stands back and ... recites the Fatehah for the dead…
The French understand this. Nana Yvonne ends her prayer. Loretta's husband prays in French for the repose of their souls. Yvonne also whispers something. She does not cross herself… she picks up three stones from the ground and wraps them in her handkerchief… She leaves the cemetery…
And Beatrice goes in…
After one year, Shammad and Yvonne have a son. Yvonne names him Rafael. One year later, Shammad dies from malaria.
- After that, there were hard times. I had to bring up the child and work at the kolkhoz (collective farm), to grow and pick cotton. I suffered for years.
Yvonne, a widow after Shammad's death, marries his cousin Shirmammad. They had six children from this marriage. But, before that, Yvonne had a chance to return to France. Her mother Maria went to the USSR to take her daughter back. Yvonne wanted to go but the Soviet government laid down the condition that her son Rafael had to stay behind because he was a Soviet citizen. Yvonne could not accept the condition. She stayed in the USSR, to be more precise in Azerbaijan …
They are waiting for us at the mayor's office. Mayor Gilles Petit-Jean Genaz greets Yvonne like an old friend. An assistant hands a folder to the mayor. M. Genaz takes out a document and begins reading it. It is a document certifying the registration of marriage between Yvonne Botto and Shammad Shirmammadov in 1947.
The mass of French journalists give no respite. The answer to one question sums up the event.
- Is this simple paper so important to you?
- I came here for my love. And I found it…
Nana Yvonne sends a letter written on a page from a simple notebook to the French ambassador, Gabriel Keller: please, help me to visit France. After her cause is taken up, her appeal has a positive outcome.
The group accompanying Yvonne, relatives and media representatives, heads for the family home.
She stops again.
- This seems like the house. But there were a lot of lilac bushes. On this side there was a plum tree. It was a very big tree. No it's not here. There was no balcony.
We translate her words to Willie, the current owner. M. Duranel says that he does not know anything about the lilac bushes.
- There were no bushes, believe me. But there was an old plum tree. There at that end of the yard, but it was very old. It was rotten and I had to cut it down.
This time we translate Willie's words. Yvonne confirms the location of the plum tree. She also says that in that part of the yard, there should be a water well. M. Duranel says there is a well.
- Here it is!
She goes upstairs to the second floor. And immediately opens the door on the left.
She sits on the sofa and becomes wrapped in thought. We leave her be. However, the camera continues its work.
After a while, she stands up, touches the walls with her fingers and moves her hands over the wall. Then sits down again. After about ten minutes of silence she calls us,
Why are you standing over there? Come in!
And jokes.
- Welcome!
We all laugh. But Willie says,
This is your house, you may stay as long as you wish.
He goes over to Nana Yvonne, kisses her and embraces her.
One more reunion
We return. The British journalist Nick Sturdee has prepared another surprise for the returnee. He has found a 90 year old barber from Le Fayet. You may ask how the barber is related to this story. A little patience and you will find out.
It was not difficult to find Robert Chiesa in Le Fayet. It appears that the Chiesa family is a dynasty of barbers.
The old man receives us in his house. He greets us and when he understands the purpose of our visit he looks closely at Nana Yvonne.
- I do not recognize you. I'm sorry. But you are welcome.
Now we ask him about Yvonne's father Jean, the director of the plant. He thinks a little.
- Of course, I remember. Jean was a kindly man. He came here from Italy, like me. I was his barber and his wife's as well. What was his wife's name? Oh yes, right, Maria. But compared with Jean, Maria was like fire. (He laughs) She never liked my work. My father and grandfather were also barbers. When the war started, I was a young boy. I had just learned the profession. But I learned quickly. My father opened a barber's salon for me. I began to work independently. I think Jean also had a son. If I'm not mistaken, he was a military man, am I right?
Nana Yvonne confirms it.
Robert Chiesa says that he also served many of the Resistance guys hiding in the forests.
- We knew all of them by name. French, Spanish, Italians; they were all like family. There were also Russians.
- What about Azerbaijanis?
- I never heard about them.
- At that time Azerbaijan was part of the USSR. You called the Soviet partisans 'Russians'.
- There might have been people of that nation. But I cannot say for sure.
- What if we show you a photo, could you recognize him?
- I'll try.
Yvonne shows the photo taken at her marriage to Shammad. The old man studies it. He stands up and goes to the other room for his other glasses.
- He seems familiar, very familiar. But…
Again looking at the photo. Then suddenly:
- Who ever it is, he is a Soviet partisan, and he worked at the plant later. If I am not mistaken, he was Jean's relative.
There is no longer any doubt. We tell him who the man is. The old man suddenly jumps up. Almost shouting:
- I was at their wedding. I cut his hair many times. Oh no, it cannot be true. Oh my God, what a miracle! How can it be?
He is so excited. We are so concerned with him we do not even notice Nana Yvonne's tears…
We go back to Lyon. And from there to Paris. In Paris, the Azerbaijani Ambassador, Elchin Amirbayov, meets Nana Yvonne and the people with her. There is a reception. One more day. We ask Yvonne who has visited all the sights of Paris, for her impressions of the visit. She turns to Eliza and says.
- I am very grateful to your organization and its management. Those places are very beautiful. Thank you very much. But anyway, my motherland is Azerbaijan.
… Here is Azerbaijan…