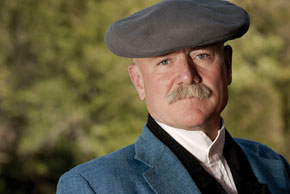 Pages 20-23
by Ian Peart
Thomas Goltz wrote one of three books that any western visitor must read to get some under-standing of Azerbaijan as it is and how it got here. His Azerbaijan Diary tells the story of the country's struggle to survive and establish itself in the early 1990s after the collapse of the Soviet Union. Goltz's 'go get it' character made him the right man in the right place to get to the guts of tumultuous times and tell their story in driven, and riveting, prose.
As the first western journalist to get word back home about those tottering steps towards indepen-dence, he's just the guy to assemble a foreigner's-eye film of Azerbaijan's recent history in commemoration of the 20th anniversary of renewed independence. We pulled him out of a whirlwind, trans-western pursuit of prominent interviewees and turned the microphone on a man whose legendary status is only partly self-cultivated.
His first visit – to the Azerbaijan Soviet Socialist Republic – was, unsurprisingly, illegal. As he tells it, in mid-1991 he was on his way to Uzbekistan as a visiting scholar when
I got distracted by the Gulf War and the chance to look at Iraqi Kurdistan.
Eventually returning to his original route, he found that Aeroflot wouldn't take him from Istanbul, because his visa did not include Moscow on its list of intermediate stops… Back home in Montana he heard about the new Istan-bul-Baku flight and an enthusiastic Azerbaijani Tass correspondent convinced him that as a 'Turkish brother' (that is, he spoke the language and had a Turkish wife) he would be able to talk his way into the country there. Without visas or, therefore, a hotel, they intended a two-day stay in Baku, but ended up staying with a wheeler-dealer driver in Mashtaga, a village on the Absheron peninsula known as a Shia stronghold. Islamic rituals and protests, gasoline queued for and bought in jam jars, three restaurants for tourists, paratroopers in the sky, Baku's burning mountain, a gauntlet-running train ride through Armenia to Nakhchivan and a picnic trip to a smouldering Karabakh village, newly re-taken from Armenian militia. He says it was,
Arguably the most intense two weeks of discovery that I have gone through in my life.
War correspondent and political journalist
Goltz had only been in Uzbekistan a month when putschists tried to oust Mikhail Gorbachev from power in Moscow and someone called Yeltsin intervened. Dismayed by Tashkent's somnolent response, he contacted Azerbaijani friends to be reassured that
Baku was boilingand
and was the place to observe the col-lapse of the USSR and the re-emergence of an independent Azerbaijan.
I would like to think that I was liter-ally in at ground zero
With 00001 on his foreign journalist´s accreditation and claiming credit for the correct English of the government´s appeal for international recognition, it seems a fair thought.
The most dramatic events of the early years were surely those of the war in Karabakh, and Thomas Goltz was in the thick of that, struggling to get the truth out in the face of Armenian bullets and western preconceptions. There´s no way I could match his telling; you'll just have to get Azerbaijan Diary, which is now being translated for local consumption, too. But that was just the start:
For 20 years, I've had this bizarre, wonderful, always fascinating, sometimes frustrating, association with Azerbaijan. Don't regret a day of it….
Odyssey organiser and pipeline propagandist
Before we come up to date, we have to mention the Goltz midpoint Azerbaijani ad-ventures. In the year 2000, controversy raged about a proposed new pipeline, intended to take oil Europe-wards from the Caspian. Called the Pipeline to Nowhere by some, the Baku-Tbilisi-Ceyhan (BTC) route was questioned politically – Russia was unhappy about a threat to its stranglehold on oil supplies; economically – it eventually cost just short of $4 billion; and environmentally – it goes close to the mineral water supplying Borjomi National Park in Georgia. The latter point was countered by the fact that terminating the pipe at Ceyhan in Southern Turkey avoided the risky Bosporus shipping bottleneck.
A pipeline threading 1,768 kilometres through three countries, deserts at sea level and mountain ranges at 2,800 metres? Goltz was all in favour and decided to express this view by delivering a symbolic first barrel of Azerbaijani crude oil to Ceyhan, following the proposed pipeline route. To effect this delivery, he organised an Oil Odyssey, a convoy of motorcycles with sidecars; old Soviet Ural motorcycles, 2nd World War vintage – what else?
What else? – well, an Azerbaijani song and dance group for entertainment on the way.
What else? – well, Goltz did it three times. The second time to deliver natural gas; and the third trip was accompanied by pieces of BTC tube, as the pipedream edged towards reality.
Proud professor and herder of cats
Ten years on and Thomas Goltz, adjunct Professor of Political Science at Montana State University (MSU), was musing on a reprise of the Odyssey when his thought processes were hijacked by students in his class based on the Organisation of the Black Sea Economic Cooperation. They had discussed the region and its many issues, but had not seen it – how about a summer course? The result, a rigorous (Goltz's gulag) 25 day, New Silk Road course on wheels through the three countries for American, Azerbaijani, Georgian and Turkish students, with guest lectures by hands-on professionals in all the relevant fields. (Type Oil Odyssey or New Silk Road in search at www.visions.az to read more and clear the reference to cats). Apart from exhaustion, three senior theses arose from the experience and three of MSU's best graduates of 2011 had gone through Goltz's course and accompanied him to Azerbaijan (this was heartening, and delightful and truly wonderful). You get the picture that the subject of this article is no arm-chair enthusiast or shrinking violet:
Documentarist and donor….
So it was quite natural that someone approached me and asked me to do a 20 year retrospective of what that 20 years meant. I came up with the idea of doing it through foreign eyes, not Azerbaijani eyes…largely those individuals who have also been associated with Azerbaijan…I am now in the process of editing at least part one of the project.
As we write, this editing started with 22 hours of re-corded material, and there are more interviews to go, with key players and observers – he'd only recorded five of the seven US ambassadors. A measure of Goltz's attachment to the country was given in his justification of the project and he sees the final documentary as just part of its value:
This is a gift to my many friends in Azer-baijan. Quite frankly, I don't see how it would be possible for an Azerbaijani team to get all this material. At the same time, it's a historical archive for scholars. Here is a one-stop bank of on the record information from not just the American ambassadors, but the British, French and Turkish, and a number of surprises have come out…. It was touch and go how Turkey became the first country to recognise Azerbai-jan; that's well known. The political processes that led to that are not. We now have that. The death of Heydar Aliyev: there were ru-mours in 2003 that he had passed away that summer…. we have…. (To be continued in the documentary, which has, lots of stuff like this)
The programme will first be shown in Azerbaijan and, for its maker, it is the perfect microcosm for those studying the aftermath of the USSR:
Azerbaijan is uniquely small enough, interesting enough and pivotal enough to be able to use it as a mirror on the larger post Soviet experience….the launch of an independent country that no one could even pronounce the name of, or knew where it was…. Because Azerbaijan is special. How do you define that 'Azerbaijan thing'? It just is. It's the music, the food, it's the way people walk down the street. A la Turk, a la Ruski, a la Fars; it's a melting pot thing.
The enthusiasm from all those, diplomats, scholars, others, we have interviewed about the 20 year experience of the revitalised independent republic of Azerbaijan, speaks volumes. Azerbaijan uniquely has an impact on those who embrace it.
After this reflective break, it was back to the editing suite for the multi-faceted Thomas bey, in his continuing quest to condense 20 years of war and peace, disintegration and consolidation, mayhem and music, politics, pipelines and pedagogy, into a single documentary. Don't bet against him, and don't miss the production.