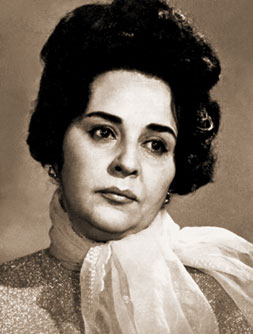 Pages 82-86
By Aydin Kazimzadeh
Those, who see in everyone
nothing but good, achieve eternity.
Leyla Badirbeyli
For Azerbaijani theatre and cinema goers, the name Leyla Badirbeyli conjures up memories of beauty, brilliant talent, womanly integrity and the most wonderful images.
Azerbaijani beauty
The year was 1938. Preparations were underway for a ten-day festival of Azerbaijani art in Moscow. At that time, Leyla khanim was a soloist with the Song and Dance Ensemble of the Azerbaijan State Philharmonia. The great composer Uzeyir Hajibeyov was chairman of the commission organising the ensemble and he did a great deal of work on the detail of the national dress being made for the dancers.
The ten-day festival got a great reception from both audience and critics in Moscow and a state reception was organized afterwards, in the Kremlin, in honour of the Azerbaijani delegation. Stalin was also at the reception. He noticed the beautiful young girl sitting among the artistes
Stalin: Who is that young lady?
Hajibeyov: Leyla khanim is a soloist in our Philharmonia.
Stalin: She's a real Azerbaijani beauty.
From that moment Leyla was popularly known as the Azerbaijani beauty. When the Baku film studio produced Hajibeyov's musical comedy Arshin Mal Alan in 1945, the young actress rocketed to superstardom in the Union. She was just 25 years old and as the years went by her popularity increased.
Leyla khanim was often compared to the American actress Elizabeth Taylor for her appearance, especially her eyes. However, Leyla khanim had the noble bearing of a quite beautiful and attractive Azerbaijani lady.
Her route to art
Leyla khanim was born in Baku, in 1920 into a family from the nobility. Her first stage appearance was aged 8 at the Central Villagers' House in Baku, where amateur dramatic groups put on performances for collective farmers. Little Leyla's mother worked as a nurse in the cultural centre's medical rooms and was often accompanied by her daughter, who would watch the amateur actors' rehearsals with curiosity.
One day the group's director, Alisattar Babayev, noticed the little girl and said:
I can see that you are very interested in the stage. Let's give you a small role, as small as you are…
And so the small girl embarked upon a new adventure in life. Her first role is recorded as being Joshgun's sister in a play called Joshgun.
She also made an early screen appearance. As an adolescent, she played a pioneer girl in the documentary movie Three Songs about Lenin, by Moscow director Dziga Vertov. Then, from 1937 to 1942 she was a soloist with the Song and Dance Ensemble of the Azerbaijan State Philharmonia.
Before joining the professional theatre, Leyla Badirbeyli had played the leader of a pioneer group in the movie Naughty Bunch in 1937; she was Tubu in Sabuhi in 1941, and Ayna in the movie Gift in 1942.
One magazine described her acting in Sabuhi this way:
Casting the movie was a problem for the directors. They went to the Philharmonia to pass a directorial eye over Leyla Badirbeyli once more. She finally appeared onstage in national costume to dance the Tarakama, accompanied by a folk instruments trio; she was so impressive that the directors went directly backstage.
In her role Leyla created the image of playwright Mirza Fatali Akhundov's true and tender wife Tubu.
It seems that the young Leyla's love for acting was unstoppable – her destiny rather than mere desire.
Immediately after Sabuhi came an invitation to work in theatre. The actress herself recalled those times:
With the help of writers Mirza Ibrahimov and Anvar Mammadkhanli, the poet Rasul Rza, and directors Rza Tahmasib and Adil Isgandarov, one day I received an invitation to transfer from the Philharmonia's stage to that of the Academic Drama Theatre. This period was the second and most important period of my life.
Her first role in the new theatre was that of Zahra in the performance "Love" by M.Ibrahimbeyov, and she went on to create many leading roles on both stage and screen..
Cinema is my love!
Leyla Badirbeyli, a star of the theatre, was also a major contributor to the development of Azerbaijani cinema.
1945 was the most significant year in her life. This was the year that produced the film of Arshin Mal Alan, in which a wealthy young man disguises himself as a peddler of cloth in order to meet women and so make a rational choice of a bride, rather than be married 'blind' via the traditional matchmaking. Gulchohra, Leyla's character in the movie, the eventual bride, is beautiful, delicate and sensitive. She stands out from her contemporaries in seeking freedom of choice and truth in love. When she finds this love, her inner beauty reveals itself and her strength of feeling presents a challenge to the whole of society. She falls in love with a handsome, but apparently poor, cloth peddler and defends her love to the end, against all her father's threats. Leyla khanim brought Gulchohra's delicate mix of timidity and confidence so colourfully and naturally to life that the two names were conjoined for many years after.
Arshin Mal Alan's renown soon crossed borders as the composer's magical music and pointed humour received international acclaim, and the whole cast and crew, including Leyla Badirbeyli, were presented with the Stalin Award in 1946 (later renamed the USSR State Award). The actress received letters from many countries following her portrayal of Gulchohra. They came from various cities and villages in the USSR, Germany, Bulgaria, Czechoslovakia and other countries. A young Bulgarian mother ended her letter with these words: I gave my daughter, sister of my five sons, the name Gulchohra, which you performed so brilliantly. If Gulchohra of free Bulgaria achieves the same fame, I will consider myself a very happy person.
Leyla created for Gulchohra an immortal screen life. Gulchohra, in turn, brought fame to Leyla khanim. However, she was in nearly 50 short and full length films, playing a variety of characters and themes. Her characters Tuti Bikah and Nigar in the movies Fatali Khan and Koroglu are not only courteous, tender and true wives for their husbands, but are also their courageous comrades.
Tuti Bikah is Fatali Khan's spouse. She is a faithful woman, selfless mother and brave fighter; again Leyla khanim created a memorable and distinctive character.
She was Nigar, wife of Koroglu and daughter of Hasan Khan, in the film Koroglu, based on the folk epic of the same name. Nigar, despite being Khan's daughter, is deeply in love with Rovshan (the rebel Koroglu). She is very worried by her father's oppressive actions. She is oppressed by the moral environment in the palace. Finally, she finds her way out of the palace and goes to Chanlibel, to Koroglu's camp. The actress conveyed very well Nigar's torment, anxiety and inner tension, even though the film was not one of the best and this had an effect on the general level of acting.
The role of Khalida in the movie Her Great Heart was another particularly notable one. Leyla portrayed her bereft and mistrustful character with great psychological sensitivity. Khalida and Rajab love each other. When the Great Patriotic War (1941-1945) begins, Rajab goes to the front. Khalida doesn't believe he'll come back and gets on with her own life. Rajab is blinded in a battle and when Khalida sees him like that, she rejects him; she loses her trust completely in someone she had considered to be close. Despite the character of Khalida being so different from her own, Leyla produced a brilliant interpretation.
She created another very interesting and contrasting character in the dramatic movie Deli Kur, in which she played Zarnigar khanim, spouse of Jahandar agha. She's a very strict woman and Jahandar agha's marriage to his second wife enrages her; she loathes the second wife, Melek khanim. Again there is a masterful portrayal of Zarnigar's tension, inner torment and shock.
Whatever role she played, whether the illiterate Kabla Fatima and Shahrabanu, or a modern grandmother, Leyla khanim brought a charm and beauty to all her interpretations of young women, mothers and grandmothers.
Apart from her acting, she worked and travelled a great deal to promote Azerbaijan and its art. Working in the acting department of the Azerbaijanfilm film studio, she helped talented young people in their development and gave them valuable advice. On cinema, Leyla khanim would say:
Cinema is my love, it offers an actor's work greater opportunities. If an actor is able to create a work of art on the screen, cinema doesn't keep it to itself but introduces that actor to a huge audience. Rashid Behbudov would say that whichever country he visited on his concert tours, first of all they greeted him as Asgar, the hero of 'Arshin Mal Alan'.
For myself, I have visited more than 30 countries as a member of cinematographers' delegations. I've twice participated in the Cannes Film Festival. I met the world's most brilliant star, the film actor and director, Charlie Chaplin, in Switzerland. Wherever I've been, they have recognized me as Gulchohra from 'Arshin Mal Alan' and praised the film.
In 1980, when a delegation of Azerbaijani cinematographers was in Tashkent, the capital of Uzbekistan, we had a very interesting meeting at a silk plant. When its seven thousand women workers heard that I had played the role of Gulchohra, I couldn't get away from them! They gave me, or rather they gave Gulchohra, so much silk material…
At first I didn't want to take their gifts, I thought the cost would be borne by the plant. Then they told me that the workers had purchased the silk at their own expense.
I bow before you
Something similar happened in 1938 in Ashgabat, Turkmenistan's capital.
After the ceremonial opening of a season of Azerbaijani films, Turkmen cinematographers organized a banquet for their Azerbaijani colleagues; also in attendance were the Heads of the Turkmenistan Cinematographers' Union and the Republic State Cinematography Committee, and other well-known figures in the cinema world. That evening they discussed art and pleasant comments were made about film personalities from both countries. Leyla directed the banquet and talked about events from the history of both Azerbaijani and Turkmen cinematography.
Finally, the well known Turkmen actor and director Baba Annanov took the floor. This tall athletic figure with thick, curly, black hair approached Leyla khanim and stood before her. He turned his face not to the audience, but to her, and said:
If only you knew how glad I am today. Ever since I first saw 'Arshin Mal Alan' I've lived with one wish; to see you in person and to hear you speak. Believe me when I say that 'Arshin Mal Alan' had a big part in my choosing the acting profession. With God's help my wish has been granted. It is a great honour for me to see you in the land of the Turkmen, in my homeland, and I welcome you. I wish you all the best and I welcome you as a dear and close friend; I bow before you.
Saying this, Annanov kissed Leyla khanim's hand and went down on one knee before her.
I've never lived without hope
20 January 1990. That tragic day left a terrible scar across the history of Azerbaijan. That day the 'glorious' Soviet army, so praised in song and poem, entered Baku and opened fire on a peaceful population. So many were killed or injured. In the days that followed, individuals and groups went to the hospitals, visiting the injured and helping them as much as they could. Leyla khanim was among those visitors. She carried the meals and sweets she had cooked herself to share with the wounded and help ease their pain.
She used to say:
We have highly qualified cinema professionals and they will have their say. May hope remain and may the dark clouds over our heads not make us pessimists.
I've never lived without hope. Just as every night has its morning, I'm sure that our hard days will soon be in the past. Our nation will breathe freely. May the war soon be over and life be safe.
P.S. As I was writing these memories Leyla khanim was alive and well. She was happy and shared the happiness in her heart with her family, friends and acquaintances, even with people she didn't know. But family tragedy was to strike at Leyla Badirbeyli, making her adopt an ascetic lifestyle; she lost her husband and her lovely daughter.
She once answered a question about her life in this way:
If we imagine my life as a long path, then it hasn't always been a smooth one. I've had days of glory and happiness and days of sorrow. In short, I've gone through difficult days and inspiring days. But I've never ached and never grumbled.
Yes, Leyla khanim was as brave as she was noble. The abundant body of work from this People's Artist, laureate of state awards and beautiful woman will remain as a memory for future generations and will immortalize an unforgettable and beloved artist.
About the author:
Aydin Kazimzadeh is a collaborator with the Azerbaijan State Film Foundation and well-known film historian. He has written a series of books and articles on the history of Azerbaijani cinematography.